SEC Media Days 2013: Winners and Losers from Day 2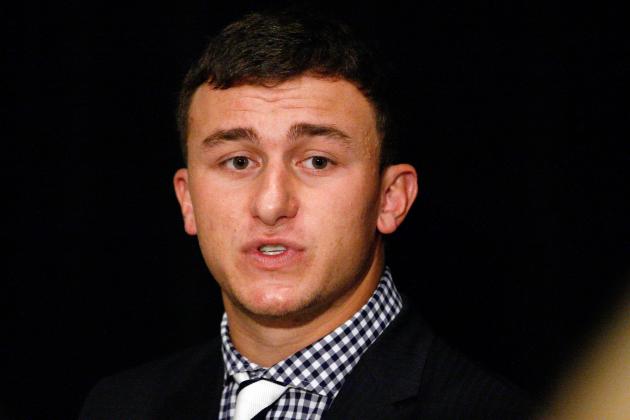 Marvin Gentry-USA TODAY Sports
Texas A&M QB Johnny Manziel
"Manziel mania" hit Hoover, Ala., on Wednesday, as Johnny Manziel made the rounds at SEC Media Days in front of more than 1,200 credentialed members of the media.
But it wasn't just Manziel who stole the show.
All four new head coaches—Kentucky's Mark Stoops, Tennessee's Butch Jones, Auburn's Gus Malzahn and Arkansas' Bret Bielema—made their first appearances at the annual event.
How will those four new head coaches fare? Did Bielema steal the show? Oh, and how did Manziel do in his first appearance since being sent home from the Manning Passing Academy?
Begin Slideshow

»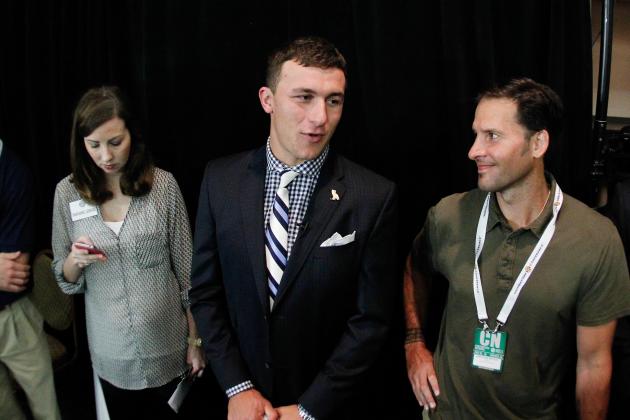 Marvin Gentry-USA TODAY Sports
Texas A&M QB Johnny Manziel
The most eagerly anticipated appearance of this year's event came right off the bat, as Texas A&M quarterback Johnny Manziel hit the floor early with an appearance on ESPNU followed by three hours of meetings with the media.
Considering his tumultuous offseason, which culminated with being sent home from the Manning Passing Academy on Saturday morning after he overslept, he handled the situation well.
Was he 100 percent honest? That's hard to say. He says that his phone died, and that it wasn't a result of going out the night before. With no pictures or evidence proving otherwise, it's hard to dispute him.
Manziel was contrite and forthcoming, as he tried his best to quell the growing firestorm over his headline-producing offseason.
"I feel like at certain points in time, it was blown out of proportion a little bit," he said. "But I made mistakes, and I'm trying not to make the same one twice."
How will Manziel remember his one (and perhaps only) trip through the gauntlet at SEC Media Days?
"I had a lot of fun," he said. "I never really saw this day as too daunting or too dooming or anything like that. I enjoy interacting with you guys. It was a little bit of a whirlwind because you're going nonstop for a couple of hours, but I enjoyed it a lot."
Considering the circumstances, I agree.
On Tuesday, South Carolina defensive end Jadeveon Clowney laid down the gauntlet.
"What I remember is he [Tennessee OT Antonio Richardson] is the best at holding and getting away with it," Clowney said, according to the Chattanooga (Tenn.) Times Free Press. "But he does a good job at it, and if you don't get called for it, it's not a holding call, so I respect that 100 percent. He did pretty good against me."
On Wednesday, Richardson had the chance to respond.
Boy, did he.
Richardson let loose on the potential No. 1 pick in the 2014 NFL draft. Well, at least the virtual version of him. Richardson said that Clowney's perfect 99 rating in EA Sports NCAA 14 was because "he's overrated."
"Give that man a 94," said Richardson.
Ouch.
But credit to Richardson for keeping it fun and taking a lighthearted jab at one of the SEC's best.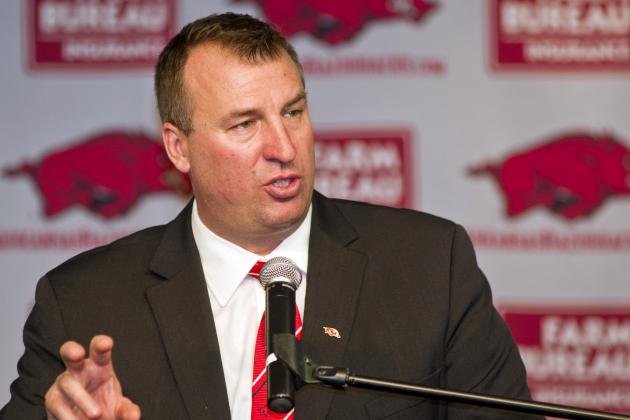 Beth Hall-USA TODAY Sports
Arkansas head coach Bret Bielema
Bret Bielema was great and handled the event well, but his stance on hurry-up offenses leaves a lot to be desired. This is a guy who's bringing smashmouth football to Arkansas and is now worried about player safety.
Note the term "smashmouth football."
The debate on pace of play took center stage on Wednesday when Bielema railed against hurry-up offenses and how they put players at risk.
"You cannot tell me that a player after play five is the same player that he is after Play 15," Bielema said. "If you want to play hurry-up offense, play it, I'll play you, I don't care. But it doesn't mean that I cannot try to protect my players offensively and defensively."
This comes in direct opposition to Auburn head coach and no-huddle proponent Gus Malzahn, who laughed off the criticism earlier in the day.
"When I first heard that, to be honest with you, I thought it was a joke," Malzahn said. "As far as health or safety issues, that's like saying the defense shouldn't blitz after a first down because they're a little fatigued and there's liable to be a big collision in the backfield."
Bielema wasn't joking.
"It's not a joke to me. It's something that I really feel strongly about. It's not rhetoric."
Only it is.
Alabama's never-ending stream of 270-pound linebackers who run 4.5 40-yard dashes are also dangerous. South Carolina defensive end Jadeveon Clowney is also dangerous.
Football is a dangerous game, and while there are safety issues that arise with hurry-up offenses, that doesn't mean they should be regulated out of the game.
Bielema knows that he's fighting a losing battle in regard to pace of play, which is why you saw him come out strong against no-huddle offenses on Wednesday.
It won't work, though.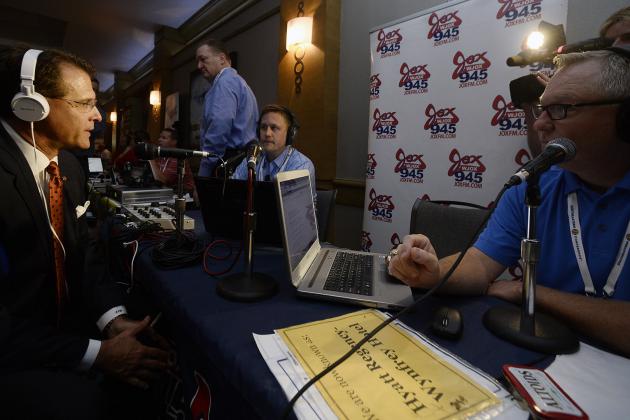 Auburn head coach Gus Malzahn (Photo: Auburn University, via Todd Van Emst)
Auburn head coach Gus Malzahn did something strange on Wednesday—he actually went downstairs to radio row and spent time with the fans inside the lobby of the Wynfrey Hotel.
In normal years, that wouldn't be shocking. This year, however, it was.
Aside from a quick appearance from Ole Miss head coach Hugh Freeze on Tuesday, the downstairs portion of SEC Media Days has been noticeably neglected.
Malzahn made it a point to change that trend, and he spent almost an hour downstairs making the rounds, shaking hands, doing appearances and signing autographs.
With the in-state Tigers in the house, the crowd downstairs was even bigger than it was on Tuesday. That didn't send Malzahn running, and he should be commended for that.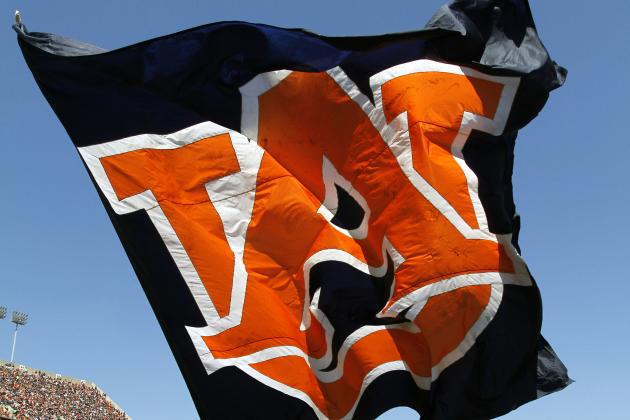 Butch Dill/Getty Images

While head coach Gus Malzahn deserves major credit for spending almost an hour on radio row, the majority of Auburn's message centered around "a new day."
That's a great catchphrase, especially considering the Tigers finished last season with a 3-9 record and went 0-8 in the SEC for the first time in program history.
But is it appropriate for this setting?
Aside from Malzahn firing back at critics of hurry-up offenses, there wasn't too much meat to Auburn's message.
From a strategic standpoint, that's smart. Auburn's players were clearly coached not to be overly dramatic in an effort to stay out of as many headlines as possible. That's fine, but there's only so much of "a new day" that we can take.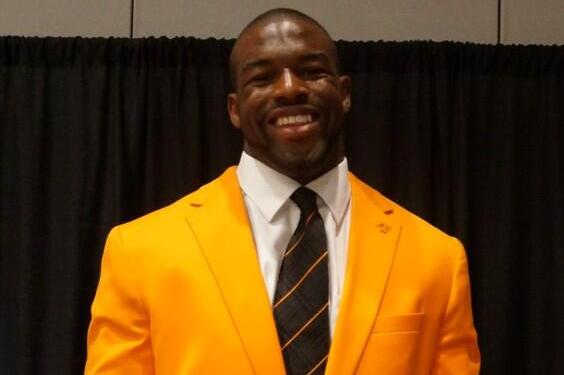 Tennessee DE Jacques Smith (Photo: SaturdayDownSouth.com)
Tennessee defensive end Jacques Smith wins the award for best dressed and friendliest.
His orange blazer not only made quite the fashion statement, but it also made a statement about the state of the Tennessee football program.
"I put on this jacket, and it means something," he said. "These colors are important, and I'm proud to wear it."
But it wasn't just the jacket that makes Smith a big winner from Day 2.
After his appearance in the radio/Internet room, Smith allowed the folks at SaturdayDownSouth.com to take the picture above, and then he walked up and down all five aisles to thank everyone and shake the hands of around 50 members of the media.
That's a good look.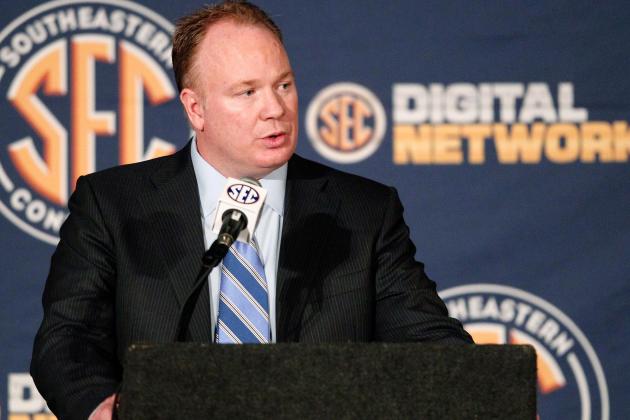 Marvin Gentry-USA TODAY Sports
Kentucky head coach Mark Stoops
For a man looking to make a good impression on the biggest stage of his head coaching career, Kentucky head coach Mark Stoops didn't exactly sell his program.
That's a shame.
Kentucky finds itself dancing around the top 10 in the 2014 recruiting rankings, drew 50,831 fans for its spring game and is making a name for itself in a crowded SEC East.
Only don't tell Mark Stoops that because he certainly didn't act like it.
He had short answers, wasn't incredibly boastful about the program and, quite honestly, was boring.
"I think the educated fan knows where we're at as a program and knows we have a lot of work to do. But the flip side of that is I want the excitement. I want them there. I want them to support our players that we have right now. I want them at all of our home games."
I'm not saying Stoops needs to say that his program is the greatest thing since sliced bread, but sell the program, man!
*Barrett Sallee is the lead SEC writer for Bleacher Report. Unless otherwise noted, all quotes were obtained firsthand.