Virginia Tech Football: 4 Freshmen Who Will Make a Huge Impact in Fall Practice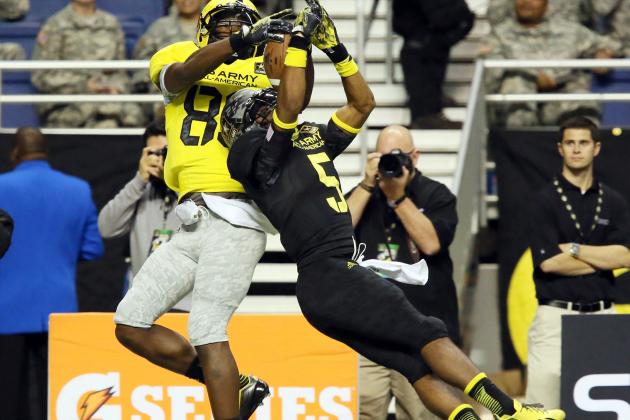 USA TODAY Sports

When fall practice begins in just a few short weeks, the official beginning of the 2013 college football season will be just around the corner. Fall practice is generally where freshmen make their mark and stake their claim for playing time in their first season on campus.
The Virginia Tech Hokies are coming off their worst season in 20 years. Finding a true freshman contributor this season may be more likely than in past years. The Hokies usually redshirt most of their freshmen class, and those who dress are more than likely not starters.
Running back J.C. Coleman was the Hokies' top freshman in 2012. Coleman was the team's top running back and big-play guy. He returns as the likely starter at tailback in 2013.
Who, like Coleman, could make a big impact on the Hokies' roster in 2013? Safety Holland Fisher likely would have dressed this season, but his inability to qualify opened the door for several talented Hokie newcomers in the defensive backfield.
Here are four freshmen who will shine in fall practice.
Begin Slideshow

»
Wyatt Teller comes to Blacksburg physically ready to play. At 6'5", 275 pounds, Teller already looks the part of a menacing college defensive end. However, the defensive end position at Virginia Tech is in capable hands for the 2013 season, led by senior James Gayle.
While Teller will not be expected to contribute at the beginning of fall practice, players of his size and ability will get noticed. Defensive coordinator Bud Foster will love Teller. Not only is he a player who will not have to add weight to play, he is an impressive athlete.
The Hokies have a bevy of pass-rushers already on the roster. None of the upperclassmen, outside of Gayle, have the combination of size and athletic ability that Teller possesses. Don't be surprised if he not only impresses coaches, but finds his way onto the depth chart early in the season.
At 6'2", 183 pounds, freshman cornerback Brandon Facyson has the type of size teams covet in the defensive backfield.
A two-way player out of Newnan, Ga., Facyson excelled at both receiver and cornerback his senior year of high school. Facyson received a lot of interest late in the recruiting process but stuck with the Hokies and enrolled in January.
Facyson moved up the depth chart with an impressive spring, becoming the second-team cornerback behind senior Kyle Fuller. Facyson was named the top defensive newcomer in spring practice. The Hokies' lack of depth in the defensive backfield bodes well for Facyson, who could be a steal for the Hokies.
Facyson has an advantage over the other Hokies freshmen defensive backs because he has some practice experience. He will be featured a lot in spring practice, and look for him to be in the mix next month when the Hokies open the season against Alabama.
Jonathan McLaughlin's rise up the depth chart in spring practice surprised many of those around the Virginia Tech program. McLaughlin committed to the Hokies in December and enrolled in January. By April, he was listed as the Hokies' top left tackle.
A pretty meteoric rise for a relatively unheralded high school player. McLaughlin's one year at Fork Union likely helped him in the eyes of new offensive line coach Jeff Grimes. McLaughlin benefited from not only the competitive nature of prep school, but the discipline, too.
McLaughlin is 6'4", 306 pounds, so he has the type of size teams want in blind-side protectors. McLaughlin is also an impressive athlete for someone of his size and possesses the necessary footwork to play left tackle at the collegiate level.
Grimes has made it clear all jobs on the offensive line are up for grabs. When he put McLaughlin at the top of the depth chart at left tackle, he sent a message to the incumbent linemen that no job is safe.
Things can change in fall practice as it pertains to the depth chart, but McLaughlin will have as good an opportunity as veteran players who have been on campus a few years.
He will dress and play in 2013, so he will be worth keeping an eye throughout the summer.
When you are one of the top players in the entire country, and a five-star recruit, chances are good you will play as a true freshman. Virginia Tech hasn't signed a lot of five-star recruits over the years, but when they have, they played the athlete early and often. Kendall Fuller will be no exception.
Fuller, a cornerback from Olney, Md., follows all three of his older brothers to Blacksburg. If senior All-ACC corner Antone Exum isn't fully healthy for the opener against Alabama, Kendall could play alongside older brother Kyle at corner.
Kendall, at 5'11", 180 pounds, is a dynamic athlete who also understands how to play the position. Players his age often struggle with technique, but having older brothers who played at the college level and professionally benefited Kendall greatly. Any freshman will have their struggles, but Kendall Fuller will make an impact in 2013.
Undoubtedly, most Virginia Tech fans anxiously await Fuller's debut. He is the headliner of the 2013 recruiting class and enters into the mix for playing time immediately.