10 College Football Teams That Won't Be National Title Contenders Until 2014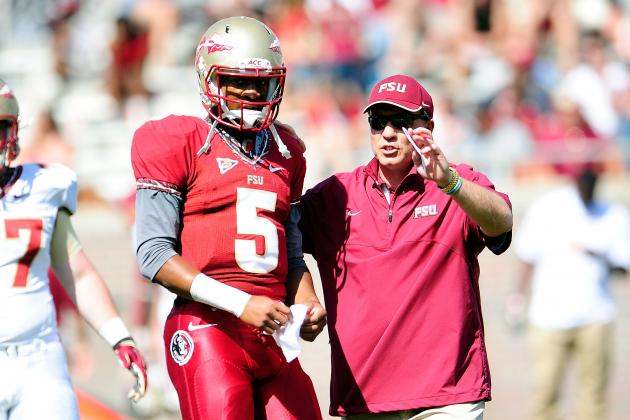 Stacy Revere/Getty Images

It just isn't realistic to have every team in the country hoping to play for a national championship.
Some teams are too young, haven't formed a bond with the coaching staff, and have a difficult schedule. Some are simply not talented enough.
There are programs out there that will have to put those expectations on hold until 2014. It may not be what the fans want to hear, but even the Chicago Cubs have finally given up hope on winning the World Series after a while.
There's always next season.
A few teams in the SEC will have a better shot a year from now, while there are a couple of dark horses that will compete with the big boys beginning next season.
Begin Slideshow

»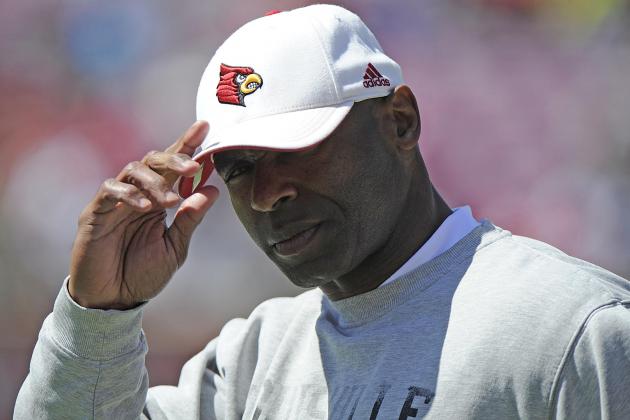 Jamie Rhodes-USA TODAY Sports

Sadly enough, Louisville could run the table and still be left out of the national championship this season. The Cardinals have almost no shot unless a number of powerhouse programs are sitting with two or three losses.
A schedule of Kentucky, Rutgers and Memphis doesn't stack up to any team playing ranked programs on a consistent basis. Boise State can't even enter the conversation, and it usually plays a quality opponent on opening weekend.
What Louisville does have going for it is the move to the ACC next year. The schedule will see an increase in competition with Clemson, Florida State and Virginia Tech. Reaching the big dance won't be an issue if you can run the table with those big boys.
Hopefully for the Cardinals' sake, quarterback Teddy Bridgewater returns for his senior season.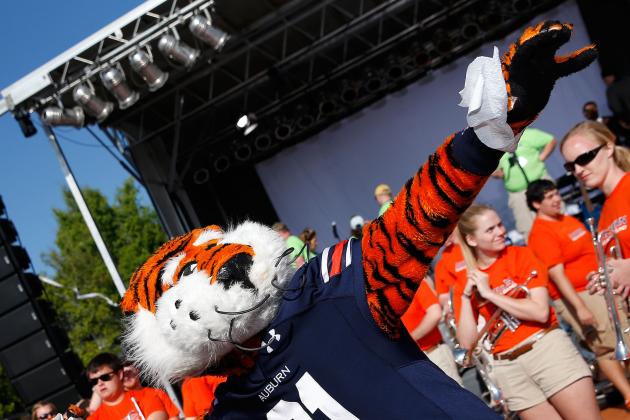 Mike Zarrilli/Getty Images

Auburn shouldn't even be thinking about a national title after the season it just experienced. But it's a new day for this program.
Gus Malzahn is somebody who can create magic offensively. All he needs is a great quarterback, as you likely saw in 2010 with Cam Newton. The defense should also take steps forward with the recruiting classes put together in 2013 and a couple of solid commits this year.
Auburn could become a surprise team this season, but it will certainly be a team to pay attention to once Malzahn has another season under his belt. It's recruiting well and has an offensive genius as a head coach.
All it takes is the right team to get hot in the SEC. Auburn will have that potential sooner than later.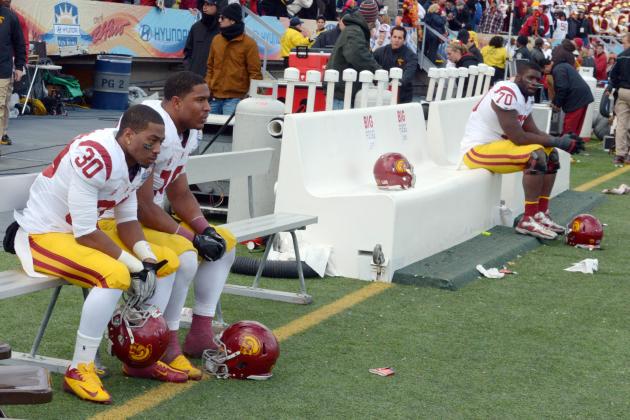 USA TODAY Sports

No matter how much Vegas may think so, USC isn't a championship contender this season. There are too many holes to fill and questions to answer to take the Trojans seriously.
The thing that USC does have going for it is that it is still USC.
The recruiting will continue to be top notch, and the media will also continue its hype machine and make sure the Trojans are nicely ranked before the season begins. By next season the concern at quarterback should be erased and the young defense will begin to gel, particularly the secondary that will feature a bunch of new faces.
It remains to be seen if Lane Kiffin will still be around next season, but either way the chances for a championship will be far greater than they are this season.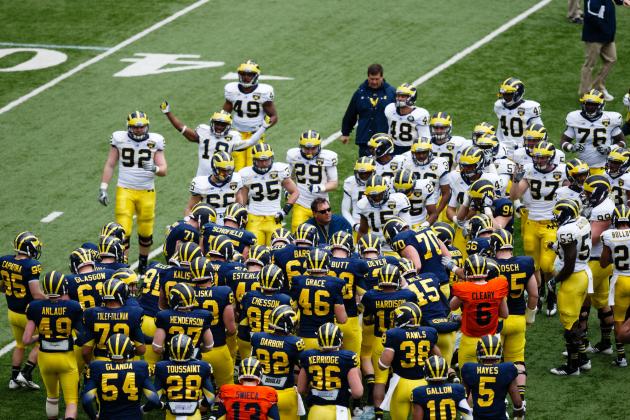 Rick Osentoski-USA TODAY Sports

Michigan is a team that is built for the future.
The majority of the offensive line is entering its first season of playing time. The running back depth is young. The recruiting has also reached levels the Wolverines haven't seen in a while. Last year's class was one of the best in the country, and that pace has continued early on this year.
This doesn't include the realistic possibility of quarterback Devin Gardner returning for a fifth year.
The Wolverines are the dark horse this season to compete in the Big Ten and give the Buckeyes a run for their money. However, next season will be the real chance for this program to reenter the spotlight and walk away with a crystal football.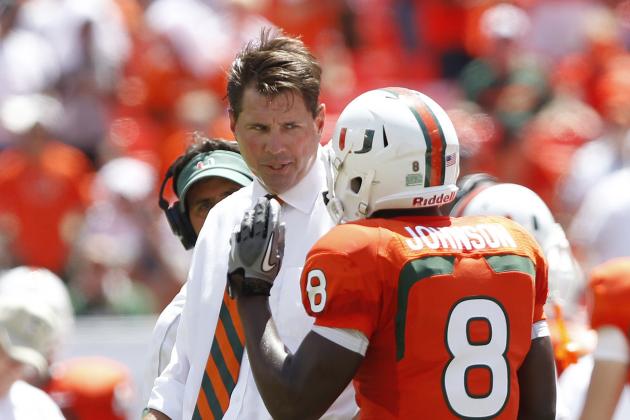 Joel Auerbach/Getty Images

You can only keep Miami down for so long. It is a program flooded with talent and many of those kids don't want to leave the area. Eventually things are going to turn around. Just ask Texas.
Al Golden is actually making progress with this team. He was able to win one more game last season (seven) than he did in his first season on the job. While that may not sound like a drastic improvement, the Hurricanes lost the majority of its key players after the 2011 season.
Now, the recruiting is back to where Miami is used to seeing it. Quarterback Kevin Olsen is the future, and running back Joseph Yearby is a potential superstar to go along with Duke Johnson. The scandal with the NCAA should soon come to an end and Miami will soon win double-digit games for the first time since 2003.
The Hurricanes are a sleeper this season in the ACC. Next year? Watch out.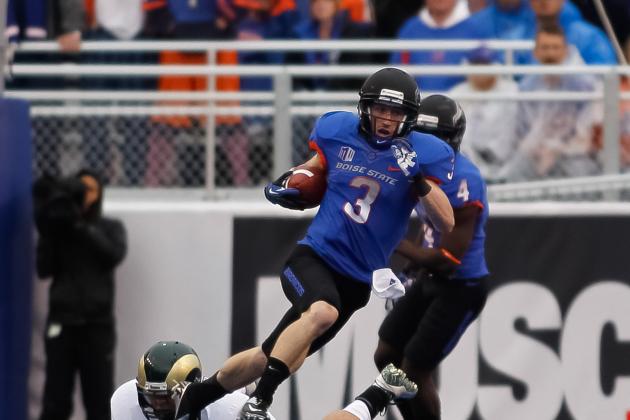 Otto Kitsinger III/Getty Images

Like Louisville, Boise State will never be given a legitimate look as a national title contender with the joke of a schedule it plays. Unlike Louisville, Boise State isn't changing conferences, and that schedule will remain Chris Bosh soft.
How do the Broncos chances increase after this season?
A new playoff format, of course!
While the odds may still be stacked against them, adding two more spots certainly helps. Boise State did rank in the top four of the AP Poll in three of the last four seasons. Head coach Chris Petersen continues to do the most with the least, and that formula for success hasn't let him down yet.
Boise State will finally have a real shot beginning in 2014.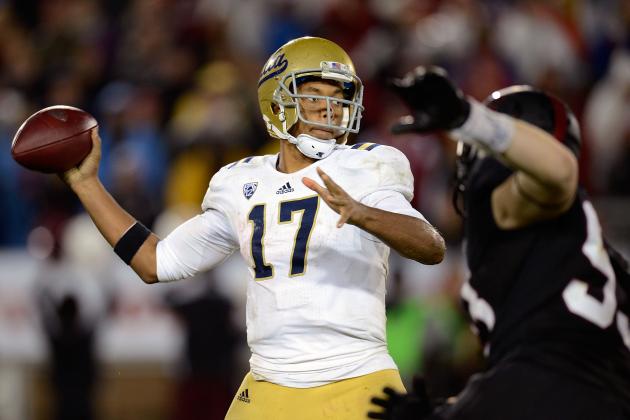 Thearon W. Henderson/Getty Images

The Pac-12 is wide open at the moment. There is a possibility UCLA could get hot again and make its way to the conference championship game with a sliver of chance to appear in the big game.
However, next season will be the year you would really be willing to bet the house on the Bruins.
Quarterback Brett Hundley would be entering his third season, although he could enter the NFL draft as a redshirt sophomore. He'll also have an experienced offensive line, and the defense will be much better with an entire new secondary getting over its growing pains in 2013.
UCLA is also recruiting with the best of them, which includes landing defensive lineman Eddie Vanderdoes from Notre Dame.
Jim L. Mora has this program heading down the right track. It will only get better with time.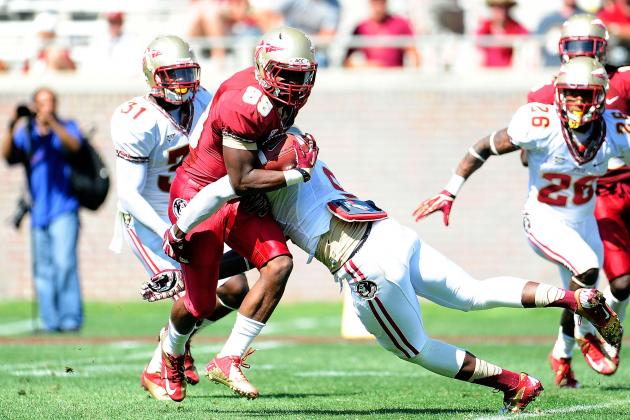 Stacy Revere/Getty Images

Florida State is always a contender due to the overwhelming talent on the roster and the inconsistent schedule it plays in the ACC. It is said every season, but next year may actually be the year the Seminoles get the ball rolling.
Quarterback Jameis Winston is a potential superstar. If he doesn't reach his potential as a redshirt freshman, you better believe he will win you over in his second season.
While he is enough to lead the offense, Florida State's entire defense will also be back in 2014. Mario Edwards, Eddie Goldman, Terrance Smith and Giorgio Newberry aren't going anywhere anytime soon. The defense is absolutely loaded and will only improve with experience.
Not even Florida State, a program known to choke over the years, can mess things up with a roster this talented.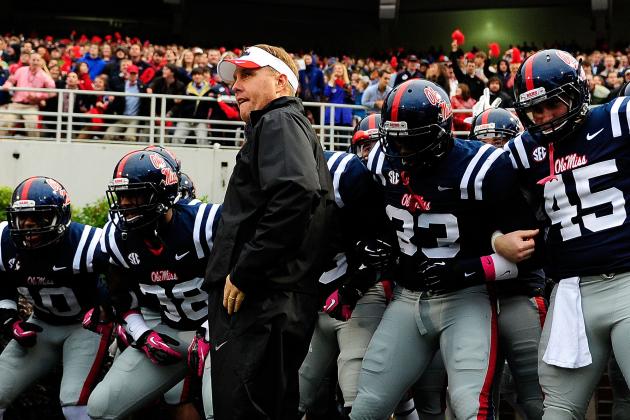 Stacy Revere/Getty Images

Ole Miss is the ultimate sleeper pick to qualify for one of the playoff spots. The sports world has witnessed crazier things before: Appalachian State upset Michigan, the New York Giants beat the New England Patriots twice in the Super Bowl and Buster Douglas knocked out Mike Tyson.
All you have to do is believe.
These aren't your ordinary Rebels under head coach Hugh Freeze. Last year's recruiting class will have this team looking sharp. Recruiting has also gotten off to a great start this year. Keep in mind, Ole Miss is also an extremely young team that was able to win seven games.
Ole Miss is a team quickly on the rise. Don't count it out just yet.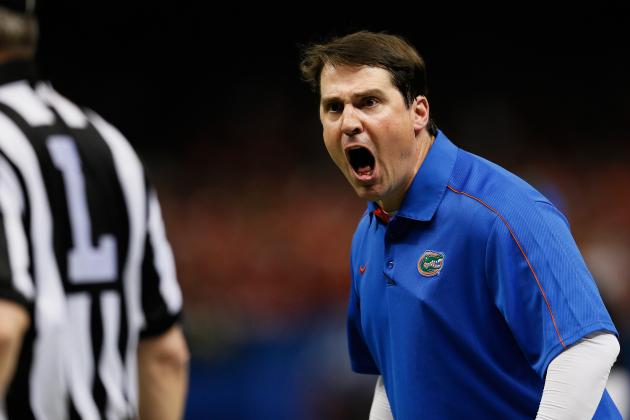 Kevin C. Cox/Getty Images

It seems like Florida always puts itself in the national championship conversation. Even when it isn't supposed to be (like last season), Florida still sticks its nose in the talks near the end of the year. Another run is possible, but next season is when Florida should feel confident about its chances.
There are still little signs of the offense improving. It doesn't matter how great the defense is or how red the head coach's face turns, it's tough to win games when you can't score consistently on an FCS opponent.
Florida has bright spots enrolling this season in running back Kelvin Taylor and wide receivers Ahmad Fulwood and Demarcus Robinson, but a unit full of true freshmen isn't exactly the way to go if you're competing for a title.
Next year the offense should finally catch up to the defense, and the Gators can chase their fourth national championship.