Best NFL QBs the Pac-12 Has Produced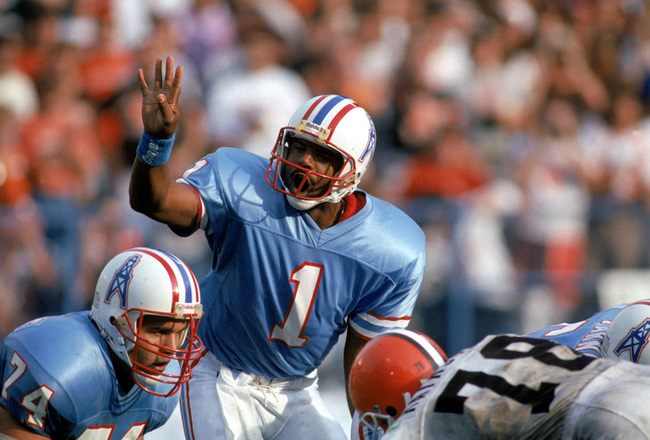 Brian Masck/Getty Images
In the past 10 years alone, great Pac-12 quarterbacks like Carson Palmer and Matt Leinart have won the Heisman Trophy, while others like Stanford's Andrew Luck have come awfully close. But does college success equate itself to success in the pros?
Not necessarily, but this case is a resounding YES. Pac-12 quarterbacks have an esteemed history in the National Football League, producing many of the best passers in this, and previous, generations.
Here's a look at the 11 best NFL quarterbacks to come out of the Pac-12:
Note: UCLA's Bob Waterfield, Stanford's John Brodie and Oregon's Norm Van Brocklin have been excluded, since they technically played in the Pacific Coast Conference, which disbanded in 1959. The new Pac-8, which became the Pac-12, didn't begin until years later.
*All stats and info. via Pro Football Reference*
11. Andrew Luck, Stanford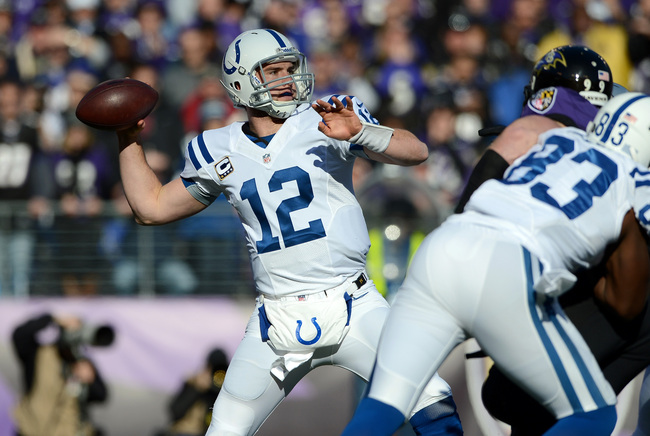 Patrick Smith/Getty Images
Since he is only one season into his NFL career, there was no way to shoehorn Andrew Luck into the top 10 spots on this list.
His rookie year was a dandy, though, leading the Indianapolis Colts back to the playoffs and barely losing out to Robert Griffin III for Rookie of the Year.
Barring unforeseen circumstances, Luck will start steadily moving up this list with time. And there is literally no ceiling on how high he might go.
10. Chris Chandler, Washington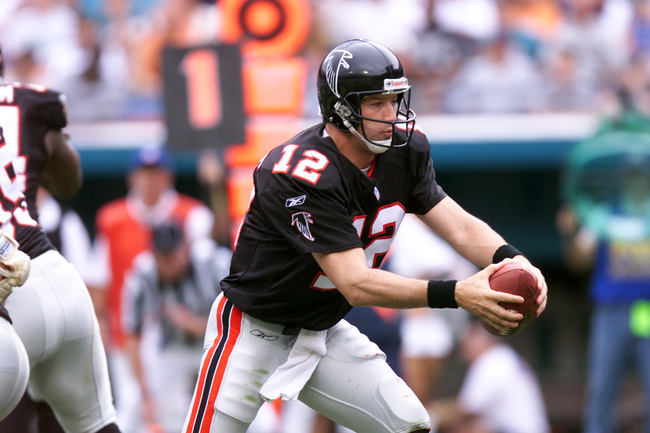 Eliot J. Schechter/Getty Images
Chandler was a bit of a vagabond, playing for seven different teams, and only staying more than three years with one of them.
That team was the Atlanta Falcons, which Chandler led for five years between 1997 and 2001. That span included one improbable Super Bowl run in 1998, after Chandler and the Falcons beat the 15-1 Vikings on Gary Anderson's famous missed field goal.
Chandler finished his career with 28,484 passing yards, right above Trent Green on the all-time list.
9. Carson Palmer, USC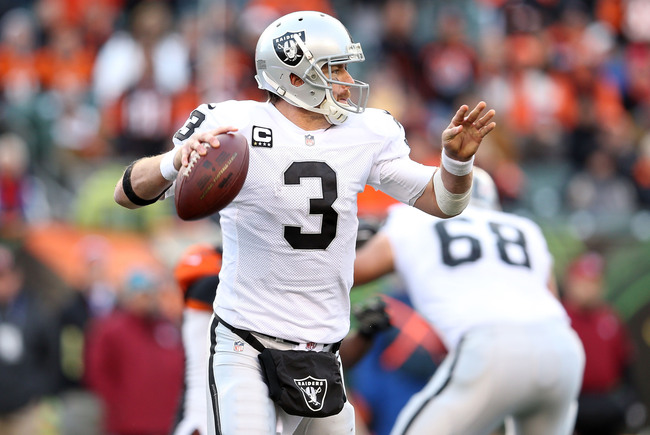 Andy Lyons/Getty Images
A bust when viewed through the lens of "No. 1 Overall Pick," Palmer has done enough in his professional tenure to crack the top 10 on this list.
Still, discussions about Palmer's career begin and end with "what if..." What if Kimo Von Oelhoffen hadn't pancaked his knee in the 2005 playoffs? What if he and Chad Johnson had ever been healthy at the same time? What if his confidence had ever returned following that injury?
Palmer has never quite looked like himself in the subsequent years, especially the last few in Oakland. But he's still showing signs of life, and a late-career teaming with Larry Fitzgerald in Arizona this year might be just what the doctor ordered.
With a good few seasons in the desert, he would move up two spots on this list.
8. Jake Plummer, Arizona State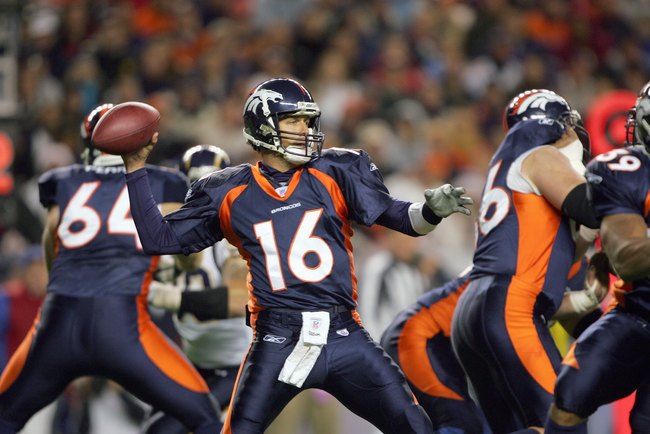 Doug Pensinger/Getty Images
Never accused of being boring, Jake "The Snake" dazzled fans for 10 years with his pocket escapability and penchant for late-game heroics.
Perhaps his greatest trick was going 9-7 with the 1998 Arizona Cardinals, a franchise that was hollow before his arrival, and again for some time after he left. His most winning years came in Denver, though, where he led the Broncos to a 13-3 record in 2005 after throwing for 4,000 yards just one season prior.
A home upset to the Pittsburgh Steelers in the AFC Championship kept Plummer from ever reaching the Super Bowl, but he was still a very effective player.
7. Mark Brunell, Washington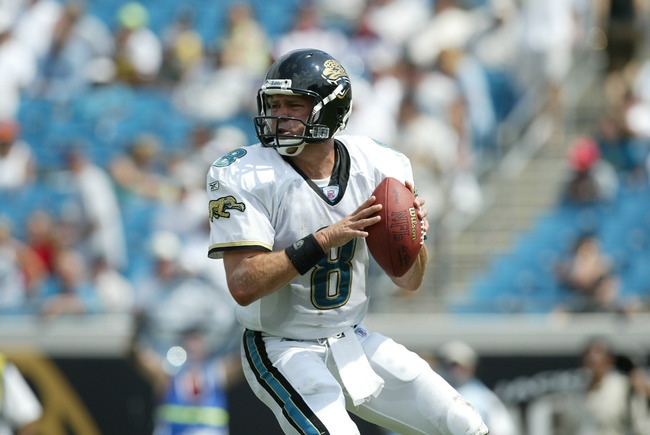 Allen Kee/Getty Images
The breadth of Mark Brunell's career is remarkable, starting with the Green Bay Packers in 1994 and ending with the New York Jets in 2011.
In that span, he started 151 games, appeared in 42 more and threw for 32,072 yards—the 31st-highest total in NFL history.
In the Jaguars' second year of existence, 1996, Brunell led them to a 9-7 record, leading the NFL that season with 4,367 passing yards. The young franchise would make the AFC Championship under his command that season, losing 20-6 to the New England Patriots—a team led by another quarterback on this list.
6. Aaron Rodgers, California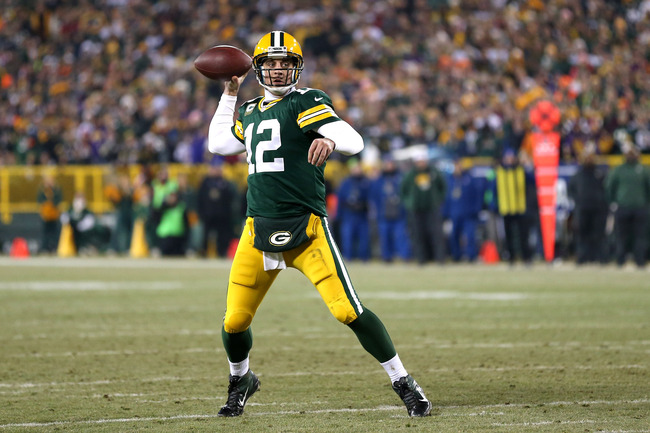 Jonathan Daniel/Getty Images
With only 78 regular season starts under his belt, Rodgers lacks the body of work to place any higher on this list. But if his past five seasons are any indication, it won't be long before he cracks the top three.
Rodgers has something many quarterbacks on this list, even some higher ranked, would envy: a Super Bowl ring. He got that in 2010, after his Packers beat the Steelers in Super Bowl XLV, a game for which he was also awarded MVP.
Speaking of which, Rodgers also won a season MVP award in 2011, after throwing for 4,643 yards and 45 touchdowns—the fifth-highest TD total in NFL history.
5. Dan Fouts, Oregon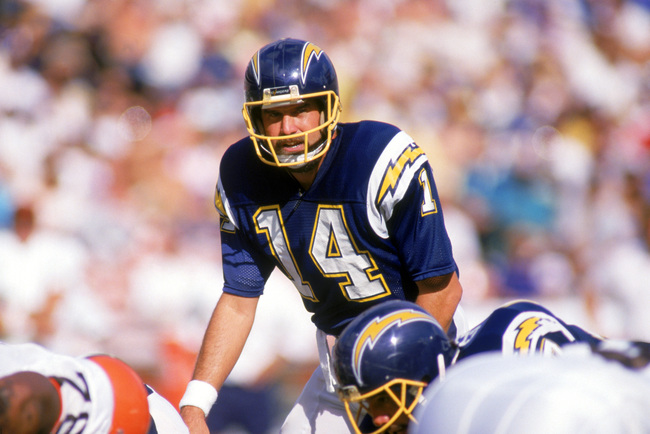 Stephen Dunn/Getty Images
The offense Fouts played in, "Air Coryell" as it was coined, was decades ahead of its time, a pass-heavy scheme that required technical proficiency from the man under center.
And Dan Fouts ran it to perfection.
Between 1979 and 1981, Fouts had three consecutive seasons with 4,000-plus passing yards. He finished his career with 43,040, good for 11th on the all-time list with no active threat looming to pass him any time soon (Eli Manning is his biggest worry with 31,527).
Fouts was elected to the Pro Football Hall of Fame in 1993.
4. Drew Bledsoe, Washington State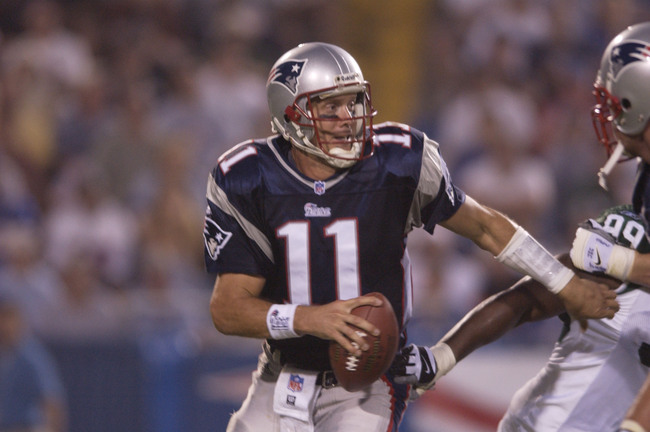 Ezra Shaw/Getty Images
Bledsoe ushered in two current regimes of quarterbacking efficiency: Tom Brady in New England and Tony Romo is Dallas.
But beyond his role as an antecedent, Bledsoe was one of the highest-volume passers in NFL history. Although he was a statue in the pocket, Bledsoe's lack of mobility wasn't enough to outweigh the rocket attached to his right shoulder.
He passed for 3,600-plus yards at each of his three NFL stops (New England, Buffalo, Dallas) and currently sits 10th on the all-time list, one spot ahead of Dan Fouts, with 44,611.
3. Troy Aikman, UCLA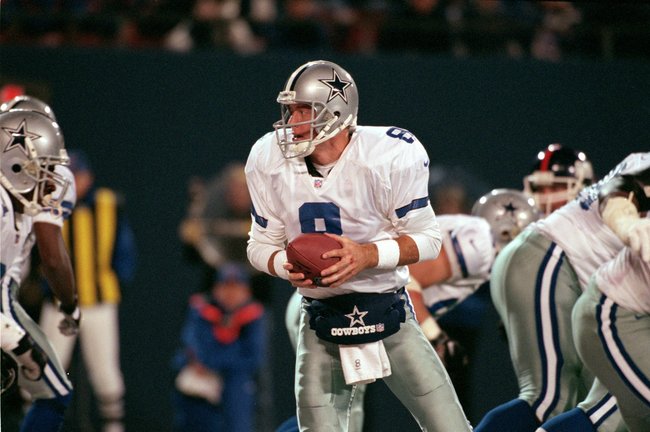 Ezra Shaw/Getty Images
Aikman doesn't have the net yardage of the guys immediately preceding him, but there are three obvious reasons he ranks ahead of them.
Super Bowl XXVII, Super Bowl XXVII and Super Bowl XXX.
Arguably overrated because he played with Emmitt Smith, Michael Irvin and a dominant offensive line, Aikman was actually the engine that made "America's Team" run. He was the ballast on which the team fell in times of need, and he even won MVP of his first Super Bowl win over the Buffalo Bills.
Aikman was inducted into the Pro Football Hall of Fame in 2006.
2. Warren Moon, Washington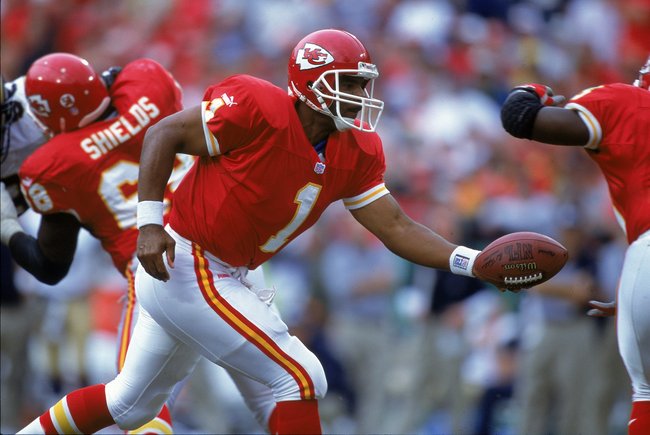 Brian Bahr/Getty Images
Warren Moon finished his career with 49,325 passing yards, fifth on the all-time list, and passed for 3,300-plus yards in nine different seasons.
When he retired, Moon held the NFL records for most passing TDs, most completions and most pass attempts. And though those records have all been broken by Brett Favre, the time with which Moon held them ensures that he will still go down in the annals of football history forever.
He was inducted to the Pro Football Hall of Fame in 2006.
1. John Elway, Stanford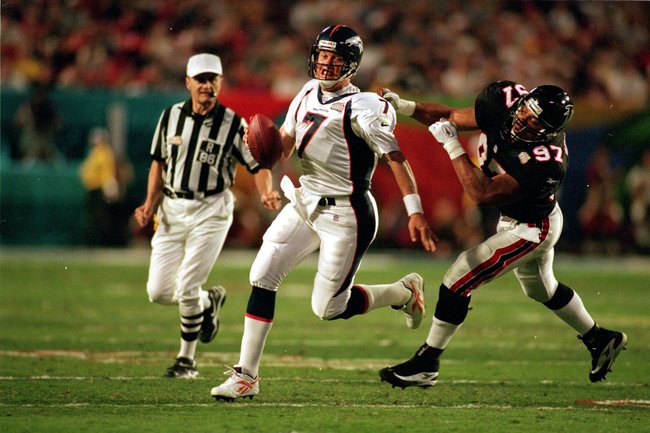 Al Bello/Getty Images
The golden standard by which all Pac-12 quarterbacks—and maybe all quarterbacks in general—are measured, John Elway was an easy pick to rule atop this list.
He played all 16 seasons of his career in Denver, starting 10-plus games each time, finishing with a total of 231 starts under center by the time he was finished. The Comeback Kid also finished with 51,475 passing yards, more than Warren Moon, and good for fourth on the all-time list.
Only Peyton Manning, Dan Marino and Brett Favre threw for more.
Elway famously ended his career on top of the world, retiring after his Broncos won Super Bowl XXXIII. Never was there a more fitting coda to one player's narrative.
Keep Reading