10 Redshirt Freshmen You Need to Know for 2013 College Football Season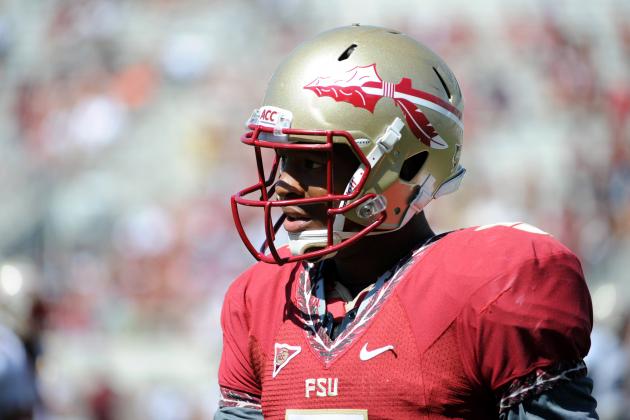 USA TODAY Sports

Redshirt freshmen are easily forgotten.
They are often highly recruited players who either aren't ready to play or aren't needed at their position.
Once that redshirt season is over, however, many end up becoming productive players. They have had an entire season to learn the playbook, work on their craft and get their body in tip-top shape.
Like every year, there are plenty of redshirt freshmen who are looking to make a splash. You don't want to be the person who is the last to know about the next potential superstar.
Some of the players to watch include an elite quarterback prospect at Florida State, a massive offensive lineman at Michigan and a big-play receiver at Alabama.
Begin Slideshow

»
Considering he is the son of one of college football's greatest running backs, the hype surrounding Barry Sanders Jr. sure is quiet.
Maybe it has a lot to do with how deep Stanford is at running back. However, all you have to do is watch the tape to realize that the sky is the limit for Sanders. He will have to fight Anthony Wilkerson, Tyler Gaffney and others for carries, but his potential as a home run threat is impossible to ignore
With his insane elusiveness and speed, Sanders runs a lot like his father. He isn't the traditional power back that Stanford has been known to use. It may be a while before Sanders is introduced, but he is sure to add excitement for Cardinal fans when he gets that chance.
As if Clemson needed another playmaker.
It doesn't take long to realize Germone Hopper is just that. He sees the field well, waits for his blocks and then shifts into another gear. He doesn't have Sammy Watkins' speed, but he can break off his fair share of big plays with his ability to accelerate quickly. He is a nightmare trying to tackle in the open field. Hopper also has great hands and change-of-direction skills.
Clemson is obviously loaded offensively, but Hopper is too talented not to receive playing time. Whether it's at wide receiver or on special teams, Hopper is worth watching.
Just make sure you don't blink.
George Morris III will have to fight for playing time, but the talent to make an impression is clearly there.
Morris runs with great balance and has a unique combination of power and speed. He is a strong inside runner who doesn't go down on initial contact.
He breaks arm-tackles with ease.
He hits the hole quickly and always keeps his legs turning to pick up those extra yards. He also has impressive hands, which will help him get on the field a lot sooner.
The Syracuse backfield is deep, with returning starter Jerome Smith leading the way. However, Morris will make an impact sooner than later.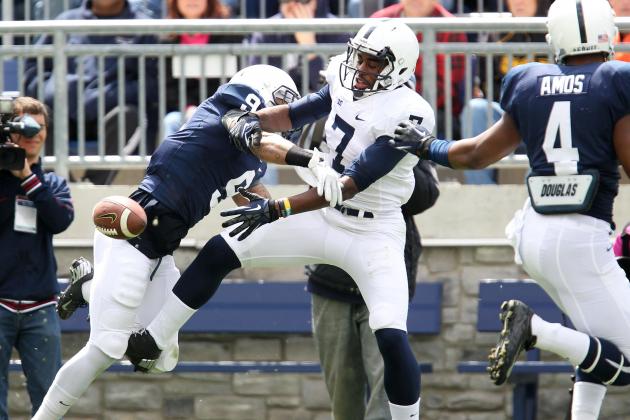 Matthew O'Haren-USA TODAY Sports

Due to its scholarship reductions, Penn State needs all the help it can get. One player who will help on offense is wide receiver Eugene Lewis.
Lewis is athletic and could also provide a boost on special teams. He is quick and shifty, capable of pulling off the big play while making players miss. He gets down field in a hurry and has great hands that allow him to catch the ball in traffic. He isn't the biggest or fastest receiver, but he is reliable and can play either inside or outside.
The Nittany Lions only have 67 scholarship players available this season. Lewis is expected to play a big role.
USA TODAY Sports

Jabari Ruffin is an athletic freak. He is capable of playing either side of the ball, but USC will use him at defensive end and linebacker. It's a great choice by the coaching staff.
Ruffin is a tough player who doesn't shy away from contact. He is as physical as they come and covers a lot of ground quickly. Due to his time on offense, Ruffin has also developed solid ball skills and turns into a playmaker with the ball in his hands.
Ruffin is still listed as a backup, but he will see plenty of playing time due to USC's lack of depth. It won't take long before he appears on highlight films and becomes one of college football's most popular players.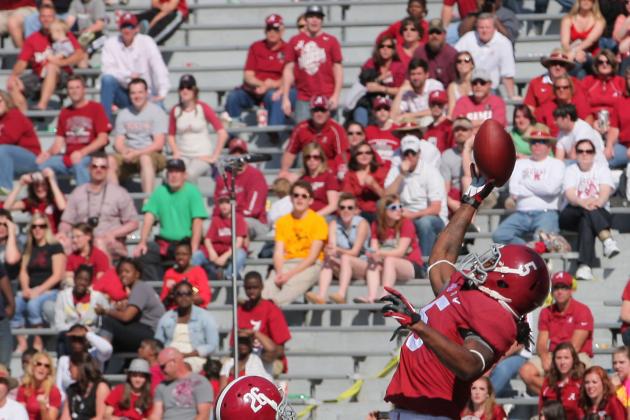 Marvin Gentry-USA TODAY Sports

Chris Black would have contributed to last year's championship team, but he missed the entire season with a shoulder injury. Getting him back on the field is bad news for the rest of the SEC.
Black is capable of playing inside or outside. He has above-average speed, terrific leaping ability and great hands. He high-points the ball well and seems to have a great feel for the game. He does a nice job of separating himself from the defender and can make players miss after the catch.
Amari Cooper was the star last season, but there will soon be company. Black is a playmaker and should have no problem seeing the field in a crowded Alabama offense.
Zach Kline could become the first starting quarterback for new head coach Sonny Dykes. If the coaching staff was smart, they would give Kline the keys.
Kline has tremendous arm strength, gets the ball out quickly and has terrific timing. He isn't the fastest, but he can also scoot and pick up a few first downs with his legs. His fundamentals are crisp, and he has great awareness in the pocket.
Cal has produced a few outstanding quarterbacks, and Kline will have every opportunity to add to that list. Expect him to add fire to an offense that finished 93rd in the country last season.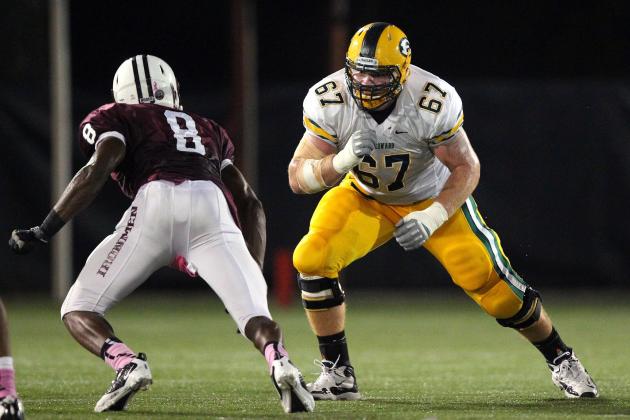 Danny Wild-USA TODAY Sports

Michigan needs to replace the interior of the offensive line. Kyle Kalis is expected to start at right guard.
Kalis has the look of a starting offensive lineman in the Big Ten. He's 6'5", 300 pounds and plays with an aggressive mean streak. He has that lunch-pail mentality and is always looking for contact. He brings that same intensity in both run and pass protection and does a great job of getting to the second level.
He is a tough, strong kid who Michigan fans will adore. Kalis plays the game the Big Ten way and soon could find himself competing for individual awards.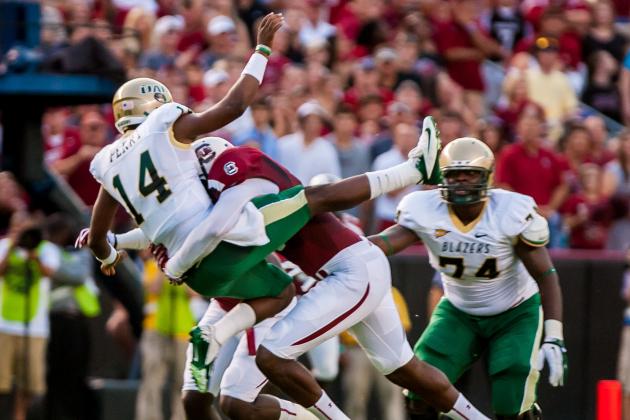 Jeff Blake-USA TODAY Sports

Everybody talks about Jadeveon Clowney, but there is a young defensive end named Darius English who has a few things to offer as well. English could have played last season, but South Carolina didn't need him. The young man took the time to get bigger and work on a few things.
English has freakish size at 6'6" and is like a Tasmanian devil on the field. He sheds blocks nicely and does whatever it takes to bring the ball-carrier down. If that means grabbing by the neck or swinging the opponent around like he's being blown by a gust of wind, so be it. He is a sure tackler and should see the field often this season.
English is considered the top backup behind Clowney. You couldn't ask for a better mentor. Soon folks in South Carolina will have another great pass-rusher to enjoy.
Stacy Revere/Getty Images

Jameis Winston has star written all over him.
His size at 6'4", athletic ability and cannon for an arm have drawn comparisons to Cam Newton, which might be blowing things out of proportion. However, he scans the field well, makes a strong throw with a quick delivery and can absolutely destroy a defense with his legs.
You can check out his potential by clicking here.
Winston is also a baseball player for Florida State and has made a name for himself in that sport as well. He will be the starting quarterback for the Seminoles and could soon take over the sport like Johnny Manziel did last year.
Yes, the potential and expectations are that high.