10 Committed 2014 College Football Recruits Who Will Become Superstars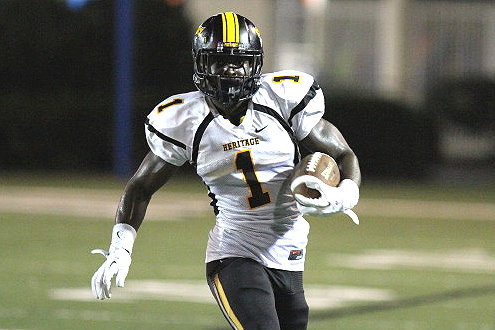 247Sports
The college football landscape has several true superstars each season. These special players do not magically appear or just show up on campus. Louisville quarterback Teddy Bridgewater, South Carolina defensive end Jadeveon Clowney and Heisman Trophy winner Johnny Manziel were all once recruits.
The 2014 class will certainly see a few of its members become superstars. However, exactly who that will be remains to be seen. The following 10 committed recruits appear to have the best chance at becoming national college football superstars.
A talented safety should quickly make his presence felt and become a known commodity. Georgia will have another stud running back who will excel in the SEC, and Brady Hoke has a commitment from a player who could become a superstar at several positions.
Player evaluations are based on review of tape at Scout.com, Rivals, 247Sports and ESPNU.

Begin Slideshow

»
Commitment: Texas A&M
Hoza Scott, who is the top player in the Aggies' class, is an athletic outside linebacker from Texas. He has great range, speed and also has a high ceiling as a pass-rusher.
At 6'2" and 220 pounds, Cook has the ability to change the course of a game with one big hit. He is instinctive on the field, getting a jump on plays to beat blockers and arrive at the ball with force.
Scott will head to College Station and could develop into a pass-rushing end or settle in as a weak-side outside linebacker. He will be an All-SEC defensive player.
Commitment: LSU
Edward Paris, who is from Texas, is one of the best secondary prospects in the country. He has the ability to play cornerback or safety, depending on the scheme.
Paris, who is 6'1" and 190 pounds, has outstanding instincts and transition quickness. He drives hard on routes and is skilled at jumping passing lanes to make plays on the ball. He is a knockdown tackler who rarely allows leaky yardage after contact.
LSU has produced superstar defensive backs over the years. Paris is next in line.
Commitment: Clemson
Deshaun Watson, who is the headliner of Clemson's class, could be the heir apparent to quarterback Tajh Boyd. He makes quick decisions after scanning the field and quickly locates open targets.
Watson is 6'3" and 200 pounds and has a strong arm to attack all levels of the field. He shows good quickness in his drops, sets up with poise and can fire strikes. Watson also has the athleticism to make plays with his legs, as evidenced by his 1,441 yards and 24 TDs rushing as a junior.
Dabo Swinney has his next superstar quarterback in Watson, who will be a great fit in the Tigers' offensive scheme.
Commitment: Florida
Dalvin Cook, who was once committed to Clemson, may have to wait several seasons before he breaks out. At the running back position, Florida has Matt Jones and Mack Brown, along with freshmen Kelvin Taylor and Adam Lane.
However, Cook still has the potential to be a dominant runner in Gainesville, whenever the opportunity arises.
Cook, who is 5'11" and 190 pounds, has outstanding instincts, vision and quickness. He is one of the most elusive running backs in the country and has smooth athleticism. Cook can burst through holes, elude defenders in tight space and can also be used on screen plays.
Commitment: Alabama
David Cornwell, who has been declared eligible to play high school football in Oklahoma this fall, has the arm talent to be a superstar quarterback in college. However, he will have to fight 2013 signee Cooper Bateman for the right to replace AJ McCarron in Tuscaloosa.
The 6'5", 230-pound Cornwell has a cannon for a right arm. He shows adequate foot quickness, movement skills in the pocket, has good field vision and can flash impressive accuracy.
He is a quarterback who can win games with his arm and skill set rather than being just a game manager for Nick Saban.
Commitment: Tennessee
Jalen Hurd, who is the star of Tennessee's recruiting class, has the ability to play several positions. He is a similar player to 2013 running back prospects Derrick Henry and Ty Isaac.
Hurd is 6'3" and 230 pounds. He has big-back size but the quickness of a smaller runner. He has an elusive running style and displays a good burst through holes. The physicality of the SEC will teach him how to consistently run lower behind his pads.
Hurd has good hands and could develop into an H-back in Knoxville. He will quickly become one of the most talented players on the Vols' roster at whichever position Butch Jones asks him to play.
Commitment: Miami
Joseph Yearby, who opened this cycle as a Florida State commit, is a teammate of Florida commit Dalvin Cook. He is the top scat-back on the board and also can factor into the passing game.
Yearby is 5'9" and 190 pounds. He can dart and slash through run alleys but also has the agility and quickness to get to the edges outside the tackles and turn the corner on defenses.
He is very elusive and also has the ability to align in the slot, run underneath routes and catch the football.
He is similar to Miami running back Duke Johnson.
Commitment: Virginia
Quin Blanding is the best recruit of the Mike London era at Virginia and is a prospect who will be a team captain one day. He is a great leader who plays with intelligence, confidence and instincts.
Blanding, who is 6'2" and 200 pounds, is an athletic safety who can get off the hashes with excellent transition quickness. He has the range to also be left as the single high safety and be responsible for the complete deep middle-third of the field.
Blanding has the ability to quickly read routes and refuses to be manipulated by a quarterback's eyes and pocket movements. He shows great closing ability and ball skills, and he quickly squeezes the line of scrimmage to find the ball to make tackles in the box.
He is a rare safety who should be a superstar by the end of his sophomore season in Charlottesville.
Commitment: Georgia
Sony Michel, who is the top player in Florida, will have to wait a season before he breaks out in Athens. That's because running backs Keith Marshall and Todd Gurley will still be around when Michel arrives.
However, the pair could opt for the NFL after the 2014 season, which would leave Michel to take over the load in the Bulldogs' rushing attack.
Michel, who is 5'11" and 205 pounds, has everything a running back needs to be successful. He has fantastic vision and instincts to go along with speed, quickness and agility. He can burst through holes, elude defenders or break tackles and finishes runs with power. Michel also has terrific hands and can play receiver.
He is a player who could one day lead the SEC in yards from scrimmage.
Commitment: Michigan
Jabrill Peppers, who announced his Michigan pledge by wearing a Wolverine helmet, is the most versatile player in the country. He could be a superstar at cornerback, running back, safety, receiver or even outside linebacker.
Peppers, who is 6'1" and 205 pounds, is from New Jersey and will get his first look as a cover corner in Ann Arbor. With his size, loose hips, transition quickness, agility, strength and outstanding instincts, he could be the next Patrick Peterson (or Charles Woodson to Michigan fans).
Peppers could also be a standout as a kickoff returner and should impact the Wolverines' special teams as a true freshman. He is a future superstar who will only be in Ann Arbor for three seasons.
Edwin Weathersby is the College Football Recruiting Analyst for Bleacher Report. He has worked in scouting/player personnel departments for three professional football teams, including the New York Giants and Cleveland Browns.