10 MLB Stadiums That Need to Host a College Football Game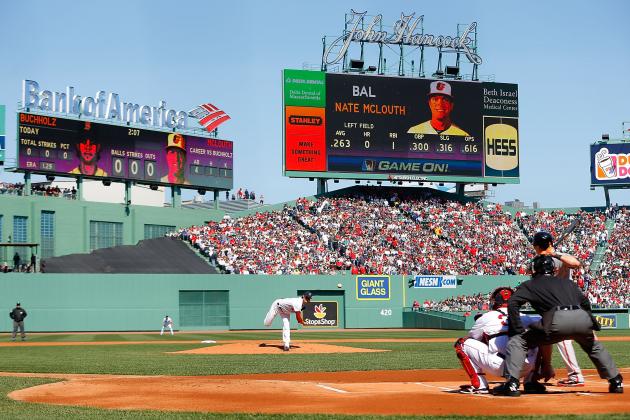 Jared Wickerham/Getty Images

Playing a football game on a football field just isn't good enough anymore. We're seeing hockey being played outside, basketball games being played on aircraft carriers and football has now slowly made the switch to the baseball diamond.
Whatever it takes to keep the fans satisfied.
Are you not entertained?
College football is always looking for ways to think outside of the box. Patching up the dirt of a baseball field and twisting the dimensions to fit 100 yards of gridiron is just that. Some parks have already tried the experiment, and it went over well. Now, it's time for others to hop on board while some find a way to do it again.
Begin Slideshow

»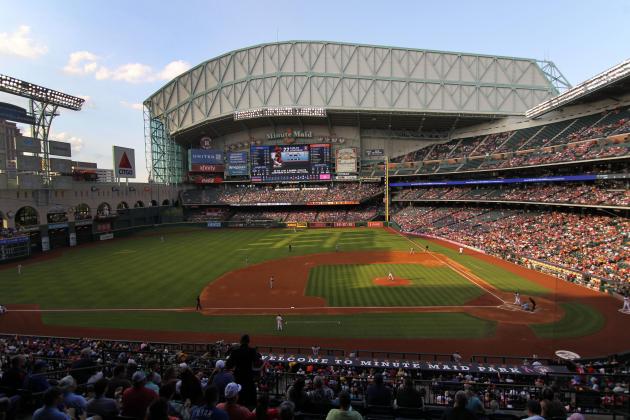 Brett Davis-USA TODAY Sports

Just because the Houston Astros aren't exactly tearing it up on the baseball diamond, that doesn't mean the stadium they play in isn't awesome.
The first thing to like is the retractable roof that will help keep things cooler for the players when the weather is brutally humid. The other thing is the gorgeous view of the Houston skyline that can be seen whether the roof is open or closed.
It is also one of the more creative ballparks, as it has a hill in straightaway center field. Of course, that wouldn't impact the football field, but it would make things interesting if it did.
Minute Maid Park holds more than 42,000 people, and a football game could actually help reach that total for the first time in forever.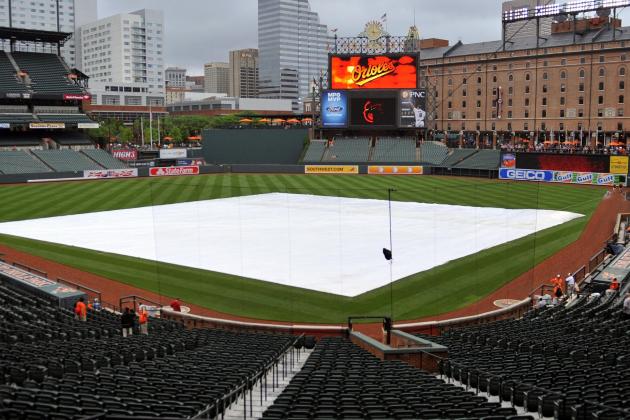 USA TODAY Sports

Camden Yards is arguably the most underrated stadium in all of baseball. In fact, many of the more recently built baseball parks were influenced in some way by this stadium. It is the original retro park, and the one others are compared against it.
Besides the history that has taken place, the view of B&O Warehouse behind the right field wall and the Baltimore skyline makes this stadium one of a kind. The aesthetic atmosphere and gorgeous view alone is worth scheduling a football game in this park.
Camden Station also provides transportation so you can make it to the park on time.
It is one of the originals.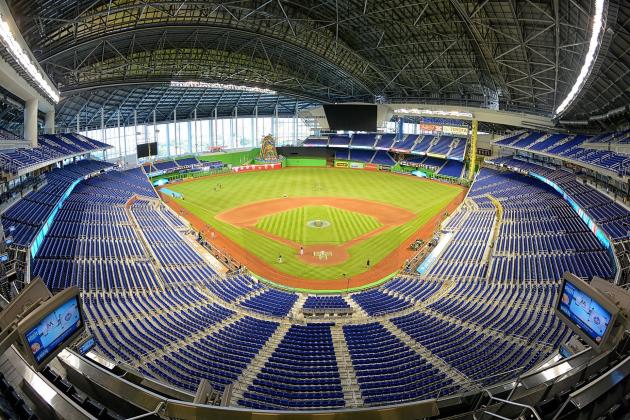 Jason Arnold/Getty Images

The trend lately is for the newer stadiums to host all of the big events. Well, here you have Marlins Park. It is the newest baseball stadium, opening in 2012. The baseball team isn't putting it to good use, so why not schedule a football game?
Marlins Park is different than the rest thanks to inspiration from the Latin community. It's colorful, full of life and something you couldn't find anywhere else. It has that South Beach vibe. There is also a view of the Miami skyline in left field that is hard to top.
The downside is that it is the third smallest park, holding only 36,742 people. But Miami is one of the cities that is able to sell itself. Putting a college football game in this spacious ball park wouldn't need much convincing.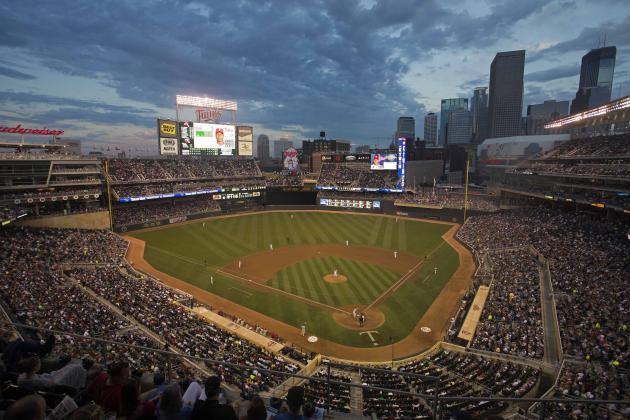 Jesse Johnson-USA TODAY Sports

The weather in Minneapolis always makes for an interesting day. Target Field has no retractable roof and has very little cover whatsoever, which can make for terrible baseball weather, but would create loads of fun if there are football teams on the field.
The stadium is one of the newer parks, as it opened in 2010, and it is extremely large. The 411 feet to center field makes it the fifth-largest baseball park. It also holds a little more than 42,000 people, which is good enough to get a football game scheduled.
Target Field just has that clean look to it and would be a nice place to play a football game.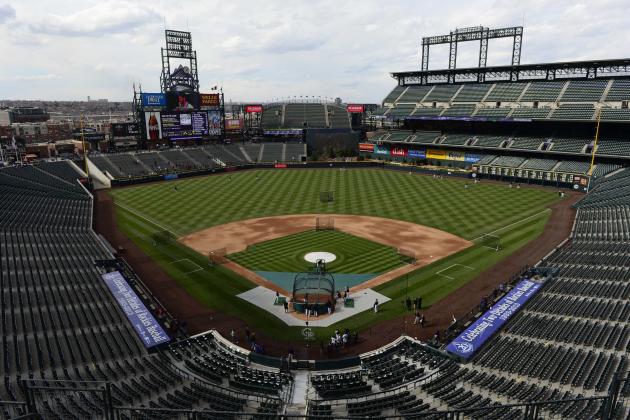 Ron Chenoy-USA TODAY Sports

Coors Field would be one of the few baseball stadiums that could actually provide a college football atmosphere.
The 50,480 seating capacity is the second-most in the MLB and is more than some college football stadiums. There is also a ton of room, which includes 415 feet to center field and a 56-foot backstop.
Putting a football field in this bad boy wouldn't be a problem.
The climate, though, would make things interesting, with the game being played in Denver. Make sure to have those oxygen masks on deck.
Coors Field is known as a hitter's park, but we would all love to see some actual hitting going on.
Scott Cunningham/Getty Images

Turner Field was home to the 1996 Summer Olympics and held more than 80,000 people. Surely we could make a football game happen.
The stadium is located in Atlanta, which is a prime location for a big game. Fans from both sides would have no problem making their way down to check out this event.
It also has one of the world's largest video boards in straightaway center field. A running back could use this to his advantage when trying to outrun a defender.
There is a lot of history, and great players who have played on Turner Field. A college football game would only add to it.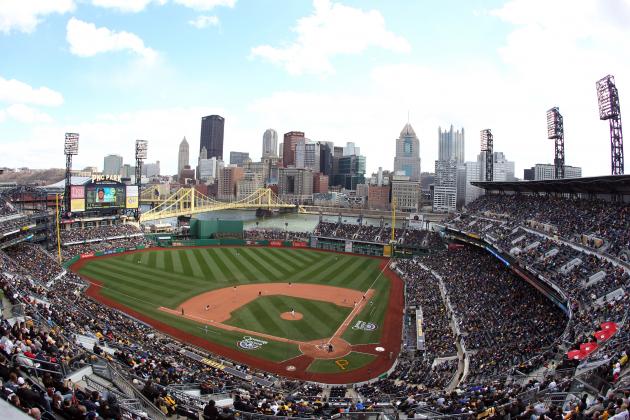 USA TODAY Sports

You can't talk about football without mentioning Pittsburgh. Steel City is known for hard hitting and playing the game the right way. It's only right to play a game in PNC Park.
The first thing you notice about this stadium is the Roberto Clemente Bridge that fades off into the distance. It adds a unique twist and is something you haven't seen anywhere else.
The field would handle a football game well with the unique playing surface and amazing drainage system that was installed. This isn't your ordinary pretty baseball park that can't handle the physicality.
There is also the great food this city has to offer.
Just make this happen already.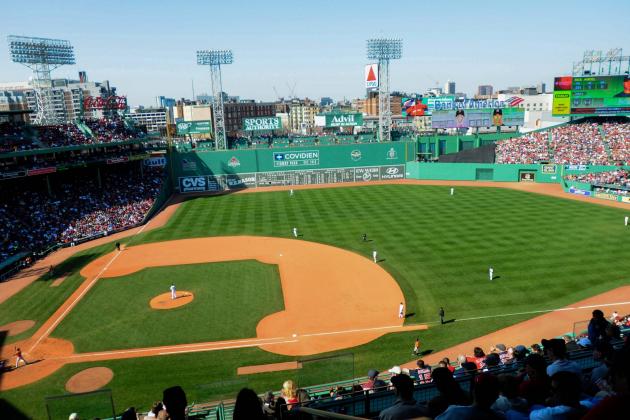 USA TODAY Sports

We say baseball field, you think...
Fenway Park is more than just a baseball stadium. It is an iconic landmark and a piece of history. It opened in 1912, which makes it the oldest baseball stadium around. Generations and generations have watched games in this classic ballpark, and it was home to numerous sport teams in the AFL and NFL over the years.
There was also a hockey game played in 2010, and it has hosted football games for Boston College and Dartmouth College. But we need to see more. We want more! We want more! Like, we really like it, and we want more.
The history of this stadium and everything that comes with it would make this a great recruiting draw for a college program.
Stephen Dunn/Getty Images

Dodger Stadium has the perfect combination of everything.
The 56,000 seating capacity is more than Arizona Stadium, Autzen Stadium and Memorial Stadium. It also packs that punch of history, as it's the third-oldest baseball stadium. It opened in 1962 and has seen pretty much everything there is to see in the major leagues. From World Series titles to NL pennants, this place has seen it all.
The stadium is also located in sunny California and does provide a nice view of downtown Los Angeles.
Dodger Stadium is one of the best in the business.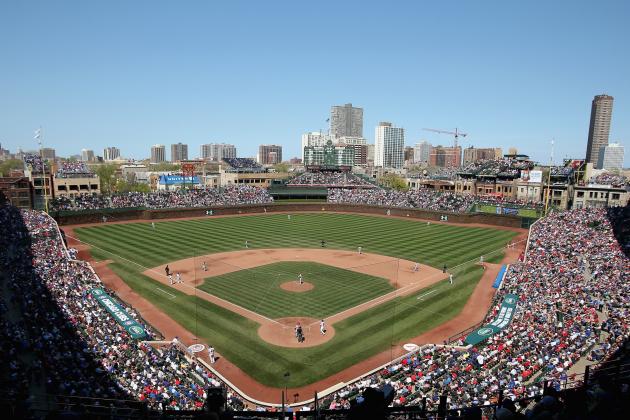 Jonathan Daniel/Getty Images

If Dodger Stadium and Fenway Park are the considered to be the top two baseball stadiums in the country, Wrigley Field is a close third. It opened in 1914 and is the second-oldest baseball park behind Fenway.
Wrigley really needs no introduction. It is a symbol of baseball history, and the ivy-covered outfield walls make it one of the most original parts of any stadium regardless of the sport. The ridiculous wind patterns, old-fashioned scoreboard and view of Chicago in the background is all extra.
This stadium bleeds history and is one of those places that you must visit before you die.
Wrigley has hosted games for the Chicago Bears, and Northwestern is scheduled to play games there as well. There was also an interesting game that only allowed the use of one end zone due to the brick wall.
More is better in this case.