10 Best College Football Stadiums for Night Games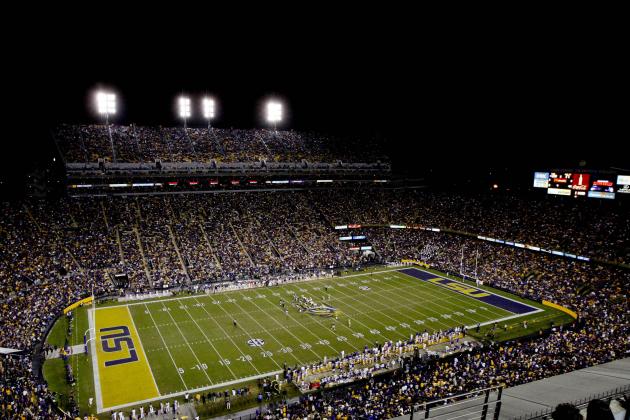 Derick E. Hingle-USA TODAY Sports

College football provides some of the best atmospheres in sports, but there is nothing like those night games. The whole feel of the game changes, magic is floating through the air and stranger things seem to happen when the sun is down.
While all night games are usually better, there are some stadiums across the country that should be forced to play under the lights at all times.
These are the stadiums that provide the best home atmosphere at night and are the same spots where opposing teams absolutely hate showing up to play. A lot of them are located in the SEC, but there are a couple that may actually surprise you.
Begin Slideshow

»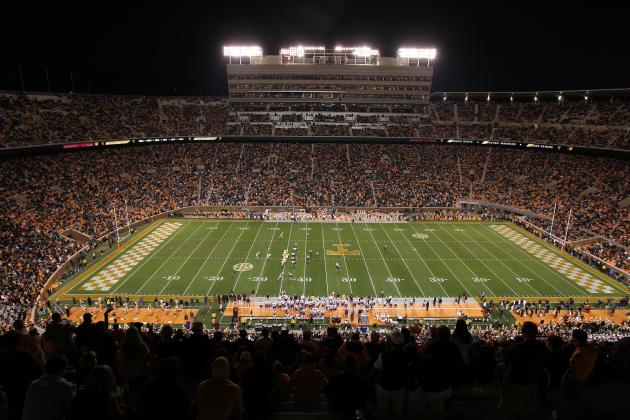 Andy Lyons/Getty Images

One thing that hasn't changed with Tennessee is the atmosphere that Neyland Stadium provides on a weekly basis. Even with the hard times this team has faced over the years, you can usually expect 100,000-plus screaming fans to show up in support of those Volunteers
The colors also blend in well in a night game, as orange and white creates kind of a Halloween vibe. Last season's game against Florida showed just what a night game can do for the confidence of the home team. Even though the Volunteers lost by a score of 37-20, the game was close throughout and provided numerous chances for Tennessee to pull off an upset.
Tennessee has a great home atmosphere, and it's even better at night.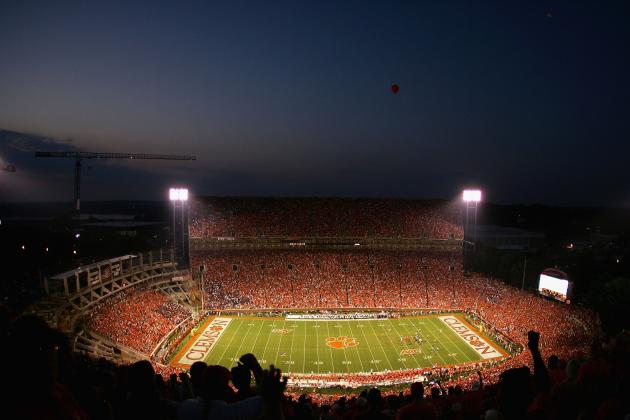 Streeter Lecka/Getty Images

Memorial Stadium features a cemetery on the hill where the press box now sits. The stadium is also referred to as "Death Valley." Night game. Death. Is there anything else that needs to be broken down to know why it has made the list?
Besides the eerie feeling opponents must feel when taking the field, Memorial Stadium also has one of the best pre-game traditions of running down the hill and touching Howard's rock. The crowd goes absolutely insane, and it only adds to the adrenaline of the players.
The Tigers feed off this atmosphere, and it has helped produce a 227-88-7 all-time home record.
This is easily one of the more underrated stadiums in the entire country.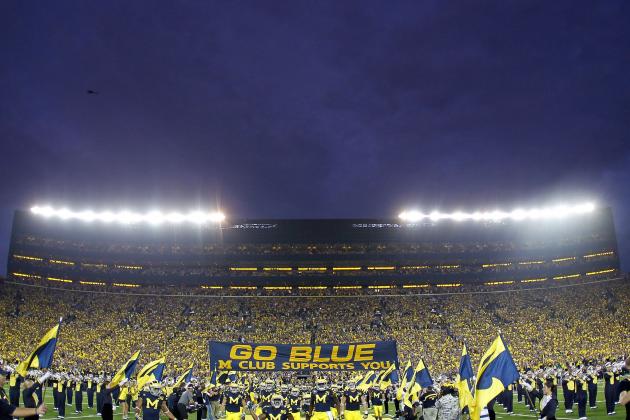 Gregory Shamus/Getty Images

One of the more remarkable facts in college football is that it took Michigan Stadium generations to finally schedule a night home game. The first night game ever was played in 2011 against Notre Dame, a matchup that came down to the wire. We have to believe playing under the lights had something to do with it.
But what took so long?
This is the Big House, after all. A stadium that holds close to 110,000 people, not everybody has a bedtime scheduled for six in the afternoon. Besides the old jokes and criticism for how quiet things can get, Michigan Stadium is still an iconic part of college football.
I think everybody can agree more night games should be planned.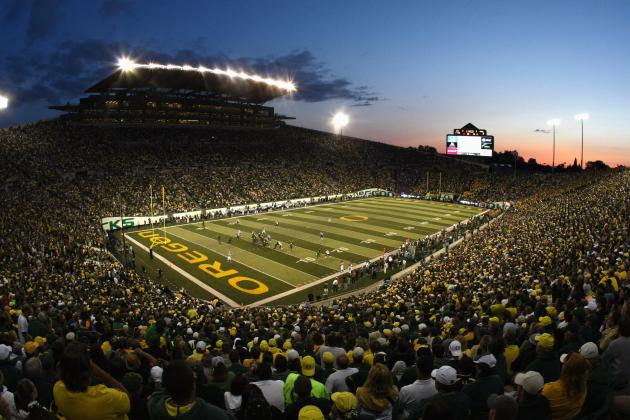 Jonathan Ferrey/Getty Images

Autzen Stadium isn't overpopulated with eye-popping attendance numbers, but good luck hearing anything if you ever attend a game.
It only holds 54,000 Ducks fans, but it remains one of the loudest venues in sports, thanks to playing the game on a sunken field. The fans are on top of you, and that isn't a good thing when they are as passionate as fans in Eugene are.
The stadium is located practically in the middle of nowhere, which makes the opponent feel like they are on their own. Darkness and deafening noise is never a great combination for the road team.
Night games in Autzen have also brought out a few celebrities.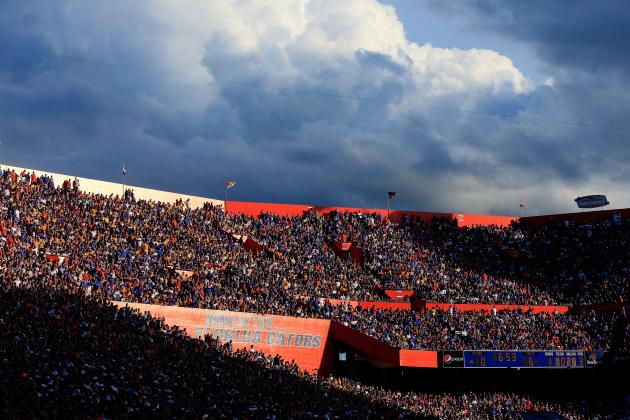 Sam Greenwood/Getty Images

Being surrounded by a pack of Gators is scary enough. In the dark? Uh, it's time to come up with an excuse not to make the road trip.
Ben Hill Griffin Stadium provides one of the best home atmospheres due to the 88,000-plus fans that show up. Much like Autzen Stadium, the Gators also play on a sunken field.
If that wasn't scary enough, fans begin doing " The Chomp," which is included with the "Jaws" theme song. Even though you aren't actually in a swamp, that slow paced music always seems to make the hair on the back of your neck stand up.
It is always tough to beat the Gators at home. Most teams have almost no chance whatsoever if it is being played under the lights.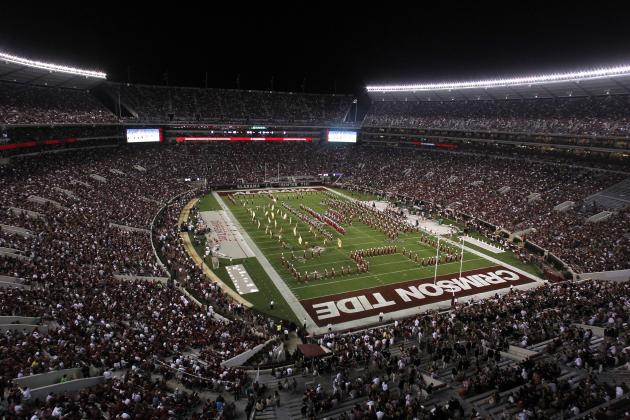 Butch Dill/Getty Images

Alabama doesn't need a tough atmosphere to win so many games because the talent truly speaks for itself. Although it doesn't hurt to have a place where opponents hate showing up to play.
Bryant-Denny Stadium holds more than 100,000 people and is always packed due to the high chances of seeing a victory. It can get loud with the best of them, and that only plays into what the defending champions are trying to do.
It is intimidating enough just walking into the building where so many legends were made and championships were won. Then having to deal with the noise and playing in the dark is the trifecta advantage for the Tide.
Having Alabama come to your house isn't much better, but it sure beats having to travel to Tuscaloosa.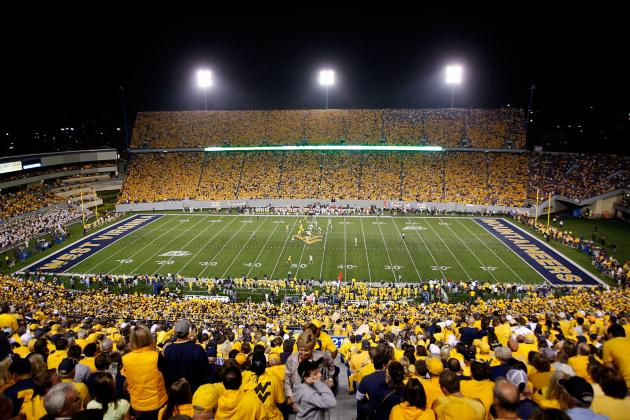 Jared Wickerham/Getty Images

There are very few fan bases as passionate as West Virginia fans.
Mountaineer Field is usually packed with more than the 60,000 fans it is supposed to hold, and they go absolutely nuts. Fans were camping outside days in advance to make sure they would get to see the big showdown in 2011 against LSU. A sea of old gold was what it looked like once the game was scheduled to finally kickoff.
West Virginia often provides an SEC like atmosphere and is a venue that can compete with any in the country. More prime time matchups will continued to be scheduled as long as the Mountaineers continue to head in the correct direction.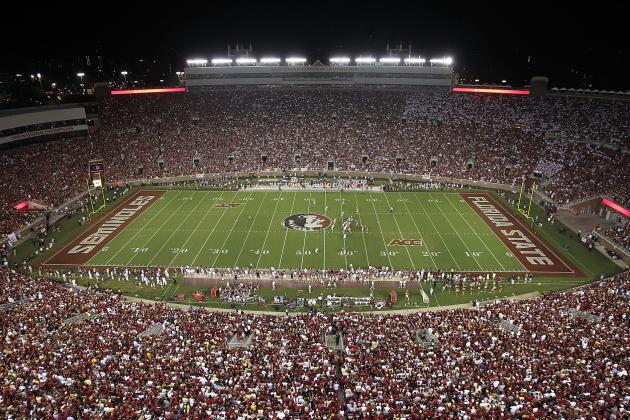 Ronald Martinez/Getty Images

Florida State fans are just as rowdy as its defense. It is relentless, unforgiving and will beat you to your knees if you let it.
Doak Campbell Stadium opened in 1950 and seems to increase its attendance numbers about once every decade. It now holds more than 82,000 Seminole fans, which is bad news for the visiting team. The stadium isn't surrounded by a bunch of fancy tall buildings, so this place can get rocking when the team gives the fans a reason to cheer.
You can see how nasty it can be during a night game by clicking here.
Needless to say, Florida State knows how to provide a home field advantage.
The video says it all.
Once Metallica's "Enter Sandman" begins to play, it is time to drop everything you are doing and go wild. That song turns Virginia Tech fans into something college football isn't too familiar with and can really have a negative impact on the team that can't wait to get the heck out of dodge.
Lane Stadium just has this dark feeling to it and isn't really a place any other team would prefer to call home. The fans always show up to support their Hokies and make sure they are dressed in the traditional Chicago maroon and burnt orange.
Everything that comes with this stadium makes it the total package, but it is that theme music that helps take things to a completely different level.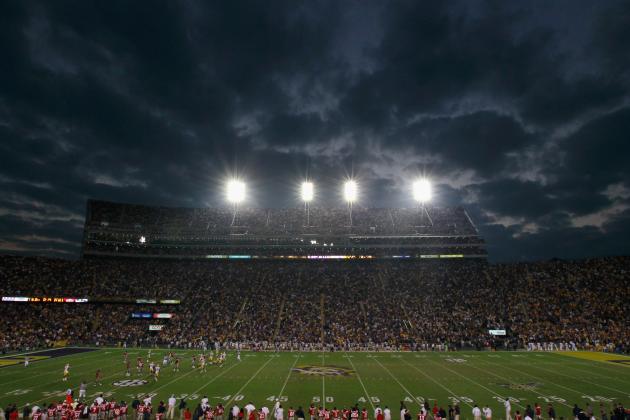 Kevin C. Cox/Getty Images

There is no college football stadium in the country scarier than Tiger Stadium in Baton Rouge. The place goes absolutely bonkers on game day and makes things beyond difficult for the opposing team. Throw the darkness into the equation, and it is almost impossible to win in this place.
The Tigers are a combined 201–59–3 during night games at home since 1960, which makes for a little more than 77 percent victory margin. Good luck, you'll need it.
The stadium holds more than 92,000 passionate LSU fans who keep things rocking for all 60 minutes. Speaking of rocking, there was a game that registered an earthquake, which is always worth mentioning when discussing Tiger Stadium.
From the crowd, to the aggressive defense and the weather that can get pretty nasty, Tiger Stadium is the biggest home field advantage in college football, especially at night.