8 Potential Breakthrough College Football Recruits in Class of 2014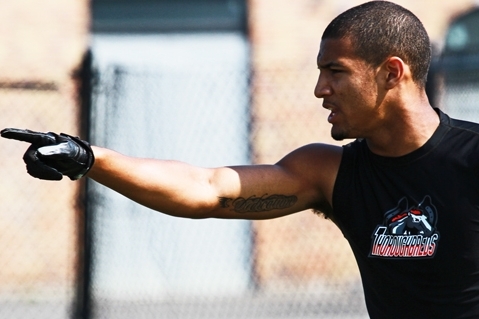 247Sports
During the final stages of the 2001 recruiting cycle, a 5-star defensive lineman committed to a program who had fallen on hard times. The school had hired a coach who was not the first, second nor third choice on its list and was struggling in recruiting.
However, the talented defensive line recruit saw something in the new coach and committed to his vision over a myriad of offers. His willingness to trust the coach opened the floodgates and the program went on a legendary run in both recruiting and championships in the 2000s.
Shaun Cody was Pete Carroll's breakthrough recruit and the 2014 class has several committed recruits who fit the same mold. A pair of stud players have validated Butch Jones' recruiting pitch, while Charlie Weis has his biggest commit to date.
In Charlottesville, the Wahoos await a safety recruit who has given them more credibility on the trail.
Player evaluations are based on review of tape at Scout.com, Rivals, 247Sports & ESPNU.

Begin Slideshow

»
Jones is the most talented recruit Jerry Kill has landed at Minnesota. An offensive-minded coach, Kill was hired to bring some sizzle to the Gophers' program.
Jones, who is 6'0" and 190 pounds, is an in-state running back with a great skill set. He has a good combination of speed, power and instincts which have made him a sought after prospect.
With Kill boasting a pledge from a player like Jones, the coach can now use this as a rallying cry to land several other top recruits around the Midwest.
Mark Stoops and has staff had a limited amount of time to assemble its 2013 class. However, they did land top-level recruits such as defensive ends Jason Hatcher and Za'Darius Smith along with receiver Javess Blue.
Those players will all play well in Lexington and deserve the excitement generated by their anticipated arrivals. Yet, nothing gets the fanbase going more than a commitment from a good quarterback prospect.
Drew Barker, who is 6'4" and 200 pounds, is an ESPNU member who has committed to Kentucky. Barker's commitment is the jolt that Stoops was looking for to put the Wildcats on the radar for other upper-echelon recruits.
Rich Rodriguez is out to find players who fit his schemes in Tucson. He signed just one ESPNU 300 player last year in ATH Samajie Grant.
Rodriguez has signed solid classes since taking over Arizona in 2012, but he clearly needs that one big recruit to commit to him to establish more credibility.
Enter ATH Cameron Denson, who at 6'1" and 175 pounds is the best recruit Rodriguez has landed in the desert. Now that "Rich-Rod" has a player committed of Denson's caliber, look for him to be more aggressive on the trail.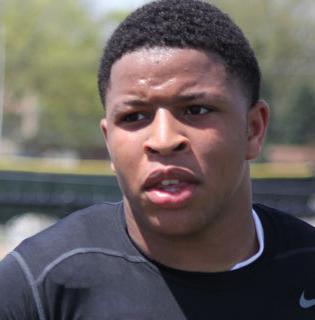 247Sports
Surveying Kansas' 2013 class, the best recruits all were from the JUCO ranks, including elite defensive tackle Marquel Combs.
The big defensive trench man will make an impact for Charlie Weis, but the coach needs a breakthrough high school recruit to prove he can bring good prep talent to Lawrence.
That need has been filled, as Weis has gotten a pledge from 4-star linebacker Kyron Watson, an ESPNU 150 member. Watson's commitment could be just what Weis needed to jump start Jayhawk recruiting.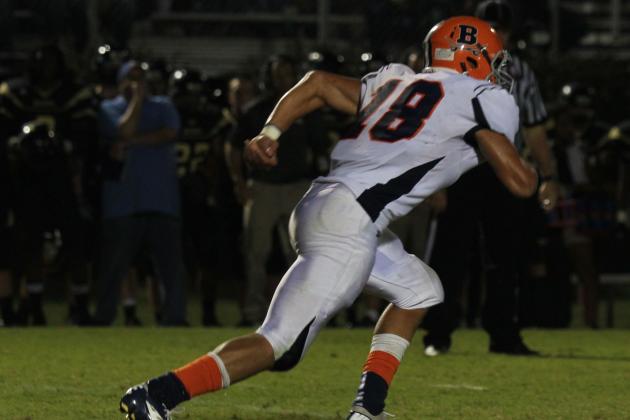 247Sports
Tennessee fired Derek Dooley and replaced him with Butch Jones, who is approaching his first season in Knoxville. Jones' previous job was at Cincinnati, so he needed to quickly establish SEC recruiting credibility.
Today, Jones has the respect and attention of his SEC peers, thanks to receiving early commitments from elite players such as running back Jalen Hurd and safety Todd Kelly Jr.
Both of the top recruits are from Tennessee and will carry the Volunteer flag with pride while urging other recruits to join them on Rocky Top. Hurd and Kelly have helped Jones get third best class in the country, per 247Sports.
Harris makes this list not because he is the same type of potential breakthrough recruit as others on this list, as his merit is more position-specific.
Brady Hoke has been knocked by nit-pickers for not signing an elite receiver prospect. He has signed four receivers since taking over in Ann Arbor and none have been as highly rated as Harris.
Harris, who is 6'4" and 180 pounds, is considered one of the best 100 players in the nation by ESPNU. He caught more than 90 passes, totaled more than 2,000 yards and 25 TDs as a junior in Michigan.
Since coming to Virginia in 2010, Mike London has signed good recruits such as cornerback Demetrious Nicholson, pass-rusher Eli Harold and running back Taquan Mizzell.
They are all prospects who will make an impact, but Blanding is special. He is a prospect who a head coach can build his program around due to his rare talent on the field and maturity off of it.
Blanding, who is 6'2" and 200 pounds, is from Virginia Beach. He grades out as an elite prospect when evaluating him and would have been ranked among the best even in a deep and talented 2013 safety class.
Do not be shocked if Virginia's recruiting takes another step, as many top-tier recruits will be intrigued by the thought of playing with Blanding.
Edwin Weathersby is the College Football Recruiting Analyst for Bleacher Report. He has worked in scouting/player personnel departments for three professional football teams, including the New York Giants and Cleveland Browns.