10 Bold Predictions for 1st Month of Big Ten Football in 2013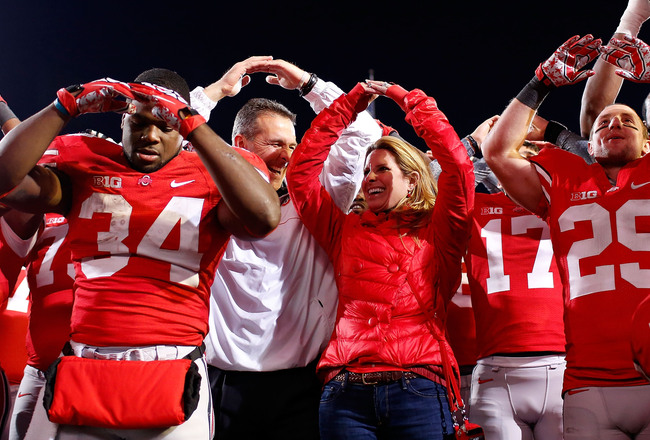 Kirk Irwin/Getty Images
The Big Ten is about as watered down as it gets for a BCS conference. There isn't as much balance as there is in other conferences, as it has the feeling of being Ohio State and then everybody else.
It actually wouldn't be surprising to see even a few Michigan graduates picking the Buckeyes to walk away with the Big Ten title.
This forces us to throw a few bold predictions out there for the first month of the season. Instead of going with the norm and jumping on the bandwagon, let's spice things up a little bit and give some of the other teams a chance.
There are plenty of good games to pay attention to in this conference early in the season. So, let's check out some of the bizarre stuff that will take place.
1-4 Start Shows It Will Be Long Season for Purdue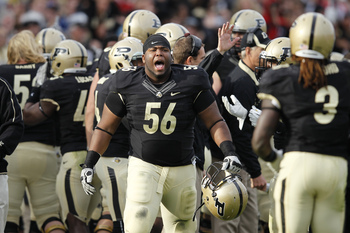 Joe Robbins/Getty Images
Purdue somehow managed to win six games last season and qualify for a bowl, but there is a lot of work that needs to be done if a third straight postseason is reached.
There is a new coaching staff with Darrell Hazell leading the way, and he will be good long-term but has a lot of questions that need to be answered in a short amount of time.
The offense was far from consistent last season, scoring more than 28 points only once in the final nine games. And while the defense does return eight starters, Kawann Short was the only one who got consistent pressure, and he is now in the NFL.
All of these questions aren't good when a road trip to Cincinnati and Wisconsin, as well as games against Notre Dame and Northern Illinois, are four of the first five games. The future looks bright for the Boilermakers, but it is set to be a bumpy ride in the beginning of the season.
Northwestern Builds Momentum and Gets off to 4-0 Start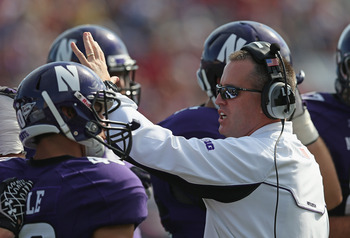 Jonathan Daniel/Getty Images
It may be a year early to start considering Northwestern as a legit Big Ten contender, but you will be in trouble if you get caught sleeping on the Wildcats. This team won 10 games last year and lost to both Nebraska and Michigan by one possession.
You can expect the Wildcats to remain highly competitive with 15 starters coming back. That includes depth at the offensive skill positions and last year's Big Ten sack leader in defensive lineman Tyler Scott.
There is too much talent on this roster for anybody to continue brushing them off like they don't matter.
The beginning of the schedule also shouldn't pose much of a threat. A trip to Cal will be tricky, but the other three games are at home and against teams (Syracuse, Western Michigan, Maine) that don't have nearly as much talent.
It isn't often when you can see Northwestern enter the month of October undefeated. This will be one of those seasons.
Penn State Starts 1-3; Sanctions Kick in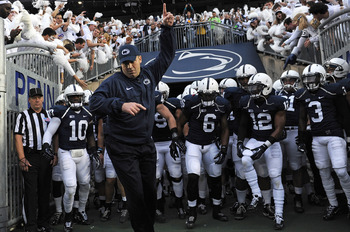 Patrick Smith/Getty Images
Penn State was supposed to fall off the face of the earth. Well, everybody got the memo except for Bill O'Brien and his team.
Now folks are saying this is the season the sanctions will kick in and cripple the program.
The Nittany Lions return 13 starters, but a lot of the question marks remain at some of the most important positions. Spots like quarterback, defensive line, linebacker and even offensive line all have gaping holes that must be filled.
The defense has been the staple in Happy Valley for so many years, but six starters must be replaced, which is forcing a lot of young guys to step up more quickly than expected.
If depth wasn't a big enough concern, games against Syracuse, UCF and Kent State aren't as easy as they may appear. Syracuse is an experienced team defensively, UCF has a solid quarterback in Blake Bortles, and Kent State has one of the more electrifying players in the country in Dri Archer.
Penn State shocked us once, but things aren't going to get any easier with the sanctions still in place.
Nebraska Loses Season Opener vs. Wyoming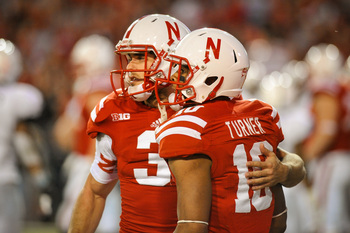 Eric Francis/Getty Images
Don't we see it every season?
A powerhouse program begins the year against a cupcake opponent and strikes out. Even if the heavily favored team doesn't lose in front of its home fans, the game is a lot closer than anybody had predicted.
Wyoming vs. Nebraska has the makings of that type of game.
There is no question Nebraska is better than Wyoming in all facets of the game. Add the home crowd into the equation and this should result in a three-touchdown blowout.
However, the Cowboys do have momentum after winning three of their final four games last season. They also return eight starters on both sides of the ball, including quarterback Brett Smith, who is a playmaking machine.
Wyoming has a lot to work on, but it does have talent offensively, and that Nebraska defense was absolutely brutal down the stretch. This is one of those games the Cornhuskers would be foolish to look past.
Illinois Starts 1-3; Tim Beckman Is Fired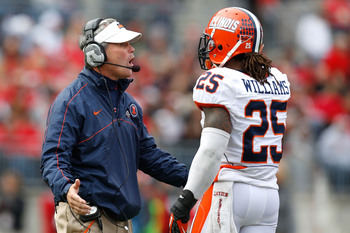 Kirk Irwin/Getty Images
There are few coaches sitting on a hotter seat than Tim Beckman. After winning just two games in his first season, he will be shown the door if he can't provide hope moving forward.
Good luck with all that.
Illinois is tied with Michigan for the fewest starters returning with only 12. That includes only three starters returning defensively. Sure, eight of those starters play offense, but we are talking about a unit that was ranked 122nd in the country in points scored.
Needless to say, things will get ugly, especially with Cincinnati, Washington and Miami of Ohio three of the first four games on tap.
The Fighting Illini don't have the toughest schedule in the world, but it doesn't take much judging by how things went down last season. Beckman will be standing on the unemployment line a little sooner than he would have liked.
Indiana Exceeds Last Year's Win Total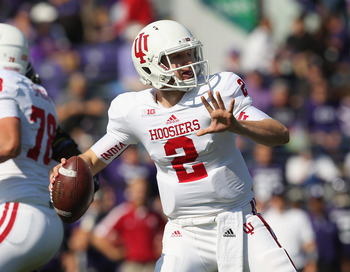 Jonathan Daniel/Getty Images
Indiana wasn't as bad last season as the record indicates. There were four losses that were decided by one possession, which means that a couple of bounces in the Hoosiers' favor and the team would have gone bowling for the first time since 2007. Now they just need to learn how to finish games and everything will be smooth sailing.
This could be the year all of that happens.
Indiana returns 19 starters, which is tied for the most in college football. Only one starter isn't back on offense, while four of the team's top five tacklers are back for another crack at it. The Hoosiers gave teams such as Michigan State and Ohio State a major scare. Another year of experience is only going to make this a dangerous group.
What makes things even sweeter is that Indiana shouldn't have much of a problem with Indiana State, Navy, Bowling Green and Missouri as the first few games.
Minnesota Goes 5-0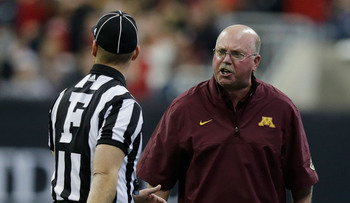 Scott Halleran/Getty Images
Minnesota will be just one victory away from clinching a second straight bowl appearance once the first month of the season comes to end. Seriously, when was the last time somebody was able to say that?
The Golden Gophers were a feisty team last season, particularly on defense. Their defense was ranked 45th in the country in points allowed. A total of six starters return on defense, including four members from the front seven, which has one of the best Big Ten defenders in defensive tackle Ra'Shede Hageman.
The team must drastically improve offensively, but with 10 starters returning that shouldn't be an issue.
When you combine the talent that this team is returning along with the weak schedule (UNLV, New Mexico State, Western Illinois, San Jose State and Iowa), there is no reason Minnesota shouldn't run the table in the first month.
It will be a different story once the Golden Gophers enter the heart of conference play, but they should have fun racking up the victories while they can.
Michigan State Gets Beat Down by Notre Dame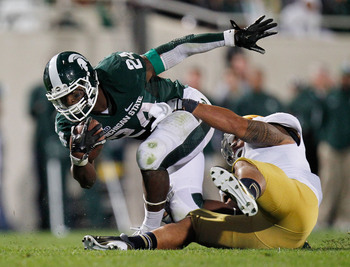 Gregory Shamus/Getty Images
Although Notre Dame has won the last two meetings, both were decided by two possessions. That won't be the case this season.
The Irish will be even better than they were last season when they ran the table to the national title game. Quarterback concerns or not, the running back depth has improved and the defense will remain elite. With a loaded defensive line and a secondary that has matured, Notre Dame will continue to remain relevant in the polls.
Michigan State has to find playmakers on offense before it can be considered a Big Ten contender. Andrew Maxwell was not the answer at quarterback, and the Spartans lost their workhorse to the NFL draft in running back Le'Veon Bell.
This will be a defensive slugfest, but you can expect Notre Dame to pull away in the second half and make it one of the most lopsided meetings this rivalry has seen in recent memory.
Connecticut Upsets Michigan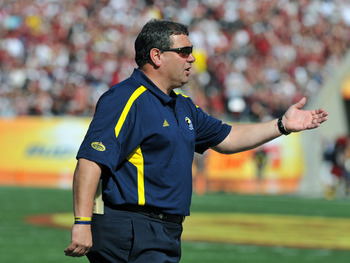 Al Messerschmidt/Getty Images
Remember Appalachian State?
While this upset wouldn't have nearly the same effect, it would be up there and would likely be the biggest upset of the 2013 season. You can book it.
Besides Notre Dame in the second week of the season, Michigan doesn't have much competition in the first part of the schedule. This game takes place in East Hartford in Rentschler Field, which doesn't even hold half the amount of people the Big House holds. Talk about an uninspired Michigan team showing up.
But wait. Connecticut also returns a few key guys from the best defense in the Big East last season. Although only five starters return defensively, the leading tackler in Yawin Smallwood is back, as well as Graham Stewart, who will play his first season after transferring from Florida.
How the Huskies will be able to score remains a mystery, but this team has the good defense to drag this game out.
This just screams trap game, and the Wolverines will fall for it.
Wisconsin Gives Urban Meyer First Loss as Ohio State Coach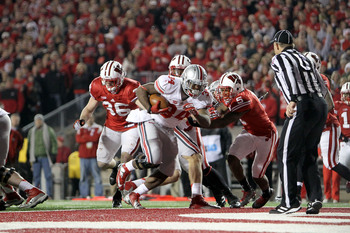 Mike McGinnis/Getty Images
Ohio State could have lost several games last season, and one of them was to Wisconsin. The Badgers actually outplayed the Buckeyes but eventually lost the game in overtime by a score of 21-14.
This will be the first test of the season for the Buckeyes and will result in a loss.
The only concern with Wisconsin is a new coaching staff. Other than that, this team is solid. From returning three of the team's top five tacklers to having experienced playmakers such as running back James White and wide receiver Jared Abbrederis, the Badgers don't have many weaknesses.
Ohio State, on the other hand, has an extremely young defense with only four starters returning and an offense that can become stagnant at times. Although the Buckeyes did run the table, it wasn't all perfect and blowouts weren't happening as consistently as some would lead you to believe.
Ohio State has a soft schedule for the most part, but Wisconsin will hand out the first loss of the Urban Meyer era.
Keep Reading