8 College Football Teams That Will Show the Biggest Improvement in 2013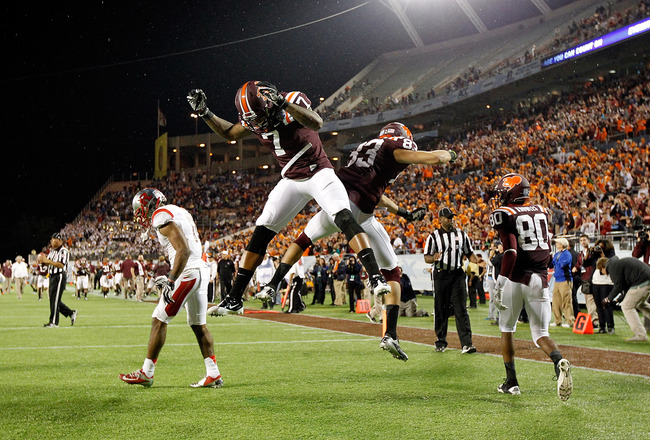 J. Meric/Getty Images
The 2012 season was disappointing for a lot of fans across the nation. Fortunately, after the coaching carousel at the end of last year, the coming season is shaping up to be a potentially great one.
While there are dozens of teams who will improve this fall, there are only a few who stand to make vast improvements. Whether it's in the win-loss column or simply in the quality of their play, here are eight teams that will contend for the most-improved award at the end of the 2013 season.
*All win-loss records are from this ESPN.com page.
Arkansas Razorbacks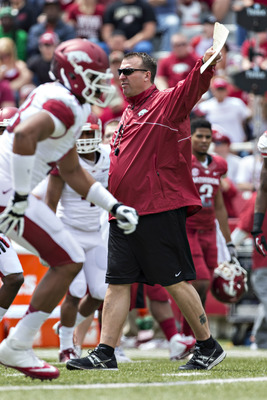 Wesley Hitt/Getty Images
Arkansas had an incredibly disappointing season in 2012, as the Hogs went 2-6 in conference play with a 4-8 overall record. Other than the loss to Louisiana-Monroe, the performance was completely forgettable.
Fortunately for Razorbacks fans, John L. Smith is no longer in charge. Bret Bielema has taken over at Arkansas with success on his mind. He took Wisconsin to three Rose Bowls in a row, so there is plenty of hope in Fayetteville.
Since the biggest difference between 2011 and 2012 was the head coach, logic would suggest that 2013 will be better for that same reason. A postseason appearance is more than just a reasonable hope for Arkansas fans in 2013.
Auburn Tigers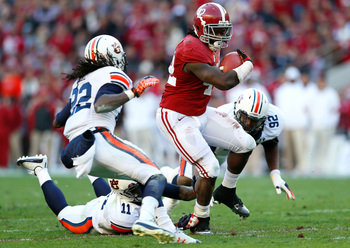 Kevin C. Cox/Getty Images
Auburn had an even worse season than Arkansas. The Tigers had zero conference wins and a final record of 3-9, which was a cliff dive away from the undefeated championship run of 2010.
Gene Chizik lost his job at Auburn after last year, and Gus Malzahn has taken his place. Considering Malzahn was the mastermind behind the 2010 offense, Auburn fans have to be smiling.
Will Auburn win the SEC West in 2013? Not likely, but there's no reason that the Tigers can't upset one or two of the top-tier favorites.
Malzahn will take Auburn far away from the bottom of the SEC, and he has a lot of talent to work with. After an 0-8 conference mark, vast improvement is almost a given.
California Golden Bears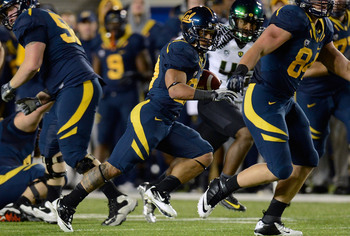 Thearon W. Henderson/Getty Images
California is under new management, and it's the duo that put Louisiana Tech on the map over the past two seasons: Sonny Dykes and Tony Franklin. LA Tech's former wide receivers coach, Rob Likens, is also a new addition to the Cal staff.
For Cal, the 3-9 overall record from 2012 is definitely in the past. The LA Tech Bulldogs had the No. 1 scoring offense in 2012.
While fans would do well not to expect a national championship, they can finally look forward to a football season again.
That by itself is a big improvement over last season, but the Golden Bears will have a much more successful season on the field as well.
TCU Horned Frogs
Sarah Glenn/Getty Images
TCU did not do badly at all last year. The Horned Frogs made a great effort in their first season out of the Mountain West Conference. They finished their inaugural run through the Big 12 with a 4-5 conference record (7-6 overall).
The great news for TCU is that Oklahoma, Kansas State, Baylor, Texas Tech and West Virginia are all breaking in new quarterbacks.
This means that TCU, loaded with Casey Pachall, Trevone Boykin, Jason Verrett and Devonte Fields, could blaze a path to the conference title through the weakened field of competitors.
While the conference title may not happen in 2013, it's a safe bet that neither will a 4-5 conference record.
Tennessee Volunteers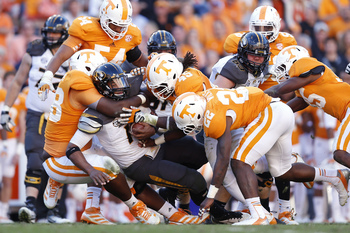 Joe Robbins/Getty Images
Tennessee fired its head coach after the 1-7 (5-7) debacle that was 2012. Now, with Butch Jones at the helm, Volunteers fans have every reason to hope that 2013 will be better.
Tennessee is heading for greener pastures starting in 2013, and it won't take long for Jones to orchestrate a scheme that rescues the Vols from the bottom range of the SEC.
All Tennessee had to do last season was beat two SEC opponents to gain bowl eligibility. If the Vols don't win six games, even without Tyler Bray, there's something wrong in Knoxville.
Tennessee is going bowling in 2013.
Texas Longhorns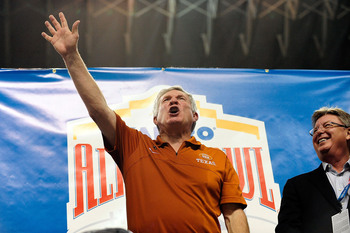 Stacy Revere/Getty Images
Texas ended last season with a comeback victory over the Oregon State Beavers in the Alamo Bowl. While some may have seen it as a fluke win, others will choose to look at it as a sign of things to come.
Either it was a fluke, or Texas finally came together and overcame its own adversity. If the latter is true, then Texas fans are about to witness something special on the field this fall.
With the Big 12 weakened by the previously mentioned quarterback losses throughout, Texas really just needs to keep its defense healthy and focused.
If Quandre Diggs, Jordan Hicks and Jackson Jeffcoat can all play up to their potential for the entire year, the Longhorns could be looking at a surprise outright Big 12 title.
The win-loss record may or may not improve, but the Longhorns will be a much better team in 2013.
UCLA Bruins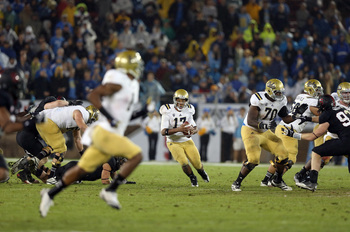 Ezra Shaw/Getty Images
It's tough to show big improvement when you just made it to the conference title game the year before. However, UCLA wasn't really a force to be reckoned with through 2012.
The Bruins simply made the most of whatever situation they were in to make it that far. Baylor exposed them for the fortunate team that they were. Now, that doesn't mean that UCLA didn't earn its place in the conference title tilt; it just means that Stanford and Oregon were still the two best teams in the Pac-12 by a large margin.
The line will be blurred much more in 2013, when quarterback Brett Hundley returns as a seasoned starter as opposed to a freshman. Look for the Bruins to make it back to the conference championship game.
Virginia Tech Hokies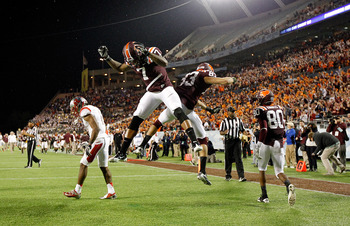 J. Meric/Getty Images
Virginia Tech's 2012 slump would have been publicized a lot more if not for the Tennessee, Arkansas, Auburn and USC meltdowns that commanded the airwaves.
The Hokies were led to the Sugar Bowl back in 2011 by none other than Logan Thomas. Thomas did not repeat anything of the sort in 2012. The 2013 season is coming fast, and Virginia Tech opens against Alabama, the reigning national champion.
That matchup is a lot more lopsided now than it was last time they played. Back in 2009, Virginia Tech opened at No. 7 against the then-No. 5 Crimson Tide.
Virginia Tech can make a complete 180-degree turn with a victory over the Crimson Tide, but that isn't necessary in order for the Hokies to improve over 2012's performance.
They finished last season 4-4 in the Atlantic Coast Conference and 7-6 overall after an overtime victory over the Rutgers Scarlet Knights in the Russell Athletic Bowl. Look for Virginia Tech to land at no worse than No. 2 in its division in 2013.
That's at least a two-spot gain over 2012's fourth-place finish.
Keep Reading