10 Bold Predictions for 1st Month of SEC Football in 2013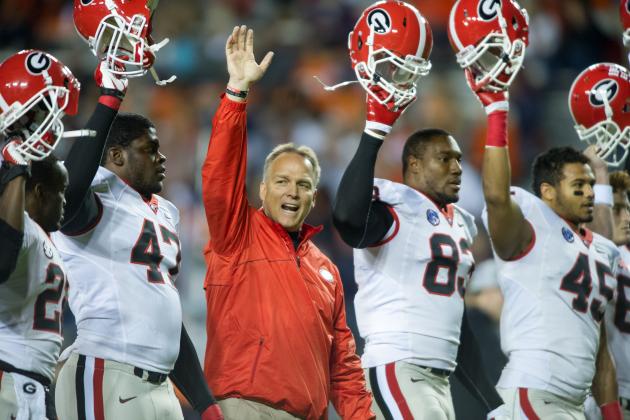 Michael Chang/Getty Images

The first month of football in the SEC can make all the difference for a team chasing a national title. Usually, it is the time of year when a team hopes to win as many games as possible before the heart of the conference schedule begins.
Only this season, there aren't as many boring matchups and FCS opponents as there have been in the past. Many SEC teams dive into the deep end to begin the season, playing tough nonconference opponents that could shape how the rest of the season plays out.
This makes for a much more interesting beginning of the season and opens the door for strange things to happen.
Begin Slideshow

»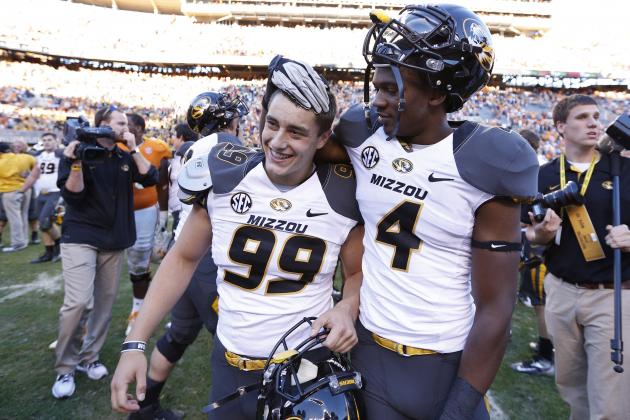 Joe Robbins/Getty Images

This is a little difficult to believe, considering Missouri had a hard time last season making the transition from the Big 12 to the SEC, winning only five games, two in conference play. Last season produced five victories, and only two of those came in conference play.
The good news is that the Tigers do have an easy early schedule, with matchups against Murray State, Toledo, Indiana and Arkansas State. Three of those four games will be played at home and all should be thrown into the cupcake category.
The schedule aside, Missouri should be a better team with a healthy James Franklin at quarterback and six starters returning defensively. Wide receiver Dorial Green-Beckham should also have a huge sophomore season.
It may be tough to believe after the season Missouri had last year, but this team will get off to a fast start and position itself for a shot at a bowl game.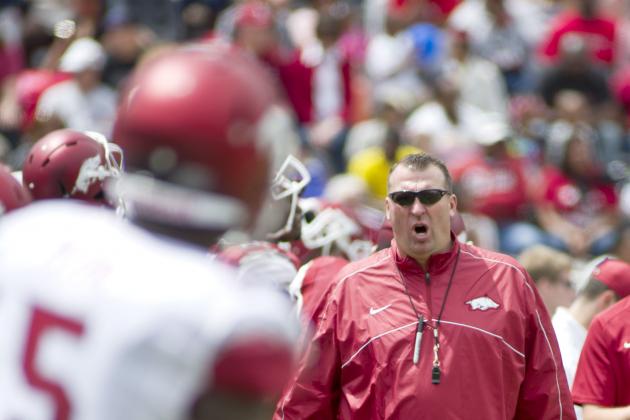 Beth Hall-USA TODAY Sports

Expectations at Arkansas should be knocked down a tad after what took place last season. The team isn't completely bare of talent, and new head coach Bret Bielema should make the Razorbacks competitive. But expecting miracles in the first year is asking a bit much.
The defense will need to improve drastically, and the offense has a lot of maturing to do if there are going to be any fireworks. The Razorbacks also don't have the easiest schedule, with Louisiana-Lafayette, Rutgers and Texas A&M on tap the first month.
Louisiana-Lafayette and Rutgers both return several starters and should not be taken lightly. As for the meeting against Texas A&M, well, a loss should have already been marked on the calendar.
Arkansas has the potential to surprise folks, but it won't be in the first month of the season.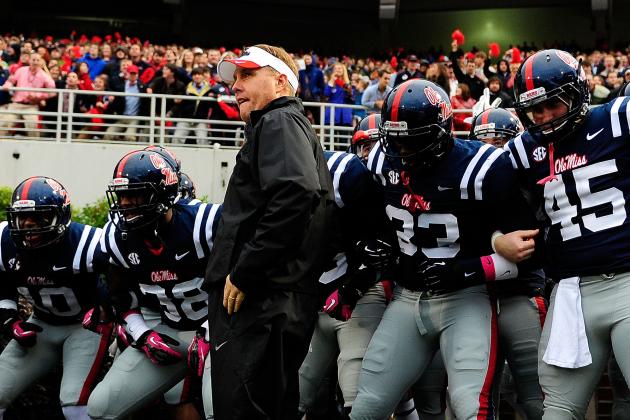 Stacy Revere/Getty Images

Few teams in the country have the potential to excite you more than Ole Miss.
The Rebels return the most starters in the SEC with 18 and have a truckload of young talent. This was a team that competed last year by coming within one possession of beating LSU and within three points of beating Texas A&M.
Ole Miss will now have a chance to prove itself early with a road trip to Vanderbilt, Texas and Alabama. You can give the Rebels a loss to the Crimson Tide, but don't sleep on them upsetting the Commodores and Longhorns. This should be a feisty group on defense and has a few playmakers on offense.
Head coach Hugh Freeze is doing a wonderful job with this program. Ole Miss winning three of its first four games shouldn't surprise anybody.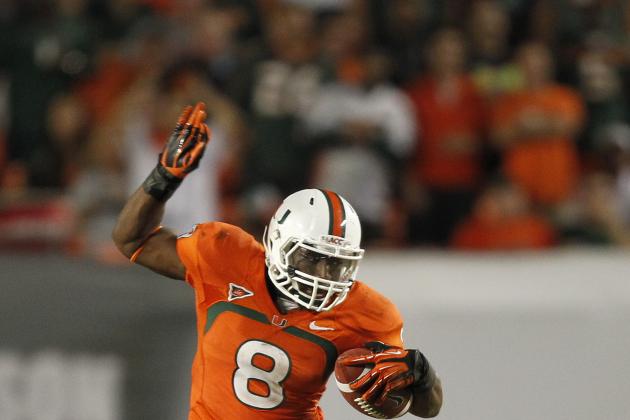 Joel Auerbach/Getty Images

You can throw records and reputation out the window when these two schools meet. This is always a heated matchup, and this year's game will have a little something extra with it likely being the last game in the near future.
Regardless of how these teams stack up on paper, playing a Hurricanes squad that is hungry for success at Sun Life Stadium is never easy.
The reason Miami will win is because it returns 10 starters from an offense that averaged 440 yards last season. That kind of offensive firepower will be difficult for an anemic Florida offense to overcome.
It may also take some time for the Gators to adjust on defense, as they have to replace six starters.
Florida will enter the game as the favorite and has more talent than the Hurricanes, but this has "trap game" written all over it. The Gators simply don't have enough horses offensively to keep up.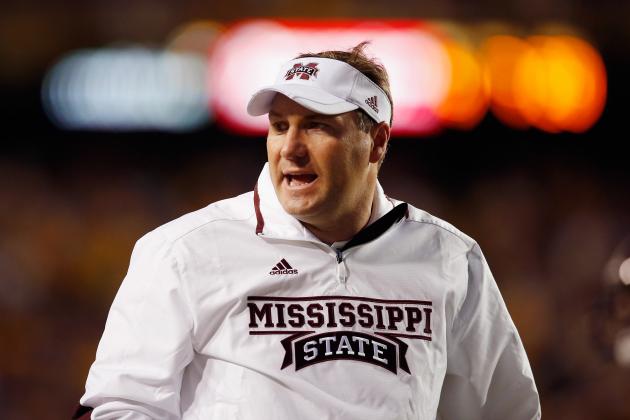 Chris Graythen/Getty Images

Dan Mullen hasn't been able to win the big game. Mississippi State is a combined 2-16 against ranked opponents since he became head coach in 2009. It also doesn't help that the Bulldogs lost five of the final six games last season.
However, all that will be forgotten if the Bulldogs beat Oklahoma State on the opening weekend. The Cowboys are one of the favorites to win the Big 12, are a flashy team offensively and the game will be played under the bright lights of Reliant Stadium in Houston, Texas. This is the type of game that can set the tone for the rest of the season.
It is no secret Mike Gundy will look to score early and often, but Mississippi State has a strong defense. There is also a solid quarterback in Tyler Russell, who is poised to have a breakout season.
Past history isn't on the Bulldogs' side, but this brutal slide has to stop eventually.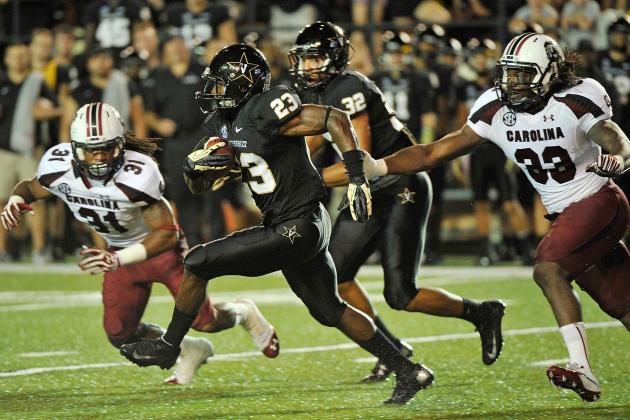 Frederick Breedon/Getty Images

South Carolina was able to escape with a victory against Vanderbilt last year, thanks to a missed pass interference penalty. Of course, even with the call, the Gamecocks still could have won, but there is no question the Commodores were robbed.
Vanderbilt can only hope that won't happen again in this season's meeting at Williams-Brice Stadium.
Believe it or not, Vanderbilt is a program on the rise in the SEC. Winning nine games last year, including a bowl victory, this team has adopted the personality of head coach James Franklin and pulls no punches on game day. The defense is physical, and the offense is coming into its own with wide receiver Jordan Matthews leading the way.
Although South Carolina is an SEC favorite, it remains a program that hasn't been able to get over the hump. The Gamecocks will struggle to replace six starters defensively, and Vanderbilt will squeak by with a tight victory.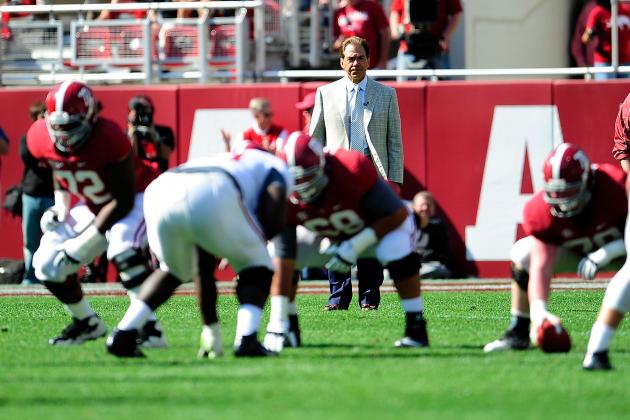 Stacy Revere/Getty Images

Ask around Tuscaloosa and most folks will tell you the only game that concerns them is the one against Texas A&M.
However, there is also an opening-weekend matchup against Virginia Tech, a program that has reached a bowl game every year since 1993 and is coached by Frank Beamer, who has won 216 career games. The Hokies have a potential first-round pick at quarterback in Logan Thomas, who is more than capable of taking over a game.
Then there is the game against the Aggies, which will take place on Kyle Field in College Station, Texas. This is certainly the game of the year and could decide who comes out of the SEC West. If the Crimson Tide defense isn't better prepared for Johnny Manziel, another victory for Texas A&M will take place.
Even though Alabama is the most complete team in the country from top to bottom, losing either one of those games isn't as far-fetched as it may seem. The Crimson Tide will lose at least one game in the beginning of the season.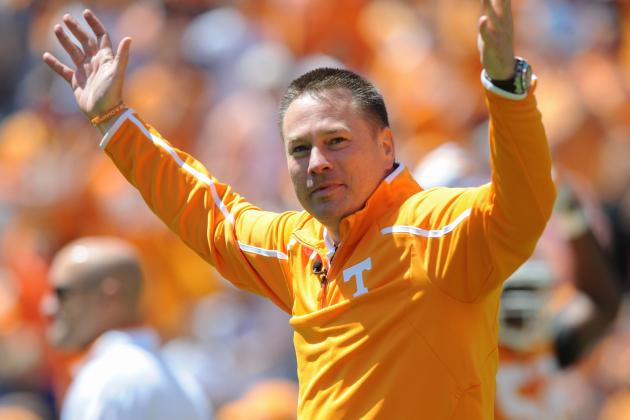 Randy Sartin-USA TODAY Sports

Butch Jones has added life to the Tennessee program with wonderful recruiting. But none of that means much if it doesn't translate to victories. The Volunteers haven't played in a bowl game the past two seasons and are desperate to find some type of success.
Tennessee will be given two early chances to make some serious noise with road games against Oregon and Florida. Pick whichever you like, one of those two powerhouse programs is going to be upset in front of its fans. Whether it is the trip across the country that pays off in a big way or knocking down the SEC East rival, Tennessee will beat a highly ranked team within the first couple of games.
The Volunteers defense should be much better with eight starters returning, and the offense won't be as bad as you think with four offensive linemen returning. This team has the potential to shock SEC fans, and it won't take long before it happens.
Jones will continue to make magic happen.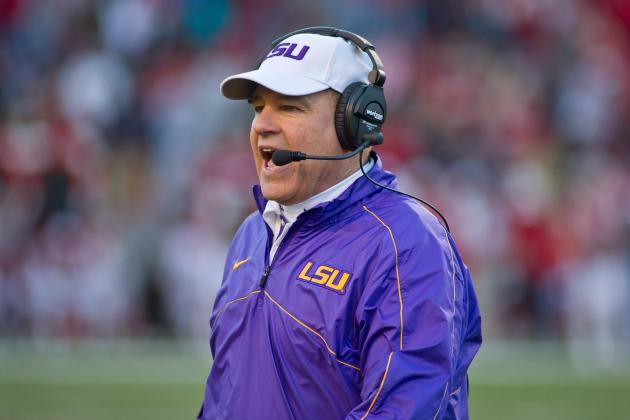 USA TODAY Sports

We have seen Les Miles and LSU overcome adversity time and time again. Whether it was cruising through a difficult schedule or dealing with suspensions before game day, the Tigers usually just find ways to win games.
How long can they keep that up?
Sure, the talent remains for this team to make another run at a national title. However, LSU lost several talented defensive players to the NFL. Replacing those guys won't be easy. And although the offense is in much better shape, it's not like that unit didn't struggle to score points consistently last season.
The Tigers open up with a huge game against TCU and will then have an SEC schedule of Auburn and Georgia. The young defenders will take some time to jell, and Miles and his troops will lose a couple of games, putting themselves in an early hole in the SEC race.
LSU has made it look easy in the past, but replacing so many bodies isn't as easy as it may look.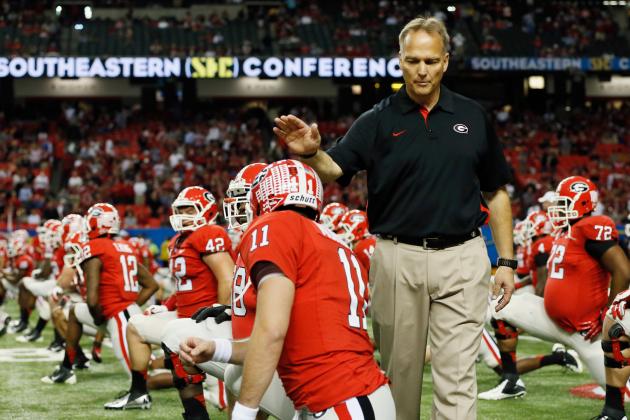 Kevin C. Cox/Getty Images

With its success from last season and the 13 returning starters, Georgia will be highly ranked, Once you add the schedule the Bulldogs face early on and a potential Alabama loss, there is little reason to believe that this team won't make a valid case to be ranked No. 1.
They open the season against Clemson and South Carolina, then finish the month of September with a road game against LSU. All of those games are against quality opponents and teams that will begin the season ranked in the AP Top 25. This is easily the toughest month of games for any team in the country and will help the Bulldogs skyrocket up the rankings if they can take care of business.
Georgia will remain above-average defensively and has an offense capable of scoring on anybody. This team nearly knocked off Alabama in last year's SEC Championship Game and has most of the key pieces back on this year's roster.
The Bulldogs will win all three marquee games and be considered the top team heading into October.