Every team in the country begins the season with high expectations. Some of course are bigger than others, but the majority of the teams in the AP Poll will be thinking about reaching the national championship. Even some teams on the bubble will think they have a shot, as we saw with Notre Dame last season.
But when it comes down to it, there are only a handful of teams that have a realistic shot of reaching the big dance. A magical carpet ride of a season that we witnessed last year only comes around once in a blue moon. And as we saw with the Irish, a matchup against the big bad Crimson Tide didn't exactly begin or end well.
This forces us to put together a list of the teams that are legitimate national title contenders. These are squads that have very few weaknesses and can be considered the cream of the crop. They are going to be the favorite in most of the games on this year's schedule and could go into any opponent's backyard and have more than a puncher's chance of leaving the victor.
What does a team need to have a shot at winning a title in today's game?
It all starts with a great defense. If you have a defense that limits big plays, forces turnovers and can pressure the quarterback, you are on the right track. Another would be a physical offensive line that opens up gaping holes for the running backs. You also need an elite level quarterback capable of making plays, but also does a good job of limiting the crucial mistakes.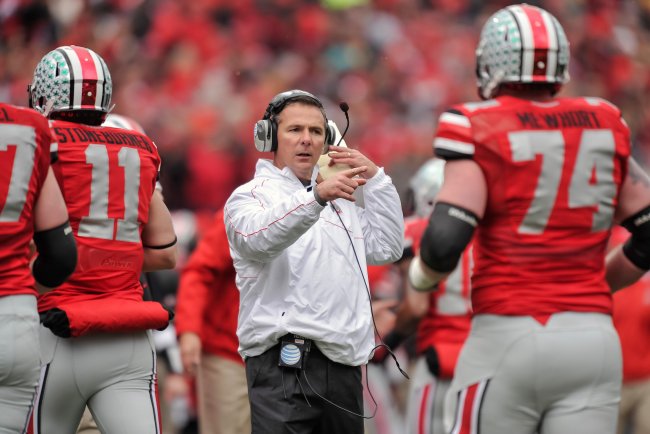 Jamie Sabau/Getty Images
The list of teams that would qualify include Alabama, Ohio State, Texas A&M, Oregon, Georgia, Stanford and LSU. Every other team in the country has some serious question marks that limits its chances of finishing with a crystal football in hand. Of course, this could all change over the course of the year, but one of those seven teams will likely win the national title game.
Alabama is the overwhelming favorite to win its third straight title. With practically no weakness to speak of, the Tide are clearly the best team from top to bottom and has the winning pedigree. Ohio State finished undefeated last season and has one of the easier schedules in all of the BCS. In order to have a real shot at winning the hardware, you have to at least qualify for the game. The Buckeyes don't have much standing in their way schedule wise.
Texas A&M has some quarterback named Johnny Manziel, who won last year's Heisman and is capable of taking over a game like none other. The defense may have questions, but no other team has a playmaker like Manziel. The SEC schedule also isn't that difficult.
Same goes for Oregon. The defense may have concerns, but find another team as explosive on offense and I'll send you a crisp 100 dollar bill. The Ducks have been in the title conversation the last three years and that won't change with all of the key speedy guys returning.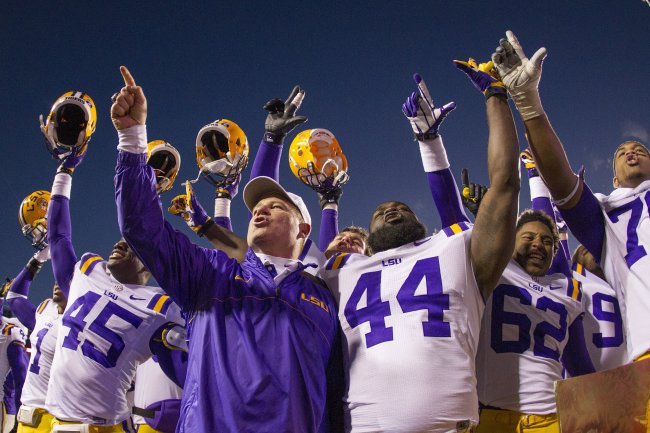 Wesley Hitt/Getty Images
You then look at Stanford, Georgia and LSU. The Tigers are always an elite defensive team, which will continue to be that physical offensive team as well with eight starters returning. Stanford finished ranked No. 20 last year in total defense and has the best linebacker corps in the country. Georgia has built the reputation of having a great defense, but will also have the offense to match this season.
You look at those seven teams and you can find more reasons for why they will win the championship than why they will be a complete bust. All of them are balanced squads, return majority of their key players and will begin the season highly ranked and considered the best of the best this season.
Now there are dark horses that have the potential to compete for all of the marbles if a few bounces go in their favor. Some of those teams are South Carolina, Florida, Florida State, Clemson, Oklahoma, Texas and even Notre Dame, again. But you see how all of those teams have lingering questions that would make you think twice when comparing them to the first group?
Who win the 2013 National Championship Game?
South Carolina always runs into issues that prevents it from taking that next step. Florida doesn't have enough offense to get up and go. Florida State is young and also has questions on offense. Concerns are still there on defense for Clemson. Oklahoma has struggled in big games and only returns four starters defensively. Texas is hard to believe in until it actually shows up and Notre Dame has some regrouping to do with Everett Golson not in the picture.
Once you add those 14 teams to the list, you are then left with teams like Boise State, Michigan, Nebraska, Kansas State and Louisville, which are all good teams but shouldn't be in the same conversation as the others.
The past five national champions began the season ranked within the Top Five of the AP Poll four times. The only team to mess things up was Auburn in 2010, which started off ranked No. 22. But the Tigers were that once in a blue moon team that was able to strike gold with the addition of an elite quarterback in Cam Newton. Unless there is another Superman out there we aren't aware about, you can forget about that happening again.
There is more parity in college football and we are seeing teams rise from the dead, making conferences stronger. However, you don't need all 10 fingers and toes to pick which teams are a legitimate threat to win a national championship. And once you leave the SEC, that list gets even shorter.
While it is nice to believe everybody has a fair shot, it is simply not being realistic.