Big Ten Football: Ranking the 10 Most Explosive Players in the Conference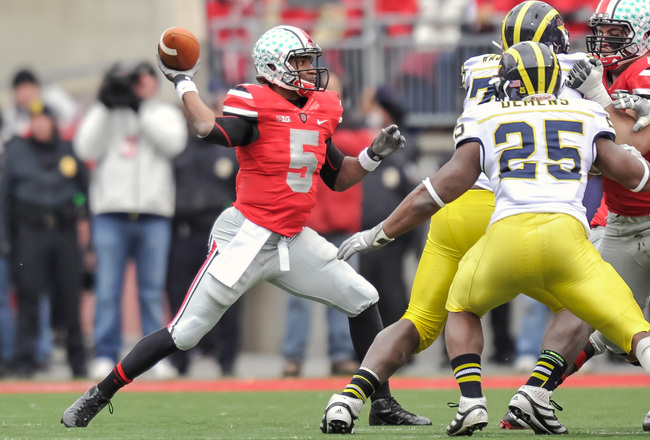 Jamie Sabau/Getty Images
It is sometimes an overused superlative when it comes to describing the best players in college football, but explosiveness is not only a reason why some players get much of the praise, it's also why these players are as good as they are.
The Big Ten is in the midst of its long and sometimes bumpy road back to national pre-eminence, and the gains that will be made in 2013 will likely be due in large part to the exploits of the following playmakers. The Big Ten's most explosive players have a bigger task than simply spearheading their teams' runs to a conference title and BCS berth; these select few have the opportunity—if not the expectation—to make some national headlines along the way.
10. Venric Mark, Northwestern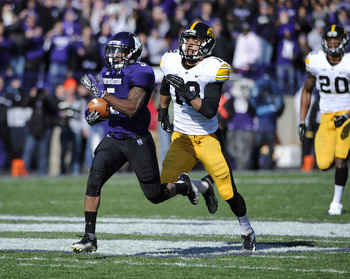 David Banks/Getty Images
We'll start with Northwestern's Venric Mark. In 2012, Mark finished with 105.1 rushing yards per game, one of just five Big Ten players to top the 100-yard average threshold. Mark also finished third in the Big Ten in 2012 with 1,366 rushing yards and added 12 touchdowns to his resume.
Mark also got in on the passing game, hauling in 20 receptions for 104 yards and one touchdown.
But his major contribution came on the ground, where his speed and elusiveness were a weapon used often by Pat Fitzgerald in yet another impressive season for the Wildcats. Mark may only be 5'8" and 175 pounds, but he packs a quick punch in that small package.
9. Landon Feichter, Purdue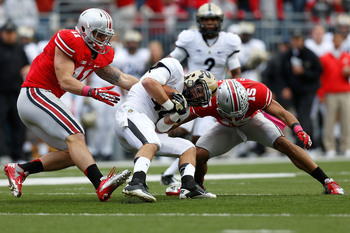 Kirk Irwin/Getty Images
Of all the defensive backs in the Big Ten returning to action in 2013, none had as many interceptions last season as Purdue's Landon Feichter.
Feichter, along with four other Big Ten players—all of whom have exhausted their eligibility—led the conference in 2012 with four interceptions. Feichter took one of those interceptions back for a touchdown, while adding 80 tackles (four for loss) and three additional pass deflections.
Purdue fans are desperately in search of a bright spot, especially after Danny Hope's firing following yet another disappointing 6-6 season. Feichter might be able to provide that ray of sunshine in an otherwise gloomy Ross-Ade Stadium come next fall.
8. Allen Robinson, Penn State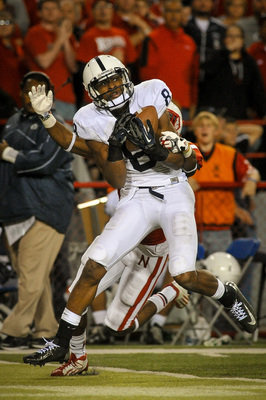 Eric Francis/Getty Images
Penn State clearly exceeded expectations last season. Despite scholarship restrictions, a ban on postseason play and essentially having the emotional heart of the program ripped out of its chest, the Nittany Lions managed to win eight games.
It's still an open question as to whether or not Penn State can maintain that same level of success as those sanctions begin to have an effect on recruiting, but Lions fans will take all the good news they can get. Allen Robinson will be a big part of any such future good news in Happy Valley.
Robinson not only led the Big Ten in receiving yards (1,018) in 2012, being the only receiver to eclipse the 1,000-yard mark, but he also was one of the players who made his dedication to the program and its future apparent for the nation to see.
As the Nittany Lions move deeper into what are sure to be dark days ahead, Robinson may be one of the most important parts of staving off utter collapse. Even ESPN has named Robinson as one of Penn State's two most indefensible players moving forward.
We completely agree.
7. Ryan Shazier, Ohio State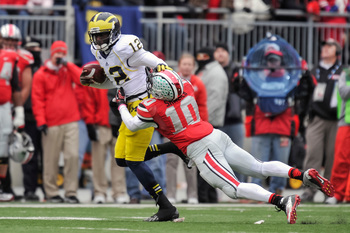 Jamie Sabau/Getty Images
We mentioned him earlier, but now Ohio State's Ryan Shazier gets his own place on our list of 10 most explosive players in the Big Ten.
Shazier led the conference with 17 tackles for loss, earning a place on the media's All-Big Ten first team and the coaches' all-conference second team. Five of those tackles for loss were sacks, and Shazier added an interception, three forced fumbles and a whopping 10 pass deflections to his downright impressive stat list.
Even taken by themselves, those stats would be impressive. But when you consider that Ohio State will be returning just four defensive starters form last season, Shazier should stand out from his fellow Buckeyes like never before.
6. Jake Ryan, Michigan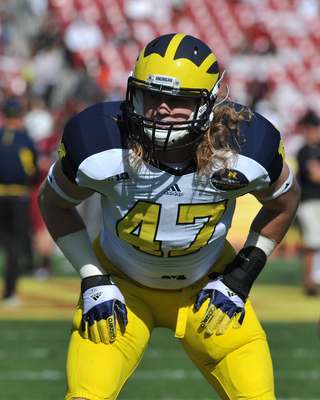 Al Messerschmidt/Getty Images
Michigan may not yet be back to its pre-Rich Rodriguez form quite yet, but with players like Jake Ryan prowling the defensive backfield, it won't be too much longer before the Wolverines are competing for a conference title once again.
Ryan not only led Michigan in tackles for loss last season (16.5), he was just 0.5 TFL away from leading the entire conference (Ryan Shazier from Ohio State had 17.0). Those tackles accounted for 75 negative yards for the opposing offenses.
Defense wins championships, and with 88 total tackles, five sacks, five forced fumbles and three passes broken up to go along with those 16.5 tackles for loss in 2012, Ryan clearly has championship aspirations for his team.
5. Tyler Scott, Northwestern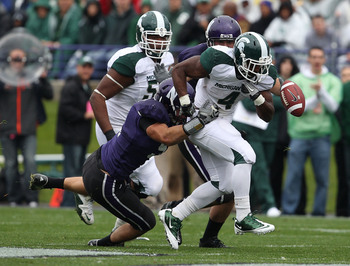 Jonathan Daniel/Getty Images
It wasn't all that long ago that a listing of the 10 most explosive players in the Big Ten wouldn't include a single Wildcat from Northwestern, let alone two. But with Tyler Scott terrorizing quarterbacks around the league with unequaled impunity, we can't ignore his explosive ability to change the momentum of any game.
Scott led the Big Ten in sacks last season with nine (Ohio State's John Simon also had nine sacks) and is the only defensive player in the conference returning for 2013 with at least 6.5 sacks in 2012.
But Scott's true reason for appearing on our list has more to do with pure stats. He's a strong lineman with an explosive burst off the line that confounds many O-linemen who may easily have 50 pounds on him. In addition to his sack numbers, Scott also got in the way of five passes last season, forced five fumbles and added 42 total tackles during Northwestern's run to 10 wins and a bowl victory.
Northwestern will be a popular Big Ten dark-horse candidate in 2013, and Tyler Scott's natural athletic abilities are a big reason for that improving stock.
4. Melvin Gordon, Wisconsin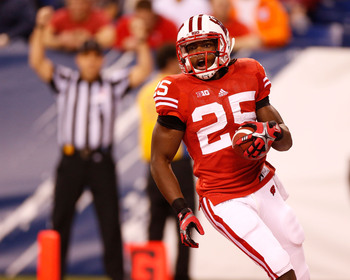 Gregory Shamus/Getty Images
Sure, Wisconsin is losing quite a bit of power in its running game for 2013, but don't for one second think the Badgers won't be able to run it around, over and through nearly any defense in the nation come the fall. While Montee Ball is off to the NFL, Wisconsin is still left with a decent workhorse in returning senior James White, and the young Melvin Gordon has the look of a firework just waiting to go off.
Gordon opened quite a few eyes with his inexplicably unheralded freshman season in which he averaged over 10 yards per carry—tops in the FBS. And we're not talking three of four carries here with one going for 80 yards or some fluke of statistical averages.
No, Gordon had 62 carries in 2012, and he averaged over 10 yards per carry in September (five games, 12 carries), November (three games, 10 carries) and the postseason (two games, 18 carries). He was also better against teams ranked in the AP Top 25 (six games, 12.6 yards per carry) than against unranked opponents (eight games, 8.5 yards per carry).
And before you go thinking these numbers all came during Wisconsin's "junk reps" late in games, consider that Gordon averaged 13.0 yards per carry in the first half, but just 8.6 after the half.
Any player who can burst through any Big Ten line to reliably get his team four or five yards a carry deserves recognition as an explosive back. When that guy can get you 10 yards per carry, we need to invent a whole new word.
3. Taylor Martinez, Nebraska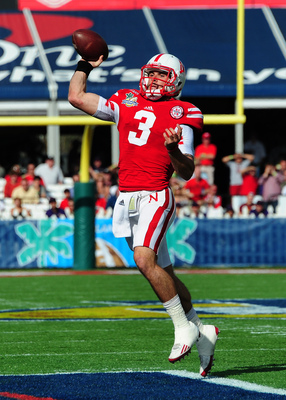 Scott Cunningham/Getty Images
We've watched the career of Taylor Martinez with a mixture of excitement and yearning. There's plenty of upside to Martinez, and his potential is as great as any quarterback in the Big Ten today, but we're still longing for him to reach his full potential. After several seasons spent maturing at the position, we believe his senior season will be the best year for Martinez yet.
Last year wasn't actually all that horrible for Martinez and the Cornhuskers. Nebraska captured its first division title in the Big Ten, only to come up short—very, very short—against Wisconsin in the Big Ten Championship Game.
Still, Martinez finished with 2,871 passing yards, good enough for the No. 2 spot in the Big Ten behind Penn State's Matt McGloin. Martinez also improved his touchdown-to-interception ratio, which stood at 13-to-8 in 2011. Last season, Martinez threw 23 touchdowns to just 12 interceptions.
But where Martinez really shines is in his ability to gain yards on the ground as well as through the air. The penultimate dual-threat quarterback in the conference, Martinez gained over 1,000 yards on the ground and added 10 touchdowns in the rushing game to go with his 23 touchdown tosses.
If he can just cut down on the lingering mistakes of youth, Martinez could suddenly find himself among the nation's elite, rather than just those of the conference.
2. Devin Smith, Ohio State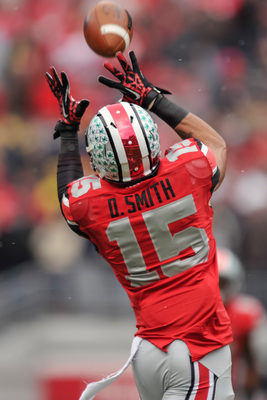 Jamie Sabau/Getty Images
By a pure numbers standpoint, Ohio State's Devin Smith isn't the most impressive wideout the conference has to offer—but no one said this would be a list only about the statistical leaders. If you're looking for an explosive wide receiver capable of making highlight-reel catches for big gains and touchdowns in any game situation, look no further than this youngster.
One such amazing catch came very early in the 2012 season.
Trailing Miami University in the second quarter, Smith made a spectacular one-handed catch to give the Buckeyes the lead. While certainly the best of his catches last season, Smith's sophomore season was full of impressive catches in clutch situations.
Every Ohio State fan should be on the edge of his or her seat every time Braxton Miller tosses a deep ball to Smith in 2013, and the continued maturity of both players will only improve the explosiveness of their collaboration.
1. Braxton Miller, Ohio State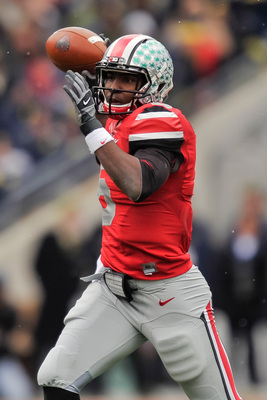 Jamie Sabau/Getty Images
There isn't a single player returning to the Big Ten for 2013 who can control a game like Ohio State quarterback Braxton Miller. His ability to extend the play and pick up completely improbable yards is unmatched, and as his passing game improves in 2013, it's possible we could hear some Heisman buzz—especially if the Buckeyes can extend their FBS-leading 12-game win streak.
Ohio State may have finished 105th in passing offense in the FBS last season, but with the shiftiness of Miller's running ability, who needs a passing game? Realistically, if Ohio State has any hope of putting up another rare undefeated season in 2013 and earning a shot at the BCS National Championship, Miller will definitely need to improve his aerial prowess.
But even if that doesn't happen, we can't bring ourselves to put anyone above Braxton Miller on our list of the 10 most explosive players in the Big Ten heading into 2013.
Keep Reading