South Carolina Football: 3 Reasons Gamecocks Are Bound to Underachieve in 2013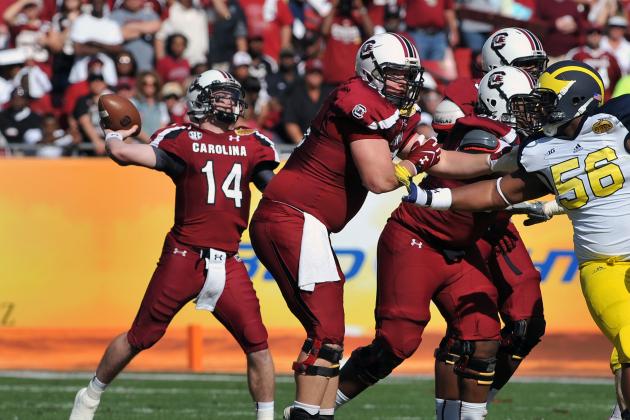 Al Messerschmidt/Getty Images

South Carolina has big expectations for the 2013 football season, which could lead to a season of underachievement for the Gamecocks.
Anything short of an SEC title or BCS bowl game berth would be a disappointment to head coach Steve Spurrier and his team.
Now, I already projected that South Carolina has the potential to go undefeated this season due to their star players, young talent and top-notch coaching staff. With high expectations and the potential to win an SEC title, the Gamecocks are bound to underachieve since it is impossible to do better than an undefeated season.
The Gamecocks have a great team that can go the distance in 2013. An SEC title and national championship game berth is not that lofty of a goal for them. South Carolina could be that good this year.
But, with high expectations comes the chance for underachievement.
Here are three reasons the South Carolina Gamecocks are bound to underachieve in 2013.
Begin Slideshow

»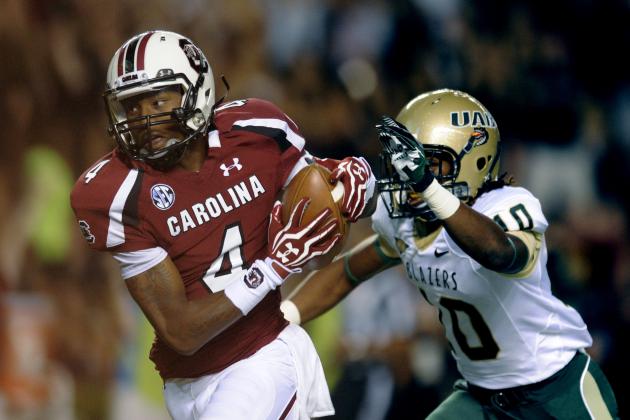 Mary Ann Chastain/Getty Images

While South Carolina has impact players like Jadeveon Clowney and Connor Shaw, the Gamecocks will also be playing many young players this season.
Youth does not necessarily mean a team will underachieve, though it does set off a red flag.
Experience is one of the most valuable resources for a college football team, especially in the tough SEC and for late season, close games.
South Carolina's young players do not lack talent at all. Sophomore running back Mike Davis was named the starter and has the potential to be an elite back for the Gamecocks. Similarly, sophomore wide receiver Shaq Roland is expected to have a major role in the offense as an all-around receiving threat.
Davis and Roland could be in for huge breakout season considering their increased roles in the offense. Yet, their performance in close games or rivalry games could make or break the offensive success of the Gamecocks.
Defensively, young players are taking over at all of the linebacker positions. Playing linebacker in the SEC can be a brutal task and leadership and experience are extremely important.
South Carolina's linebacker corps of Kaiwan Lewis, Cedrick Cooper, T.J. Holloman, Sharrod Golightly and Jordan Diggs has a lot of talent. They will all need to progress quickly throughout the season in order to avoid an underachieving season on the defensive side of the ball.
The young Gamecocks are the key to having a season of great achievement or a disappointing year of college football.
Kevin C. Cox/Getty Images

South Carolina has a favorable SEC regular season schedule that avoids battles with Texas A&M, Alabama and LSU in 2013. Yet, generally speaking, the SEC is a tough conference no matter what opponents a team squares off against.
The Gamecocks do battle with Georgia on the road in Athens, arguably their toughest matchup of the season since it is also their second game of the year.
Georgia is looking to end its bad streak of losses against South Carolina and position themselves to take home the SEC East division title. The Bulldogs have a very good team led by senior quarterback Aaron Murray and could pose trouble to the Gamecocks' SEC title quest, especially since the game is in Georgia.
Since this rivalry matchup is just the second of the season, South Carolina's young players will still lack big game experience. This could have a huge impact on the game.
The Gamecocks also have a span of three straight road games against Arkansas, Tennessee and Missouri. While South Carolina should win all of those games on paper, the road is never kind to visiting teams and could be a stretch where the Gamecocks slip up.
South Carolina also takes on Florida at home as well as non-conference opponent North Carolina in the season's opener.
All of these teams are respectable opponents and are tough competition for South Carolina in 2013.
If South Carolina hopes to have a perfect season, they must play near-perfect games against all of these tough opponents. The Gamecocks could lose to any of these teams and it could lead to an underachieving season.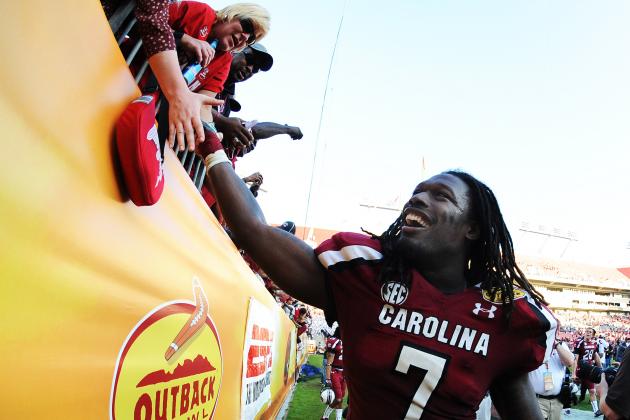 Al Messerschmidt/Getty Images

Spurrier has done some amazing things at South Carolina during his time as the head coach and now all of the success is adding up.
This year's team is one of the best teams he has had during his tenure and has the potential to make it a special season in school history.
South Carolina has not particularly had a lot of success when looking at the school's football history.
Until Spurrier arrived, many seasons ended in disappointment. Now, with a great talent pool, excellent coaching staff and rising program, the Gamecocks are looking to have a memorable season that includes an SEC title.
Winning the SEC is not an easy task and almost always requires a flawless season.
The 2013 Gamecocks are capable of accomplishing this lofty goal, which makes anything short of an SEC title a potential disappointment.
With Clowney on defense and the versatility of the offense, Spurrier has a team that can make waves and win the SEC.
Ultimately, it is impossible to do much better than winning an SEC title, unless the team also wins a national championship. So if the Gamecocks have a blemish or two on their record in 2013, then it could be considered an underachieving year.