SEC Football: Power Ranking the Top 5 Candidates for Player of the Year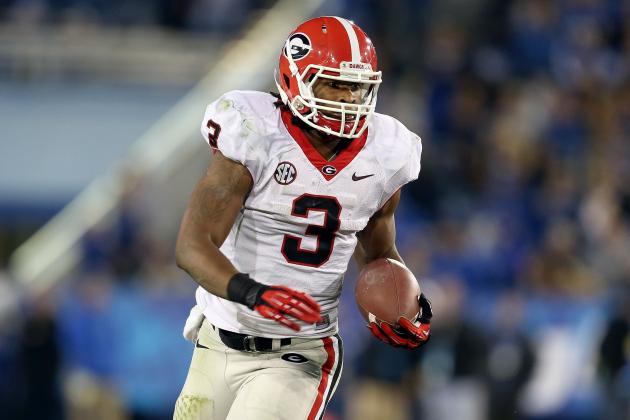 Andy Lyons/Getty Images

Jadeveon Clowney may be the best player in the SEC, but he wouldn't win a hypothetical 2013 SEC Player of the Year Award.
Why? Well, he's a defensive player, and if the SEC Offensive and Defensive Player of the Year awards were combined, the defensive player would take a backseat to the offensive player just about every time. Look to the past, friends. Before the award split into offense and defense, one defensive player won the award out of the previous 14 years. That man was David Pollack in 2002.
So let's combine these awards for the sake of a compelling debate. If the awards were combined, what type of shot would Clowney have to win this award? His athleticism and remarkable abilities to get in the backfield and disrupt plays will see him pile up impressive stats in 2013. But will they be impressive enough to unseat Johnny Manziel as the reigning player of the year?
Here are the top candidates for the 2013 SEC Player of the Year.
Begin Slideshow

»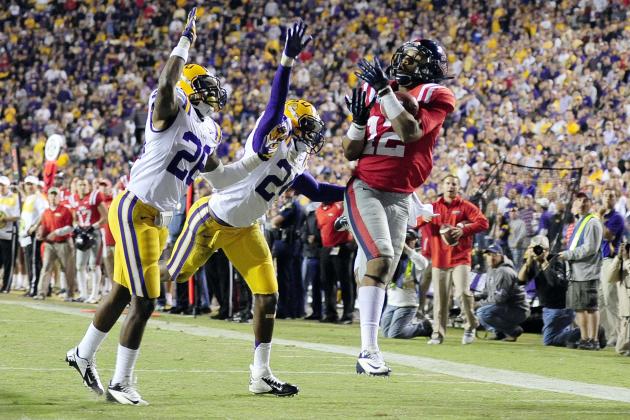 Stacy Revere/Getty Images

Not who you were expecting?
Hear this one out for a second. Donte Moncrief may not be the most talented receiver in the SEC. However, because of his situation, he has the best chance to win the award as a receiver.
Let's eliminate the others first. Mike Evans will gain his numbers from Johnny Manziel. Manziel's rushing numbers and combined touchdown total should elevate him over his teammate. Jordan Matthews will have a new quarterback throwing to him, so who knows if Vanderbilt will be able to take full advantage of his athleticism. And as for Amari Cooper, the rushing attack and return of Kenny Bell will subtract a few big plays from him.
So that leaves us with Mr. Moncrief. Moncrief had 979 receiving yards and 10 touchdown receptions as a sophomore last season. Hugh Freeze found inventive ways to get Moncrief the football last season, as Freeze showed off his offensive ingenuity by elevating Ole Miss' offense to fifth best in the conference in his first season as head coach. Not too shabby.
With Bo Wallace coming back (shoulder surgery behind him), Freeze has a solid group of guys to further improve this offense, but don't get it twisted—Moncrief is the star of the show. There's no reason to believe 2013 won't bring Moncrief his greatest season yet.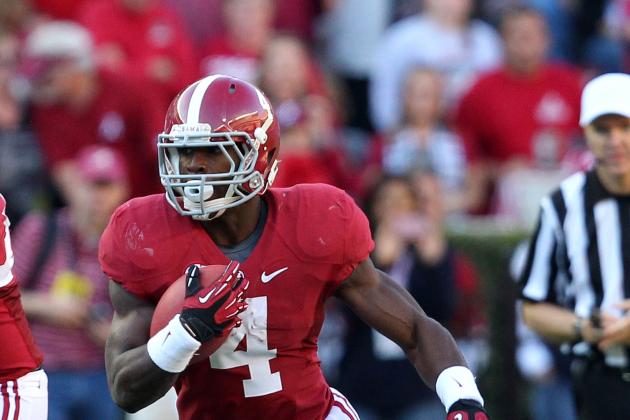 Mike Zarrilli/Getty Images

Alabama is fearless now when it comes to throwing the football because of the return of A.J. McCarron. However, you'd be a fool to think Alabama abandons the run this fall.
Running the football repeatedly down its opponents' throats is simply the way Alabama plays football. It's the Crimson Tide's bread and butter, if you will.
Last season, Alabama ranked second in the conference in rushing yards per game with 227.5. The Tide's freshman sensation, T.J. Yeldon, rushed for 1,108 yards and 12 touchdowns, while spelling for starter Eddie Lacy.
Look around. Lacy is no longer wearing crimson. That opens up the door for Yeldon to have a breakout season and record some pretty hefty stats along the way.
Though running the football will be Alabama's focal attack, the Tide will most likely look to open things up often with their passing games, therefore taking a few carries away from Yeldon. Heck, it would be idiotic not to with a quarterback who has 49 career touchdowns and two national championships.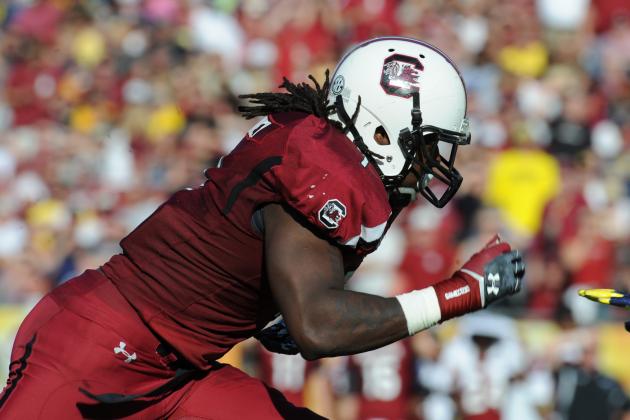 Al Messerschmidt/Getty Images

To quote a South Carolina fan on a past article, "I love how Jadeveon Clowney is the only player on our team."
Indeed, Clowney is receiving an incredible amount of hype entering his junior season with South Carolina. Knocking a player's helmet off, forcing a fumble and recovering the fumble all in one play during a bowl game will certainly do that.
But his athleticism and ability isn't breaking news to SEC fans. Clowney has always been a special defensive player, and 2012 served as a breakout season for the remarkable defensive end. Will 2013 see him dominate postseason awards?
Here's the deal. Though most would agree that Clowney is the best player in the SEC, it's hard to win Player of the Year awards when you're on defense if the offensive and defensive awards aren't split. It's even harder when you're not playing defensive back/returning kicks.
For Clowney to win Player of the Year in the SEC, he would have to record around 15 sacks, force a few fumbles and wreak havoc in the opposing team's backfield on a weekly basis. Those are unrealistic expectations, even for Clowney.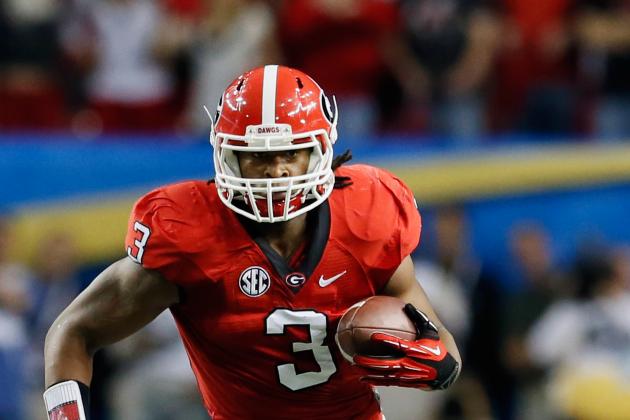 Kevin C. Cox/Getty Images

Yes, Todd Gurley has to share the backfield with Keith Marshall. No, that won't stop him from having another monster year.
The reason why is, well, it didn't stop him from producing a huge season last year. While sharing the backfield with Marshall, Gurley contributed 1,385 yards and 17 rushing touchdowns. Both statistics were second in the conference, behind the eventual Heisman winner, Johnny Manziel.
Though Aaron Murray returns for his senior season, Gurley will be the strength of this Georgia offense.
Gurley runs defenders over like a Mack truck and sprints past linebackers like a speed star. Is he the second coming of Herschel Walker? Georgia fans won't dare "bite" on that proclamation.
One thing they will agree with: He's the best running back the SEC has to offer.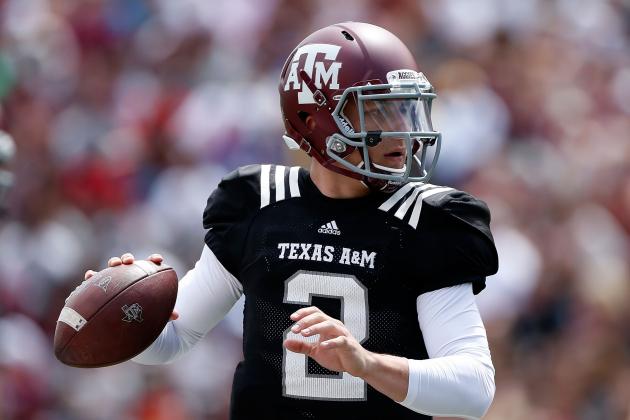 Scott Halleran/Getty Images

Exactly who you were expecting?
He is the man who defies limitations. He is Johnny Football, JFF, Johnny Heis-Manziel. He is Johnny Manziel.
Let's take a minute to reflect on what this young man did last season, shall we? Entering his first season as the starter at a school that entered its inaugural season in the SEC, Manziel scored a total of 47 touchdowns and won the Heisman.
That automatically makes him the favorite to win the 2013 SEC Player of the Year Award. Now, will he do it? He doesn't have to replicate the same numbers as last year to do so. Instead, he needs to post strong, impressive numbers and win football games.
If he has 10 fewer touchdowns and the Aggies win the SEC, he will surely win the award. Seeing as though Texas A&M doesn't have to play Florida, Georgia or South Carolina, winning the SEC is extremely viable. It all comes down to that September 14 matchup at home against Alabama and that road trip to Baton Rouge on November 23. The Aggies' schedule certainly places Manziel in a perfect position to repeat as the SEC Offensive Player of the Year. And in a hypothetical situation as such, he would be the overall 2013 SEC Player of the Year.