10 Things We'll Learn Right Away in Week 1 of 2013 College Football Season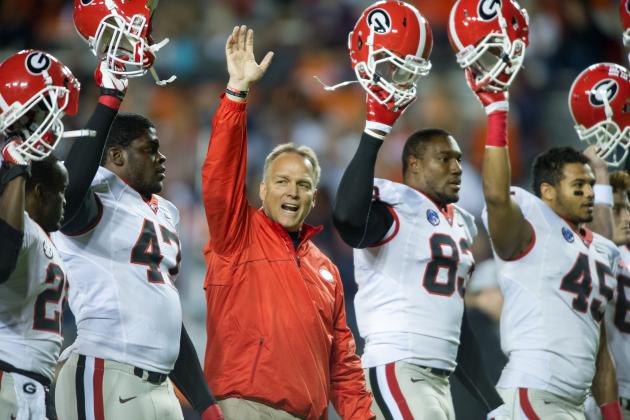 Michael Chang/Getty Images

College football answers so many questions on a week-to-week basis and teaches us more in less time than any other sport. Some of it has to do with overeating and jumping the gun a bit, but that is part of what makes it fun for everybody.
The first week of the 2013 season includes various marquee matchups and interesting storylines that will help answer some of the questions we have asked ourselves all offseason. Some of these games include SEC squads, national-title contenders and teams with a quarterback everybody has an opinion on.
We won't learn everything in the first week of the season, but a lot of questions will be answered.
Begin Slideshow

»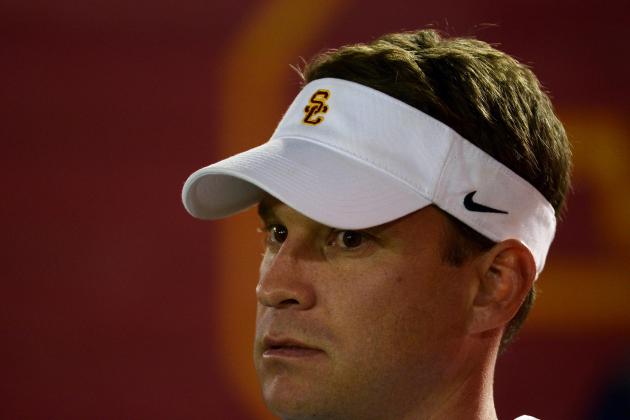 Harry How/Getty Images

USC is taking a trip to Hawaii, which sounds like your typical cupcake season opener, but nothing came easy for the Trojans last year. After losing five of its last six games, including a bowl loss to Georgia Tech, nothing should be taken for granted anymore.
The good news is that USC has never lost in the six games it has played against the Warriors. Hawaii is also a team that was awful last season, ranked 102nd in points scored and 107th in points allowed. This should be one of the easier games on the schedule for Lane Kiffin and his players.
Then again, so was much of the 2012 schedule, which only produced seven victories.
USC wouldn't be out of the woods just yet with a victory at Aloha Stadium, but it would at least give fans a sigh of relief that this season got off on the right track. If the Trojans lose, well, they might as well stay on the island and never return to California.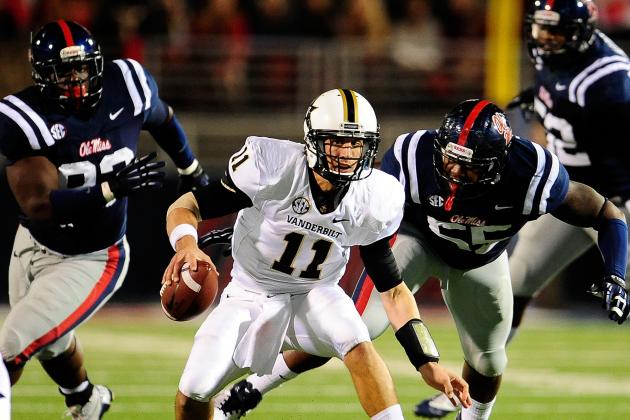 Stacy Revere/Getty Images

The SEC is getting deeper and deeper. There are already six teams you could legitimately pick to win the conference, and that list is getting longer with programs like Ole Miss and Vanderbilt beginning to make some noise.
Vanderbilt has made two straight bowl appearances and won nine games last season for the first time since 1915. Head coach James Franklin has changed the attitude in just two years, and this is no longer a school that is satisfied with just a couple of wins.
Ole Miss also made headlines last season, winning seven games under head coach Hugh Freeze. That momentum continued to carry over into the recruiting world, as the Rebels landed numerous elite players and have planted the seeds for a positive future.
Nobody is picking either of these teams to win the SEC just yet, but a Week 1 showdown at Vanderbilt Stadium will drop a few hints as to who is that much closer to competing with the big boys.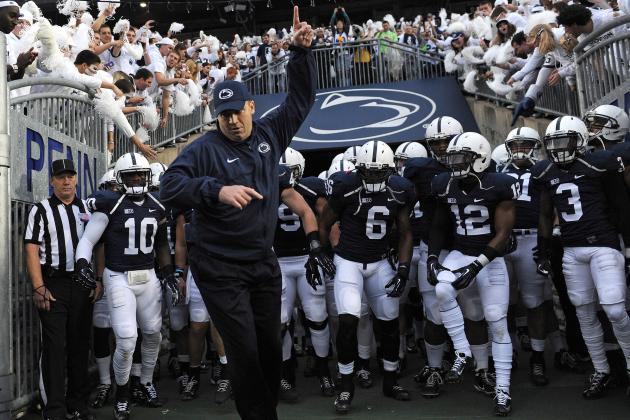 Patrick Smith/Getty Images

Penn State surprised us all by winning eight games last season. Given the circumstances of a new head coach, players leaving, sanctions being handed down and everything else that was in play, it was expected for the Nittany Lions to become the next SMU.
Although there is a light at the end of the tunnel with head coach Bill O'Brien, many believe that this is the year the sanctions and scholarship reductions begin to have an effect. Penn State is still dealing with three more years of bowl bans and has far fewer bodies available than your typical football teams.
The Nittany Lions begin the season with a road trip to MetLife Stadium to take on Syracuse. This is a team that should be beaten by Penn State, but the playing field evens out a bit with everything going against the program.
We'll soon find out if O'Brien can continue to push the right buttons or if the sanctions are finally catching up.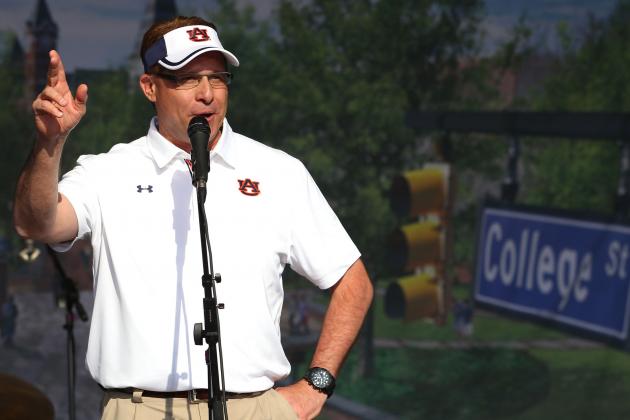 Mike Zarrilli/Getty Images

Auburn reached an all-time low last year with only three victories and an offense that couldn't score on a middle school. There have been drastic changes made, starting with the hire of Gus Malzahn at head coach. There was also a spark in recruiting once that happened.
But are things really back on track for Auburn?
Sure, Malzahn has experience coaching at Auburn, as he was the offensive coordinator during the 2010 championship team. But it may be unfair to expect him to step in and begin winning games right away at a high rate. Things like this take time, and it could take a year or two before Tigers fans' expectations are reached.
Auburn will have a solid test with Washington State coming to town. The game should tell us a lot about just how far this program has come in one short offseason.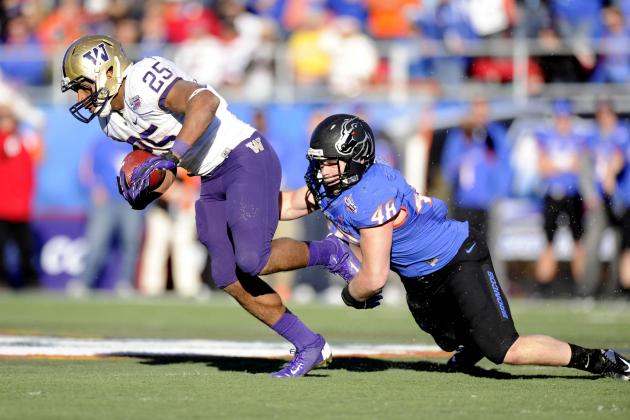 Josh Holmberg-USA TODAY Sports

Boise State and Washington will begin this season the same way last year's ended, against one another. Like the bowl matchup, this will be one of the most underrated games of opening week.
The Broncos are always a well-coached team and have what it takes to reach a BCS bowl for the first time since 2009. With the MWC schedule not so hot, a visit to Husky Stadium is easily the most difficult meeting Boise will have all season.
This is supposed to be the season Washington makes a run for a Pac-12 title. The Huskies return 17 starters and have more than enough pieces on both sides of the ball to give every other team a run for its money.
Now the question is: Which team is truly ready to position itself for a prestigious bowl game?
Early-season losses can sometime be difficult to overcome. The result of this game could pop a BCS bubble before the fun even starts.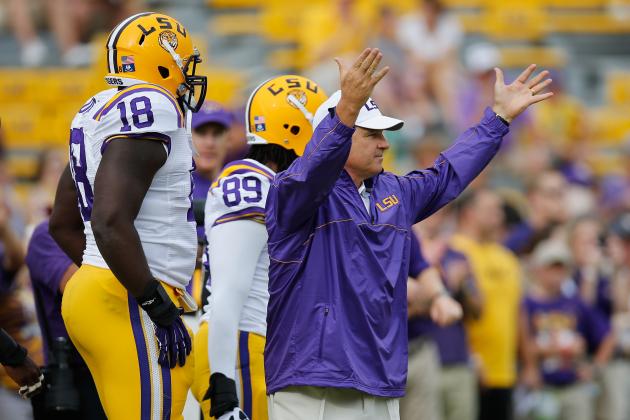 Chris Graythen/Getty Images

It has been a while since LSU hasn't been relevant. Since head coach Les Miles took over the program, the Tigers have won double-digit games in six of the last eight seasons.
The possibility of remaining a top SEC program this season remains pretty good with eight offensive starters returning. However, defense has been the blueprint for success in Baton Rouge, and there are only five starters returning. Almost an entire defensive line needs to be replaced, and two members in the secondary are gone.
Easing talented recruits into a starting role usually isn't a problem for these powerhouse programs, but that is normally done during the first couple of game against FCS squads. LSU doesn't get any warm-up games, as the first contest is a matchup against TCU in Cowboys Stadium.
It is going to be very interesting to see how this young defense responds to the bright lights.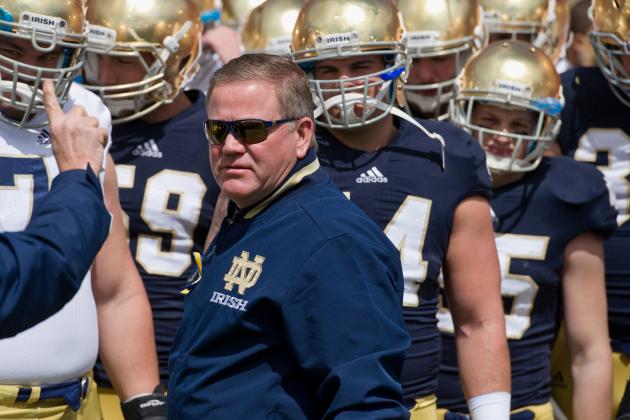 USA TODAY Sports

Don't let these Irish fans fool you: Last season wasn't all sunshine and rainbows. Even with an undefeated season and proving the naysayers wrong, there isn't one Irish fan who didn't grow a few gray hairs during the run.
Many games last year came down to the final seconds for Notre Dame. There were two overtime games, games with controversial endings and comeback victories as well. Nothing came easy for the Irish, and that included unranked opponents holding their own against the national title runner-ups. Purdue and Pittsburgh had no business keeping things close against Notre Dame.
Will this remain the case this season?
Temple stops by for a visit to Notre Dame Stadium, which should result in a three-touchdown blowout. Of course, Irish fans will take the win however it comes, but this too-close-for-comfort stuff is not helping anybody age well.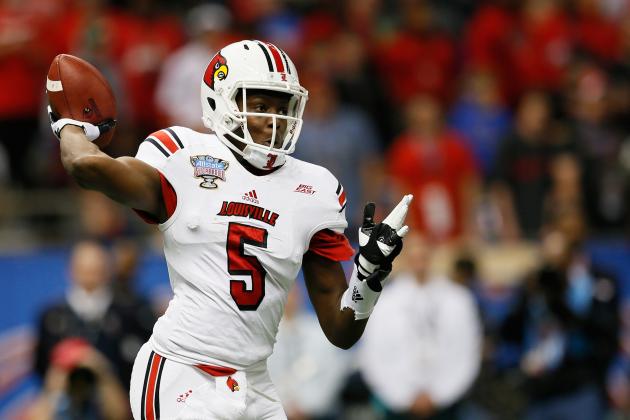 Kevin C. Cox/Getty Images

Teddy Bridgewater is one player who has come a long way in a short amount of time. He has always been a productive quarterback who has completed a high percentage of passes, but a victory in a BCS bowl has put his hype over the top.
Bridgewater is now being mentioned as one of the top quarterbacks in the country, popping up on NFL draft boards and receiving a little bit of Heisman buzz. The Louisville quarterback recently said he isn't concerned about the Heisman consideration, but he is a solid candidate whether he likes it or not.
The only issue is that he isn't seen much by voters, and there aren't many marquee games on the Cardinals' schedule. An opening game against Ohio isn't going to do much for a Heisman moment, but having the game played on a Sunday on ESPN is huge. It gives folks a chance to see him up close and not have to flip back and forth between games that actually matter.
Bridgewater has a chance to really start his Heisman campaign off right.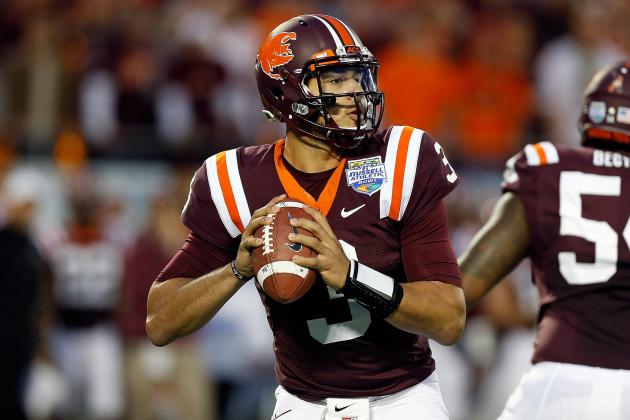 J. Meric/Getty Images

Logan Thomas has a lot to prove. He was once considered the next best quarterback with a bright NFL future. Now, there are more questions than answers surrounding his game.
Last season Thomas threw 16 interceptions and overthrew wide open receivers on a weekly basis. His footwork was questionable, and he just didn't look like an elite quarterback at all. Hokies fans are hoping this changes for the sake of the season, but he will have a chance to prove the critics wrong, all while improving his NFL draft stock.
How does a game against Alabama in the Georgia Dome sound?
If Thomas can find a way to make Nick Saban look foolish under the bright lights, he can do anything. Let him throw for three touchdowns and 300 yards against the Tide, and Thomas will be considered the next Joe Montana.
Of course, he doesn't have to do all that to earn attention, but his performance will be watched closely.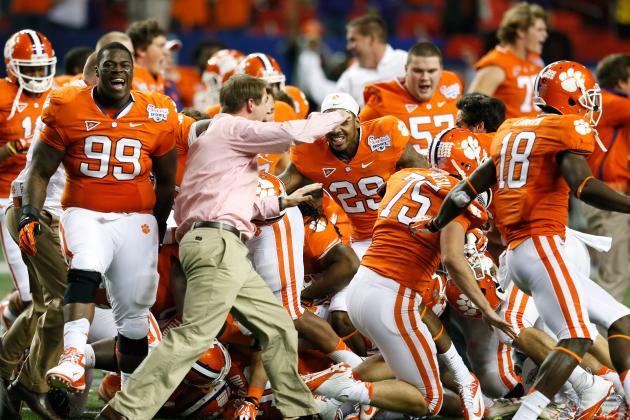 Kevin C. Cox/Getty Images

The best game of the weekend will be when Georgia makes its way to Memorial Stadium to play Clemson. Both teams should be ranked fairly high in the polls, and the outcome will inch the winner that much closer to accomplishing its goals.
Georgia fell just a couple of yards and seconds short of topping Alabama and having a chance to compete for a national title last season. Clemson has the offense to get the job done, but the defense showed some serious potential in the bowl victory over LSU.
Either one of these teams could be playing for the crystal football this season.
This game should include a lot of fireworks offensively. But the whole point of this matchup is determining who the real dark-horse contender really is.