Most Anticipated Matchups of 2014 Big Ten Football Schedule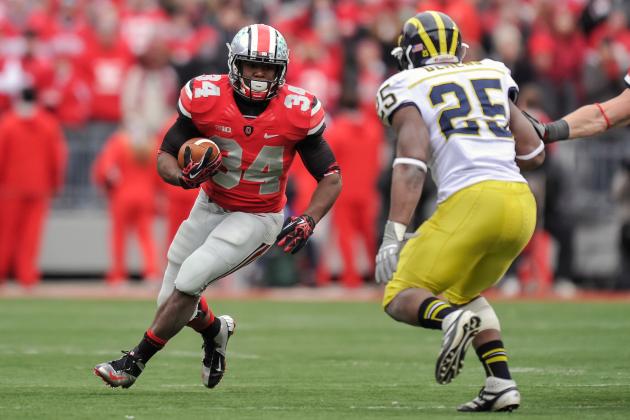 Jamie Sabau/Getty Images

The Big Ten college football conference schedule has been announced for the 2014 season (Click here to see the schedule).
We may still have an entire 2013 schedule to play before we can even think about what happens a year from now, but the new schedule is interesting. There are two new teams (Rutgers and Maryland), new divisions and new matchups that make it completely different from your ordinary schedule release.
Without knowing about any coaching changes, new players or what will happen from now until then, let's take a shot in the dark.
Here are the very early most anticipated 2014 Big Ten football matchups.
Begin Slideshow

»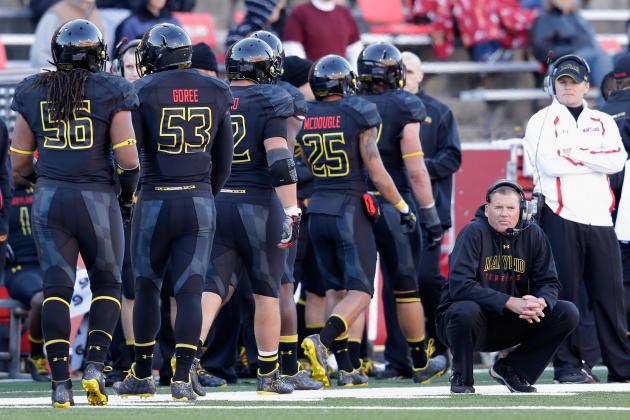 Rob Carr/Getty Images

Will head coach Randy Edsall even be around to witness this game? Unless he turns things around, there will be a new coach calling the shots by the time this game arrives.
But regardless of who the head coach is, Maryland will continue to be laughed at for making such a dangerous leap. Having a hard time winning in the ACC, even most Terrapins fans don't believe the results are going to be any better in the new conference.
That is why this is the game to check out. An opening matchup against Indiana, this is a game that won't impress anybody, but it would at least show you can beat up on the bottom feeders of the Big Ten. Taking baby steps is all Maryland can hope for and that is exactly what this opening meeting is.
Shut those critics up for at least a week.
Joe Robbins/Getty Images

Head coach Kyle Flood did an incredible job with Rutgers his first season and has many fans optimistic on how the team will do once joining the Big Ten. One of the best ways to find out is an opening matchup against Penn State.
Even though the Nittany Lions aren't eligible to have any fun once the season comes to end, head coach Bill O'Brien showed last year that this school will come to play when the ball is kicked off.
These two teams also have history playing one another, as Penn State and Rutgers had an annual meeting from 1982-1995.
This is the sleeper matchup of the Big Ten, but with two teams eager to prove themselves, it should result in a competitive contest.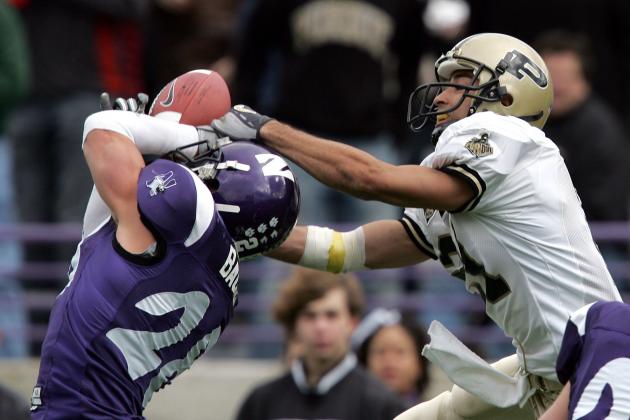 Jonathan Daniel/Getty Images

Since these games aren't played for another year or so, let's throw a bold prediction out there. Either Purdue or Northwestern will seriously compete for a chance to appear in the Big Ten Championship.
Northwestern came close to doing it last year and continues to make tremendous strides under head coach Pat Fitzgerald. Head coach Darrell Hazell will have had a full season under his belt at this time and a lot more answers regarding his Boilermakers than he does right now.
The Wildcats got off the hook not having to play Ohio State and they get Wisconsin, Nebraska and Michigan at home. They have also gotten off to a ridiculous start to the 2014 recruiting class. This program is clearly on the rise.
Purdue gets Wisconsin and Michigan State at home, while avoiding Michigan and Ohio State.
One of these clubs will be much better than expected, and the middle of the season matchup will help determine who makes a late-season run.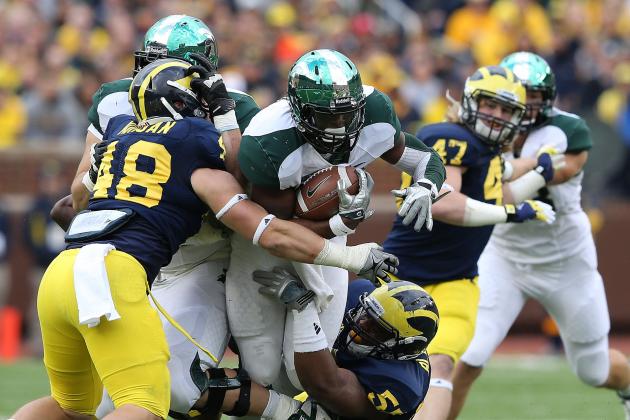 Leon Halip/Getty Images

Michigan has a lot of young pieces that will get their feet wet this season, which means they will be ready to go by the time 2014 rolls around. Michigan State will lose a few key guys on defense, but should be fine as long as head coach Mark Dantonio is still in town.
Both teams have developed an identity lately under their head coaches and not much should change moving forward. The Spartans will remain that physical team defensively and the Wolverines should be a more balanced team on offense with Devin Gardner running the show.
Last season's meeting was decided by two points, and with the direction both squads are heading, you should expect more close games in the future.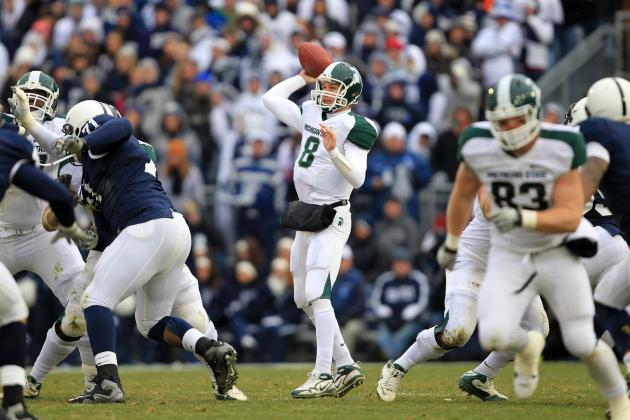 Hunter Martin/Getty Images

Another Michigan State game to keep an eye on is when the Spartans travel to Happy Valley at the end of the year. Michigan State was let off the hook and received Nebraska, Michigan and Ohio State at home, which makes for a comfortable road schedule.
Is it too farfetched to believe the Spartans could win the East with that schedule?
This is why a trip to Penn State will be highly anticipated. Head coach Bill O'Brien is pulling rabbits out of his hat with the Nittany Lions, and he just landed his quarterback of the future in Christian Hackenberg. Banned from a bowl game or not, this is not a program you want to look down on, especially having to play on the road.
If the Spartans can take care of business early on, this meeting could help decide who goes to the Big Ten Championship.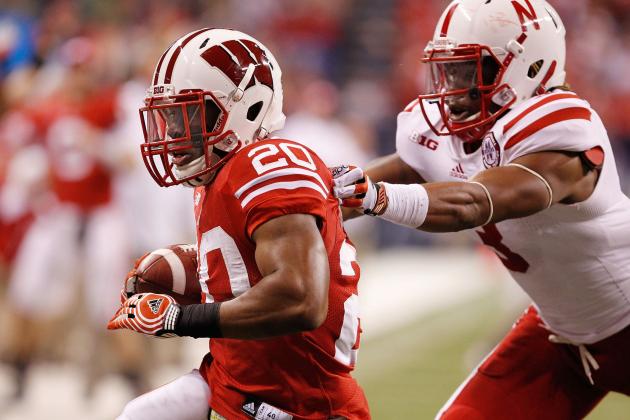 Gregory Shamus/Getty Images

After the last two games between these two programs, you aren't quite sure what to expect. The first game provided us with a classic that was decided by three points. The other meeting was decided by 39 points, as Wisconsin dropped 70 and embarrassed Nebraska.
Who knows what will happen in this one?
One thing for sure is that Wisconsin and Nebraska have been mighty consistent over the years. The Cornhuskers have won at least nine games in five consecutive seasons, while the Badgers have won double-digit games in three of the last four years.
Both will continue to represent the Big Ten well and will remain contenders for years to come. This will be a crucial game that helps decide who wins the West division.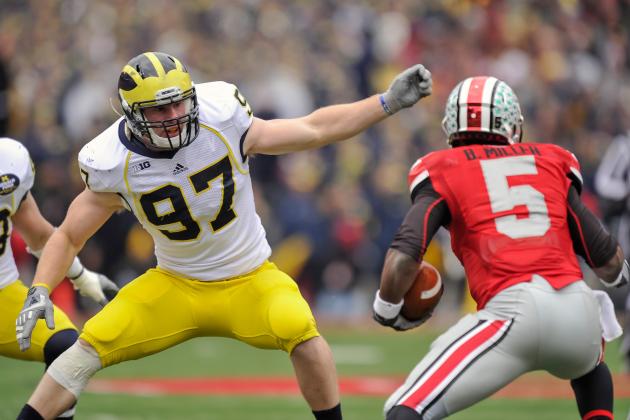 Jamie Sabau/Getty Images

When was the last time this conference meeting wasn't the most anticipated Big Ten game?
With head coach Urban Meyer and Brady Hoke doing a remarkable job with their teams, this historic rivalry has been recharged and has made this that must-see game at the end of the year.
Ohio State believes it is one or two pieces away from winning a national title. Michigan continues to recruit with the best of them and will soon have what it takes to get over the hump and appear in the national spotlight.
Until Auburn is able to pick up the pieces and begin competing with Alabama, this is by far the rivalry that you can't afford to miss. With possible conference and national title hopes on the line, the Ohio State-Michigan game is the most anticipated Big Ten matchup in 2014.