College Football Teams in Recruiting Hot Beds Struggling to Attract Top Talent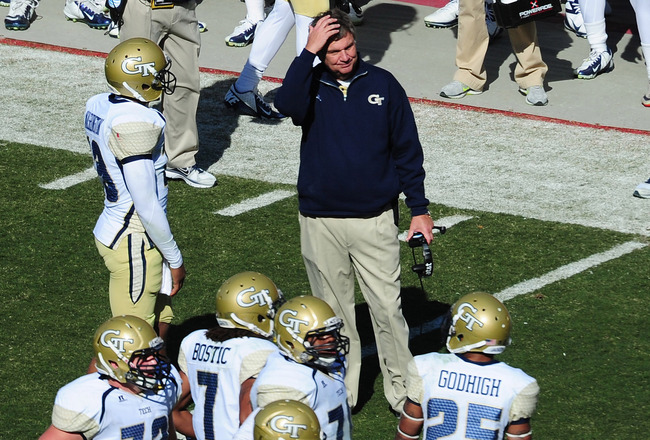 Scott Cunningham/Getty Images
A major help to a program's recruiting is its location, as schools like Texas, Florida, Miami, Georgia and USC will certainly agree. Residing in an area rich with talent is a huge aid, as schools can pluck good local talent who usually grew up rooting for the program.
However, some schools will disagree with that claim, as they sit in great hotbeds but are finding it tough to lure good recruits to their campus. This list has eight schools who fit that design and one will be surprised to find out it's on here.
From two schools in Texas who want to know Mack Brown's secret to recruiting, to a California school in a beautiful city who can't convince Golden State prospects to sign and two programs in the Carolina region whose recruiting cupboards are routinely bare, here are hotbed schools struggling at recruiting.
UCF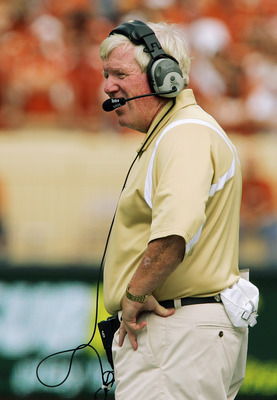 Brian Bahr/Getty Images
Central Florida should be able to recruit much better than it has, as the program is in Florida and is in BCS conference, that should be enough as it is.
Florida produces an embarrassing amount of talent each year and there's enough for UCF to sign. George O'Leary's program may concede too much to Florida, Miami and Florida State.
The right spark could open the recruiting floodgates at UCF.
SMU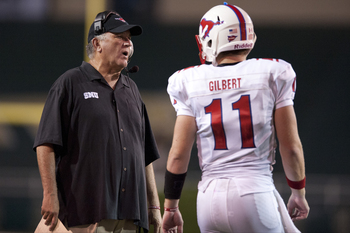 Cooper Neill/Getty Images
The Mustangs hired June Jones with the feeling that his potent offense combined with their location of being in Dallas would bolster their recruiting and program.
Well, so far in four years, that hasn't been the case. Jones hasn't come close to a top 25 finish and SMU is still struggling on the recruiting trail. The Mustangs are in Texas, play in a BCS league and have a coach who took Hawaii to a BCS bowl game.
Recruiting should be easier than it has been thus far.
Cincinnati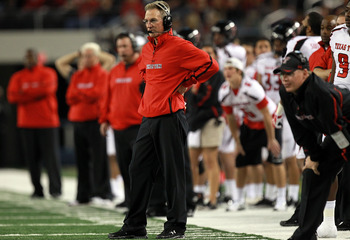 Ronald Martinez/Getty Images
Cincy is under new management these days, as Tommy Tuberville is now in charge. Hopefully he can provide a jolt into the Bearcats' recruiting because they have advantages due to their location.
First, Ohio is one of the better states to mine talent from and there are recruits that Ohio State overlooks. Next, Cincinnati is close to Kentucky, which means the Bearcats could start to tap into the South more often for recruits.
If Tuberville is willing to keep at it for a several years, progress can be made towards Cincinnati increasing its recruiting stature.
Houston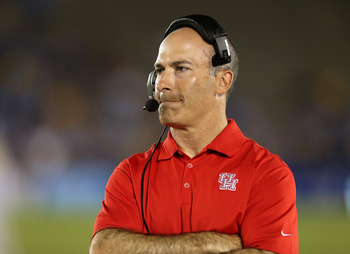 Stephen Dunn/Getty Images
Tony Levine replaced Kevin Sumlin at Houston and he inherited a program that sits in a great area. The greater Houston area has many athletes walking around and competition in this part of Texas is fierce.
Houston should be able to pull in top 30-40 classes in bad years due to its location and the ability to sprawl over Texas for talent. It's time for recruiting to improve in H-Town.
Duke and Wake Forest
Jeremy Brevard-USA TODAY Sports
North Carolina is a better state for recruiting talent than many people believe. South Carolina is also a great area to recruit from.
Sure, both Duke and Wake Forest have high academic standards and that limits their talent pool, but they could stand to see a spark in their recruiting.
Both David Cutcliffe and Jim Grobe would be wise to talk to David Shaw, Brian Kelly and James Franklin to see how each coach has found success in recruiting at their schools with similar academic reputations.
Georgia Tech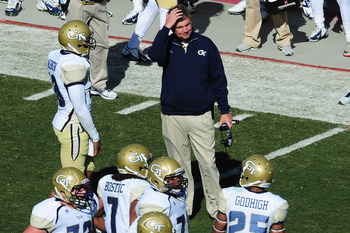 Scott Cunningham/Getty Images
Paul Johnson has to recruit certain types of players, that's understood. The Yellow Jackets run an option offense that requires very specific personnel and their defense is also based more on scheme.
However, at the end of the day, Johnson should be able to land higher-profile RBs, OLs and defensive talent. Georgia Tech is an after thought at best for many of the top players in the Peach State, who usually are among the best in the country.
That has to change.
San Diego State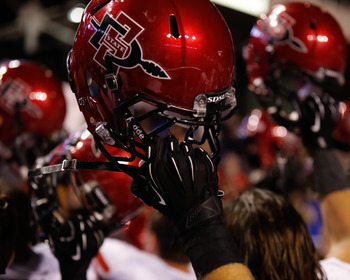 Otto Kitsinger III/Getty Images
The Aztecs are in San Diego, which is one of the most gorgeous cities in the United States. Southern California produces great talent and the Aztecs need to start getting more at the table.
Sure, USC and UCLA are stiff competition and the rest of the Pac-12 raids many of the same areas SDSU recruits from. Yet, the Aztecs do reside in a great location, have played good football over the years and could be a sleeping giant recruiting program.
Edwin Weathersby is the College Football Recruiting Analyst for Bleacher Report. He has worked in scouting/player personnel departments for three professional football teams, including the New York Giants and Cleveland Browns.
Keep Reading