Power Ranking Top 25 Big Ten Targets on 2014 College Football Recruiting Trail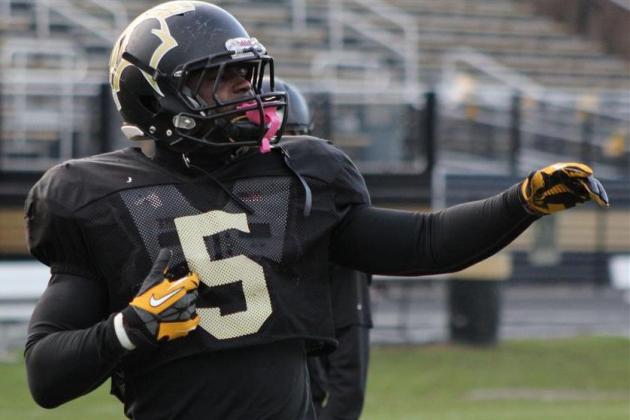 247Sports
The Big Ten is one of the most powerful conferences in college football, and one of the main reasons for that is because the league recruits well. Sure, this isn't the SEC, but with national powers like Michigan and Ohio State leading the way, the B1G pulls in its fair share of talent.
The following list is a straightforward piece ranking the top 25 targets on the trail who are looking at Big Ten schools. This list also shows the recruiting reach of the league, as the B1G can pull recruits from far outside the Midwest region.
From skill recruits in California, eyeing speed in Florida, trying to lure toughness out of New Jersey and of course looking hard into Texas, this list clearly shows the Big Ten isn't just a regional recruiting league.
Player evaluations are based on my review of tape at Scout.com, Rivals, 247Sports & ESPNU.

Begin Slideshow

»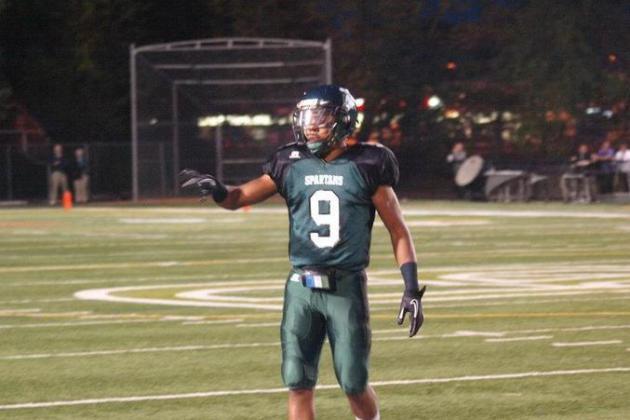 247Sports
Hester is a 6'0", 200-pound ATH from New Jersey who has great versatility. He can play RB, WR, S or OLB for a team and make many plays. 247Sports shows Michigan, Ohio State and Michigan State as several B1G teams he's currently eying.
Whichever school he signs with will see its coaching staff argue over which side of the ball will get their hands on him first.
247Sports
When programs recruit players from Glenville Academy in Cleveland, they know they are recruiting a well-coached, high-character prospect. Ted Ginn Sr., Glenville's head coach, doesn't lie to college coaches and is trusted by many staffs.
That is why Smith has B1G programs like Ohio State, Illinois and Indiana after him (247Sports). He's a 6'1" safety with great ball skills who plays with great range on the back end.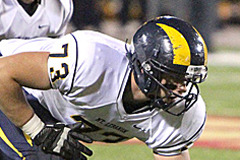 247Sports
The Big Ten is known for being a league where teams must be able to control the line of scrimmage. Recruiting big OLs and DLs is crucial, which is why Bookster is a wanted man.
From Pennsylvania, he's a 6'6", 295-pound OT prospect who has the potential to be a great RT or OG. Bookster flashes good power, and Michigan State could be a good fit.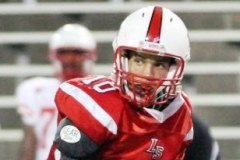 247Sports
Kief has excellent size at 6'5", 197 pounds and is from Ohio. According to 247Sports, Ohio State and Northwestern are two Big Ten programs to watch in his recruitment.
With his big hands and ability to catch in crowds, Kief is a potential nightmare for defenses in the redzone. He could also keep adding bulk and become a TE later in his career.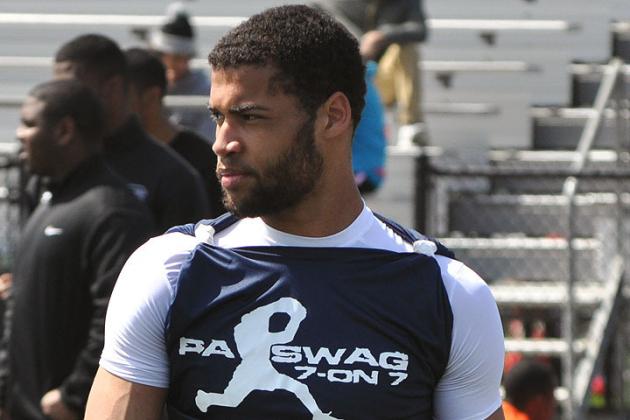 247Sports
Williams is a 6'2", 190-pound prospect from Pennsylvania who can play either safety or receiver. He has good size and is a solid athlete, yet he's not going to outrun many people.
Williams has good hands and ball skills, which would help him at either position. He will likely sign with Michigan and let Brady Hoke decide where he would help Big Blue the most.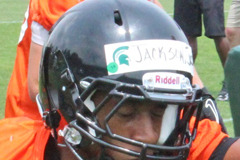 247Sports
As one of the best scat backs in the country, Jackson has great speed and elusiveness with the ball. The Illinois runner is 5'11", 180 pounds and is dangerous in space.
The predicted school to earn Jackson's signed NLI is Northwestern, so B1G defenses need to get ready to chase this guy around for four years.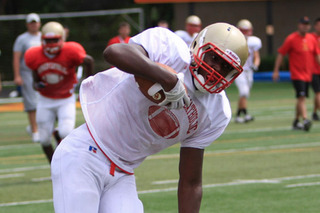 247Sports
Dickerson is a big DE prospect at 6'4" and 240 pounds. He could get up to 260 in college and be able to move to the strong side while also playing DT on passing situations.
His quickness and athletic ability make him an intriguing DL prospect. From New Jersey, Dickerson likes Ohio State, Northwestern and Michigan, according to 247Sports.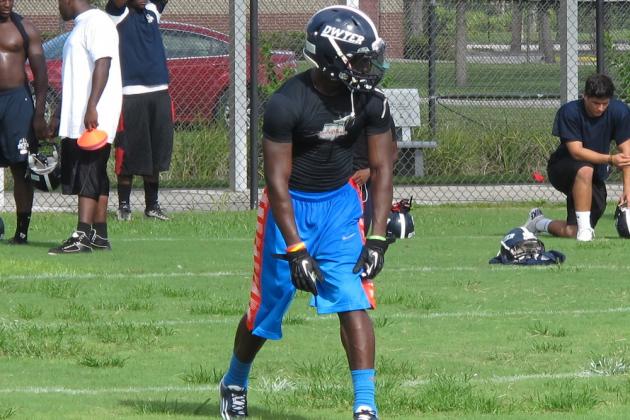 247Sports
The Big Ten has constantly heard the criticism of the overall lack of speed in its conference. Well, should Dixon enter the league, he'd quickly establish himself as a symbol of change.
The 5'11", 193-pound WR has the ability to get deep in a flash, separates quickly out of his breaks and has great RAC skills. Ohio State is a school to keep an eye on.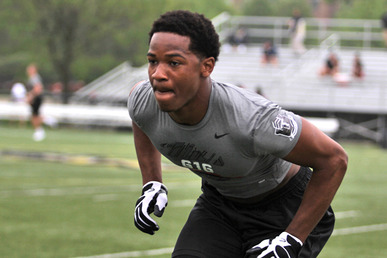 247Sports
At 5'11" and 185 pounds, Henry is a solid cover corner with good ball skills from Pennsylvania. He has solid flexibility in his hips and flashes good mirror skills in man coverage.
247Sports lists Ohio State and Penn State as two B1G programs who have a shot at Henry. Don't sleep on Henry as an offensive skill-position prospect, either.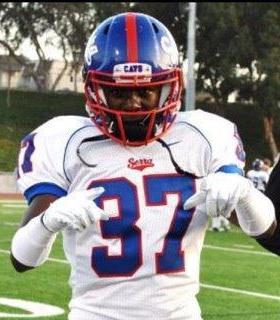 247Sports
Williams has smooth movement skills and great athletic ability. From Los Angeles, he's an OLB prospect who is 6'1" and weighs a few pounds more than 200.
He's a three-down 'backer who can play in coverage due to his speed and ball awareness. Williams can track ball-carriers vs. the run with range and is willing to fill alleys quickly. Michigan is a B1G school who could have what it takes to lure him out of Pac-12 country.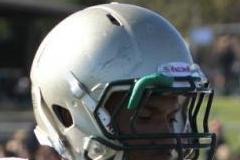 247Sports
From Ohio, Booker is 6'4", 210 pounds and has the potential to develop into a complete OLB. He has the size and toughness to take on blocks on inside running plays while possessing the speed and range to get outside.
Booker also can buzz back into coverage, flip his hips to lock onto a pass-catcher in his zone and shows the awareness to play the ball. Ohio State will get his commitment in due time.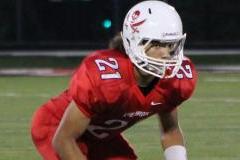 247Sports
Big CBs with instincts are always in demand from college coaches, and Westphal has seen his stock skyrocket. From Illinois, he's a 6'0" cover man who has a great feel for the game and reacts quickly to a WR's cuts when he's in trail position.
247Sports likes Michigan's chances to land Westphal.
247Sports
One of the best uncommitted QB prospects in the country, O'Connor is a 6'5", 225-pounder from Florida with good pocket-passing ability. He has a quick release, good arm strength and throws an accurate ball on a consistent basis.
Michigan State and Penn State are two B1G schools who sit pretty right now, says 247Sports. It will be interesting to see where O'Connor decides to go.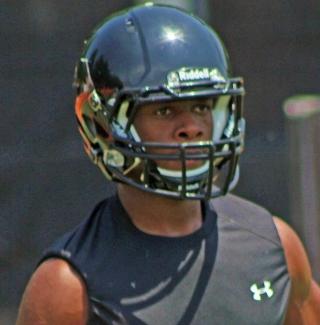 247Sports
North Carolina is where Scott does his damage, and surely Tar Hell State defenses will be happy to see him move on. The 5'11", 185-pound RB has great quickness, instincts and catches the football well.
Scott has offers from all over the country, and should he decide to play in the Big Ten, it will likely be at Ohio State.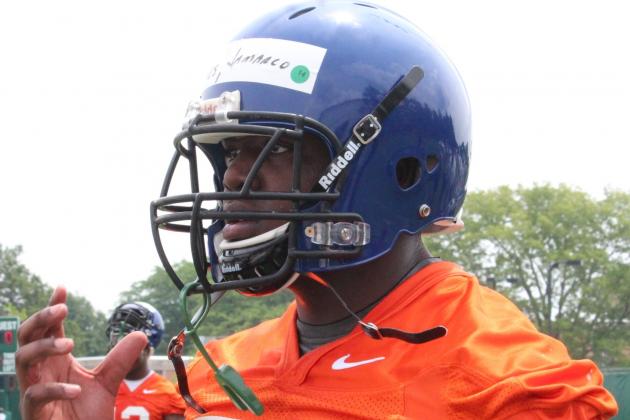 247Sports
Jones is a 6'4", 300-pounder from Chicago who has a high ceiling. He is a solid athlete with quick feet for a big man and has good strength. Jones can play across the OL, and his versatility will serve him well. Look for Jones to make multiple starts at multiple OL positions in college.
Ohio State, Michigan and Michigan State are the top B1G schools in the running for him, per 247Sports.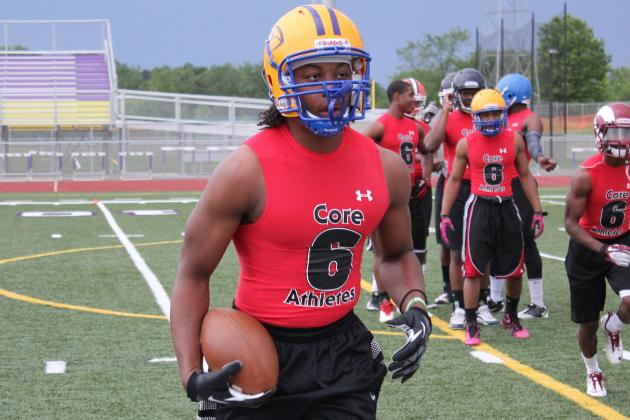 247Sports
Another Illinois prospect, Morgan is a tough 'backer who plays with a 6'2", 228-pound frame. He can stack blocks at the point of attack, use his hands to shed them, free himself up and make good wrap-tackles vs. the run.
He's a student of the game who watches a good amount of film and prepares well. Michigan State has a shot at Morgan, says 247Sports.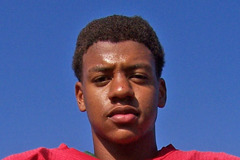 247Sports
USC and UCLA are expected to slug it out for Smith, but the 6'1", 190-pounder also is wanted by Michigan and Ohio State. He's from national powerhouse Long Beach State and is one of the most athletic players in the country.
Smith can play safety or receiver and has explosive ability. His frame appears to be capable of filling out to the 210-pound mark.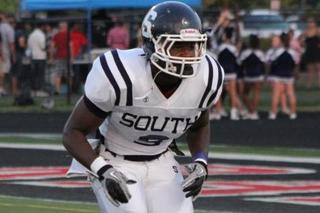 247Sports
LSU is expected to land Garrett, yet if he spurns the Tigers and decides the Big Ten is the place for him, then Ohio State would be a good fit.
Garrett is tough, mobile, agile and hostile. The Illinois native is a 6'2", 230-pounder who hits anything that moves and has great power. He fits the SEC style of play but could also dominate the B1G.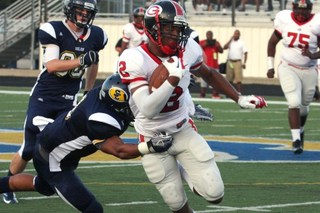 247Sports
Lattimore is the second Cleveland Glenville Academy player on this list and is also a top-flight prospect. He has a 6'0", 180-pound frame and will get a chance to prove he's a CB first.
Ohio State usually gets the first pickings of Glenville recruits and brings many of them to Columbus. So expect Lattimore to be a Buckeye.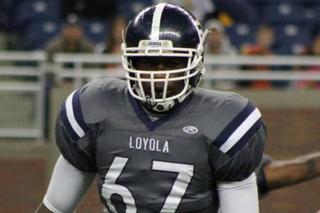 247Sports
A huge DL prospect at 6'6", 290 pounds, McDowell has deceptive quickness and solid athleticism for a big man. He can shoot upfield at the snap and plays to his size at the point of attack.
McDowell is from Michigan, and his recruitment will come down to between both Michigan powers in the Wolverines and Spartans. He can play DT in a 4-3 scheme or DE in a 3-4 defense.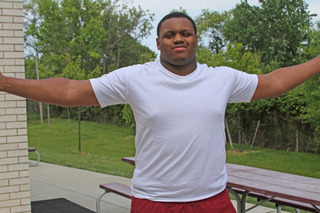 247Sports
From Maryland, the 6'7", 310-pound Prince has great athleticism and quick feet. He is not going maul anyone as a blocker, but he can shadow the quickest rushers and wash them past the pocket well.
Prince has offers from many of the top programs from around the country, including Michigan and Ohio State of the Big Ten. Maryland, Florida State and Alabama are other schools to watch out for.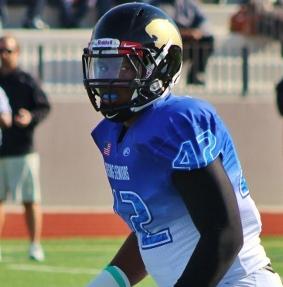 247Sports
It will not be long before McMillan goes from B1G prospect to B1G commit, as Ohio State is awaiting his pledge. He's a big 6'3", 249-pound LB from Georgia with good movement skills, strength and instincts.
McMillan notched more than 150 tackles as a junior, and his production rate is off the charts. He would certainly boost the Buckeyes' LB depth chart.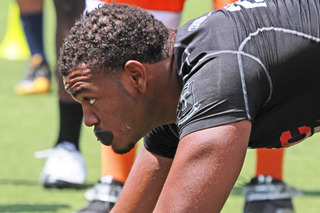 247Sports
Brown is welcome on any campus in the country, let alone the Big Ten. He's a 6'4", 295-pound beast of a DT with explosive quickness at the snap, power at the point of attack and shedding ability.
Brown can finish plays quickly in pursuit due to his good quickness and chase speed. He fits multiple schemes and could be ready to play immediately.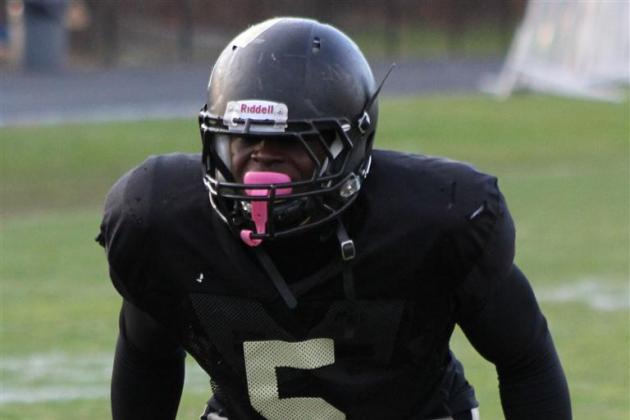 247Sports
The most versatile player in the country, Peppers is from New Jersey and stands 6'1", 205 pounds. He has an outstanding work ethic to go along with great speed, instincts and overall athletic ability.
Ohio State could have been the pick early on, but Michigan is the predicted winner at this time. Stanford is Big Blue's biggest competition, yet Peppers grew up an admirer of Wolverine football.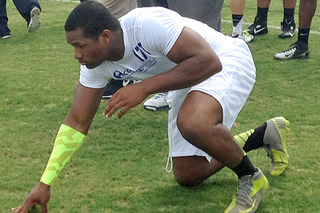 247Sports
The explosive and strong pass-rusher could land in Ann Arbor and take the B1G by storm. Hand is a 6'5", 247-pounder from Virginia who is ready to contribute to a college defense today.
Brady Hoke is a DL coach at heart, so he's undoubtedly drooling over getting his hands on Hand to mold. Virginia Tech is Hoke's main threat, but things look good for Michigan.
Edwin Weathersby is the College Football Recruiting Analyst for Bleacher Report. He has worked in scouting/player personnel departments for three professional football teams, including the New York Giants and Cleveland Browns.