Comparing College Football Coaches to Characters on the Office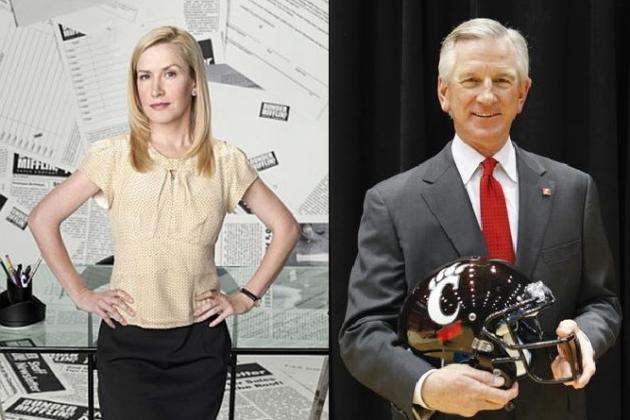 With NBC's long-running series The Office wrapping up for good on May 16, it seems appropriate to pay tribute to the landmark show by linking it to the pioneering sport of college football.
Yes, where The Office's documentary style of filming featuring the use of a single camera represented a cutting edge approach to situational comedy, a major U.S. team sport without a real playoff represents, well, a "radical" approach to finding a true champion.
To celebrate this somewhat wispy link why not honor both sides by comparing college football coaches with the characters from the cast of The Office?
What's inherently difficult about the task of linking these specific characters with FBS coaches is what makes the show so explosively funny in the first place, and it's all about how extreme the individual parts are written.
Indeed, what makes guys like Michael Scott and Dwight Schrute so "spit your coffee out" hilarious is that they are simply over the top in their characterizations of actual office personalities.
And though this is funny on the actual show, it makes it challenging to straight-up link the more extreme Office characters to coaches, which in some cases could be viewed as almost offensive.
Regardless, if kept in the mindset of a lighthearted, good-natured tip-toe through the offseason where we simply link up a few common characteristics rather join total personalities, it's quite fun to see which FBS head coaches remind us of the main cast of The Office.
Begin Slideshow

»
Frankly, other than Dwight Schrute, Dunder Mifflin Scranton Regional Manager Michael Scott is the most difficult character from the cast of The Office to link with an FBS coach.
The issue with Michael is that his level of inappropriateness, self-absorption and inability to take responsibility are all so acute that it is really offensive to say that any coach definitively "is" his character in college football.
But, since the aim of the article is to compare, compare we will.
When you think of a guy in the college game who has a tendency to say the absolute wrong thing at the wrong time, who comes across with an inflated self-image and who has a difficult time grasping the truth, it's tough not to think of USC's Lane Kiffin.
And so we cast the iconic boss on The Office, the guy who actually makes the show work with the head coach at USC, Lane Kiffin, the guy who actually provides a healthy stream of intriguing storylines for the college game.
Among the clear differences between the two leaders is the fact that Kiffin has a much better sense of what he is doing and manages to get decent results while Scott, on the other hand, gets results despite his total ineptitude.
Both are entertaining to watch and absolutely mesmerizing in terms of trying to understand how they've achieved a long-standing role in upper management.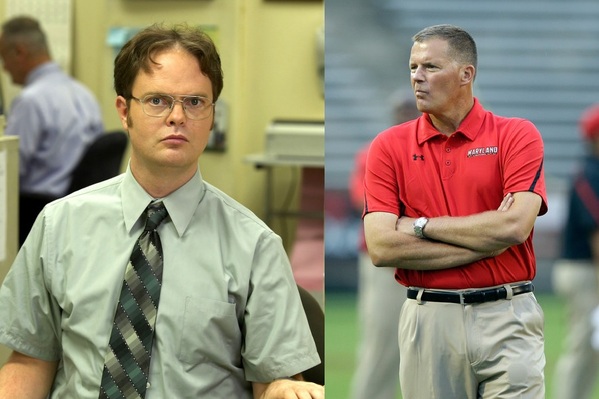 The other juggernaut in terms of comparing coach with Office cast member is the ridiculous rule-following Dwight Schrute who is militant on a level that is, again, frankly unrivaled.
But, again, since we are duty bound to compare, we'll do so.
The essence of Schrute's character on The Office is that of an emotionless, over-the-top, overconfident, single-minded man who oftentimes misses the forest for the trees.
Or, in other words he's all about the principle of the thing regardless of whether it makes any sense or what it may cost from a bigger picture standpoint.
For a comparison from college coaching we'll take a wild stab and select Maryland's Randy Edsall who has long been advertised as having a militant, strict style of coaching players.
In fact, Edsall's rules were so unlike those of his predecessor at Maryland that, according to a piece published in September of 2012 on the WashingtonPost.com, when he took over in 2011, 23 Terrapin players chose to leave rather than adapt to the new regime.
What's intriguing in both instances, is that Schrute and Edsall's strong-armed tactics don't seem to be as fruitful as confidentially advertised.
Dwight never quite makes it past the No. 2 spot to Regional Manager (or even "Super-Secret Assistant Regional Manager"), and after two years at Maryland, Edsall is a woeful 6-18 overall including a 3-13 mark in ACC play.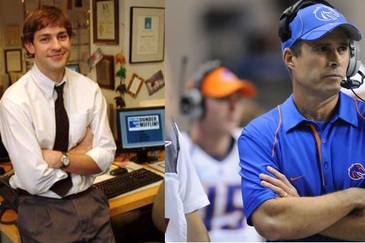 Moving on to what has to be considered the "anti-Michael Scott" character on The Office, Jim Halpert is everything that Michael Scott isn't.
Where Scott is inappropriate and self-absorbed, Halpert is careful and puts others first.
Indeed, where Michael refuses to face the truth, any truth, good old Jimmy is in touch with honesty to the point he'll gladly throw himself under the bus in the name of what's right.
To cast Jim Halpert, we'll go with college football's current version of the good guy, the underdog himself, Chris Petersen from Boise State.
Like Halpert, Petersen has gotten offers from Corporate (BCS schools) but has chosen to stay around in Scranton (Boise) to cultivate things that matter more, even though early in the series the situation with Pam is far from on solid footing (Boise State and BCS-AQ status).
Whether either of these likeable guys will ever grasp what the rest of the world sees as the "brass ring" is unsure, but until then we'll look at both of them and take comfort that there are still Chrises and Jims in this cold, heartless world.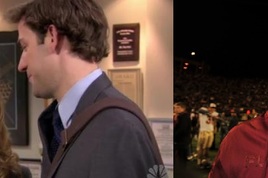 Both clearly talented and both always armed and ready with a cheerful smile, Pam and Jimbo are happy folks who can be counted on to do the right thing.
Pam Beesly is a very capable woman who is initially in a job for which she is clearly over-qualified for, and as she moves up the ladder, it is apparent she has more to offer.
In the same way, Jimbo Fisher has done nothing but showed more promise as his career has advanced to the stage where he now leads what could be, once again, one of the premier college football programs in the nation.
But have you ever wondered, in the case of both Pam and Jimbo, if these two are mutually a mere two "keys to success" short of a full key ring?
Yet, do they lack the intensity and killer instinct necessary to reach the finish line?
I mean, there is nothing in the world wrong with being a nice girl or a nice guy and everybody loves Mrs. Nice Guy and Mr. Nice Girl but, is that really the stuff that Regional Managers and National Champions of this world are made of?
Just sayin'….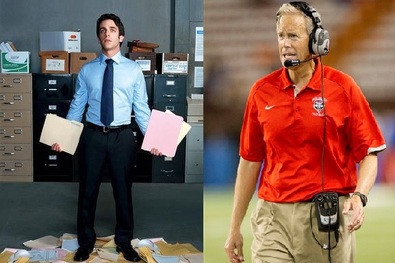 Though it's really tough to sell Bob Davie sitting in his office or cubicle pounding out ideas to link multiple social media networks into one serviceable package, the second-year New Mexico coach and one-time intern Ryan Howard do have a career link that is hard to ignore.
Yes, do you remember the time that the young intern became a full-time sales employee and then suddenly, and quite shockingly, was the guy selected for the corporate job at the end of Season 3?
And, then do you recall how Ryan double-reported his sales at corporate, was temporarily incarcerated and then made it back to the Scranton office and magically was back in the game again?
Well, doesn't that scenario even sort of remind you of the time that Bob Davie went from being the DC at Texas A&M (um…the intern) and then the DC at Notre Dame (the full-time guy) to suddenly, and somewhat shockingly, becoming the head coach at Notre Dame?
And then do you recall how Davie didn't report enough wins, never brought in a double-digit winning season, only finished in the Top 25 twice, lost three bowl games and got canned after going 35-25 in five seasons?
After that do you remember how he was basically exiled to your TV screen for 10 years and suddenly emerged on the sidelines at New Mexico in 2012, only to go 4-9 which was actually the Lobos' best finish since 2008?
Wow…the only thing that could make the comparison more pleasing would be if, early on, Lane Kiffin (as Michael Scott) would have had a bit of an obsession with Davie (as the intern).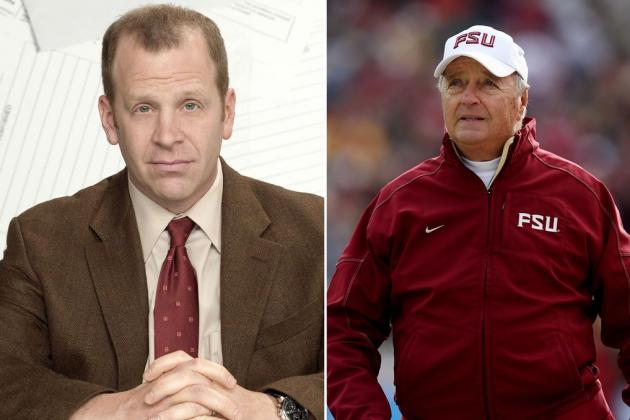 Really, the balding H/R guy and the now retired coach from Florida State are on the surface another hard link to sell unless you take a certain singular angle.
Yes, Bowden is confident and nowhere near as awkward as Toby, whose real shining moment as a bad ass came when he called Michael's lame poker bluff at a Dunder Mifflin "Casino Night."
But, the two share the common bond of being blamed, by certain parties, for virtually every bad thing that ever came down the pipe during their careers.
Yes, where Michael Scott somehow viewed Toby Flenderson as the "Satan" of Dunder Mifflin and the cause of all that went wrong in his world, many college football enthusiasts view Bobby Bowden as an evil force.
How many times do you hear Bobby Bowden's name come up and immediately some guy starts going off about what a big cheater he was and how all his wins are tainted with "blah, blah, blah?"
Even though the guy can't prove any of what he is banging on about and half the time you find out later that he is a Florida fan or went to Miami (Fla.), he'll go on and tell you that this is the guy that screwed up college football for all times.
Similarly, Michael Scott celebrated Toby's departure from the company like some sort of religious event complete with a Ferris wheel that is until he decided, in about five minutes, that he was in love with his replacement, Hollie.
Either way, both Toby and Bobby B. are at the end of the day decent guys who take more of a beating than they deserve.
And, is it just me or is there something similar about their eyes?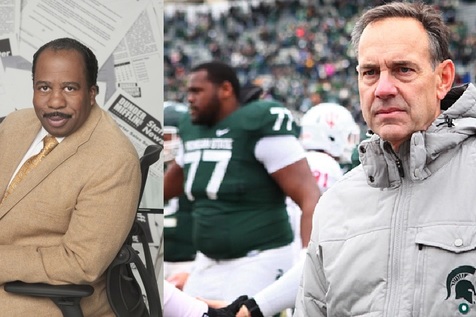 A classic sub-character from The Office cast, Stanley Hudson took on many roles during his long run on the show, but what he did best was zip in to scenes with a quick one-liner.
Yes, Stanley often sat idly in the background doing his crossword puzzle, looking like he wasn't paying attention, only to serve up an ace that stole scenes like a well-placed "Holy Crap" from Frank on Everybody Loves Raymond.
To cast Stanley in the college football ranks, we'll go with Michigan State's Mark Dantonio who might not always have a lot to say, but is worth listening to when he does.
Dantonio, like Stanley, isn't necessarily concerned with being P.C., doesn't brown nose and is often the surprising voice of reason in a very unreasonable environment.
Two comparable incidents that come to mind are when Stanley quipped, "I don't apologize unless I think I'm wrong," to Michael in the "Did I Stutter?" Episode and Dantonio's classic "Next Question" presser.
The reference to Dantonio comes via his edgy press conference after the Spartans 2012 win over Eastern Michigan when he answered a series of reporters' questions with "Yes, next question."
The discourse included stuff like; "Does your offense need to play better to be more effective against Ohio State?" Which Dantonio replied to with a terse, "Yes, next question."
At the end of the meeting Dantonio wrapped things up by saying, "I'm just loving all these questions because they're great ones."
Good stuff.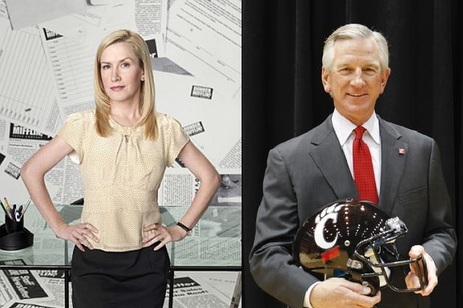 The uptight, strict, rule-following and cat-loving Angela Martin is probably the most difficult female cast member to link with a coach due to the same extreme-type personality traits as those shared by Michael and Dwight.
But, when you think of a prim and proper, somewhat rigid coach who has a good heart underneath his slightly inflexible exterior, it's easy to think of Tommy Tuberville.
Yes, from the perfectly coiffed hair all the way down to the carefully pressed pants, Tubs comes across as a bit edgy, and even if he doesn't have a cat named Sprinkles that his girlfriend froze in the freezer, it's hard to see him giving a co-worker a big juicy hug.
Is Tuberville as neurotic as Angela?
Probably not, but why is it easy to interchange the two in the scene where Angela is outside of the office during Secret Santa smashing Christmas ornaments in the snow with her feet?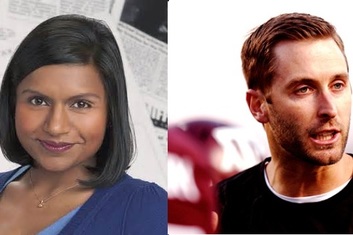 Other than sharing the same initials, Kelly and Kliff are both the young trendy members of their respective crowds and so we link them here in this provocative forum.
Kelly Kapoor represents what will be a new way of thinking in the workplace, she is totally accepting of others and she also is always into whatever the latest trend is in terms of technology, diet, music, etc.
Kingsbury, on the other hand, may well represent the new age of coaching, ushering in the beginning of the younger set taking over the reins on the sidelines.
Though we'll hope he's not as shallow as Kelly and we'll also pray he won't swallow a tapeworm to lose weight, Kingsbury may be more in touch with the mindset of his players than some of his predecessors.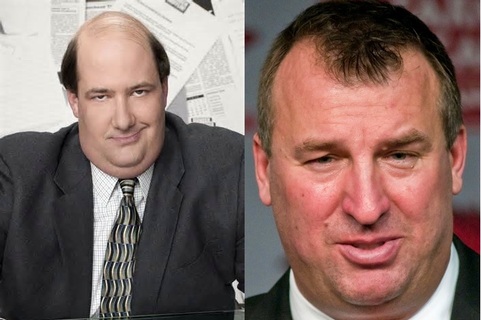 When linking accounting Guru Kevin Malone with coaching Guru Bret Bielema you've got to stay focused on the concept of hidden talents.
Yes, while it's more entertaining to get caught up in topics such as inappropriate laughter, appearances and even fashion trends, what makes these guys comparable is more than skin deep.
To illustrate, we'll start with Kevin who comes across as a bit of a "Lurch" type character who seems on the surface, well, weird, not very intelligent, droll and lacking a personality of any kind.
Bielema, on the other hand, well, he's just a big man who has spent the last how many ever years coaching up near Canada, at Wisconsin.
Though you know he's got to be a decent coach, he got the Arkansas job, he's not got a lot of hair and he's not walking around with a lot of national championship hardware.
But, in both cases, these guys actually offer up so much more than meets the eye.
Really?
Absolutely.
Again, to illustrate, Kevin Malone actually has a degree in accounting, so, he's way smarter than your average bear.
Next, he's in a band, he plays the drums; and the band, well, they're good and were actually selected to play in Pam's wedding back when she was suffering through her long engagement to Roy Anderson.
Lastly, Kevin, the Lurch like figure who laughs inappropriately like a seven-year old boy, won a gold bracelet and a handsome sum of money in the World Series of Poker.
Seriously.
As far as Bret Bielema is concerned, well, you can choose to be underwhelmed by his 68-24 record from 2006 to 2012 at Wisconsin, but don't forget a few important stats that go along with the overall tally.
First, Bielema walks away from Wisconsin after capturing three consecutive Big Ten titles from 2010 to 2012 and secondly the highest recruiting class during his tenure was the No. 34 rated class of 2007.
That's right, other than the group rated No. 34 by Rivals.com in 2007, all of Bielema's recruiting classes have rated No. 40 or higher.
This means he won the Big Ten three times in a row with guys who weren't even in the same league as dudes from Michigan, Ohio State, Nebraska, Penn State and even Michigan State.
Again, seriously.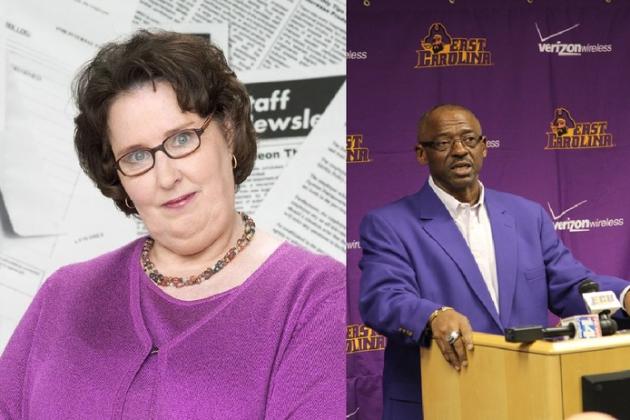 When you ask yourself which college football head coach would play the role of Phyllis from The Office, you have to stop and consider who would be asked to play the part of Santa Claus at the coaches' annual Christmas party?
Not only did Phyllis actually achieve her dream of playing Santa at the Dunder/Mifflin Christmas party, but she also has Claus-like qualities year-round.
Phyllis is timid in a good way, eventually rises to the coveted head of the party planning committee (all be it through dubious means) and she is married Bob Vance, from Vance Refrigeration.
She also often becomes the unexpected voice of reason amongst an office full of, well, unreasonable fruitcakes.
This set of characteristics leads us directly to East Carolina's Ruffin McNeill who could absolutely play the part of Santa at the coaches' party, and while he isn't married to someone in the refrigeration biz, he does share the quality of flying under the radar.
Yes, nobody thinks of McNeill much until they realize that he just led ECU to an 8-5 campaign that included a share of a C-USA Eastern divisional title and a 7-1 mark in conference play.
Could McNeill quietly be emerging as the next head of the proverbial party planning commission in college football?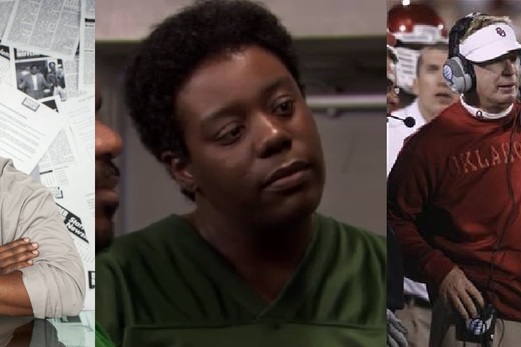 Darryl Philbin is another character from The Office who morphs into a bunch of different roles during the life of the series, but as in the case of other individuals, one particular instance stands out.
Darryl, who is the warehouse manager early in the program, purportedly falls off a ladder and is injured, which leads to the ever-skeptical Dwight convincing Toby from H/R to investigate the supposedly fraudulent claim.
While stalking out Darryl's residence, Dwight and Toby see who they think is Darryl, because the individual in question is wearing what looks to be the same Philadelphia Eagles jersey he had on in the office earlier, carrying a bag of dog food without the crutches necessary after the said injury.
It turns out that the "guy" is in fact Darryl's look-alike sister, which causes a humorous, though fraught confrontation both in the street and back at the office.
Based solely on this isolated incident, we'll link Darryl and his twin-like sibling with Bob Stoops from Oklahoma and his twin-like brother Mike, who looks oh so similar clad in Sooner gear.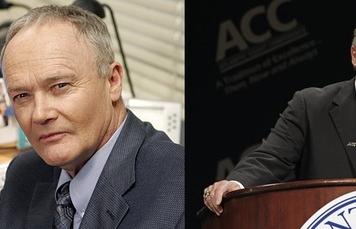 If you're struggling to remember where Creed Bratton fits into The Office, think of the older guy who randomly shows up throughout the series with an acute knowledge of cults, pain killers and many ideas associated with the '60s.
This man also has little idea of what is actual role is at Dunder Mifflin.
Though ACC Commissioner John Swofford obviously knows his what his job is and doesn't have any ties to cults or pain killers, a fun linking mechanism between him and Creed is a bit of a propensity to "borrow" items.
Yes, where Creed took home the grand prize of the mini-fridge from Vance Refrigeration on "Casino Night" by virtue of swiping the casino chips of other players (he also is often seen taking office supplies straight off the shelves), Swofford has led efforts to take, well, entire programs from other conferences.
Yes, swiped recently—from the Big East—and added to the ACC's chip pile are Syracuse, Louisville and Pitt basically spelling the end of the East (now the American) as a BCS-AQ football league.
Of course, making the connection between the ACC commish and Bratton is somewhat unfair because first, Swofford isn't even a coach and secondly, you could accuse the Big Ten and SEC commissioners of the same crime.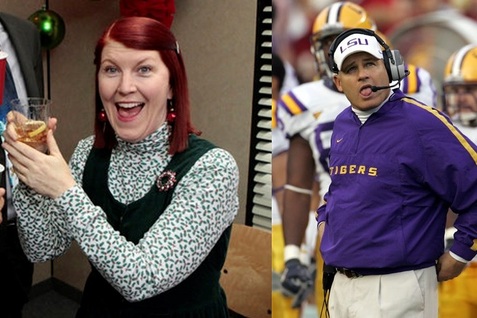 Though after eight seasons in Baton Rouge, it's plausible that Les Miles could flash his boss in the same way that Meredith Palmer flashed Michael Scott after the office Christmas party early in the series, this link comes down to another single instance.
Yes, the whole comparison between LSU's Les Miles and Dunder Mifflin's Meredith Palmer is based on the three-second scene in the Season 3 premiere when Meredith eats an entire handful of hand sanitizer.
This move makes her impossible not to link to the grass-eating coach, Les Miles.
Beyond that, who doesn't like these two quirky figures hooking up for some office/game time shenanigans?
Really, between Meredith and Les anything, and I mean anything could happen.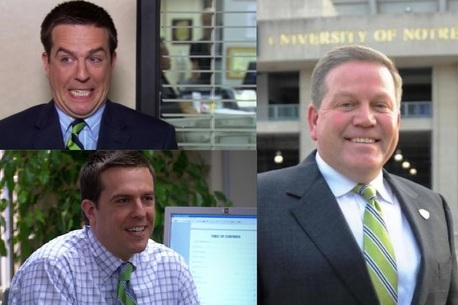 The truth is Andy Bernard's character has enough layers and has changed enough during The Office's long run that he could be linked with a number of college football coaches.
Guys that come to mind range from Miami (Fla.)'s Al Golden, ex-Ohio State's Jim Tressel, Florida's Will Muschamp, Nebraska's Bo Pelini and even USC's Lane Kiffin.
But, really the best fit may be Brian Kelly at Notre Dame, who, like Bernard took a long, winding and somewhat fraught road to the "pinnacle" of his career.
Both are snappy dressers (Bernard more so, for sure), both seem rather mild-mannered until they suddenly explode and both have been caught in at least one ogling kiss-up scene.
Think Andy with Michael when he first got to Scranton and Brian with Nick Saban during the lead up to the 2012-13 BCS national championship game.
Kelly's was obviously more respectful, more believable, more deserved, more subdued and more digestible, but it still was it was.
At the end of the day, perhaps, it's the fact that both these guys leave you wondering exactly what it is about them that you like and don't like.
I mean, I like Andy and I don't like him; in the same vein I like Brian Kelly and then, you know what, I don't think I do.
They are both "grey area" guys, which is not to say they are wishy-washy, but their characters are complicated or blurry enough to make it hard to know what to feel about them, especially given that they both work in area where otherwise strong feelings are the norm.
Both are underdogs that are easy to dislike, a strange and uneasy combination indeed.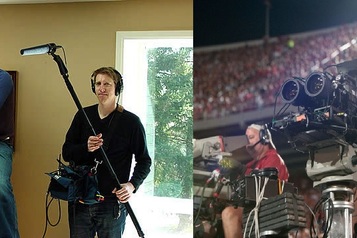 Paying homage to what is the real star of The Office, the documentary style which features a single camera, we'll hook the lens itself up with its counterpart in college football.
Yes, if you watch The Office long enough you'll realize that the mighty camera has a lot of stroke and that each of the players interact with it in their own way.
What's less obvious, but comes up now and again, is that the camera becomes intrusive at times and actually calls the shots.
To illustrate, think back if you will to when Jim and Pam were attempting to keep the fact that they were dating a secret from the rest of the cast.
The film crew, which is silent and depicted by the camera itself, basically called the couple out on their dating status by taking them into a separate room and confronting them with video evidence of their relationship.
The two had to answer, to the camera, for their liaison.
The obvious link between the underlying power in The Office and that in college football is the media, a force led by ESPN, which chronicles every minute detail of the sport.
Indeed, as the camera really runs The Office, ESPN and its bands of close followers have become the real governing body of college football.
And, in each case, the characters acknowledge the power's prominence and play up and into to its close proximity throughout their careers.