5 Redshirt Freshmen Who Dominated Spring Practice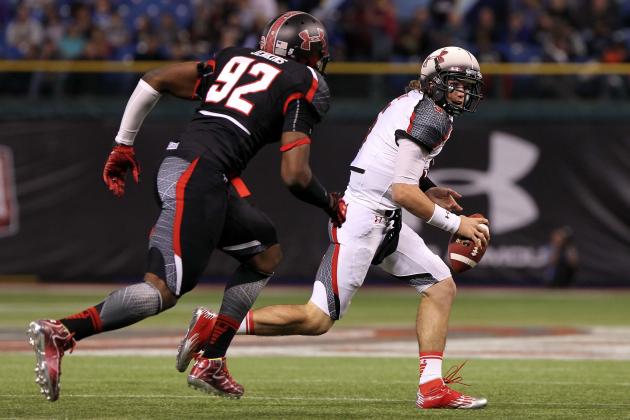 Kim Klement-USA TODAY Sports

Spring ushers in new schemes and coaches, but it also brings us breakout stars who got lost in the redshirt shuffle.
Redshirting is a blessing for a number of rising stars, giving them one more year of eligibility and a season to mature.
The quarterback races at Cal and Florida State have found leaders from the redshirt ranks, and Alabama has a surprise breakout star who has taken over the discussion at receiver.
They are among five redshirt freshmen took advantage of the extra year and have excelled this spring.
Begin Slideshow

»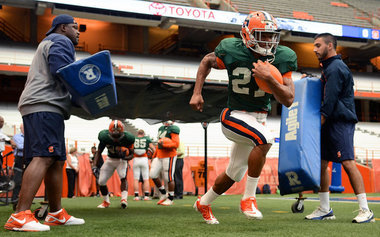 Photo via Syracuse.com
Syracuse Orange jumped into the spotlight to finish 2012 with an explosive offense, but they were unable to sustain success throughout the entire year.
Heading into the fall, the hope is that the ground game will continue to progress and help ease the pain of losing starting quarterback Ryan Nassib.
George Morris III has helped to fuel those hopes this spring by bursting onto the scene and pushing for playing time.
He has returning starter Jerome Smith and backup Prince Tyson-Gulley ahead of him, but his explosiveness and perimeter speed will earn him early snaps.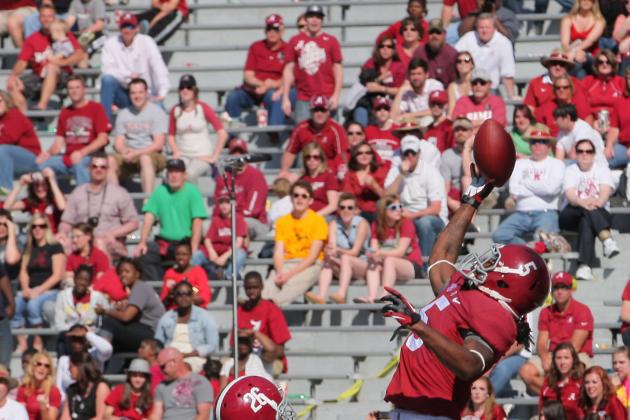 Marvin Gentry-USA TODAY Sports

The Crimson Tide have a talented lineup of proven returning receivers, but the story from spring has been the impact of redshirt freshman Chris Black.
He was expected to make an impact last year, but an injury sidelined him his true freshman season. He has returned to be a solid playmaker and should earn significant snaps early this fall.
With the loss of three talented lineman and All-SEC running back Eddie Lacy, Alabama will need an offensive edge out of the gate. Giving quarterback AJ McCarron another dangerous deep threat will keep opposing defenses out of the backfield and scrambling for help in the secondary.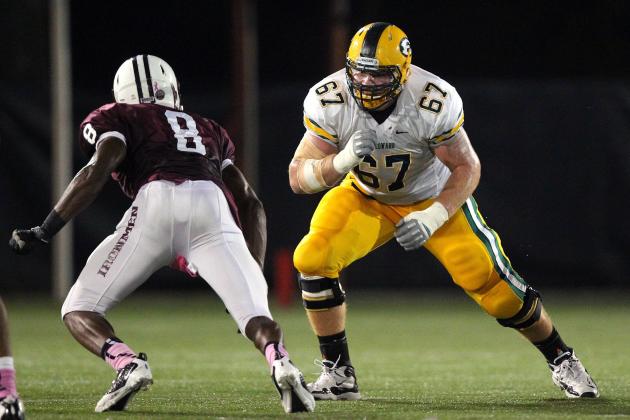 Danny Wild-USA TODAY Sports

The Wolverines are replacing a host of experienced offensive linemen with youth this fall.
Kyle Kalis is one of those youngsters who has stepped into a starting role at guard. But his lack of experience leads to concerns heading into the summer.
Still, Kalis is a big-bodied bulldozer who has spent a year in the Michigan system. He understands the game and is ready to make an impact up front.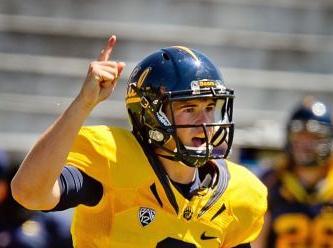 Photo via sfgate.com
Zach Kline is in the heat of a quarterback battle this spring. But according to Cal coach Sonny Dykes, he may have gained an edge.
"Looks a little bit like Zach Kline is starting to get a little bit more settled in. I've seen him kind of make a move here over the last two practices," Dykes told San Jose Mercury News.
Kline is the leader in the race to lead the new offense that Dykes brought from Louisiana Tech. The job of turning around the 3-9 Bears looks to be in his hands.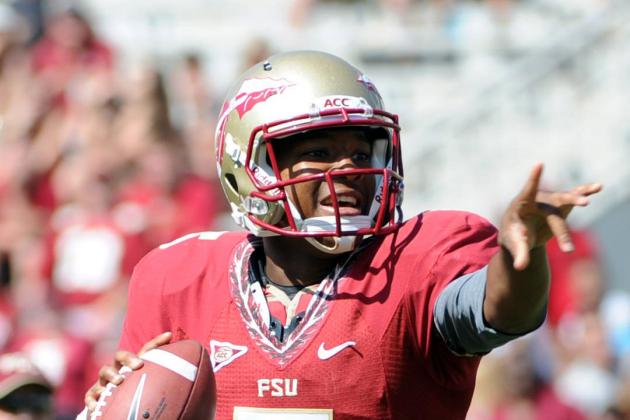 USA TODAY Sports

Jameis Winston had such a strong spring that his competitor for the starting quarterback job in Tallahassee transferred.
Was Clint Trickett told that Winston was the starter? Not likely, but the writing was on the wall.
Winston came to Florida State as a dangerous dual-threat quarterback who could have played professional baseball. Instead, he stayed with football and is now looking to become the next star for the Seminoles.
He has a live arm and, despite missing some time thanks to baseball, was still able to take the edge in the QB race this spring.