BYU Football: Ranking the 4 Deepest Positions on the Cougars' 2013 Roster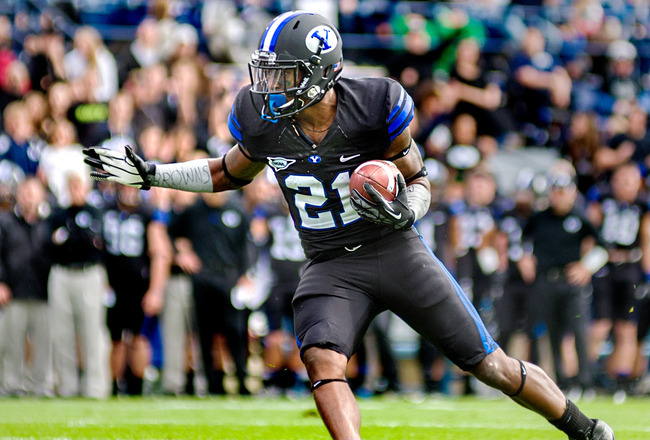 Jamaal Williams could be a big threat next year in BYU's backfield.
Douglas C. Pizac-USA TODAY Sports
The BYU football team will be laden with stars on both sides of the ball next year, from linebackers to receivers to running backs. There will be plenty of talent all over the field for the Cougars, and it should be a fun group to watch.
But how does it help you if one player is spectacular, but the rest at his position are not? Depth is crucial in any sport, even more so in football, where injuries are abundant.
There are plenty of positions on BYU's roster that are talented from top to bottom, and here are four of them.
4. Running Back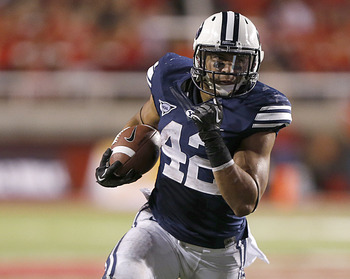 George Frey/Getty Images
Michael Alisa and Jamaal Williams led the Cougar rushing attack last year, but after Alisa broke his arm in the Hawaii game, it was all up to Williams.
Lucky for him, it'll be different this year.
Alisa is back to help shoulder the rushing game, and improved backs Paul Lasike and Adam Hine should also be capable of carrying the ball.
3. Wide Receiver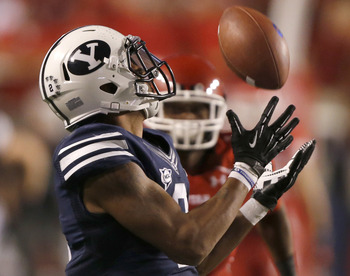 Cody Hoffman
George Frey/Getty Images
Cody Hoffman is one of the top wide receivers in the country (Mel Kiper of ESPN called him the No. 2 senior receiver), and has garnered national attention despite playing with four different quarterbacks in two years. He will return for his senior year and will be a very lethal weapon for Taysom Hill.
But the talent at wide receiver doesn't stop there; Ross Apo, despite a disappointing sophomore season, will be another option. Skyler Ridely and Mitch Mathews will also play as wideouts, and both have received some game experience.
2. Quarterback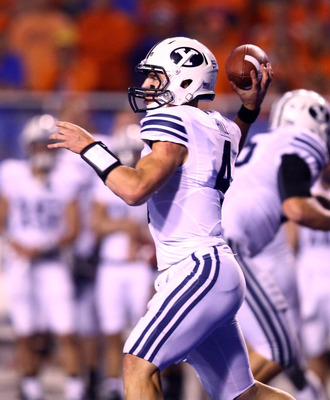 Taysom Hill
Brian Losness-USA TODAY Sports
Taysom Hill may not have plenty of experience in his short, three-game college career, but he is one talented player. Playing in a new offensive system should help his development, and Robert Anae is a great fit for the quarterback.
Unlike the past few years, there is not much of a drop off between the starter and his backups; second-string QB Ammon Olsen transferred from Southern Utah after an LDS mission and has impressed during spring practice. He doesn't have much experience at the FBS level, but he could be a solid backup this season.
1. Outside Linebacker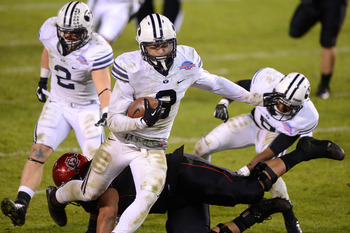 Kyle Van Noy
Jake Roth-USA TODAY Sports
Led by senior linebacker and Heisman long shot, Kyle Van Noy is a threat in BYU's 3-4 defense and can beat teams in a variety of ways. He is a great pass-rusher but can also defend the run and is great at reading offenses.
The rest of the outside linebacker corps is filled with talent as well. Spencer Hadley, another senior, topped the depth chart on the strong side, and Alani Fua and Jherremya Leuta-Douyere are solid backups.
The others come close, but this linebacker squad is the best unit on the Cougar roster.
Keep Reading

BYU Football: Like this team?