Comparing Top College Football Coaches to Disney Characters
When you think of the wide range of characters involved in the FBS ranks of college football frankly it's difficult to try and find suitable parallels in the entertainment world.
Seriously, trying to compare individuals from TV programs, movies or even drama-filled mini-series with college football personalities always seems to leave you hungry for more.
So, in the spirit of taking the art of mirroring entertainment and sport to the next level the following slideshow boldly goes where no online carnival has before and compares the institutional gridiron's top coaches to Disney characters.
Here we cast well-known sideline leaders as internationally lauded childhood favorites and the result is eerily familiar.
Yes, when we see the inherent similarities between a beloved duck and the coach from a corn-fed state or a swell dancer in a fake military uniform and a sideline stalker from the Midwest we are reminded, once again, that college football is indeed found at the center of every conceivable universe.
Begin Slideshow

»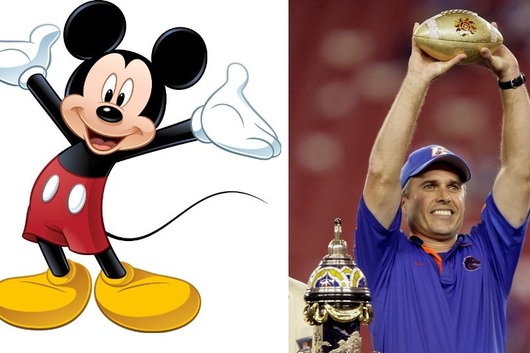 The truth of the matter is the character of Mickey Mouse probably no longer exists in college football.
Disney's classic mouse is clean-cut, All-American, solidly "square" but still iconic and is a true-blue leader despite the fact that he has a high-pitched voice.
The other characters follow Mickey just because he's Mickey, not because he stands around and barks order and screams at them; it's just a respect thing, or it's because that's the way the script has been written since the beginning of time.
As recently as a couple of seasons ago Penn State's Joe Paterno could have played Mickey Mouse and really you could have made an argument for Ohio State's Jim Tressel being casted in the role before his untimely demise.
Since we can't leave the Mouse off our list, we'll go with Boise State's Chris Petersen, an All-American type guy who has stayed true to his Minnie (Boise State), at least for now, and is one of the "good guys" currently in college ball.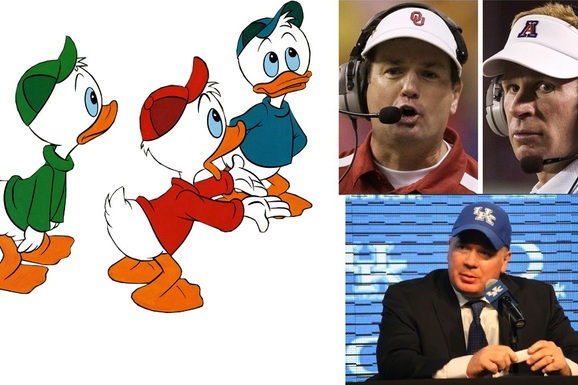 When you think of three brothers, identical triplets or not, running through the ranks of college football it's difficult not to immediately conjure up the Stoops brothers and cast them as the junior Woodchucks.
Yes, Bobby, Mark and Mike are the clear choice for Huey, Dewey and Louie and now that Mark Stoops has the Kentucky job the next obvious step, even from a color combination approach, would be for Mike to get a job at Oregon.
Wow.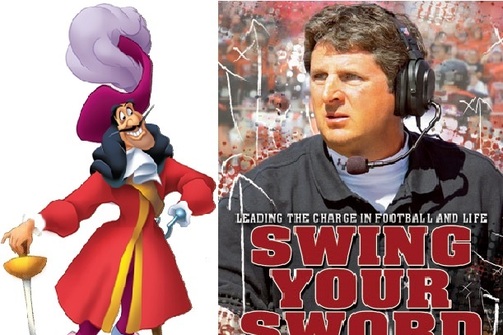 This one's fairly self-evident too; Mike Leach the pirate enthusiast is cast as Disney's iconic pirate captain, Captain Hook.
Though you could argue that the crocodile chasing Hook throughout his career is the Texas Tech administration or even more deliciously ESPN's former microphone-jockey Craig James, really other than that the parallels between Hook and Leach are few.
In either case we'll hope for Leach's sake that his appearance in job sequels are limited in comparison to Hook's recasting in poor Disney spin-offs of his original character in Peter Pan.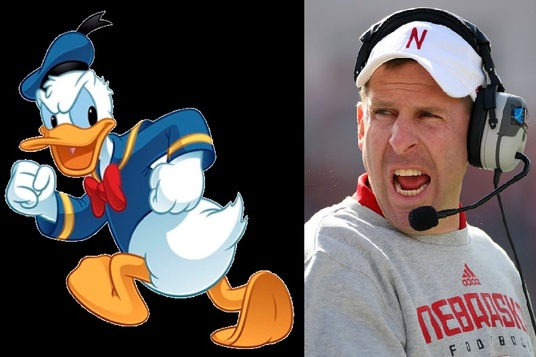 Two ultimately lovable characters who are known for losing their grip when the chips are down, Donald Duck and Bo Pelini are intense gentlemen who don't appreciate playing second fiddle to anybody.
You can only imagine how Donald Duck would react to a bad spot on a crucial 4th-and-1 or a questionable roughing the passer call, especially late in a game against the Chipmunks.
And, can't you visualize Pelini stomping up and down the sidelines, with duck feet, in a half-missing sailor suit?
Though Pelini definitely doesn't have the voice inflections of D. Duck, both share a staying power at the top of their respective careers that is quite impressive given their shared levels of intensity.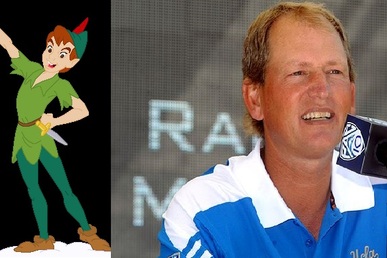 Flying in with a generous wafting of magic dust wherever they arrive, Peter Pan and Rick Neuheisel beckon devotees to a world that in reality doesn't actually exist.
While Pan promised Wendy and the Darlings eternal youth, Neuheisel's pixie dust included visions of national championships during his proverbial fantastic voyages over London with the fanbases of Colorado, Washington and finally UCLA.
Both were adventurous, daring and gave it their best shot and while they may have come very close neither succeeded in ultimately bringing their followers to a permanent form of Neverland.
As a side bar, both could (or in Pan's case did) look good in green tights.
Neuheisel's casting as Peter Pan could be comprised by his pending contract as both Howdy Doody and Opie in the Andy Griffin Show.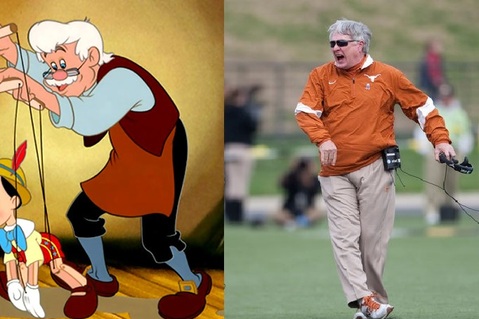 Just to refresh everyone's memory, Geppetto was the old man in Pinocchio who wishes his wooden doll into a real boy and Mack Brown is the head football coach at Texas.
The parallel here is actually fairly elementary.
While Geppetto is trying to wish an inanimate object into more than it really ever can be, Brown is attempting to wish a succession of QBs into more than they really are.
Though each of these young men are good guys and solid QBs, and Pinocchio was a good puppet, Brown is trying to wish his prospective gunslingers into something that they don't need to be to make him, or the Longhorns, a winner.
This leads to point number two; both Geppetto and Brown already have something special and are wishing for more than either of them needs.
Geppetto is a talented woodcarver and rather than sharing his skills with the children he doesn't have, he's wishing for wooden doll to turn into a real boy.
Brown, on the other hand, is trying to wish Colt McCoy back into being rather than realizing that he has the entire package of the University of Texas football program, including all the recruits, cash and facilities at hand to be successful.
Both have what they already need to be truly happy and, in Brown's case, victorious.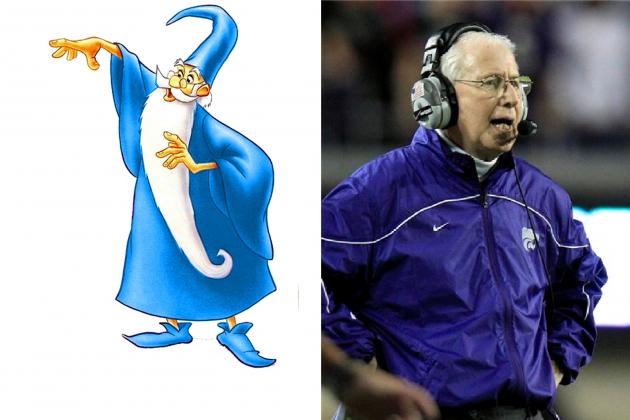 Both wizards who take their under-sized pupils to the epitome of success in their respective worlds, Merlin and Bill Snyder are not only the wise-old men of their chosen disciplines, they share the gift of being able to do what seems almost magical.
Yes, how does Merlin get the young boy to pull the sword out of the stone, the same weapon that even the strongest of full-grown men can't make budge?
And, in the same vein, how does Snyder, who can't post a recruiting ranking to save his life, beat Oklahoma and Texas, win the Big 12 and lead Collin Klein to an improbable run to Heisman night?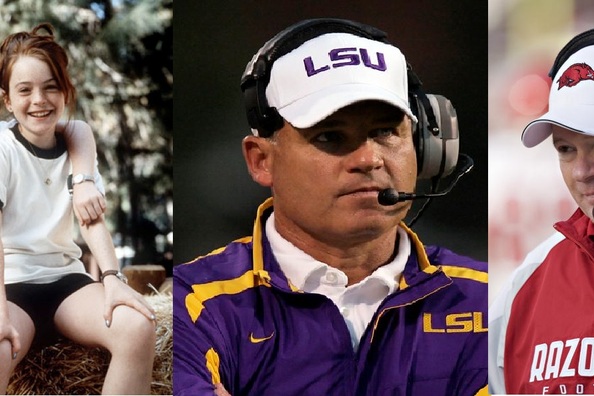 Though you might expect to see LSU's Les Miles cast as the Mad Hatter from Alice in Wonderland, we're going to shake things up a bit and send him off to summer camp to find his long lost twin.
Yes, did you ever notice the physical similarities, especially with a cap and a headset, between Miles and former Arkansas coach Bobby Petrino, who will be the head man at WKU this fall?
Well, since they could be twins, sort of, why not give them the prized Disney roles of the delightful moppets Hallie Parker and Annie James from the 1998 remake of the 1961 original film The Parent Trap?
Can you just imagine the scene when Les and Bobby find out, at a summer football skills camp, that they are in fact brothers (or sisters) and that their father is Bobby Bowden?
I'm not going to lie to you, I'd totally watch that.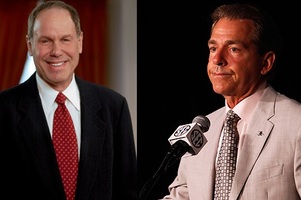 Though it would be easy to cast Nick Saban in a wide variety of Disney villain roles from Cruella de Vil from 101 Dalmatians to Scar from the Lion King, the truth is he's not all that bad.
Yes, everyone from SEC other than Alabama fans will disagree and OK, Michigan State people will want him cast as a dark shadowy figure but, other than winning a bunch of titles and being somewhat aloof it's difficult to sell Saban as an outright puppy killer.
So, what better Disney counterpart for Saban than the former CEO of the company and the guy who took the mega-giant to the next level?
Yes, in the same way that we respect what Saban has done even though we sometimes don't like it, it's difficult not to at least tip your hat to Eisner's success at Disney.
Indeed, both have made a business out of something that, at some point in the not-so-distant past, seemed almost sacred.
Where Eisner took what Walt did to the next level, in a brash and commercial sort of way, Saban took what Bryant, Rockne and Osborne did before him and made it well, very sterile and almost robotic.
Think about it this way; Eisner is the guy who put those Disney DVDs on an allocation basis, releasing them every so often so we had no choice but to run out and buy the Fox and the Hound in a sort of crazed frenzy.
Did we want to do it?
No.
Did we agree with it?
No.
But, did we do it and did we pay $32.99 for the privilege?
Yes we did.
In the same way, do we moan about Nick Saban and his "program" and his "plan" and his "professional approach?"
Hell, yes.
But do we still watch en mass, with a certain degree of wonder and awe, why he rips the heart out of Notre Dame?
Yes, we do.
And will we watch some more?
Yes, we will.
For those of you don't recall the virile Gaston's little song from Beauty in the Beast, it went something like this.
No one's slick as Gaston,
No one's quick as Gaston,
No one's neck's as incredibly thick as Gaston's,
For there's no man in town half as manly,
Perfect a pure paragon!
You can ask any Tom, Dick or Stanley
And they'll tell you whose team they prefer to be on.
No one's been like Gaston,
A king pin like Gaston,
No one's got a swell cleft in his chin like Gaston…
Ok, I think you get the idea…Lane Kiffin, he's Gaston. And as for the character of Beauty, well unfortunately I think she's the Trojan football program.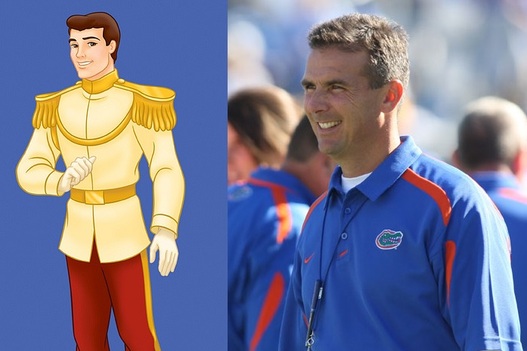 Not unlike the dream of princesses everywhere, Urban Meyer has rode into each of his four stops in college football, mounted on his gallant white stallion, and swept a fanbase off its feet.
His first princess was Bowling Green where he presented the fair maiden Falcon with a 17-6 record before galloping out west to Utah to bring her ladyship Ute a 22-2 record, two Mountain West crowns and a BCS Fiesta bowl victory in only two years of wedded bliss.
Next was Urban Charming's six-year affair with the fair Florida, a maiden he favored with two national-titles and a 65-15 overall mark before his coach-ship turned into a pumpkin with an ESPN logo on it.
After a year off the market, Meyer is currently the royal suitor of Baroness Buckeye who he led well and nobly to a blissful 12-0 honeymoon in 2012 regardless of the fact that the relationship couldn't be consummated in the BCS.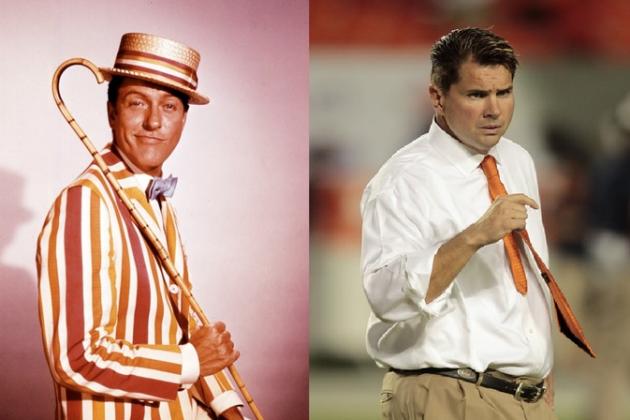 Really this comparison has more to do with a costume parallel than it does with an actual casting link, with one very notable exception.
From a costuming approach, who better to play the vibrantly frocked Bert from 1964's Mary Poppins than the best dressed coach in college football, Al Golden from Miami (Fla.)?
We can only hope that this provocative comparison will compel Golden to take it up even another notch in terms of wardrobe next season.
As far as the one casting likeness, you've got to love the parallel between Bert the chimney sweep and Golden as the guy who gets to clean up the mess at Miami he was blindsided with after taking the job quite unaware of the Shapiro mess.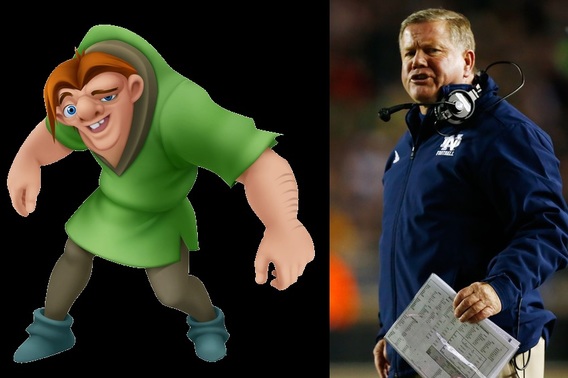 Really, other than their shared traits of kind-heartedness, bravery, gentleness and what some folks would see as heroism, Brian Kelly and Quasimodo don't have an awful lot in common.
But, despite the very concrete differences between the two, it's impossible not to link the "Hunchback of Notre Dame" with the "Head Football Coach from Notre Dame."
Seriously, how in the world do you do leave that off the list?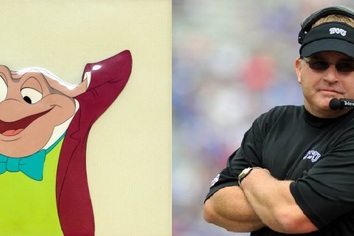 Reaching back a bit further into Disney's vault, we find Mr. Toad who dates back to the 1940s.
Other than looking a lot like Gary Patterson and falling in line with TCU's Horned Frog Mascot what makes sense about linking Patterson and J. Thaddeus Toad is what lies at the heart of these two "men."
Yes, both guys are (or were in Mr. Toad's case) a bit underplayed in their respective realms and both had a landmark career win in southern California.
What?
Yes, where Gary Patterson led TCU out of nowhere (and I mean non-AQ status nowhere) to win the 2010 Rose Bowl, Mr. Toad was the namesake of his own ride at Disneyland in Anaheim from 1955 to 1998.
In fact, when they tried to shut down "Mr. Toad's Wild Ride" such was the public outcry that the ride stayed open several years past its original closing date.
As a tribute, T-shirts commemorating the ride, and the frog, are still sold at both Disneyland in California and Disneyworld in Florida, where the ride was also operational from 1971 to 1998.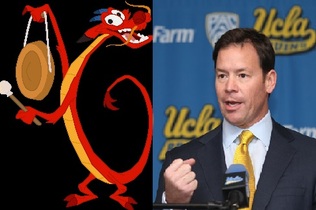 In case you're wondering what in the world a little red dragon from Mulan could have in common with the second-year head coach from UCLA, think career rehabilitation.
Mushu, who came to guard Mulan after suffering a stint as a lowly gong-banger for the Fa ancestors, managed to re-engineer his career despite fouling up his big break earlier in his calling as a big time guardian.
Similarly, Mora looked like his career as a head coach in big time football was over after two lackluster runs at NFL Atlanta and Seattle but after a lowly stint as an announcer at the NFL Network he re-found his calling at UCLA in 2012.
Who would have thunk it?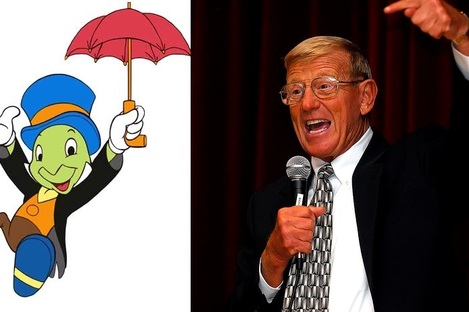 Though haters will hate and not want Lou Holtz cast in any role other than Maleficent in Sleeping Beauty, really he's the perfect Jiminy Cricket.
Holtz's suitability for the role of Cricket is not just in his physical stature or the fact that's he's flown in and out of as many head coaching roles as he has, nope, it's all in the nicknames.
Yes, take a look at Jiminy Cricket's alternate names to get a feel for how well these two compare with one another; "Lord Highkeeper of the Knowledge of Right and Wrong," "Guide Along the Straight and Narrow Path" and perhaps most aptly, "The Only Conscience With a Sense of Humor."
That isn't to say that Holtz is always right, or has a sparkly-clean record as a coach, but, as a senior-statesman of the game it's hard to deny him the role as the role of "Master Scruples."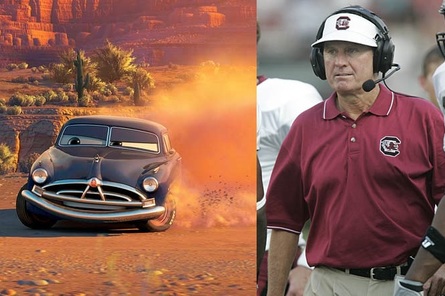 Both Cars' Doc Hudson and South Carolina's Steve Spurrier keep their private affairs to themselves and though you won't hear them say much about it, both have played the game themselves at the highest level.
Indeed, one has three Piston Cups to his name while the other has a Heisman Trophy on his resume.
Beyond this, both are well thought of at their current posts, both are leaders and both have a past.
Though Spurrier doesn't harbor the secrets that Hudson does, he does have to live with the aftershocks of that whole "two years at the Washington Redskins" episode.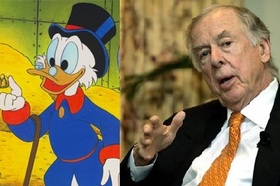 I know, I know; T. Boone Pickens isn't even a coach, seriously, he isn't even an owner…
He's a booster.
But who doesn't love Oklahoma State's generous benefactor cast in the role as the "richest duck in the world?"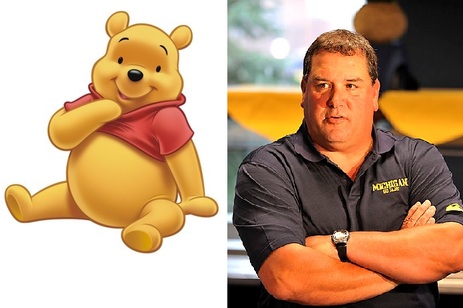 While everybody might be satisfied with the comparison of Winnie the Pooh with his hand in a pot of honey and Brady Hoke with his hand in a bucket of chicken wings, that would be selling the connection well short of what it could be.
What you've got to love about both Winnie and Brady is that neither of them physically fit the role that they've found themselves in.
Winnie the Pooh doesn't look like the leader that he is to his friends and it's almost amazing how he's consulted in times of trouble despite his overly friendly outlook and almost simple demeanor.
Similarly, Brady Hoke doesn't fit the polished, slick image of a high-profile college football coach, especially not at a top-tier program like Michigan.
He is also courageous and an excellent problem solver despite the fact that he looks more like Bluto from Animal House than Knute Rockne from the iconic All-American movie.
In both cases, what you think you are seeing is not what you are really getting, in a good way.
But wouldn't you like to see, or perhaps you really wouldn't, Hoke in a Pooh-Bear inspired half-shirt?
Yikes!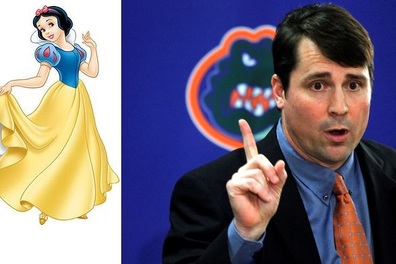 Well, somebody in this blockbuster presentation was going to have to take it for the team and be a Disney princess so, why not Florida's Will Muschamp?
What makes Will Muschamp the perfect Snow White is a story line that includes a jealous stepmother (the Queen) that is threatened by the beauty of the young Ms. White to the point of seeking the young woman's death.
This of course leads to Snow White fleeing to the woods where she meets the Seven Dwarfs and is ultimately rescued by the kiss of the Prince, her true love.
The parallel here in Muschamp's own career is fairly clear; the Queen is played by Texas' Mack Brown (who was also cast as Geppetto in Pinocchio earlier in our little farce), who named Muschamp his heir or "head coach in waiting" while he was the Longhorns' DC from 2008 through 2010.
Brown was ultimately unable or unwilling to step down and hand over the reins to Muschamp at Texas, or instead he couldn't bear declaring him the "fairest one of all."
If this makes no sense, and it shouldn't, think of the aging, grey-haired Brown handing over his whistle to the young, strapping, jet-black haired Muschamp.
And think about the mental strain this would put on a guy, like Brown, who might look at himself in the mirror every morning trying to convince himself, as we all sometimes do, that "I've still got it."
So, with no prospects for advancement in Austin, or the fear of a "poison apple," Muschamp flees to Florida in 2011 where he meets seven dwarfs and a bunch of really big fast guys.
To bring the as of yet unfinished story up to date, the Queen is yet to catch up with young Will in Gainesville.
And, furthermore, it's still totally a mystery as to who will play the role of "Prince" when the Gators finally win it all and Muschamp's fate is sealed as a true, well, princess.
Wow.