2014 College Football Recruits Who Will Be Household Names on Defense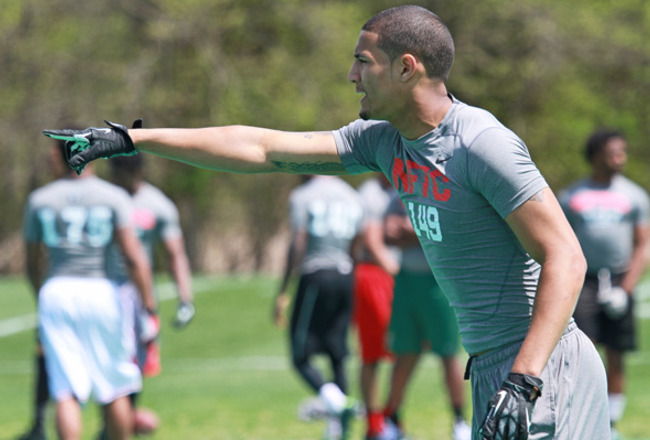 247Sports

Defensive standouts are always in demand. Today's offenses are more advanced, complex and sophisticated, which means defenders need to be better so they can keep up.
Over the past few years, I've noticed that the defensive talent on the recruiting trail has been impressive. The athletes on that side of the ball in the past several classes have been top-caliber recruits.
Defensive players can be the best players on their team, but since they are not routinely scoring touchdowns and making entertaining plays, it's tougher for them to be stars than their offensive counterparts. However, players like Manti Te'o, Charles Woodson and others became stars by excelling on defense.
Take a look at these defensive recruits in the 2014 class who have the best chance of being household names in college.
Player evaluations are based on my review of game video at Scout.com, Rivals, 247Sports and ESPNU.
Adoree' Jackson, CB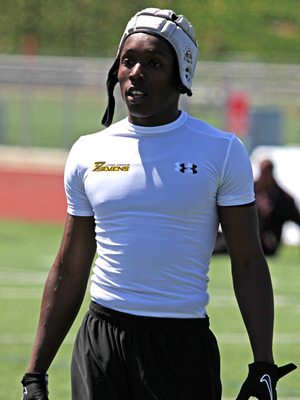 247Sports
Jackson possesses explosive and fast-twitch athleticism, which suits the CB position well. He's 5'11" and 185 pounds and can play both man and zone coverage.
Jackson is not afraid to press at the CB position and has the mirror ability and loose hips to stay sticky on receivers. He's quick in transition and can also carry anyone vertically with ease.
Jackson also has a chance at stardom because he's dangerous with the ball in his hands. He should have a few pick-sixes in his career.
Hoza Scott, OLB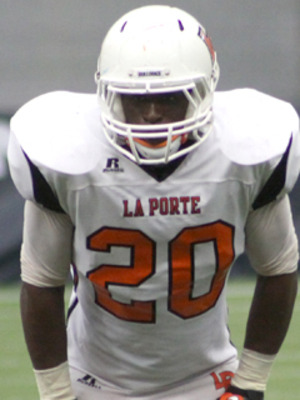 247Sports
Scott is from Texas and is perhaps the best OLB prospect in the country. He's a 6'3", 225-pound second-level flank defender with great speed, range and instincts.
Scott also has pass-rushing ability and is one of the more athletic defensive recruits in this class. He can play all three downs and should be a cornerstone player on a good Texas A&M team.
Marlon Humphrey, CB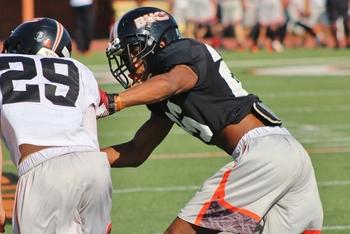 247Sports
A 6'1" CB from Alabama, Humphrey excels in off-man and zone coverages. He has loose hips to turn and run easily and also shows great instincts and awareness.
Humphrey has a good amount of athleticism, and his ball skills are good. He is a smart player who should become a starter early in his career and a defensive leader by his junior and senior seasons.
Humphrey will be a complete CB and should be a star.
Lorenzo Carter, DE/OLB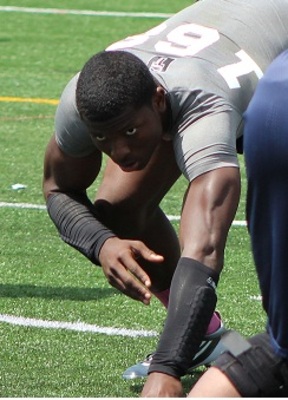 247Sports
I can see this guy becoming a household name in college thanks to his great athleticism and 6'6", 232-pound frame.
Carter can play both on the strong or weak side, rush the passer with quickness, power and athleticism and also stop the run. Once he learns how to use his hands better and develops a pass-rushing plan, he'll become a menace to offenses.
With his sack potential, size and athleticism, Carter has a great shot at becoming a defensive standout.
Tony Brown, CB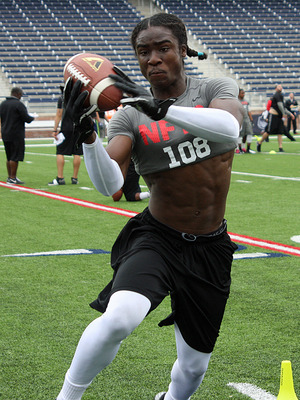 247Sports
The nation's top press-corner, Brown has the ball skills, speed and athleticism to make big plays. He is a Texan who plays at 6'0", 188 pounds and is very instinctive.
With his size, speed, toughness, strength and range, Brown has a lot going for him. I feel he can make an early impact in college and could also play safety.
Andrew Brown, DT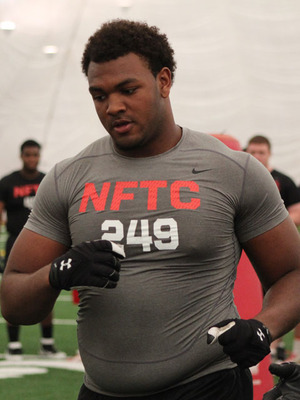 247Sports
Brown is a 6'4", 295-pound DT from Virginia. He's has big-time strength at the point of attack that shows after his great snap quickness.
Brown uses his hands well, can deliver a great punch and has good closing speed on ball-carriers in pursuit. He could be a war daddy in the trenches in the mold of Sharrif Floyd.
Quin Blanding, S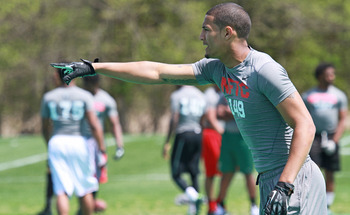 247Sports
Blanding is committed to Virginia and should be able to get some snaps as a true freshman. He's a big safety at 6'2", 200 pounds. I've compared him to a more physical version of Max Redfield.
Blanding has great range, speed and ball skills, along with good route-recognition ability. He can get off the hashes and patrol deep thirds and fourths well.
Blanding shows great speed to squeeze the line of scrimmage to play the run, and his work ethic and leadership ability will get him respect early in his career.
Trust me, by the time he leaves Virginia, we will all know about Blanding.
Da'Shawn Hand, DE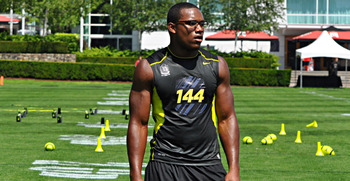 247Sports
Hand is from Virginia and is one of the best players in the country regardless of position. He's a 6'5", 247-pound explosive DE prospect who also has good strength.
Hand can stack and anchor versus the run due to solid power and toughness. I also feel he'll be able to play some sub-package DT in college. He's going to be productive, quick and athletic, which will get him attention.
Jabrill Peppers, CB/ATH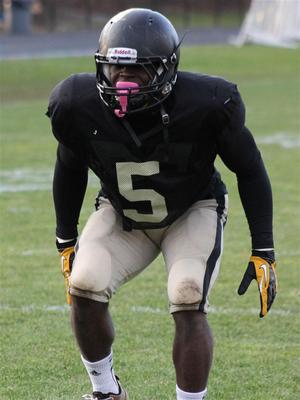 247Sports
I haven't seen many high school CB prospects weigh more than 200 pounds, which is why I'm not sold on Peppers staying on the defensive perimeter. However, wherever he goes, he's too smart and athletic not be a standout.
He's 6'1" and 205 pounds and hails from New Jersey. Peppers has an outstanding work ethic, drive and competitiveness, which you just have to respect and admire.
When you combine his mental makeup with his size, athleticism and instincts, you start to see he may be a special player—which means he may become a household name.
Edwin Weathersby is the College Football Recruiting Analyst for Bleacher Report. He has worked in scouting/player personnel departments for three professional football teams, including the New York Giants and Cleveland Browns.


Keep Reading