Ranking the 15 Must-See College Football Games of 2013
Mike Zarrilli/Getty Images
We are still months away from the 2013 college football season, but it is never too soon to break out those calendars and begin crossing out the days you won't be available. There are plenty of must-see games, and you don't want to be the loser who missed out on any of them.
From high-scoring affairs to defensive slugfests, the upcoming season has a little bit of everything for all types of fan. There are hundreds of games you will probably record this season and watch later, but these are the games you must catch live because you will miss something if you don't.
Here are the 15 must-see college football games for the 2013 season.
15. Louisville at Kentucky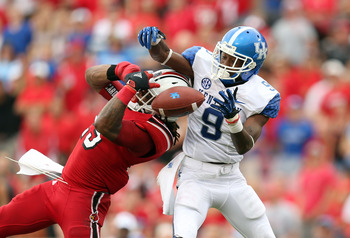 Andy Lyons/Getty Images
When: Sept. 14

Where: Commonwealth Stadium, Lexington, Ky.
Why You Will Watch: Look at the roster Louisville has returning and then take a look at the schedule. This is likely the only game the Cardinals could lose this upcoming season. If they win and then are able to run the table, do you put Louisville in the national title game? This may sound absurd right now, but it is a question we may have toward the end of the season, and it will all start with a victory over Kentucky.
This is also a rivalry game that has been decided by one possession in four of the last six meetings. It would be wise not to blow this game off early in the season.

14. Ohio State at Michigan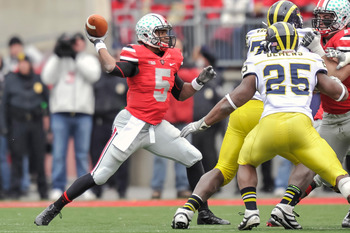 Jamie Sabau/Getty Images
When: Nov. 30
Where: Michigan Stadium, Ann Arbor, Mich.
Why You Will Watch: I give Wisconsin, Northwestern and even Penn State a slight chance to pull off an upset against Ohio State. But let's be serious, the team that has the best shot to prevent the Buckeyes from finishing a season undefeated is Michigan. With the game taking place in the "Big House," the Wolverines, who have a veteran team returning, appear to be ready to compete for a Big Ten title.
This rivalry has come down to the wire the last two meetings. You should expect nothing different when they meet again.
13. Alabama at Auburn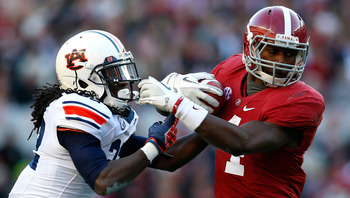 Kevin C. Cox/Getty Images
When: Nov. 30

Where: Jordan-Hare Stadium, Auburn, Ala.
Why You Will Watch: There is a better chance of Michael Jordan returning to the NBA than Auburn pulling off the upset here. Sorry, Tigers fans, you just aren't quite there yet. However, you can bet that they will be much better under head coach Gus Malzahn, especially on offense. And with nine guys returning defensively, Auburn has no choice but to be a much improved team.
When you add the home-field advantage, this should be a lot closer than most people would assume. The result will still be the same it was the last two years, but no way should you miss the Iron Bowl.
12. Florida vs. Georgia (Jacksonville, Fla.)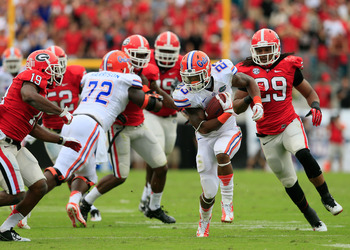 Sam Greenwood/Getty Images
When: Nov. 2

Where: EverBank Field, Jacksonville, Fla.
Why You Will Watch: While everybody has their eyes glued to the SEC West, the other division in this powerhouse conference has respectable teams as well. Georgia and Florida are more than capable of representing the SEC in the final BCS title game, and the outcome of the game between these rivals will help clear things up down the homestretch. The winner should be considered the front-runner to come out of the SEC East. (Don't worry, South Carolina fans, you haven't been forgotten.)
This rivalry has been decided by single digits in eight of the last 11 meetings.
11. Notre Dame at Michigan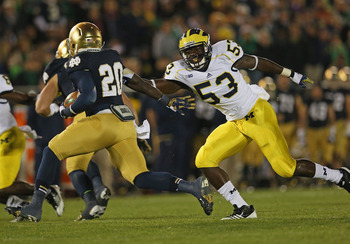 Jonathan Daniel/Getty Images
When: Sept. 7

Where: Michigan Stadium, Ann Arbor, Mich.
Why You Will Watch: This game is that early meeting that helps to reveal where each team is heading. Is Notre Dame truly as good as it was a year ago? Is Michigan ready to take that next step, even without a few banged-up stars? Both of these squads could either enter the national title conversation or fall flat on their faces. This is the first test that will give us a better indication of which is more likely.
There is also a rivalry factor that comes into play. This meeting has given us a game decided by a touchdown or less the last four years.

10. Tennessee at Oregon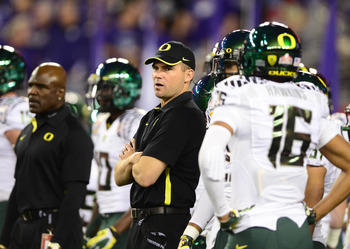 Mark J. Rebilas-USA TODAY Sports
When: Sept. 14

Where: Autzen Stadium, Eugene, Ore.
Why You Will Watch: Unless you are a hardcore Ducks fan who will watch the first two cupcake games before this meeting, this will be your first chance to see what Oregon looks like under new management. With a new head coach, some folks are worried that the team won't be the same. Tennessee also has a new head coach, and Volunteers fans couldn't be any more excited with the job Butch Jones has done so far.
Don't be surprised if this game is a lot closer than expected, as both coaches are eager to prove themselves. Tennessee could pull an upset. But either way, it should be a competitive contest.

9. South Carolina at Georgia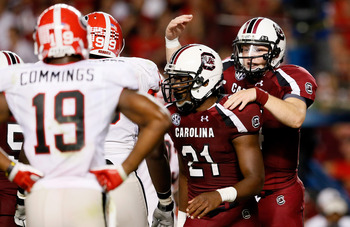 Kevin C. Cox/Getty Images
When: Sept. 7

Where: Sanford Stadium, Athens, Ga.
Why You Will Watch: Along with Florida and Georgia, South Carolina is another SEC East team that could compete for a national title. Yes, those words were mentioned in the same sentence. This was also the case last season, but Georgia decided not to show up against the Gamecocks, and it resulted in one of those games you wish you didn't save on the DVR.
The Bulldogs likely circled this game on the calendar the moment it was announced, and this time it should finally live up to the hype. It doesn't get much better than an early season matchup with division implications on the line.
You will watch this one.
8. Florida State at Clemson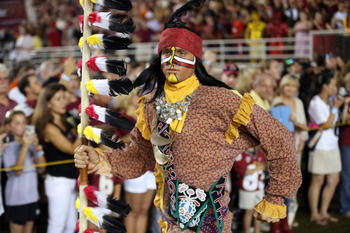 Streeter Lecka/Getty Images
When: Oct. 19

Where: Memorial Stadium, Clemson, S.C.
Why You Will Watch: This is basically the ACC championship game in the month of October. We can all admit that the conference has few quality teams. But Clemson and Florida State have proven over the years to be the exception to that rule. I'm sure both of these clubs have the national title as a goal entering the season, but only one can be taken seriously.
The outcome of this game has gone back and forth over the years and should be a classic battle between a terrific Florida State defense and a high-flying Clemson offense. Most ACC games are forgettable, but this one will actually be worth watching.
7. Notre Dame at Stanford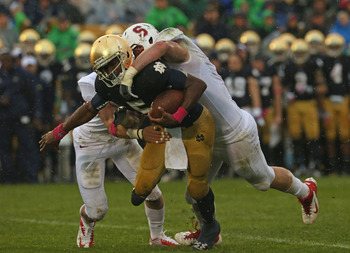 Jonathan Daniel/Getty Images
When: Nov. 30
Where: Stanford Stadium, Palo Alto, Calif.
Why You Will Watch: Let's assume that Notre Dame is undefeated heading into this final matchup. With the depth and talent Stanford is returning, it is possible this meeting could be a mini-playoff game to determine who locks up a bid to the national title game. Hey, stranger things happened last year.
Even if this isn't the case, at least one of these teams will be competing for a BCS bowl in the last week of the regular season. Stanford is as good as advertised and would love to get revenge after the controversial finish to last year's game.
6. Wisconsin at Ohio State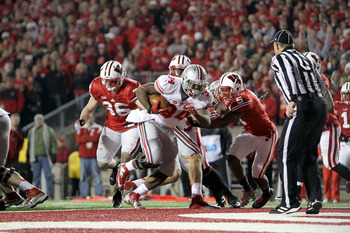 Mike McGinnis/Getty Images
When: Sept. 28

Where: Ohio Stadium, Columbus, Ohio
Why You Will Watch: If it hasn't been done already, Wisconsin must send a fruit basket to the Ohio State coaching staff before this game. After all, the Badgers wouldn't have won the Big Ten if it weren't for the Buckeyes being sanctioned by the NCAA. As for the game itself, it matches the two most talented teams in the Big Ten.
Last season Wisconsin nearly handed Ohio State its only defeat. Add in new Badger head coach Gary Andersen as a factor, and this is one of the few Big Ten games you must sit down and watch.
5. LSU at Alabama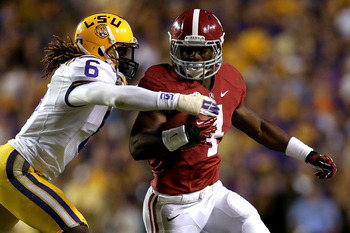 Matthew Stockman/Getty Images
When: Nov. 9
Where: Bryant-Denny Stadium, Tuscaloosa, Ala.
Why You Will Watch: Hey, remember LSU? There was a time when this was the matchup of all matchups. But now that Texas A&M has become a member of the SEC, the Tigers have taken somewhat of a backseat. Say what you will, but the SEC West still runs through these two schools, as five of the last six SEC championship games featured either Alabama or LSU.
Last year's meeting was arguably the best game of the season, and knowing the history between these two programs, you shouldn't expect anything less when they meet again.
4. Oklahoma vs. Texas (Dallas)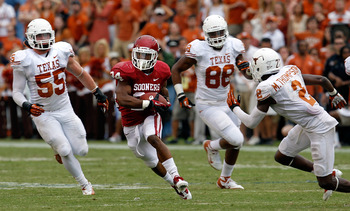 Tom Pennington/Getty Images
When: Oct. 12
Where: Cotton Bowl, Dallas
Why You Will Watch: The Red Rivalry is still a must-see college football matchup. This year's meeting could be the most important in recent memory. Head coach Mack Brown may be on his last leg. About the only thing that could save him is a Big 12 title and trip to a BCS bowl. History has shown that if you can't win this matchup, you probably aren't going to win any conference titles.
Texas has its deepest team in years, and this game should bring back the glory days that made this meeting so popular. Well, at least that's the hope.
3. Georgia at Clemson
Kevin C. Cox/Getty Images
When: Aug. 31

Where: Memorial Stadium, Clemson, S.C.
Why You Will Watch: If you are a fan of offensive fireworks, this is the game for you. Georgia averaged nearly 38 points per game last year, while Clemson put up more than 500 yards a game. With the main guys returning, scoring shouldn't be a problem in this season debut. Along with the scoreboard constantly changing, both of these programs enter the season with national championship aspirations.
Clemson is looking to build on last year's momentum, while Georgia feels like there is unfinished business. Only one team can win, and a victory for either of these clubs will set the tone the rest of the way.

2. Oregon at Stanford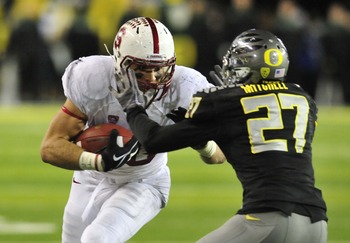 Steve Dykes/Getty Images
When: Nov. 7
Where: Stanford Stadium, Stanford, Calif.
Why You Will Watch: Until USC decides on a quarterback, fixes the play-calling issues and simply becomes a better football team, Stanford and Oregon are the top teams in the Pac-12. Either could run the table or clinch a national title bid, and it appears that one of them is going to win the conference. Last year's matchup was a nail-biter until the end, and a similar outcome should take place again.
Usually, Oregon and USC are in this spot, but Stanford has put its big-boy pants on and taken that place for now.
1. Alabama at Texas A&M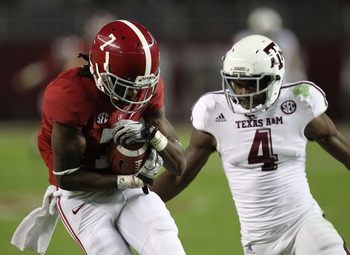 Mike Zarrilli/Getty Images
When: Sept. 14

Where: Kyle Field, College Station, Texas
Why You Will Watch: There is no other game in the country bigger than this one. Arguably the nation's top two teams, Alabama and Texas A&M will battle it out early in the season, putting the winner in the driver seat for an SEC title and national championship. Of course, there will still be a ton of season left to play, but this is by far the toughest test for both squads.
Alabama coach Nick Saban has had this rematch on his mind for months now, but Kyle Field doesn't want to hear any of that. You have a terrific quarterback battle in AJ McCarron vs. Johnny Manziel, and anything else you would want to see from a great college football game.
This meeting has everything, and you would be a fool to miss it.
Keep Reading