10 College Football QBs Who Could Save Their Head Coach's Job in 2013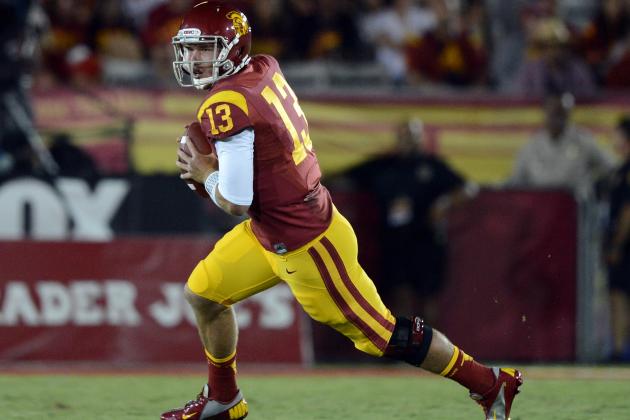 Harry How/Getty Images

More than any other position, a quarterback can be a major difference-maker in college football. His success or failure can make or break his head coach's career.
More than 30 head coaches were fired last year, and many more are sure to be let go after this season. But these 10 quarterbacks could spare their head coaches the ax with above-average play in 2013.
Begin Slideshow

»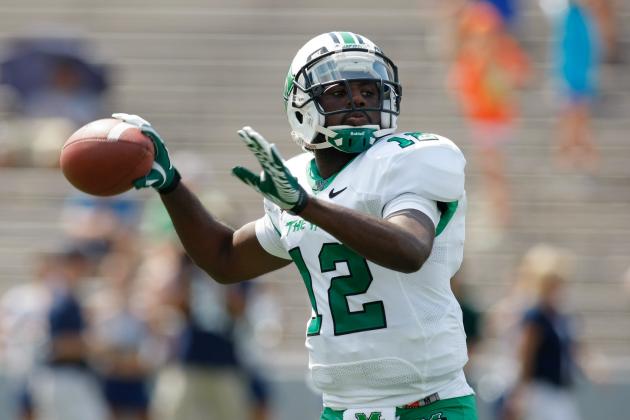 Brett Davis-USA TODAY Sports

Besides a 7-6 record in 2011, head coach Doc Holliday has had a hard time turning Marshall into a consistent contender. After finishing 5-7 in two of the last three seasons, the Thundering Herd is still searching to reclaim the glory days they had under Bob Pruett.
Holliday may actually be in luck, considering he has Rakeem Cato leading the offense. Cato led the country last year, averaging 350 passing yards a game and tossing 37 touchdowns. He was a first-team All-Conference USA player, completing 69.5 percent of his 584 pass attempts.
The defense, which surrendered 43 points a game last season, is going to be the biggest question mark. But at least Holliday has Cato to help put up points. With the numbers Cato produces, it's difficult to foresee Marshall winning fewer than five games this fall.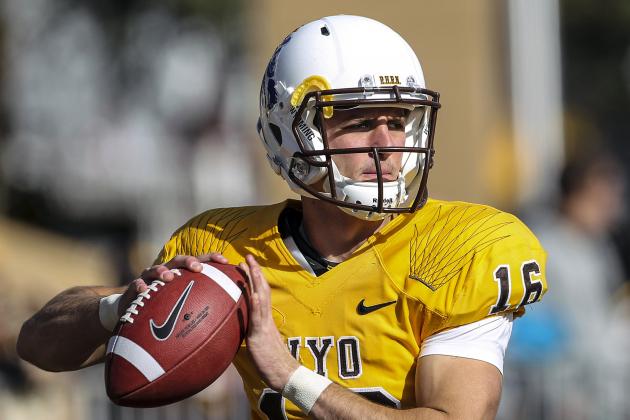 Troy Babbitt-USA TODAY Sports

Third-year starter Brett Smith is the best dual-threat quarterback you have probably never heard of. He has completed more than 60 percent his passes the last two seasons and rushed for a combined 958 yards.
At only 195 pounds, Smith isn't the biggest quarterback, but he has been a spark to this program that has only reached three bowl games since 1993.
Wyoming can't exactly be too upset with the job head coach Dave Christensen has done, leading the school to two bowl games in four years. However, four victories last year was a disappointment and a nasty blowup against Air Force didn't help matters.
The Cowboys should be good enough to qualify for a bowl. If that doesn't occur, Christensen could be forced to look for another job. However, Smith could prevent that from happening.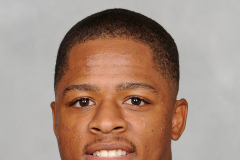 Credit: 247Sports
Quarterback was a big storyline for Maryland last season. Thanks to injuries, the Terrapins were forced to play a linebacker under center, which pretty much summed up the second season for Randy Edsall. If a bowl game isn't reached in his third year, it is nearly a foregone conclusion that Edsall will land on the unemployment line.
Quarterback Ricardo Young, a transfer from Virginia Tech who was sat out last season, could change all that. He's is going to start for the Terrapins and is a crafty dual-threat quarterback.
He is still a little raw at the position and can be a little wild, but he's a potential game-changer who could be just what the doctor ordered.
Young is likely Edsall's last best hope.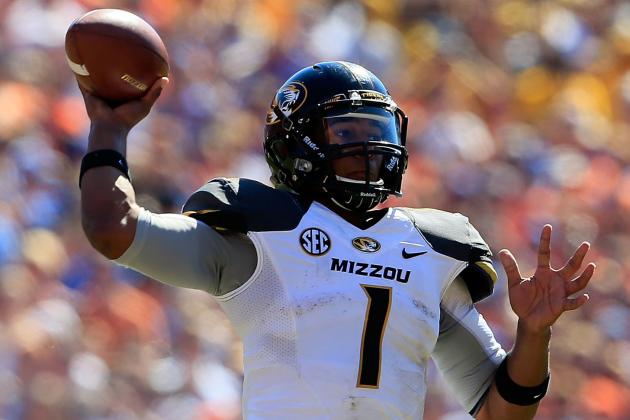 Sam Greenwood/Getty Images

Some would say putting Gary Pinkel on the hot seat isn't fair, as he has coached Missouri since 2001 and has led the school to fairly decent success. But the Tigers are no longer in the Big 12, and with the move to the SEC, the pressure has been turned up a few notches.
We just saw four SEC coaches fired during the offseason. And if things don't turn around—Missouri went 5-7, 2-6 in the SEC—Pinkel could be next.
James Franklin, who spent much of last season hobbled by injuries, was the quarterback last season that he was in 2011. If he is healthy this year, he has the potential to be a difference-maker. We are talking about a quarterback who scored 36 touchdowns, completed 63 percent of his passes and rushed for nearly 1,000 yards his sophomore season.
By having one of the best dual-threat QBs when healthy, Pinkel is in good hands, assuming Franklin is back to his old self.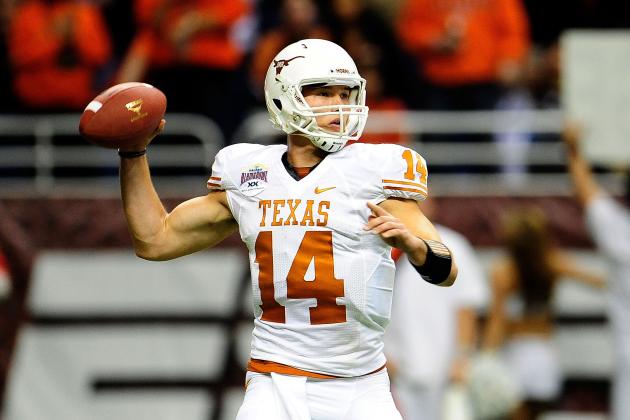 Stacy Revere/Getty Images

Whether it is by retirement or gently being let go, Mack Brown is certainly sitting on a warm seat as we enter the 2013 season. When you have Texas' talent and the lofty expectations, three straight years of fewer than than double-digit victories isn't going to cut it.
Quarterback David Ash has a chance to silence the critics and maybe help Brown extend his coaching career a couple more years. Ash got off to an incredibly hot start last year, but slowly began to cool off as the season played out, throwing two interceptions in each of his last three games.
If Ash can find some consistency and do a better job of holding onto the ball, Texas should compete for a BCS bowl. That is really the only thing that would get everybody to leave its legendary head coach alone.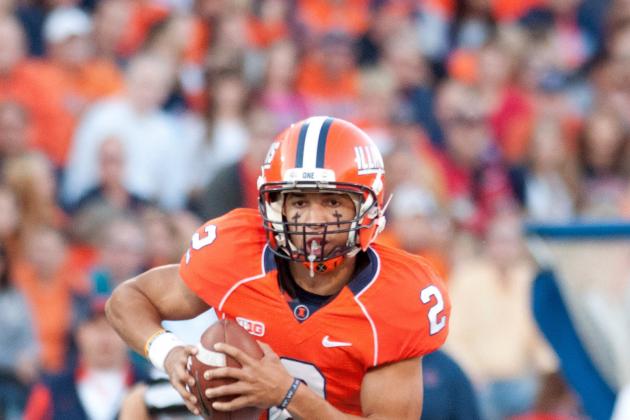 Bradley Leeb-USA TODAY Sports

After finishing his first season 2-10, Tim Beckman needs all the help he can get. Usually a head coach is given three years to make an impression, but going winless in the Big Ten is bad enough to cut that time in half.
While Illinois has a lot of questions and low expectations, the Illini do have an experienced quarterback in Nathan Scheelhaase. Having thrown more than 200 passes in each of the last three years, Scheelhaase has produced more than 5,000 yards and 34 touchdowns. He has also been an interception machine (24), but you can't beat experience when it comes to this position.
Scheelhaase was named the offensive MVP during spring practice and had a solid showing during the Illinois spring game. If this happens to be a sign of things to come, Beckman may have a fighting chance of staying around for another season.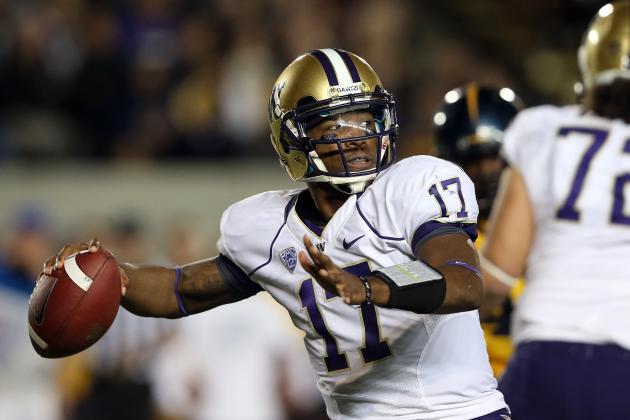 Ezra Shaw/Getty Images

Steve Sarkisian is one of the most underrated head coaches in the country, but that title isn't good enough to keep him off the hot seat. According to coacheshotseat.com, Sarkisian is in position to lose his job if he can't get the ball rolling. While there are plenty of Pac-12 schools climbing up the ladder, Washington has finished with a 7-6 record the last three years.
Washington fans want this program to turn the corner and are tired of waiting.
Quarterback Keith Price has the ability to put this team on his shoulders, as he showed in 2011. Last season the offensive line was a complete joke. Price has Heisman talent and can put up the numbers; he just needs a little time in the pocket to get the job done.
Washington could be a surprise team this season, and it all starts with Price. If he is able to find his magic, Sarkisian isn't going anywhere as a head coach.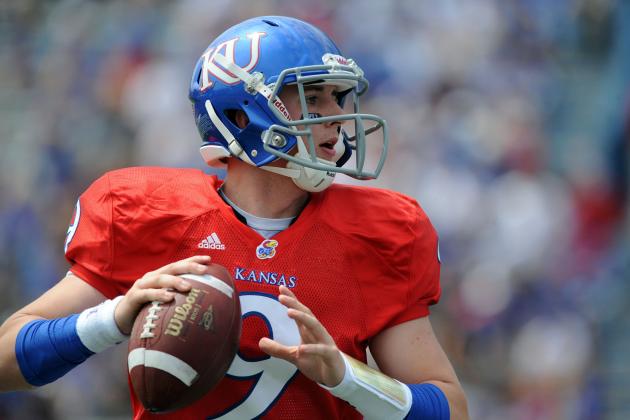 John Rieger-USA TODAY Sports

Even a basketball school such as Kansas has its limits, so one win may be it as far as football is concerned. In a tough Big 12 conference, the Jayhawks may not be thinking a bowl game just yet, but this team better improve this year or Charlie Weis will be fired once again.
While this team had issues on both sides of the ball, Jake Heaps should be a drastic improvement at quarterback. A former BYU signal-caller, Heaps passed for 3,768 and 24 touchdowns in two years as a starter for the Cougars. He has had a full year to understand the playbook and get himself ready for this moment. He could be the guy that Weis needs entering his second year on the job.
Weis was once a popular coach in college football, but that has changed due to the lack of success over the years. Heaps may be his last hope for a coach once considered an offensive mastermind.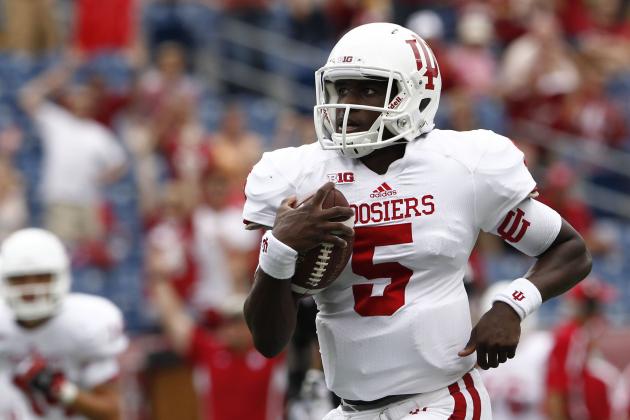 Mark L. Baer-USA TODAY Sports

Last season should have been considered a success for Indiana, as Kevin Wilson led the team to four victories. Maybe it was the four losses by one possession that has some saying the coach isn't out of the woods just yet.
Quarterback Tre Roberson could be the missing piece to help this team finish the close games and earn its the first bowl berth since 2007. Roberson missed most of last year due to a broken leg, and while the offense still managed to move the ball without him, it wasn't the same. Roberson is an athletic quarterback who brings excitement to the team and has the trust of the entire offense.
I'm not sure if Roberson can help fix a defense that finished 102nd in the country in points allowed, but he can help create a more balanced offense. Wilson did a tremendous job last year given the talent on hand. But Roberson could be that one player who helps get this program over the hump and secures the coach's job.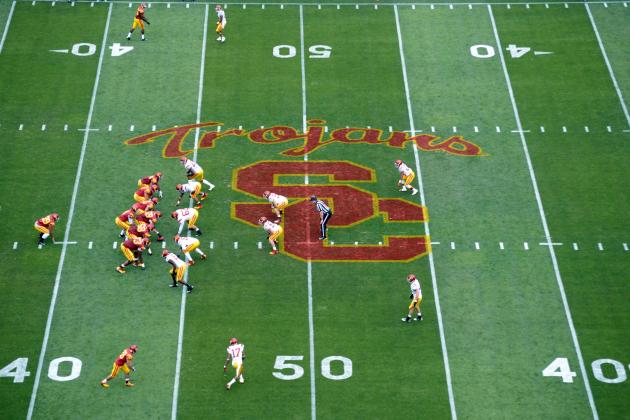 USA TODAY Sports

USC is in the middle of a quarterback controversy that includes Max Wittek, last year's backup, redshirt sophomore Cody Kessler and true freshman Max Browne. Everybody has an opinion about who should start, but the truth is we may see all of them at some point during the season.
Head coach Lane Kiffin is on his last leg at USC. Whether you want to point to the 7-6 record from last year, or the constant off-field issues, Kiffin is only one more disaster away from being shown the door. There is enough talent on this team to compete for a Pac-12 title, but the inconsistency at quarterback may make the difference in how the season is going to turn out.
Quarterback play doesn't get much bigger than at USC, and the decision about the starter may determine Kiffin's fate.