Virginia Tech Football: Winners and Losers of 2013 Spring Game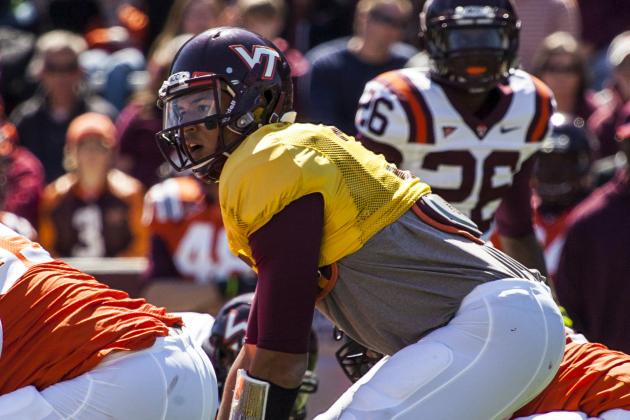 USA TODAY Sports

The White team was spotted a 13-0 lead on the Orange team in Virginia Tech's annual spring game held Saturday.
It turns out that lead wasn't even needed, as the White team won the game 27-9.
The Orange team, which featured all first and second-stringers, faced the White team, which was comprised of the rest of the roster.
Defense dominated the entire game, and coordinator Bud Foster couldn't even blitz.
Here is a look at the winners and losers from Saturday's spring game.
Begin Slideshow

»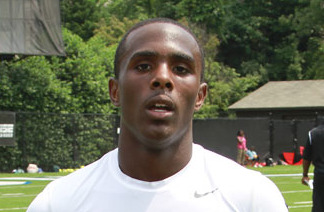 Redshirt freshman free safety Der'Woun Greene made the play-of-the-day in the spring game.
Greene intercepted a Logan Thomas at his own two-yard line and took it 98 yards for the game's first touchdown.
Greene, who has played wide receiver and cornerback in his short time on campus, is now listed as a free safety.
It was an impressive game for a player playing a position that lacks overall depth. Greene will be worth keeping an eye on moving forward.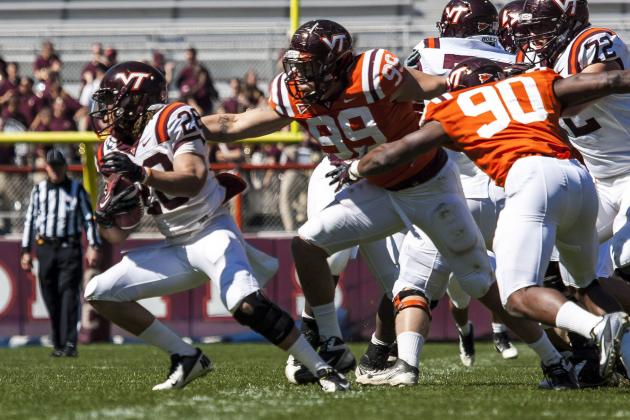 USA TODAY Sports

Saying the defense is a winner is an understatement.
Both units, the White and the Orange, were dominant Saturday.
Senior defensive end James Gayle had an outstanding game, reaching the backfield several times. Gayle and the entire defensive line got consistent pressure on the inexperienced offensive line all game.
Freshman linebacker Devin Vandyke, Ronny's little brother, was terrific for the White team. He finished with three tackles, all for loss.
Donovan Riley, in competition with Donaldven Manning to start opposite of Kyle Fuller at cornerback, returned an interception 53 yards for a touchdown.
Sophomore defensive tackle Kris Harley made a nice strip of running back Maurice Taylor, which led to a safety for the Orange team.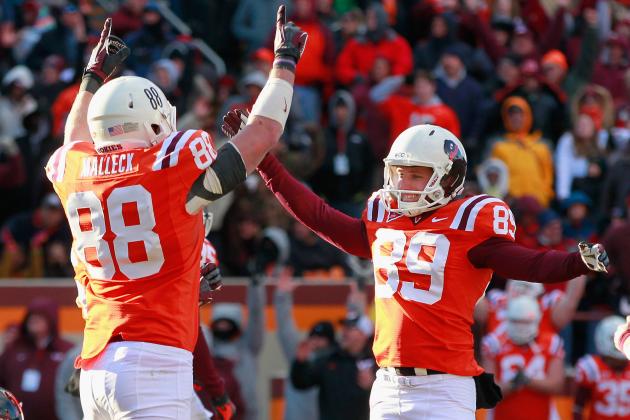 Geoff Burke/Getty Images

A pair of junior tight ends, Ryan Malleck and Zack McCray, were the offensive stars for the Hokies.
Malleck, the projected starter, had three catches for 45 yards including a nice 30-yard touchdown reception.
McCray, in his first season at tight end after three years as a defensive end, finished with four catches for 65 yards.
With so much inexperience at wide receiver, getting the tight end involved in the offense is critical for Logan Thomas and the offense.
Malleck is solid as starter, but if McCray keeps improving, he will play often. It doesn't hurt that McCray is Thomas' first cousin.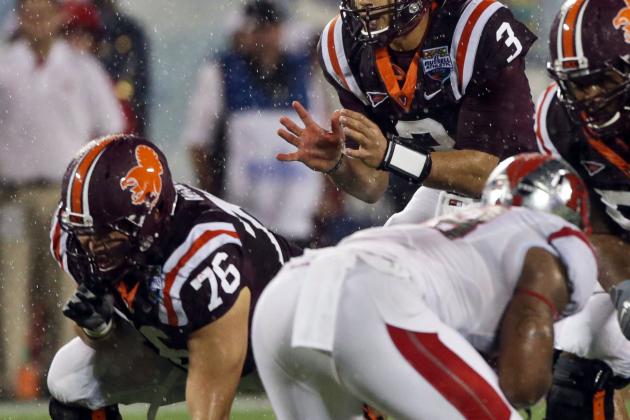 Rob Foldy-USA TODAY Sports

This unit deserves a break—if only because it is the first time many of these players have played in a live game.
New offensive line coach Jeff Grimes will be unhappy with his unit's performance. Both the Orange and White squads combined for 72 yards rushing on 41 carries. There was little room for the running backs all day long.
It is hard to judge the pass protection effectively, as Logan Thomas and his top backup Mark Leal wore yellow jerseys. There was one instance where Thomas would have been sacked if contact were allowed, because the right tackle missed his block completely.
This unit must improve before the Alabama game. That improvement will be helped by Grimes sticking with his five best linemen and allowing them to play together.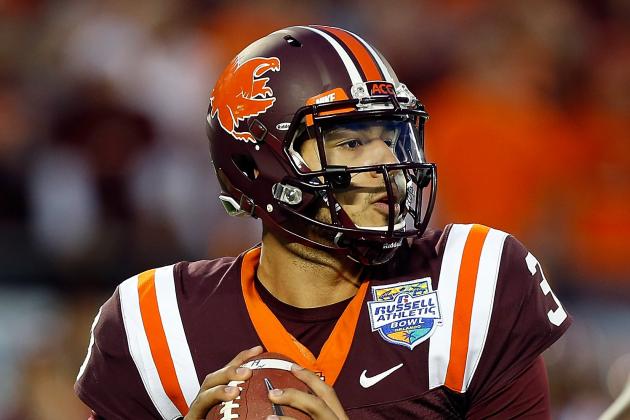 J. Meric/Getty Images

Thomas' day started off bad, and he never recovered.
As the Hokies were driving inside the five-yard line, Thomas was intercepted by freshman defensive back Der'Woun Greene, and Greene returned it 98 yards for a touchdown. This was the Hokies' first possession.
On the second possession, Thomas was intercepted again—this time by Donovan Riley, who also returned it for a touchdown.
Thomas was high on several throws throughout the day. He missed an easy completion at the end of the game, which would have went for a touchdown, to tight end Zack McCray.
Thomas finished 16-for-29 with 214 yards and three interceptions.
One positive for Thomas: It's not an official game.