2014 College Football Recruits Most Likely to Spurn SEC Coaches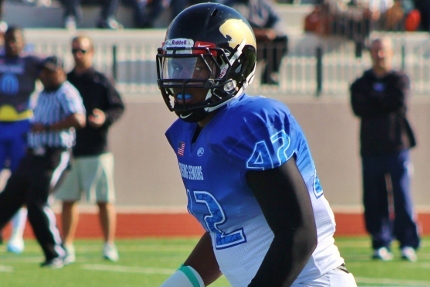 247Sports
The SEC is the best league in college football and clearly the most passionate and competitive. Coaches from each program hustle around on the recruiting trail looking to to sign the best players they can find in the country to give their teams the best chance to win in the fall.
Recruiting is a big deal in the SEC and many of the top recruiting classes ranked high in February are SEC programs. It's gotten to the point where about half or more of the top-level recruits go on to sign with SEC teams.
When an SEC team recruits you, it means something because its conference plays a different brand of football. Players feel honored when they have an SEC offer and SEC coaches usually don't get spurned for non-SEC programs.
However, it does happen and it will happen again in this 2014 recruiting class. Here some of the top recruits in the country who appear to be the most likely to say "no" to the SEC.
Begin Slideshow

»
247Sports
Featherston is from the South, as the tall 6'7" DE menaces QBs in North Carolina. He could go play at any SEC program he wants and would be fine in mighty conference.
Though he's just 215 pounds and needs to fill out, his athleticism, quickness and speed are well suited for SEC play. However, in the end, I feel that Featherston will choose to play for NC State and spurn the SEC.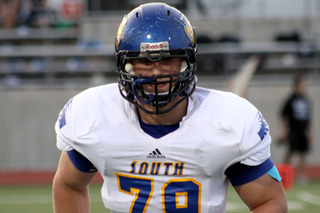 247Sports
If he wants to, Smith could opt for an SEC school and fit right in on the field of play. He's a 6'6", 290-pound OL who plays physical and nasty at the point of attack, which is downright required from any OL recruit aspiring to enter the SEC.
Though he has Texas A&M among his top three schools, according 247Sports, Smith also favors TCU in the Big 12 and Notre Dame. He's the type of recruit Brian Kelly wants badly since he realized what it's going to take to beat an SEC team during the BCS title game.
Smith could choose against playing in the SEC.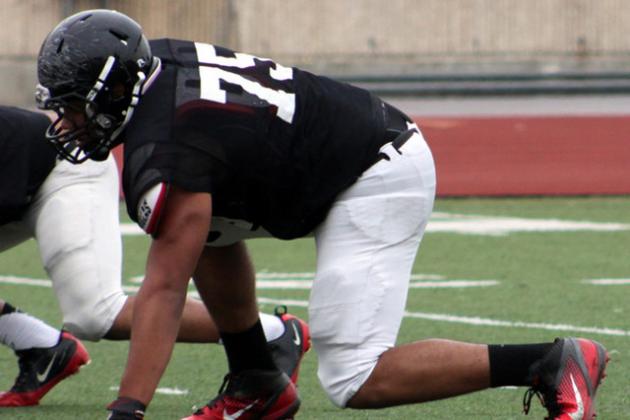 247Sports
Thomas is probably one of the top two or three true strong-side DE prospects in this year's class. He's from Texas, stands 6'3", weighs over 255 pounds and has excellent edge-setting ability.
Even though 247Sports has Alabama and Arkansas among the top favorites for Thomas, Texas, Oklahoma and Stanford are also suitors. I think in the end he will end up in Austin.
247Sports
Like Featherston, Hood plays in the Tar Heel State and is one the best players in the country. I'm a fan of the 6'0", 220-pound RB/ATH, as his powerful running style is admirable.
I'd imagine any team in the SEC would love to have Hood on their roster to tote the rock, but I doubt he signs with an SEC team. My feeling, as of now, says it'll be North Carolina for Hood.
Also, watch out for Michigan and Notre Dame.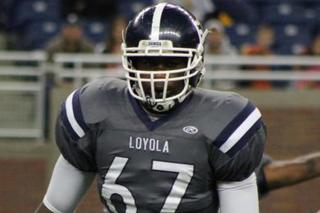 247Sports
One of the reasons the SEC stands out and sets itself apart from the rest of the country is its play in the trenches. Each SEC coach wants big and strong trench players, especially along the defensive line.
McDowell fits that mold, as the 6'6", 290-pounder is a strong interior DL prospect with some solid athleticism for a big man. The only thing is McDowell is from Michigan and both in-state schools along with Notre Dame are schools I believe have the inside track for him.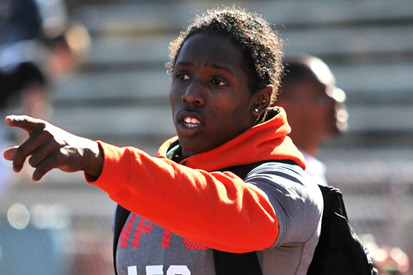 247Sports
Jackson is a 5'11", 185-pounder out the Los Angeles area who is one of the best long jumpers in California high school history. He's one of the best CB prospects in the country this year too.
Jackson is a stingy and sticky cover man who has quick-twitch explosiveness, agility, recovery speed and deceptively wiry strength. I thought LSU may have been a school to beat a few months ago, but I have reversed course to eyeing USC as the school to beat here.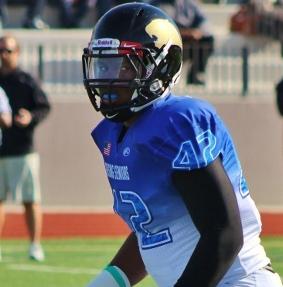 247Sports
The big 'backer could easily choose a school like Georgia or Alabama and fit right in, but I don't think that'll be the case. McMillan appears to be on the verge of committing to Ohio State based on my hunch.
I would also keep an eye on Clemson too.
Whoever lands him will be getting themselves a talented 6'3" LB who will likely weigh over 240 pounds as a freshman while possessing good instincts and athleticism. Sorry, SEC fans, I doubt you'll have him in your league.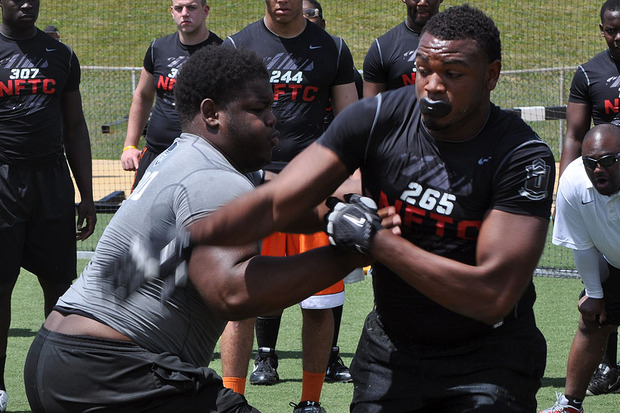 247Sports
Brown is a pretty wide open recruit right now, but as time moves on he'll be eliminating schools bit by bit. As I sit here right now, I have think the final school standing will not be an SEC team.
He's from Virginia, Quin Blanding's early commitment makes a difference for Mike London's pitch and the Cavaliers' audio engineering program isn't shabby. I think Brown ends up laying for the Wahoos and not for an SEC team.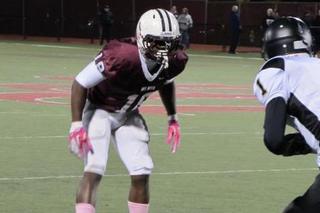 247Sports
One of the best players in the country, Peppers projects as a successful player at a myriad of positions on the football field. The New Jersey native is a 6'1", 205-pounder with great athleticism, speed and instincts.
SEC teams are probably drooling over him, but I'd be pretty surprised if Peppers didn't end up at Michigan. The tradition, history and brand of Michigan football is going to be tough to beat for any SEC team looking to sign Peppers.
247Sports
The talented DE prospect has a wealth of talent and compares well to many of the recent standout DE prospects we've seen in college football recruiting.
He's a 6'5", 250-pound pass-rusher with "blow-by" quickness at the snap, uses his hand pretty well for a player at his stage in development and also is very strong on his feet. Hand, who is from Virginia, has a ton of offers and that includes from just about every SEC squad you can fathom.
Yet, per his 247Sports profile, it looks like Michigan and Virginia Tech are the two leaders right now. Virginia Tech is my prediction for Hand.
Edwin Weathersby is the College Football Recruiting Analyst for Bleacher Report. He has worked in scouting/player personnel departments for three professional football teams, including the New York Giants and Cleveland Browns.