Best Fits for the Top 10 Uncommitted QB Recruits in Class of 2014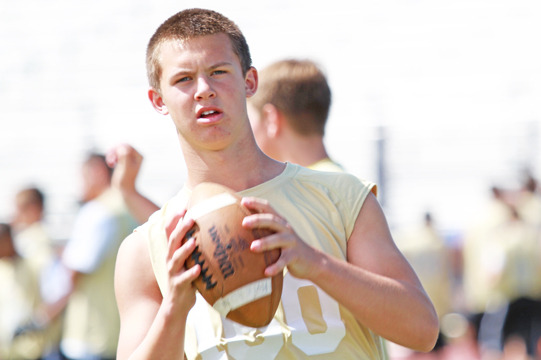 247Sports
With the spring evaluation period now under way, coaches are out and about all over the country looking at players in person. This is one of the most crucial periods in the recruiting cycle. This is when recruiting boards get reshuffled and a lot of news shakes out.
The spring evaluation period usually marks the start of the QB commitment run. For the most part, top-tier QB recruits usually commit before the summer is over, starting in the spring.
So we can expect many of the nation's better signal-callers to start coming off the uncommitted list. With that said, let's take a look at the best fit for each of the top 10 uncommitted QB prospects in the 2014 recruiting class.
Begin Slideshow

»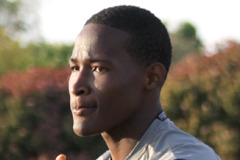 247Sports
Harris, who is 6'2" and weighs 185 pounds, is a Louisiana native who can serve as a pocket passer and a dual-threat guy.
He has solid delivery quickness in his throwing motion and shows very good arm strength. This is a guy who can push the football to all levels of the field and has the accuracy to be a good pitcher.
Bret Bielema never really had a dual-threat QB at Wisconsin, outside of Russell Wilson for a year. Harris would give the run-first Bielema an added dimension to his typical offensive philosophy at Arkansas.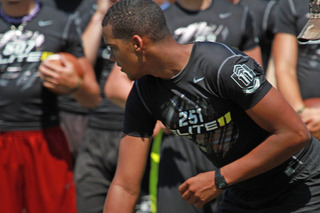 247Sports
An athletic QB with good size at 6'4" and 200 pounds, Dawkins shows good mechanics, poise and solid arm strength. He displays field vision and the ability to play under control from the pocket.
The Southern California prospect will deliver the football into windows with anticipation, and if things get too crowded in the pocket , he'll use his legs to escape the rush.
N.C. State didn't get Asiantii Woulard last year and Dawkins has similar traits to the 2012 Elite 11 MVP. With his good arm strength and athleticism, Dawkins would be a good fit in Dave Doeren's offense.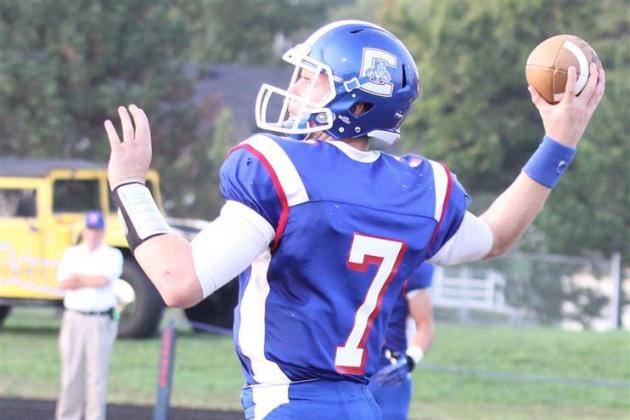 247Sports
The more I watch Barker, the more deceptively athletic he becomes. In fact, he really challenges defenders when he's running with the football, which is rare for a QB.
From Kentucky, Barker is a 6'4", 205-pound QB with good arm strength who seems to have a good grasp on basic reads. He'll make good decisions with the ball, and he can run some of the zone-read stuff.
Mark Stoops needs that one banner QB to put Kentucky recruiting on the map. Barker would also be a hit in Neal Brown's spread offense in Lexington.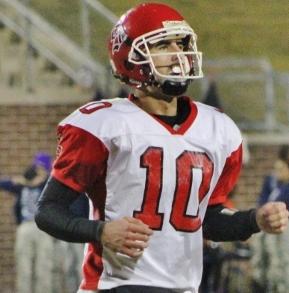 247Sports
Park is a QB I really like and think is a sleeper. He's 6'3", 200 pounds and has a lot of tools going for him.
From South Carolina, Park can work from under center and has good drop quickness. His feet are light and allow him to climb up the pocket, elude the rush and perform well on sprints, rolls and bootlegs..
He has the arm strength to fire the ball to all levels and has some gunslinger in him. With his versatility and athleticism, Park would be refreshing in Virginia Tech's system and would benefit well from Scot Loeffler's tutelage.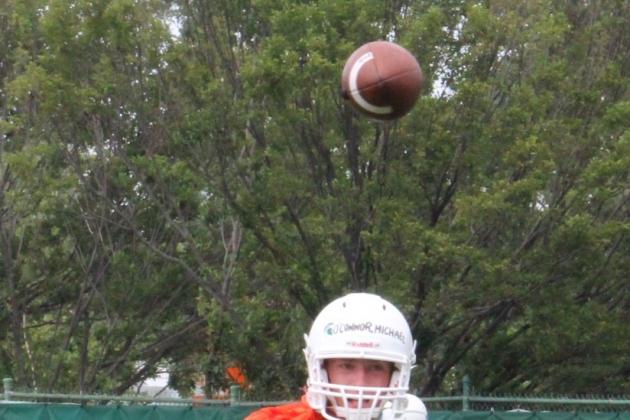 247Sports
The tall QB is rising up the board. I really love his 6'5" frame. O'Connor has a chance to get up to 235-240-pound range in college.
A big and physical passer, O'Connor has a strong arm but he also shows great ball-placement skills. He's not a stick figure in the pocket by any means, displaying solid foot quickness and some ability to be a run threat.
O'Connor has the arm strength and athleticism to remind people at Michigan State of Drew Stanton. Yet, he could be another good insurance plan for Bill O'Brien at Penn State in case Christian Hackenberg doesn't work out.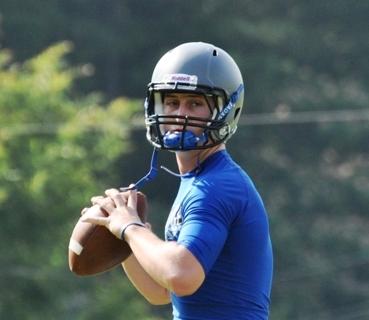 247Sports
Harris probably needs some mechanical work and his feet aren't always properly in place underneath, but I like this guy. He has a 6'3", 205-pound frame and a cannon for an arm.
I think he sees the field better than many think and can be a threat from the pocket. Once his mechanics get cleaned up, his accuracy should skyrocket, similarly to Brice Ramsey last year.
Willie Taggart is looking for a QB to groom, and Harris' tools and high ceiling could pay dividends down the road at South Florida.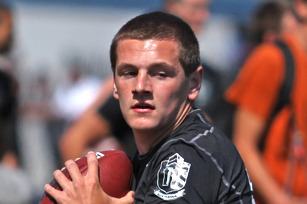 247Sports
Chryst is a guy who has clearly been well-coached by his father and shows good mechanics, footwork and instincts. He's one of the better decision-makers in this class and has good physical tools to be a factor for four quarters.
Chryst shows a good over-the-top delivery and throwing motion and the ball jumps out of his hand a bit. He isn't an electric athlete, but he has enough wiggle in him to elude rushers in the pocket.
With his intelligence, mechanics and overall skill set, I can't help but picture him being a wonderful fit in David Shaw's complex offense at Stanford.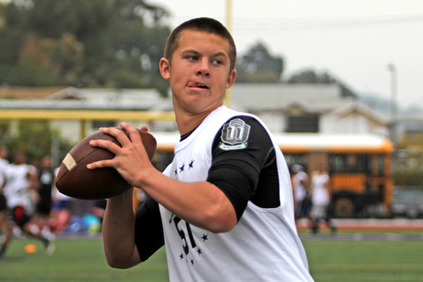 247Sports
Allen is a natural distributor of the football. Though he isn't as big as some of the other passers on this list at 6'2" and 195 pounds, he is still among the best in the country.
He can play under center or in the shotgun, scans the field well during his drops, sets up under control and shows a quick release and above-average arm strength. Allen sees windows open up consistently and is not going to be responsible for his offense getting off schedule.
An Arizona native, Allen could finally give Todd Graham the QB he desperately needs.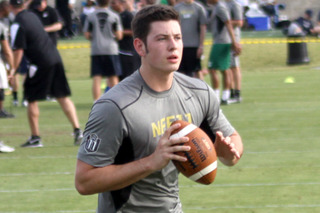 247Sports
Cornwell likely has the best and most natural arm talent of any QB in the country this year. He has outstanding size at 6'5" and 230 pounds, is from Oklahoma and has a high ceiling.
Cornwell can stand tall in the pocket and use his big arm to place footballs to targets on all three levels. He has some mobility, but most of his work comes from the pocket. When you have arm like Cornwell's, that's perfectly fine.
Alabama is on a recent trend of recruiting big and physical QBs with cannon blasters for arms. They signed Alec Morris in 2012 and Cooper Bateman in 2013. Cornwell would fit the mold for the Tide in 2014.
247Sports
Watson is a verbal commit to Clemson, but we'll list him on this list for fun because Georgia, Ohio State, Auburn and Florida State continue to recruit him (Scout.com).
The 6'3", 200-pound QB from Georgia has good arm strength, makes quick decisions with the ball and can excel as a runner. He's a mix of Braxton Miller and Jameis Winston.
Watson has great accuracy, can make all the throws and will command a spy on many downs in college. He can fit anywhere, but I believe he is a better prospect than Chad Kelly and could be the heir apparent to Tajh Boyd at Clemson.
Edwin Weathersby is the College Football Recruiting Analyst for Bleacher Report. He has worked in scouting/player personnel departments for three professional football teams, including the New York Giants and Cleveland Browns.