Top 20 Ways to Improve College Football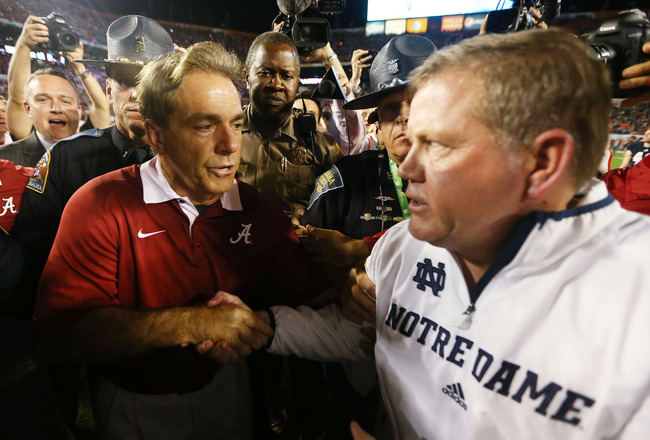 Streeter Lecka/Getty Images
"The playoffs are coming! The playoffs are coming!" —Paul Revere (modified)
That is one major improvement that college football badly needed. The four-team field is still up for debate, as some people think it should have included more teams, but the playoff format is already in place.
There are still plenty of other ways to improve the sport, though. From better protecting the players to preserving the game itself, much remains to be done.
Here's a look at 20 ways to improve the sport.
20. Top 25 Network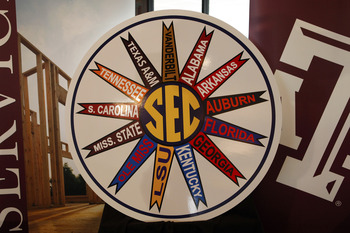 Aaron M. Sprecher/Getty Images
For the casual football fan, the games involving the Top 25 teams are the only ones that matter. If you have a favorite team that's not in the Top 25, your ability to see it play is at the mercy of the decision-makers at the various football networks.
Those networks should get together with the conferences and create a Top 25 Network for year-round access. It would be sort of like the Longhorn Network, but dedicated to all the teams in the Top 25 instead of just Texas.
The Top 25 would be determined by the AP poll, because it takes all teams into consideration regardless of postseason eligibility. During the offseason, this network would provide a one-stop destination for all things related to the coming football season.
It would also give lower-profile teams normally left out of the TV equation more national exposure following a great season. Northern Illinois, San Jose State, Utah State and Northwestern would have benefited from the exposure during the current offseason.
The major issue would be what to do with the money generated by the network, because if each network gives up a game it would normally televise, then no one would go along with this plan at all.
That's an easy fix. Each conference would be awarded a percentage of the Top 25 Network's revenue based on its current television contract with its local network.
The current contract money, averaged to annual revenue cash flow would be the determining number for the final piece of the Top 25 pie. (For instance, a $3 billion contract over 10 years would be worth the same as a $1.5 billion contract over five years, because they both average to $300 million per year.)
This means that, If the Pac-12, Big 12, American Athletic, Big Ten, Atlantic Coast and Southeastern Conferences all had $300 million-per-year contracts with ESPN (for ease of argument), then they would all get an equal portion of the Top 25 Network's profits.
The network itself would receive a reasonable share of the profits, as well (for operating costs). This comes in no higher than No. 20 due to all conferences seemingly moving toward national networks of their own.
Even with national access to each individual conference, this would still be worth doing, but it's not high on the average college football fan's wish list.
19. Spring Game Clocks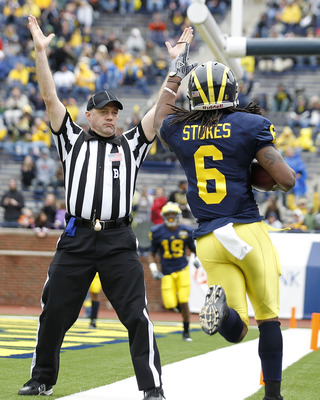 Leon Halip/Getty Images
If you watched the live stream of Michigan's spring football game from the Big House, you may have noticed that almost everything went smoothly.
It was beautiful to watch, but the ending was not well-orchestrated.
At least, not to those watching the stream. Things may have been completely different for people at the live event, but the ending on the broadcast was a little weird.
Everybody was playing football, and then they just weren't. It was the Maize and Blue squads having a final huddle, then walking off the field. The issue was that the viewers online/listeners on the radio channel did not know that it was ending.
It was a great game, and Michigan isn't the only team that does it. The Wolverines are merely the most recent example of the phenomenon.
Michigan's spring game was awesome, and the fact that score wasn't kept didn't affect it at all. It's not a "normal" football game, but the way it was laid out provided more information in one short practice than almost any other format could possibly deliver.
It would have been nice to know that the game was about to end. Put a clock on the screen of the broadcast. If there's already a clock on the field, just give everyone a glimpse of it once in a while.
It's a minuscule improvement, which is why it comes in at No. 19, but it's still an improvement. After all, it's the only football between January and August.
18. National Access to Spring Games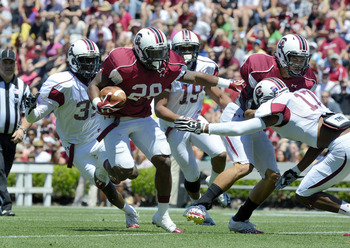 Curtis Wilson-USA TODAY Sports
They should do this at least for the previous season's Top 25. The spring game is a time for fans to get a look at their team without any of the departing players or recruits who did not arrive early.
If college football were a song, the spring game would be the bridge between the verses of the previous season and the next season. If a song is well-executed, the bridge is one of the best parts, especially if it contains a key change.
The bottom line is that there is too little access to the spring games. People living in North Carolina last year were blacked out of the Alabama spring game in favor of the UNC game.
While the networks (rightfully) didn't care that I was an Alabama Featured Columnist at the time, what about the rest of the fans? People are global, and there are hundreds of thousands of fans who are located far from their alma maters.
In a perfect world, every spring game would be televised. At least give fans access to the AP Top 25 teams from the previous season, with obvious exceptions for the teams who don't hold a spring game.
Seriously, the Big Ten Network televised the Illinois spring game Monday while Michigan was available only online. There are plenty of teams that aren't even available online. Even if it's a YouTube live stream with a small HD camera, give your fans access to your spring game.
The advertising for the camera's manufacturer alone should pay for the lone operator that would be necessary to make this happen. Though minor, it's far too easy an improvement to pass up.
17. An FBS-II Division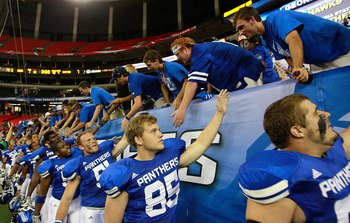 Kevin C. Cox/Getty Images
As a transitional division between FCS and FBS, there should be an FBS-II division.
The conferences as a whole would have to decide whether they were "FBS-I" or "FBS-II" each season, but the schools would still have postseason access similar to their current level.
If an FBS-II school was ranked highly enough to earn a trip to the FBS-I playoffs or a BCS bowl, that program could happily accept the invitation by giving up its rights to the FBS-II playoffs.
This would allow upstart programs like Texas-San Antonio or Georgia State to gun for a mid-major trophy while building success before joining the FBS-I as a full-fledged member.
It would also give the FBS-I conferences a good idea of who to pick to come into their fold from the lower tier. It would prevent teams from having ridiculously horrible 1-11 seasons for the most part, and it would provide a whole new level of entertainment.
After all, other than the timing of the game, the GoDaddy.com Bowl is a great exhibition of college football. It's a little bit of a downer showing up between the FBS bowls and the BCS National Championship Game, but the quality of the game is actually quite high.
Imagine if that were an FBS-II national championship. That would be two national championships less than a week apart. Plus, the bowl season could get rid of the lower-tier bowls and throw down a true 16-team (or more) FBS-II playoff.
The draw for a playoff would make the lower-tier bowls more money, and it would provide an FCS, FBS-II and FBS-I playoff series right before (and a little during) the NFL playoffs.
It would be one giant quarter-year football playoff. After all that, fans would actually need the five months off to recover from the sensory overload.
16. Bottom 8 Teams in FBS-I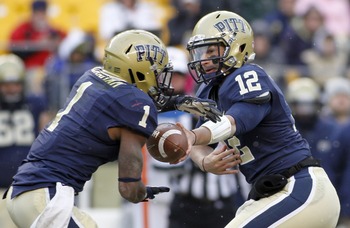 Justin K. Aller/Getty Images
With the installation of an FBS-II division, the bottom eight teams in FBS-I would have another motivation to finish the year well. They would be eligible to participate in play-in games for the FBS-II championship.
This system would allow the highest-ranked teams in FBS-II to determine whether they're ready to move up, and it will allow the poorly performing FBS-I squads to get an idea whether they belong in the top division.
The FBS-II teams that are ranked 1-8 do not have to play the FBS-I teams. FBS-II teams ranked from 9-16 will play the bottom eight from FBS-I to get into the FBS-II playoff.
According to the Sagarin rankings from last season, those games would have looked a lot like Kent State vs. Iowa.
15. Performance Probation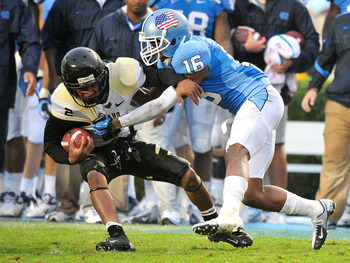 Grant Halverson/Getty Images
If any of the bottom eight from FBS-I loses to its play-in FBS-II opponent, that FBS-I team is on performance probation. This will force the divisions into their "true" alignments.
After three years of not making an FBS-I bowl, finishing in the bottom eight or not defeating an FBS-II opponent, the FBS-I team is no longer eligible to play in the upper division. (Any combination of two of those criteria is sufficient to kick the team out of FBS-I.)
When any team is kicked out of FBS-I, an FBS-II team will move up into its slot. Plus, it will allow the upper-division teams to make sensible decisions as to the future of their programs. It's difficult to keep up with teams like Alabama, LSU and Oregon. It's also difficult to make the decision to go all the way down to the FCS level.
Give them the option of moving in and out of the top two divisions with little consequence. If nobody finishes in the bottom eight for three straight seasons, then nobody moves down.
14. Mandatory Hardship Scholarships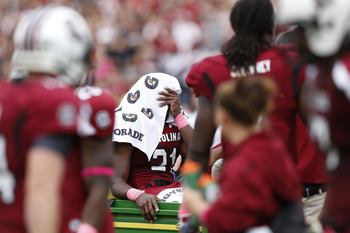 Joe Robbins/Getty Images
The argument goes both ways as to whether the players should get paid or whether they already get paid enough, but the injury issue is still serious.
Denying football players their previously hard-earned scholarships after career-ending injuries is borderline evil. Football isn't the only sport in which this occurs, either, so this is an issue that needs to be addressed in all collegiate sports.
One way to solve the problem is to require schools to offer only four-year scholarships. However, this is a lot like giving tenure to a professor. There should be no time in a career when someone becomes immune to being fired.
If you have an academic scholarship, you have to maintain your GPA in order to keep getting the money. The same principle is true on the football field. If you don't want to work at staying on the team, you shouldn't keep getting the money from the athletic department.
This means that one-year-at-a-time scholarships are a must. On the other hand, if you're a starter at Oregon or Alabama and suffer a career-ending injury, you shouldn't be punished for literally giving your athletic life for the benefit of the school.
If a player is receiving an athletic scholarship for playing football and suffers a career-ending injury, that player should receive a mandatory hardship scholarship that:
1. Covers the rest of his bachelor's degree, up to 140 total credit hours (this is the point at which a penalty tax is incurred for not having finished your bachelor's degree, as my wife found out during her senior year).
2. Does not count against the school's limit of 85 football scholarships.
3. Does not count toward the 25 signed recruits for the player's recruiting class. (If an early-enrolled recruit gets one of these hardship scholarships, the school can immediately replace him with another recruit.)
Frankly, that this is even up for debate is appalling.
13. Autograph Contracts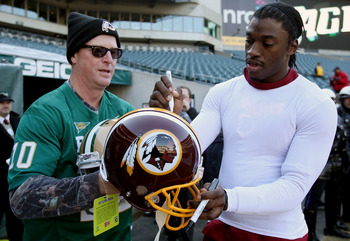 Alex Trautwig/Getty Images
Allow players to enter collegiate autograph contracts with trading card companies. The school can even charge an access fee for each company, allowing Topps and Upper Deck to contribute money to the athletic department.
The school would not be entitled to take any of the contract money or benefit in any way from the contract itself, but the institution could charge company representatives a fee for accessing players in controlled environments.
Before you get scared of what kind of free-for-all this would create, there are only two major companies in the sports-card business: Topps and Upper Deck.
There are others, but they don't have nearly the product line nor the quality of those two. There is a third company, Sage, that deals exclusively with football cards, specializing in the rookie-card aspect. Even if all card companies were included, you can see from this list that those three (and maybe Press Pass) would likely be the only ones interested in the college level.
The NCAA would probably try to stand in the way of this, but here are the reasons it wouldn't have a case:
1. Players wouldn't be getting paid to play football, they would be getting paid to sign things like stickers and original cards. (Therefore the "student-athlete" definition is still met.)
2. The school, boosters, fans and athletic department aren't paying for any of this, so there is no illegal pay-for-play relationship.
3. The player isn't trading any sort of memorabilia for his financial gain. He is trading a signature, and the NCAA has no actual rights whatsoever to a person's signature, regardless of what it tries to claim.
This would benefit the players by giving them a little spending money above and beyond the free education they are getting. They certainly don't have time to hold down part-time jobs.
Football players bring big money to big schools. Why don't they have at least as much pocket money as a part-time minimum-wage earner?
12. Rules for the Autograph Phenomenon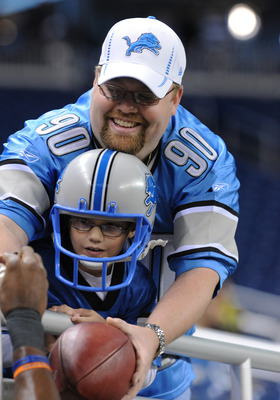 Al Messerschmidt/Getty Images
There will be an "open enrollment" period for companies to land those signature contracts, most likely between January and spring practice and also between the final spring practice and the last day of school. (Not during cram and exam weeks, though.)
After the season kicks off, the players are allowed contact with the company only once per week, including actual signature appointments.
This will prevent the companies from interfering with the players' ability to perform both academically and athletically during the season. (After all, who wants a market filled with the autographs of players who used to be good before they turned into nothing more than signature machines?)
11. NFL Agents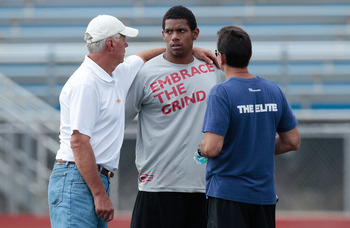 Jared Wickerham/Getty Images
Players who are juniors or seniors are free to talk to NFL agents throughout the remainder of their college career, but only between school years and between the last football game of the season and the first spring practice following that final game.
If there is nothing football-related going on in an athlete's life, why can't he begin building a relationship with his future comrades? Naturally, freshmen and sophomores would be off-limits due to their need to spend more time getting acclimated to the life of a student-athlete.
The other side of this coin is that the players would feel the NFL is more of a reality than a pipe dream. This would help them keep themselves in line off the football field. (There will be more on that subject later in the show.)
10. Collegiate Compliance Departments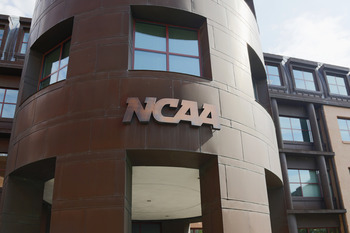 Joe Robbins/Getty Images
All collegiate compliance departments should be headed by an NCAA liaison who signs off on all department directives.
Each college now pays someone to become intimately familiar with all NCAA rules, including rule changes from season to season. Instead, put the rule-makers in charge.
The NCAA makes money off enforcing rules that are written in legal jargon, and it is the schools that have to foot the bill for comply with rules that are not always black and white.
Under this new arrangement, the NCAA would have to foot the bill and take the responsibility to educate the institutions.
That makes complete sense. If you are working for a corporation, the corporation trains you on its rules and ensures you follow them. If you get written up at work, you don't get written up by some third-party clown that came in to watch you work, you get written up by someone who works for the company and knows the rules. (Usually it's Human Resources, the keeper of the rules.)
If the NCAA wants to make sure people follow its made-up rules, then it should definitely be responsible for making sure that every institution is properly equipped to do so. Besides, what else is the NCAA going to do with its hundreds of millions of dollars, build another headquarters?
9. Bench-Clearing Brawls
Bench-clearing brawls are reviewed on instant replay. The instigating team, if it is possible to determine that from the video, will be awarded an immediate loss and every player on the field at the time the fight started will be suspended for the next game.
Sometimes, it's impossible to determine which team initiated the brawl , since "fighting words" aren't usually caught on video. This would be another instance where helmet communication systems (covered in the next slide) would come in handy.
A little microphone in the facemask would help solve the issue, but we don't want to know everything that's said on the football field, and nobody wants to see football turn into another example of "big brother" always watching.
However, if there is clearly an initiating incident (like a junk punch or eye gouge), and it's obvious on the video who committed the first foul, then this rule would come into play.
While it's a fairly rare occurrence in college football compared to other sports, such as hockey, there is no real recourse available to the referees at this juncture.
They can throw flags all day long, but it ultimately falls on the players, coaches, security and the referees to physically break up the fight.
If there were an immediate loss on the line for either group, then the fighting would probably be even more rare. If a team were getting completely trounced, this might be an incentive to start a fight to end the metaphorical bloodbath.
That's the reason for the one-game suspension for every player on the instigating team's side of the ball. Even if you're playing a money game against a much bigger school, you're probably facing one of your own the next week.
That would be incentive to keep everything civil.
8. One-Way Radio Communication
There should be fair-catch communication via one-way, in-helmet radios. Only the ref could speak to the players. All transmissions would be recorded, so an illegal hit would be indisputable.
The fair-catch rule says that the hand must be raised straight up to signal the fair catch. It has been modified to include everything from a flippant hand gesture to attempting to organize your blockers. (If you communicate with your teammates with your hands, it's an automatic fair catch.)
These rules are all in place to protect the returner, but you can see from the video that the signals aren't always as clear as they should be. I'm not saying that Marquel Wade shouldn't have been flagged. He absolutely should have been.
However, he celebrated what he thought was an amazing hit on a returner that was running forward to catch the punt. Was that Wade's problem for not seeing that he didn't have the ball? Yes. Was that Wade's fault for not seeing the hand signal? It was his responsibility, so it is in that sense.
From the close-up (watched live), you could see that he turned his head slightly to get a read on the blockers. The signal was just barely outside his field of vision, and his head turned back at the exact moment that the signal went down.
He missed the signal completely and got ejected. He definitely learned his lesson, but the crowd and the announcers absolutely raked him over the coals for what he thought was a good hit.
Solution: Put one-way microphones on the referees and earphones in one ear of every player suited up. When the ref sees the signal, he calls "fair catch!" All transmissions are sent to all cameras and are readily available on instant replay.
Any fair-catch signal not obeyed results in an ejection. No excuses, and no mistakes (unless the ref messes it up).
7. Dedicated Camera at Each End Zone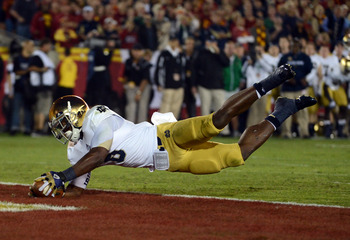 This would have been a bad angle for a pile moving across the line with a tailback in the middle of it.
Harry How/Getty Images
Every now and then, fans get a great down-the-line shot in a goal-line situation. That needs to change from every now and then to always. This is not rocket surgery.
There are so many times that goal-line video could make or break a play, and the team on the wrong end of "after further review, the ruling on the field stands as called" is heartbroken.
The referees do a fine job of making calls, and their hard work is respected. However, they are human, and we have access to HD video cameras that are as detailed as the human eye.
The point is that someone needs to use the zoom feature of his camera to follow the game when it's farther away from the end zone, but he also needs to be ready to quick-zoom out and hit the goal line at a zero-degree angle when the time comes.
6. RFID Tags: Round I
Radio frequency identification tags and copper webbing (to create consistent signal along the entire surface of the ball) should be installed inside the non-kicking footballs between the rubber bladder and the leather covering.
A sensor array should be installed along the end-zone line that is controlled by a foot switch at the goal line, manned by a referee. As soon as a play-stopping whistle blows, the referee would deactivate the system, rendering it incapable of registering a touchdown after the play is ruled dead.
If the football signal crosses the array, a horn or siren goes off and sparks fly from the corners of the stadium behind the scoring end zone.
If the sound and pyrotechnics go off before the whistle, it's a touchdown. In any instant-replay situation, the noise and light show will provide a clear cue from any angle whether the ball was over the line before or after the player was ruled down.
The technology is out there, and it costs virtually nothing compared to what most FBS programs are bringing in annually.
5. RFID Tags: Round II
Two RFID tags with slightly differing ID codes would need to be installed into each ball to be kicked; one in each point of the football. A sensor array taller than the uprights is arranged in the "good" area behind them.
If both tags make it into the array, then the field goal or PAT is good. The touchdown sequence from the previous slide would be initiated. It's simple, cheap, effective and subject to zero human error once it has been installed correctly.
These scoring systems can even have battery backup to prevent a power outage from affecting anyone mid-kick.
4. Offensive Helmet-to-Helmet Penalty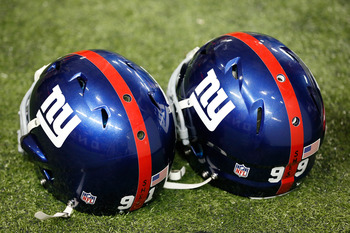 Haha! Helmet-to-helmet...
Kevin C. Cox/Getty Images
The NFL is already working on this, so we can assume that this is going to come to college football soon.
Currently, when a defender goes in to make a tackle and the offensive player lowers his helmet to absorb the blow, the defender is flagged for the helmet-to-helmet contact.
This is ludicrous. If helmet-to-helmet is the issue, then it is a possession-neutral phenomenon. Whoever lowers his helmet second would be at fault.
Seriously, if there are two helmets involved, statistics dictate that the fault should fall somewhere near the 50-percent mark for each side of the equation.
Even if it isn't as close to half-and-half as we'd like to believe, it's definitely not 100-percent the fault of the defender.
This is an easy solution to a grossly obvious issue. College football would do itself a favor by leading the way on fixing this particular problem.
3. Automatic Insurance for FBS Players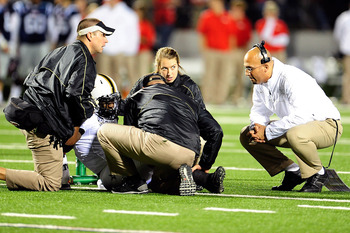 Stacy Revere/Getty Images
So, the NCAA doesn't want to pay players because it would violate its handy-dandy "student-athlete" mythological character. Given the amount of money that a degree costs these days, an argument can be made that the players are getting compensated for what they do.
The one thing that the NCAA can't truthfully claim is that they are allowing their players to be justly compensated. Academic scholarships are equally as valuable, but the risks of being a good student and being a good football player are worlds apart.
Being a good football player requires you to put your body in harm's way during every practice, every game and every road trip to long-distance venues.
Every player should automatically be given an insurance policy for his health. The amount of coverage should be determined by the amount of money made by the school's football program and the player's contribution to said football team.
The price of the insurance premium should be based on playing time, position and frequency of use. (A wide receiver that catches 50 passes per season should cost less to insure than one who catches 100.)
While this policy won't provide players with insurance sufficient to compensate them for future NFL salaries, they will be big enough to ensure that the players can provide a decent quality of life for themselves in the event of a career-ending and debilitating injury.
In the event of a career-ending injury that doesn't prohibit the player from making a living in the real world, the policy should take care of any injury-related medical bills and provide the player with $400,000 in compensation.
If a player elects to take out a bigger policy on himself, then the school will be freed from its duty to provide financial compensation to that particular player. This is about protecting the players, not punishing schools for playing football.
2. Injury Reciprocation
UPDATE: Only players who were flagged for their actions would be subject to this penalty. After much discussion in the comment section, the punishment of a legal hit would move college football toward a horrible future, possibly a flag football-type monstrosity of a sport.)
Any player who injures another player should sit out the same number of plays that the injured player has to sit out. If it is to be longer than the remainder of the current game, then each incident will be evaluated on a case-by-case basis.
If the injury is due to a flagged action, then the player who causes the injury will sit out for no less than the remainder of the current game, regardless of the injured player's status.
It's not the time or place to say whether that was an intentional or unintentional manhandling of Dre Kirkpatrick by Tyrann Mathieu in the included video, but it was illegal.
It's not a matter of punishing players for performing illegal moves, that is accomplished by the flag and penalty. The fact is, if you commit a penalty that costs an opposing player game time, it should cost you game time as well.
It would definitely cut the intentional instances out. Again, whether Honey Badger falls into that category is a debate for another time...or the comment section.
1. Graduated Discipline for Drug Abuse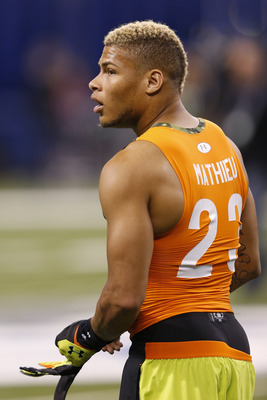 Joe Robbins/Getty Images
Speaking of Tyrann Mathieu, his entire drug situation was grossly mishandled by the LSU program. From the time Mathieu stepped on campus to the time he was kicked off the squad, he reportedly had repeated run-ins with failed drug tests. (In his official statement that's quoted in that piece, he doesn't actually deny having failed 10 drug tests, he just calls out the leaky source as lacking integrity.)
Mathieu likely heard that marijuana would ruin his career, but he kept playing football. He kept showing up to practice, and he definitely showed up for games in 2011. He showed up in games and played well enough to earn a flight to New York as a Heisman finalist.
It wasn't until he was on his last leg that he was punished in a way that actually affected his ability to play for LSU. It's wonderful that teams take care of minor problems in-house.
Kids make mistakes, and making every little mistake affect them for life is the wrong answer. However, suspending players for "an undisclosed violation of team rules" is an easy out for the staff in this situation.
Let the kid do his time quietly, and let him realize that rules are there for a reason. If marijuana is legalized in the future, then go to town. Until then, it's illegal and unaccepted.
Regardless of how much he states that LSU helped him greatly, it didn't dole out the tough punishment. It would have affected the team's win-loss record during the almost-perfect 2011 run.
If you're more concerned about your program than the individual players, you shouldn't be in charge of helping boys grow into young men. Tyrann Mathieu was kicked off the LSU team with few tangible consequences before the final suspension.
This kind of behavior can't continue from an administrative standpoint. It's not right. Best of luck to the Honey Badger in his future, and may this never again happen to a future player.
Keep Reading