Legendary College Football Coaches' Biggest Regrets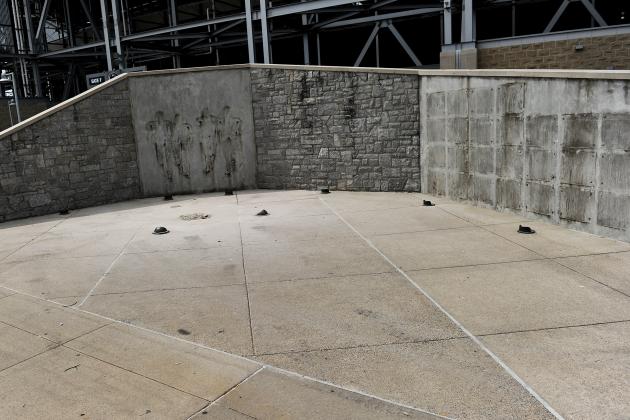 Patrick Smith/Getty Images

In order to become a truly legendary college football coach you have to do a lot of things right. Winning games, championships and accolades don't happen by accident, and sustaining that success long enough to be called a legend involves much more than the average person can ever imagine. But even the great legends of the college gridiron weren't without fault.
No man is perfect, and in today's climate of 24-hour cable news and ESPN and the press hungry to break the next scandal, it's easy to find fault with almost anyone. But what about the coaches of yesteryear? What about those beloved legends?
If these men who became as large as the game itself could change one thing about their careers, what would it be? Here are our guesses about the biggest regrets from 10 of college football's legendary coaches.
Begin Slideshow

»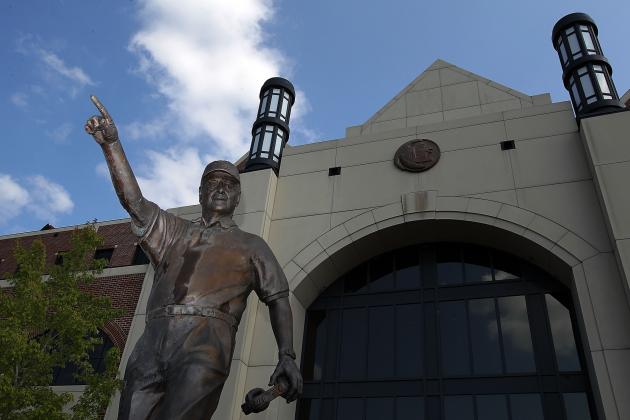 Ronald Martinez/Getty Images

The Florida State University football program under Bobby Bowden could easily be considered one of the first modern college football dynasties. Others have certainly followed, but from 1992 to 2000, Florida State was easily the best football program in the nation year-in and year-out.
The Seminoles never lost more than two games in a season, won two national titles (1993 and 1999) and never finished worse than No. 4 in either the final Coaches' Poll or AP Poll each and every season.
Throughout that run, there were persistent rumors of under-the-table benefits to players led to then-Florida coach Steve Spurrier to rename Florida State University as "Free Shoes Unviersity."
The name caught on.
But that's not the biggest regret for Bowden. You might have thought that the experience and dodging of sanctions during the 1990s would lead to a more thoughtful approach to NCAA rules in the 2000s by Bowden and his staff at Florida State.
And you'd be wrong.
An academic cheating scandal was the final undoing for Florida State and Bowden, who was forced to retire after 34 seasons, 12 ACC championships and two national titles in Tallahassee.
Stephen Dunn/Getty Images

In 16 seasons at Oklahoma, Barry Switzer put together an amazing record of 157-29-4. That run included a mark of 100-11-1 in conference play, 12 Big Eight championships and three national titles. And while he's still easily regarded as one of the true giants of Oklahoma football, he's remembered for something quite different outside of the Sooner State.
During his time at OU, more than a few critics accuse Switzer and his staff of burying their heads in the sand while some football players ran rampant around Norman.
Switzer eventually took the blame because he recruited the players, but also hedged his remarks by saying he felt "used by these four or five kids. They've done me wrong."
Maybe Switzer should have recruited better people instead of going after the best athlete. Maybe he should have been more engaged in what was going on. Maybe he should have chosen his words more carefully. All good possible regrets for Oklahoma's most successful head coach.
Either way, his inability to be "in the know" about his own program leaves his indignation about Penn State's shameful situation seem a little odd.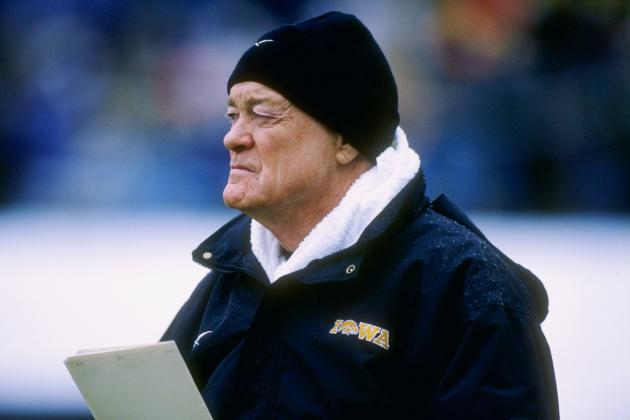 Jonathan Daniel/Getty Images

For all the love Iowa fans shower on Hayden Fry, successful seasons were few and far between for the Hawkeyes under his reign.
Iowa was 143-89-6 in Fry's 20 seasons, and there were but a scant three Big Ten titles—only one of which (1985) was outright. The Hawkeyes finished ranked in the final AP Poll in half of those seasons, but only twice in the Top 10 (1985 and 1991) and both of those teams finished at No. 10 in the nation.
The 1990s saw a decline in both Iowa's success and Fry's ability to adapt to a changing Big Ten style of play. Fry made one last push toward the top of the league standings in 1996, finishing 9-3, but even that was good enough for just a tie for third in the conference.
While contemplating retirement, Fry stuck around for two more seasons—probably outlasting his usefulness. In 1998, Fry finally called it quits after a 3-8 record, which still leaves a bitter taste in the mouths of many.
Fry may unfortunately be remembered as one of those coaches who didn't quite know when to call it a career. Instead of going out at the top of his game, he left with his head hung a little lower than it needed to be.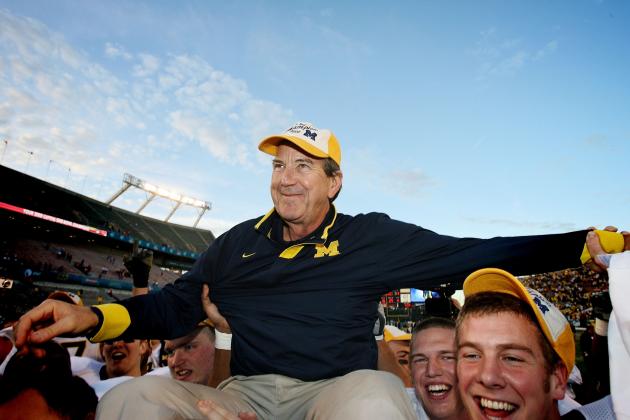 Doug Benc/Getty Images

In the grand scheme of things, Lloyd Carr's 13 seasons at Michigan was a relatively short span for a head coach. But Carr had been on Michigan's staff since 1980, and was a graduate of the Schembechler School of College Football Coaching.
A "Michigan Man" through and through, Carr always prided himself on his program doing things the "right way." The words "Michigan football" and "sanctions" never appeared in the same sentence, and Michigan then, as now, avoided recruits who would bolt the program as soon as NFL eligibility came their way.
Carr's love for Michigan tradition was rewarded, and he guided his Wolverines to a 122-40 record, which included five Big Ten titles and a national championship—Michigan's first since 1948.
Michigan also finished 12 of Carr's 13 seasons ranked in the final AP Poll.
Despite all the success, Carr still takes some heat for his departure. Many thought Carr was losing steam as Michigan's head coach, and his retirement at the end of the 2007 was essentially an open secret for much of the season. To this day, there are still grumblings about the transition from the Carr era to the abortive Rich Rod years.
"[It's] poor recruiting, in my opinion," former Ohio State Buckeye and Detroit Lion Chris Spielmen said in 2010. "I think Carr, to be perfectly honest, left the cupboard bare in his last few years."
Michigan is still feeling the the repercussions today, and Carr probably wishes he had done more to ensure the future success of the program he loves so dearly.
Going for a field goal in the closing seconds against Appalachian State is likely right up near the top of Carr's regret list, too, but we'll leave that discussion for another day.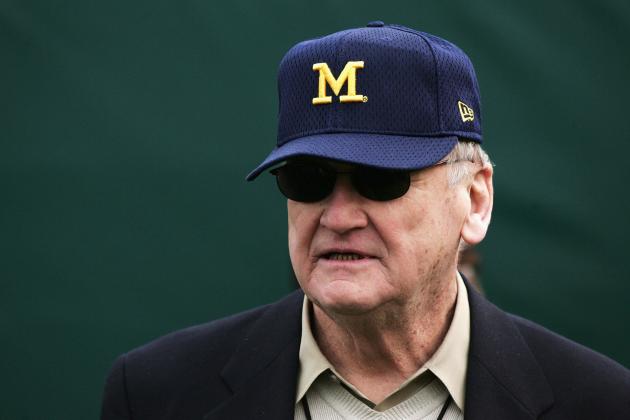 Jed Jacobsohn/Getty Images

Bo Schembechler is still regarded as one of the giants of the University of Michigan, and rightly so. Bo restored Michigan to its past glory and laid the foundation for modern success, including the 1997 national championship team.
The four-time national coach of the year and six-time Big Ten coach of the year led the Wolverines to at least a share of 13 Big Ten titles over his 21 seasons in Ann Arbor, including a surprising upset of heavily favored Ohio State in his first year. That win reignited the furious rivalry with Ohio State and the "Ten Year War" between Schembechler and Ohio State head coach Woody Hayes helped turned Michigan-Ohio State football into one of, if not the greatest sports rivalries in history.
Over Bo's first 10 seasons at Michigan, his Wolverines finished in the final AP Poll's Top 10 every year, and did so 16 times in all. Michigan was ranked in 19 or 21 final AP Polls and appeared in 10 Rose Bowl Games.
Unfortunately, the list of accomplishments ends there.
Schembechler was surprisingly ineffective in bowl games. Michigan lost its first seven bowl games under Bo, and the Wolverines posted a 5-10 postseason mark, including a 2-8 mark in the Rose Bowl Game in his career.
That string of defeats on the biggest stage prevented Michigan from ever bringing home a national championship during what many fans today still see as a "golden age" of U-M football.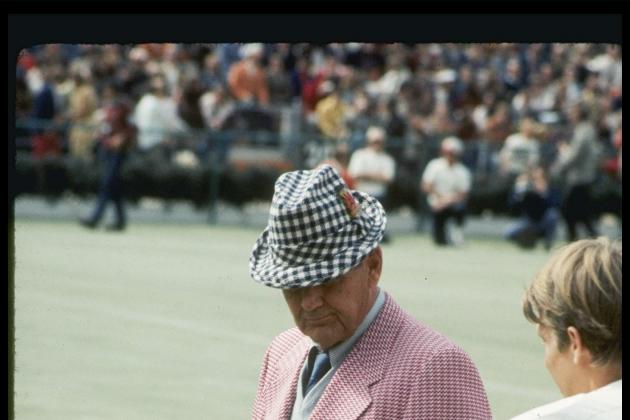 Getty Images/Getty Images

Trying to find anything other than resounding success as a coach is difficult. In his 25 seasons at Alabama alone, Bryant's Crimson Tide won at least a share of 13 SEC titles and claim at least a share of six national championships of one variety or another (only three were "consensus").
Alabama was a crazy 232-46-9 under Bryant, and his legacy of penultimate success lives on today in Tuscaloosa three decades after his all-too-early passing.
But even a man like Bryant is entitled to his regrets, and we'll take the old Bear at his word when he said his "mismanagement" of the career of Ken Hall.
While coaching at Texas A&M, Bryant recruited a player who was perhaps the foremost prospect of his era. Hall could do almost anything a coached asked of him, and usually did—except when it came to defense.
Back in the 1950s, most players played both ways, and although Hall was a kind of offensive wonder, he lacked much defensive talent. His perceived underachievement on defense kept him in Bryant's doghouse, and Hill eventually quit the team.
Hall played for various Canadian Football League and National Football League teams over the years, but never developed into the megastar many expected.
Bryant took full blame for Hall's lack of success, and the guilt stuck with him until his death.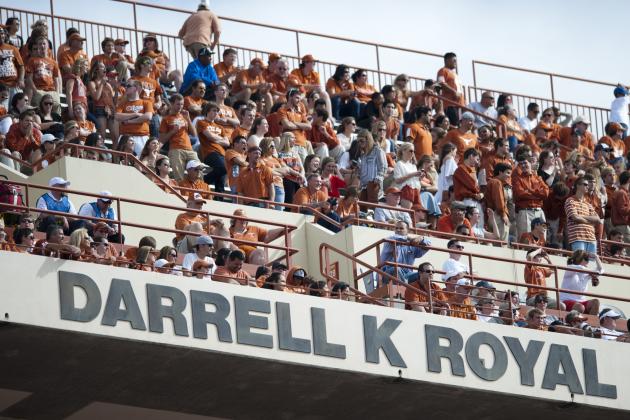 Cooper Neill/Getty Images

During the depths of the civil rights struggle in the United States, many if not most southern college football programs were segregated. Despite some amazing talent emerging from high schools across the south, coaches—particularly at the top programs like Texas—remained firm in their commitment to keeping African Americans off the field.
Darrell Royal was no exception, and under his tenure at Texas, countless football stars left their home state to play in the Big Ten or what is now the Pac-12 simply because southern coaches refused to recruit them.
One particular case is that of Bubba Smith.
A spectacular standout from Beaumont, Texas, Smith was an outcast of sorts when it came to college recruiting in his home state. Royal never even bothered to entertain the idea of recruiting Smith—or anyone who looked like him.
Up north and out west, however, football programs had been integrated for decades. Smith, and many other black players from the south, found a college home in an atmosphere of acceptance away from the segregated south. Smith, who attended Michigan State with several other southern transplants, helped lead MSU to two consecutive national titles in 1965 and 1966.
Texas' record during those same two seasons was a combined 13-8, and the Longhorns finished the season unranked both years.
Smith later went on to star in 21 movies, most notably in the Police Academy films where he played Officer Hightower.
It wasn't until 1970 that Royal decided it was time to put the first black player on the Texas roster. The result? A national title and five of the next six Southwest Conference championships.
Today, football teams in the Big 12 and SEC are as heavily reliant on African American talent as any. If only they had seen the light earlier...
It really doesn't take a rocket scientist to figure out what Woody Hayes likely regrets most about his days as the head football coach at Ohio State.
In Columbus, Hayes is fondly remembered for his 28 seasons as head Buckeye, leading Ohio State to at least a share of 13 Big Ten titles and three AP or Coaches' Poll national championships. His 206-61-10 record still stands as best among Ohio State's list of coaching greats, and he is generally viewed as the man who turned the Buckeyes into a national program.
But once you leave the cult-like insular fandom of Ohio, Hayes' record is a footnote in the history books. Instead, his fiery temper and outlandish behavior becomes the center of the Woody Hayes story.
From throwing punches at reporters, nearly coming to blows with administrators from other programs, tossing down markers at officials like javelins in a rage, to actually punching an opposing player in the throat during a nationally-televised bowl game, Hayes gave new meaning to the term "powder keg."
Despite having been warned numerous times over his tenure about his inability to control his anger, Hayes lashed out against Clemson's Charlie Bauman after a game-sealing interception. What happened next ensured Hayes' dismissal from Ohio State, and without question has to be the most embarrassing and regrettable incident in a turbulent but otherwise successful career.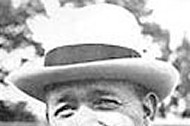 (Photo: Library of Congress)
The name Knute Rockne is synonymous with Notre Dame and success. Rockne posted a record of 105-12-5 with three national titles over just 13 seasons, and had it not been of a plane crash that killed him in early 1931, who knows just how lofty those numbers may have become?
But boarding TWA Flight 599 isn't the kind of regret we're looking for here. Rockne was returning from visiting his two sons who were attending boarding school. The plane's wing came off in mid-flight, and the crash killed all eight people on board.
Rockne never had a losing season at Notre Dame. In fact, he never even had a .500 season. His closest shave came in 1928 when his Irish finished 5-4. Midway through that 1928 season, Notre Dame was losing to rival and undefeated Army. Rockne's halftime pep-talk to his players lives on today as the famed "Win One For the Gipper" speech. Notre Dame rallied to knock off Army, 12-6.
Maybe Rockne never knew of his motivational skill or maybe he just couldn't come up with anything quite as inspiring against lesser opponents in less-critical situations. Either way, the lone mark of mediocrity on Rockne's record likely had him wishing he had given the "Gipper" speech much earlier in 1928.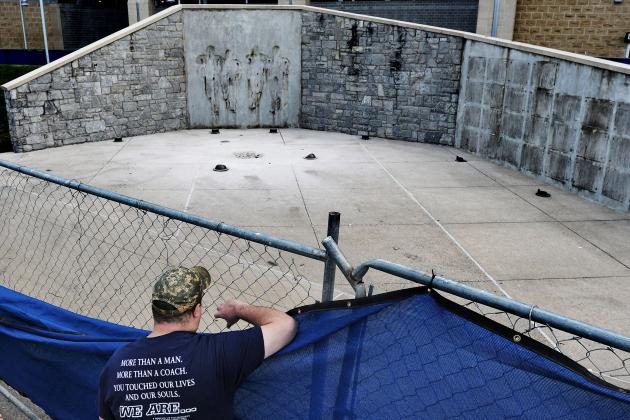 Patrick Smith/Getty Images

There's really no need to rehash everything that has transpired at Penn State over the past couple of years. While many people will bear the scars of this incident for years to come, the college football world is just trying to get past the ugliness of the Jerry Sandusky scandal.
Sandusky had his day in court, was found guilty and rightly sentenced to what amounts to well beyond his lifetime in prison. But what about the legacy of legendary head coach Joe Paterno?
That's a question that can't be answered easily, and certainly can't be settled quickly.
Whether you subscribe to the suppositions made by the original Freeh Report or those of the new Paterno Report, we can sum up JoePa's greatest regret in his own words: "I wish I had done more."
So do we.