Scouting Report, Video Highlights and Predictions for 5-Star RB Sony Michel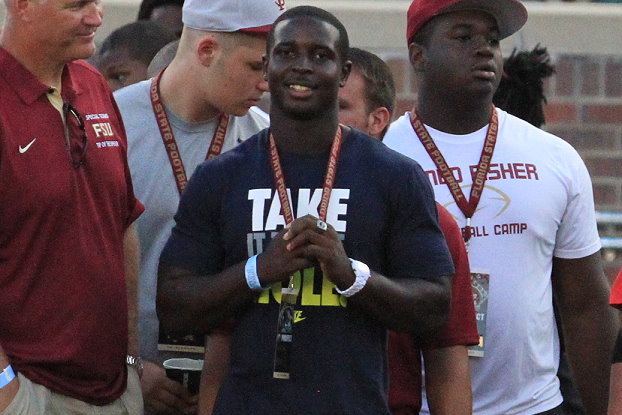 247Sports
Sony Michel is one of the best high school football players in the country and has been a known commodity around the state of Florida since he was in eighth grade. Now Michel enters his senior year as an elite recruit who has a bright future.
As we introduce a new series to B/R content, let's take a look at Michel, an exceptional talent. We'll give you some insight into Michel and give you an evaluation of his strengths and weakness as a player, and that is just the beginning.
We'll also give you some video highlights for those of you who aren't able to see him play in person or those who have just read about him. We'll finish it up with some predictions for Michel's college career and where we think he could sign.
Here's a look at Sony Michel!
Begin Slideshow

»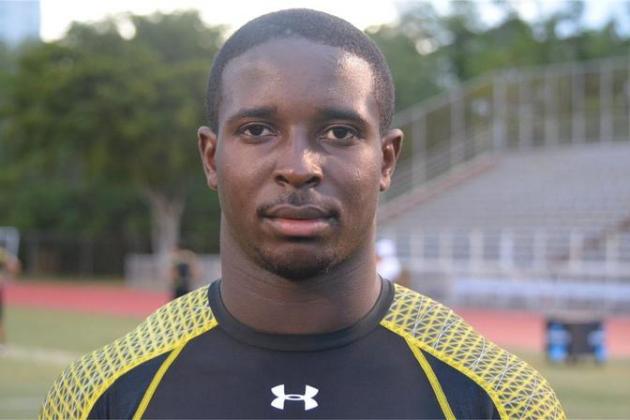 247Sports
Michel is a talented RB prospect from American Heritage, which is located in the Ft. Lauderdale area in Florida. He's been on the track to stardom since bursting onto the scene as an eighth grader.
Michel ran for 1,667 yards and 21 TDs as a freshman against very good South Florida competition. A torn ACL forced Michel to miss his sophomore season.
As a junior, he totaled 1,258 yards rushing and hit pay dirt 18 times. He has already been selected to play in the 2014 Army All-American Bowl and has countless All-American and All-Florida accolades and decorations attached to his name.
Michel is rated a 5-star RB by 247Sports, Scout.com and Rivals.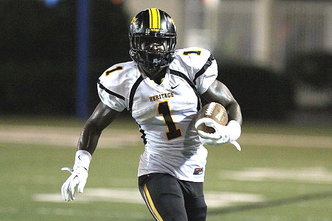 247Sports
Michel is a 5'11", 205-pound RB with very good traits, characteristics and skills. He shows outstanding awareness and instincts when he has the ball, along with a natural feel for the game.
Michel possesses savvy vision and sees backside holes, overflowing linebackers, extra safeties and all immediate and secondary threats consistently. He can run with great explosiveness to and through run alleys and is elusive in both tight space and the open field.
Michel has good strength and will flash some tackle-breaking ability at times. An effective return man, Michel displays great long speed to make big plays.
Another component to Michel's game is that he can really factor in the passing game. This is a guy who can line up in the slot and run a couple of routes like a receiver, catch the ball with his hands and do some damage after the catch.
247Sports
There isn't much to not like about Michel's game. However, he isn't the type of back who's going to push piles consistently and finish with punishing power.
That could hinder him in short-yardage and goal-line situations, but I still believe Michel's strength and power are adequate enough.
He will also need some reps in pass protection and blitz pickup situations. Michel has been used as a primary weapon throughout his career, even on passing downs, so he lacks hold-up and stack technique ability and protection adjustment awareness.
But again, there isn't much to negatively dwell on here.
Here are some video highlights of Michel's junior season. You can clearly see his outstanding change-of-direction skills, speed and all-around playmaking ability.
I'm convinced Michel could be a special back and an immediate impact player in college. The 2013 recruiting class had a very talented group of RB prospects, but Michel would have still been ranked highly among that class too.
Michel ripped up competition around the South Florida area as a freshman. Some of the best athletes in the country play in South Florida, and for Michel to excel as a freshman on that level shows he clearly is a standout player.
Watching this clip, you tend to forget that Michel was just 14 years old at the time. He looks like a senior and is making players three and four years older than him look silly.
Here are some highlights of Michel as a baby-faced eighth grade assassin. He was 5'11", 180 pounds, and if someone would have told me he was a senior on this video, I would have believed it.
Michel is also said to be a very good kid off the field and has leadership traits. He's responsible and has an admirable work ethic.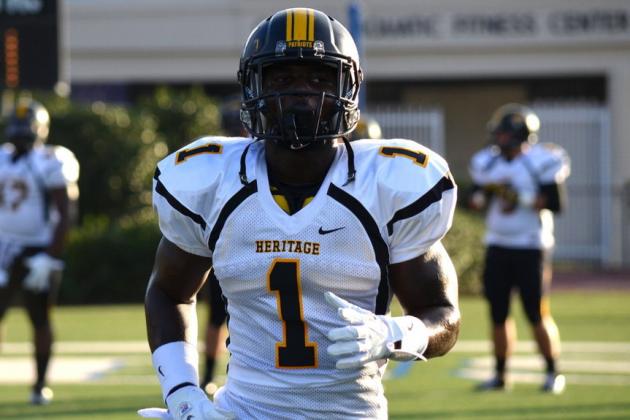 247Sports
The sky is the limit for Michel, as he's been productive against good competition for three varsity seasons now. That is a sign he's going to be productive in college.
Clearly, Michel should be an All-Conference selection wherever he goes. I expect him to make a couple of Freshman All-American lists after the 2014 season, and he will be a multi-year starter.
Should Michel stay healthy, I don't see why he shouldn't be in the NFL after three college seasons. As far as where he ends up, 247Sports reports Georgia and Notre Dame are his leaders.
Right now, I think he ends up at Georgia, but wherever he goes, Michel will be a rock star.
Edwin Weathersby is the College Football Recruiting Analyst for Bleacher Report. He has worked in scouting/player personnel departments for three professional football teams, including the New York Giants, Cleveland Browns and the Las Vegas Gladiators of the Arena League. He spent a year evaluating prep prospects and writing specific recruiting and scouting content articles for Student Sports Football (formerly ESPN Rise-HS). A syndicated scout and writer, he's also contributed to WeAreSC.com, GatorBait.net and Diamonds in the Rough Inc., a college football and NFL draft magazine.