25 Celebrities Who Could Suit Up for a Major College Football Team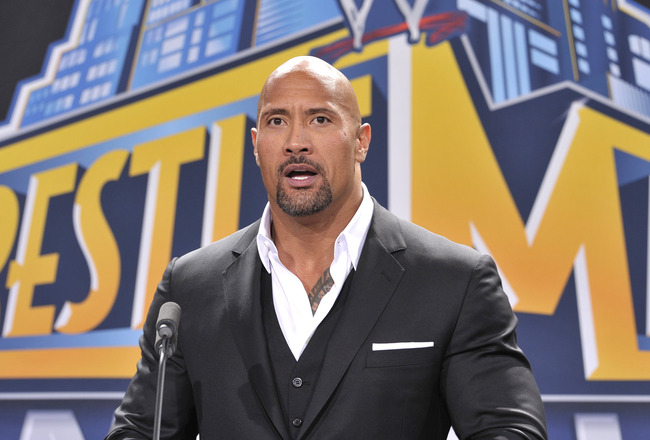 Michael N. Todaro/Getty Images
As if celebrities don't get enough attention, we are going to give them just a little more.
While most celebrities are a far cry from being considered athletes, there are a few who were either athletes before actors or appear to have what it takes to be an athlete.
Playing major college football is certainly not a very easy task, but out of the major sports, it is without question the easiest to pick up with no prior experience.
A little size and speed can go a long way.
Here are 25 celebrities who could suit up for a major college football team right now. Just how successful they might be is a whole different topic.
Please take the list with a grain of salt. These are just the athletes most likely to suit up for a major college football team.
*All FBS teams are considered major college football teams.

*Actors who were college football players at some point are included in the article also.

Honorable Mentions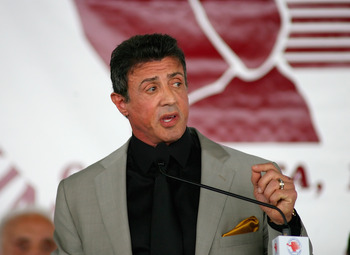 Rick Stewart/Getty Images
Here are five celebrities who are 65 years or older, but would have definitely been on the list, had it been compiled a few decades ago.
Carl Weathers: Known for playing Apollo Creed in the Rocky films, Weathers is now 65 years old and a little past his prime.
Ed O'Neill: Perhaps better known as Al Bundy, O'Neill had quite a successful football career at Youngstown State as a defensive lineman before being cut by the Pittsburgh Steelers. At 66, he is well past his prime, however.
Burt Reynolds: Believe it or not, Burt Reynolds is 77 years old and starred as a running back before being injured in a car accident, effectively ending his college career.
Arnold Schwarzenegger: In his prime, there were few people in the world who would want to go up against this guy. Now 65, Arnold is a little too old to take the football field.
Sylvester Stallone: Stallone was made famous for the Rocky movies and, back then, he was built like a ton of bricks. Now, the 66-year-old Stallone is just a little too old.
No. 25 Adam Sandler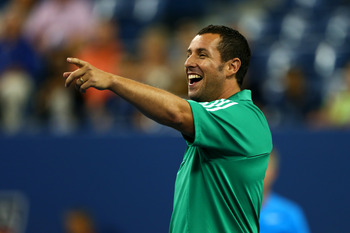 Alex Trautwig/Getty Images
Even though he might seem like a complete joke to most, Adam Sandler is not a bad athlete.
He dominated the collegiate ranks in The Waterboy, and could be an intimidating force from the linebacker position for a major college football team.
Sandler is clearly not the biggest guy in the world, but his combination of average size and slightly below average speed is more than made up for with his ability to hit very hard.
For those reasons he kicks off the list at No. 25.
No. 24 Christian Bale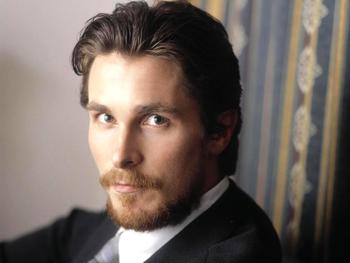 http://www.goodywebs.com/2012/12/christian-bales-body-transformation.html
Anybody who can transform his body like Christian Bale has to have some form of athletic ability.
What Bale had to do for certain movies—as far as losing weight and then putting it back on—is nothing short of spectacular.
The position for Bale might be a bit of a question mark. He would likely end up somewhere in the secondary.
No. 23 Bow Wow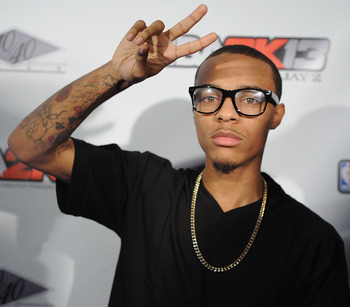 Dimitrios Kambouris/Getty Images
This little man has shown his skills at some of the NBA celebrity All-Star games.
While he would be very undersized, his skills compare to those of Oregon star running back De'Anthony Thomas, just on a much lower level.
A scatback position would definitely fit his skill set best, and with his speed he could also double as a kick returner.
Just how many hits he could take from college athletes is the biggest question with the star rapper.
No. 22 Jean-Claude Van Damme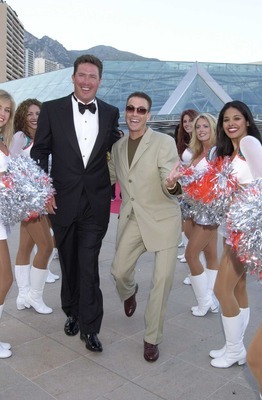 Pool/Getty Images
Jean-Claude Van Damme looks tiny in his picture with Dan Marino, but he is as tough as they come.
At 52 years of age, he is one of the older players on the list, and if mixed martial arts factor into football at all, he would be near the top of the list.
His career record as a kickboxer is 18-1. This is certainly a guy players would not want to mess with.
Maybe with the kickboxing skills he has, he could be a kicker at the collegiate level.
No. 21 Woody Harrelson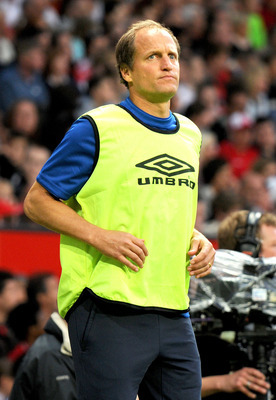 Shirlaine Forrest/Getty Images
Woody Harrelson is best known for his roles in Cheers and White Men Can't Jump.
He has proven himself to be a decent athlete over the years. At 51, Harrelson is well past his best years, but for a snap or two, he could get on the football field and compete.
One position that might fit him rather nicely is strong safety. Run stopping might be a strength of his.
No. 20 Ryan Reynolds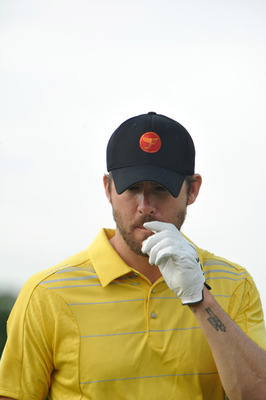 Gareth Gay/Getty Images
Ryan Reynolds makes the list simply because he looks like an athlete. He is absolutely jacked and was born in Canada. That has to be good for something. Canadians are as tough as anybody.
While he might not quite have the size to be a tight end, that position might be the best fit for him.
One thing is certain, Reynolds would gain quite a following with the ladies, no matter what college team he was on.
No. 19 Kevin Costner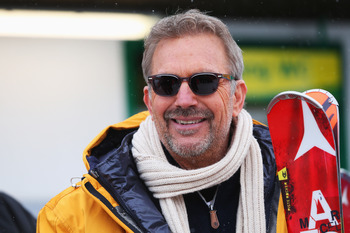 Alexander Hassenstein/Getty Images
Kevin Costner is one of the oldest celebrities on the list, and at 58, a snap or two might be all that he can handle.
While he does not particularly have a sports background, he can be seen playing regularly in celebrity golf tournaments.
Costner has also starred in movies such as Field of Dreams and Tin Cup. He showed off a little bit of athleticism in both of those films.
Linebacker seems like the perfect fit for Costner.
No. 18 Nelly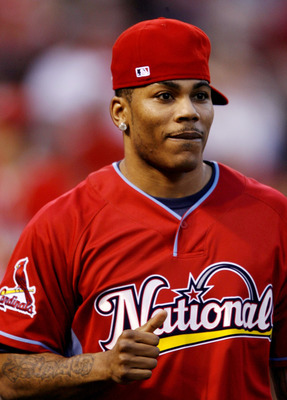 Dilip Vishwanat/Getty Images
Nelly was quite the athlete in his day. He has shown off those talents in the NBA celebrity All-Star game as well as celebrity All-Star softball games over the years.
The best sport for Nelly in high school was certainly baseball, as he was a star, attracting attention from scouts of the Pittsburgh Pirates and Atlanta Braves.
With his size and speed, Nelly would make a perfect receiver at the collegiate level.
No. 17 Denzel Washington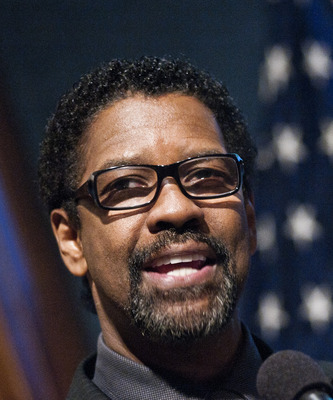 Kris Connor/Getty Images
The list would not be complete without the man himself, Denzel Washington.
Even though he is one of the oldest people to crack the top 25 at age 58, Washington is not somebody to be messed with.
He is not on the list just because of his talents as an actor, but back in the day he had a little bit of athletic ability of his own.
Washington played collegiate basketball at Fordham for P.J. Carlesimo. He was a guard in basketball and, similar to Nelly, would be best suited to play wide receiver for a major college program.
No. 16 Mr. T
Brian Tietz/Getty Images
Speaking of somebody not to be messed with, Mr. T is certainly at the top of the list.
In high school he was known as Laurence Tureaud and only played the manliest of all sports, participating in football, wrestling and martial arts. He was the city champion wrestler back-to-back for three years in Chicago and went to Prairie View A&M on a football scholarship.
His stay there did not last long, as he was kicked out of the university after his freshman season.
That means he certainly has eligibility left. The defensive line is definitely where he belongs.
No. 15 Paul Walker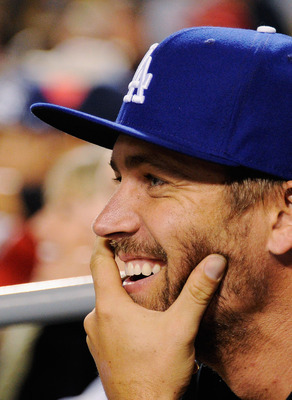 Kevork Djansezian/Getty Images
Paul Walker is clearly not as young as he was when he starred on Varsity Blues, but the 39-year-old might still be able to sling it like his days as a high school quarterback in Texas.
Walker has the look and build of a quarterback. At 6'1", he might be slightly undersized for the quarterback position.
But, then again that is exactly what everybody said about Drew Brees.
Walker might just have the skill to get on the field at the major college level.
No. 14 Wesley Snipes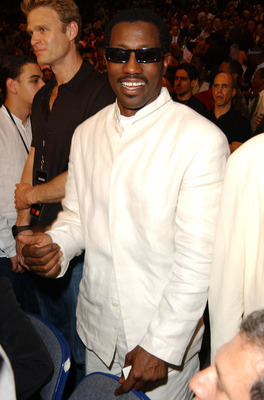 Robert Mora/Getty Images
Wesley Snipes starred with Woody Harrelson in White Men Can't Jump, but that is not why he is on the list. He has also been involved in martial arts since the age of 12.
He has a fifth degree black belt in Shotokan karate and a second degree black belt in Hapkido. He also has training in a number of other disciplines, including kung fu.
Even though Snipes is 50, he is as physically fit as they come and would be great as a pass rushing defensive end, even if he might be a little short.
No. 13 Matt Damon
Al Messerschmidt/Getty Images
Matt Damon has played an athlete before as he starred as a rugby player in Invictus.
He hails from Boston, and we all know just how tough most people from up there are.
Damon is not huge, but he is built quite well. I could see him putting on a few pounds and possibly playing fullback at a major college football program.
No. 12 James Van Der Beek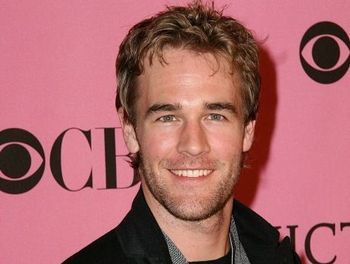 http://screenrant.com/james-van-der-beek-dont-trust-the-bitch-in-apt-23-mssny-102033/
When Paul Walker went down with an injury on Varsity Blues, the man who took over was James Van Der Beek.
He showed just how much talent he had, at least as an actor, and that might be able to translate to the major college level.
Van Der Beek is also slightly undersized, but might be talented enough to play quarterback at the collegiate level.
No. 11 Ice Cube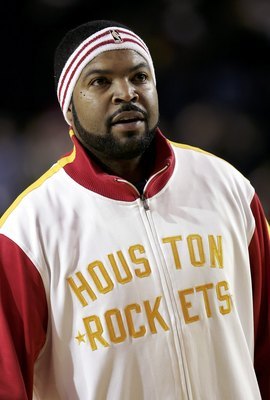 Ronald Martinez/Getty Images
Ice Cube has shown his talents in a number of different venues over the years.
While he specializes in basketball and has been known to knock down a few shots in his day, Ice Cube is also very talented on the baseball diamond and even the football field.
He could probably play a number of different positions on the football field, but might be most suited for running back.
No. 10 Will Smith
Elsa/Getty Images
Will Smith has enough size to play along the line for a major college team.
Anybody who saw the movie Ali can attest to that. At 6'2", Smith is one of the tallest celebrities on the list and, as he proved in Ali, he can put on some serious weight when necessary.
Add a few pounds to this guy and throw him in at the defensive end position. He might not do a bad job.
No. 9 Matthew McConaughey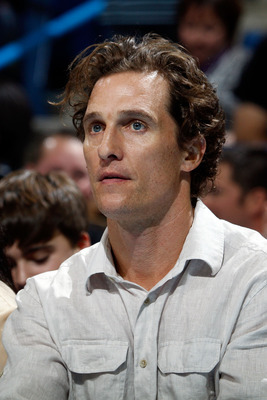 Chris Graythen/Getty Images
Few celebrities love their sports quite like actor Matthew McConaughey. He appears to have quite an arm. He displayed that while throwing out the first pitch at a Los Angeles Dodgers game and also on the sidelines of Texas Longhorns games.
He is only about 6'0" tall, but with the cannon arm he has, there might not be a celebrity on the list more suited to play quarterback at the major college level.
No. 8 Master P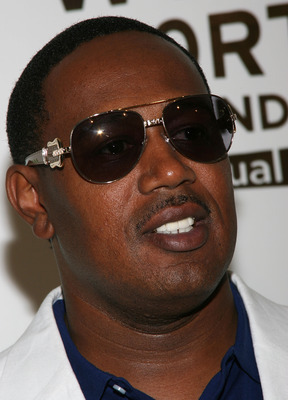 Frederick M. Brown/Getty Images
There might not be a player on the list who has been closer to playing professionally at any sport than Master P.
The rapper had a contract with the Charlotte Hornets in both 1998 and 2001 and the Toronto Raptors in 1999.
He also saw time in the CBA and the ABA. If he can do it on the basketball court, there is a great chance it could translate to the collegiate level.
Wide receiver would certainly be the position of choice for Master P.
No. 7 Channing Tatum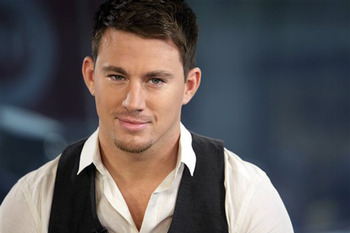 http://blissbubbley.blogspot.com/2012/11/the-friday-file-13-channing-tatum.html
Channing Tatum is known for having quite a body, and even though he is not as big as some make it out to be, he has the athletic ability to play at the collegiate level.
He has shown off his athletic ability in nearly every movie he has been in, but the one at the top of the list is Step Up.
Tatum was quite the athlete growing up. He participated in football, soccer, baseball, track and martial arts. He went to Glenville State College in West Virginia on a football scholarship, but dropped out.
At 6'1" and with his build, he could be a wide receiver at the collegiate level.
No. 6 Mark Wahlberg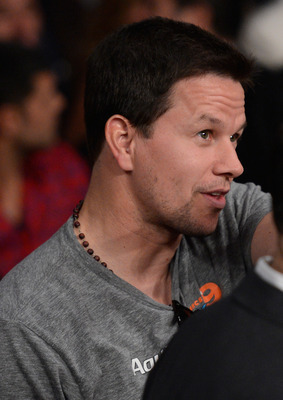 Kevork Djansezian/Getty Images
Born and raised on the mean streets of Dorchester in Boston, Mark Wahlberg was the youngest of nine kids.
Toughness is something that comes naturally with this guy. Judging by his police record, that is hard to dispute.
Wahlberg starred in the true life story of Vincent Francis Papale in the movie Invincible as a gunner on special teams who made it with the Philadelphia Eagles.
The movie showed off his skills, and even though he is only 5'8", this guy could certainly be a slot receiver. He is definitely not afraid to take a hit over the middle.
No. 5 Lou Ferrigno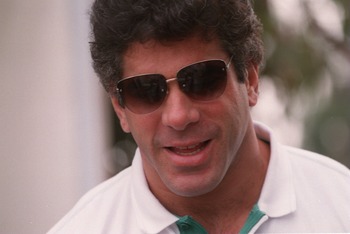 Holly Stein/Getty Images
Lou Ferrigno is 61 years old, but the retired professional bodybuilder could mix it up along the defensive line for at least a few plays.
The 6'5", 285-pound Ferrigno would certainly be a space eater in the middle. He has the size of most defensive tackles in major college football.
Even if he has never touched a football before, Ferrigno would be a solid defensive tackle, even at the age of 61.
No. 4 Mark Harmon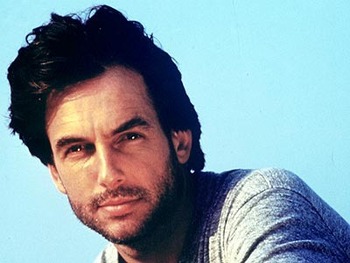 http://www.people.com/people/gallery/0,,1113899_612349_617270,00.html
Mark Harmon might not be a household name with the younger crowd, but the actor who currently stars on NCIS spent his college days as a quarterback for the UCLA Bruins.
Even though he is now 61 years old, this guy might still be able to get it done under center. If he was a little younger, he might be No. 1 on the list.
He has great bloodlines, as his father Tom Harmon won the Heisman trophy at Michigan in 1940.
After two years of junior college, Harmon started for UCLA in 1972 and 1973, posting a 17-5 record in two seasons.
No. 3 Snoop Dogg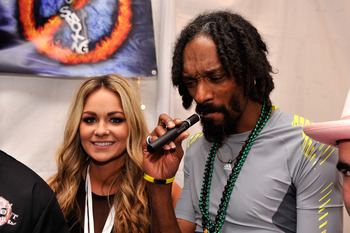 Stephen Lovekin/Getty Images
Snoop Dogg can flat out go get it from the wide receiver position. He has perfect size for a wideout.
The 6'4" lanky receiver played semi-pro football for some time, and even though he is 41 years old, he is still very much involved with the game.
He has been coaching his son since he was young and will likely be watching him play some day at a big-time college program.
Snoop Dogg himself might just have the talent to join him.
No. 2 Dean Cain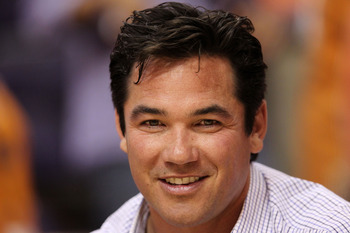 Ronald Martinez/Getty Images
Many people may not be aware of it, but the man known as Clark Kent was quite the athlete in high school.
He turned down 17 different scholarship offers and decided to take his talents to Princeton, where he starred in volleyball and as a safety on the football team.
Cain set the career record for interceptions in a single season at Princeton and signed with the Buffalo Bills as a free agent. He never played after suffering a career-ending knee injury, but there is no doubt that Superman could star at the collegiate level, even today as a 46-year-old.
No. 1 Dwayne Johnson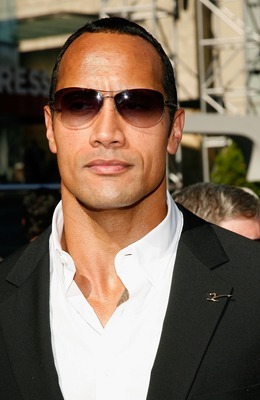 Vince Bucci/Getty Images
Dwayne Johnson has already starred at a major college football program, so why not make him No. 1 on the list?
Known as "The Rock," Johnson played defensive tackle for Miami from 1991-1995, playing on the 1991 national championship team. An injury sidelined him in 1992 and he eventually lost his starting job to Warren Sapp.
He spent two months with the Calgary Stampede of the Canadian Football League in 1995.
At 6'4" and 265 pounds, there is no doubt he could step right in and play at defensive tackle, even at the age of 40.
Keep Reading