10 Spring Football Scrimmage Games We Would Love to See
Jamie Sabau/Getty Images
College football teams are now hitting the practice fields again for a spring filled with scrimmages, mat drills and up-downs.
For those of you with an appetite for football, this is the appetizer preparing you for the prime rib entree that is to come in the regular season.
The 10 teams on this list are holding the spring practices, complete with scrimmages, that we would like to see in person if we could.
There are several others that might be entertaining, including places such as Michigan, Florida and even Florida State, where there are some major questions to be answered this spring.
However, the 10 chosen are the 10 we want to see.
10. Washington State Cougars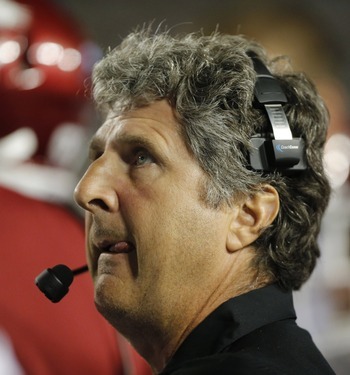 George Frey/Getty Images
It's as simple as this:
Mike Leach is the head coach of Washington State, and with Mike Leach comes all kinds of excitement.
Leach is great in front of a camera, but he's a good coach, too, something we tend to forget when he is snapping off witty one-liners.
His offense, a wide-open style that utilizes multiple receivers and many passes, is extremely entertaining.
Washington State is currently bereft of the talent needed to run this offense effectively once the season starts, but the opportunity to see Leach's system at work in a practice is too good to pass up.
9. Arkansas Razorbacks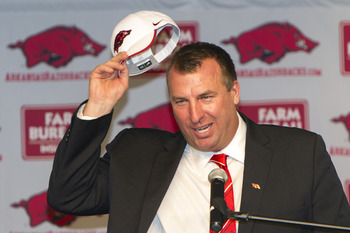 Wesley Hitt/Getty Images
Bret Bielema has taken his power as head coach at a major college program, and used it to close spring practice.
That's fine. It's his right, and isn't the first time something like this has happened in the college football universe.
That said, hearing this practice is closed makes us curious. What will Arkansas look like in 2013?
Bielema's offense at Wisconsin was a pro-style filled with power-rushing plays, play action and pre-snap shifts.
How much of that will be implemented this season, and who will be running it? Tyler Wilson, Dennis Johnson and Cobi Hamilton are all gone, as is Knile Davis.
Things are especially unsettled at the quarterback and running back positions.
Brandon Mitchell, Brandon Allen and Taylor Reed will be competing for the starting quarterback duties, with Reed boasting the most experience in a Bielema-style offense and Mitchell boasting the most talent and raw potential.
At running back, somebody has to replace Johnson and Davis.
Watching the competition at these two positions in spring practice scrimmages would make it worth the price of admission.
8. TCU Horned Frogs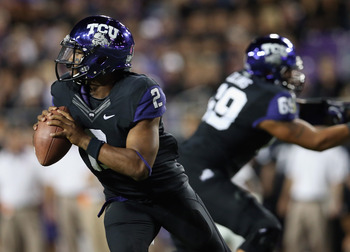 Ronald Martinez/Getty Images
The Horned Frogs are an interesting team going into the 2013 season.
Quarterback Casey Pachall, who finished rehab and is now back with the TCU football program, will be fighting for his starting position with the man who took his place last season, Trevone Boykin.
Each of them has specific strengths, and the battle for the starting job could last late into the fall, but Pachall was the starter to begin with for a reason and should be able to win back his position.
However, the entertainment provided during scrimmage with one of these guys on each team would be well worth watching.
7. Miami Hurricanes
Joel Auerbach/Getty Images
You chuckle and scoff, but in spite of NCAA issues, Al Golden has this team heading in the right direction.
The team is stacked with talent and speed, and finished last season tied for the ACC Coastal division lead.
Ten of 11 starters are returning on offense, including Duke Johnson at running back, who has some under-the-radar Heisman potential.
The reasons for watching spring practice in Coral Gables would be twofold:
1) To see if a defense that ranked last in run defense, pass defense, total defense and near the bottom of the conference in sacks can be worse than last season.
2) To get an early look at the offense and see what it's ceiling might be.
Also of note, finding out whether Al Golden ever wears anything other than a white dress shirt and orange tie.
6. Wisconsin Badgers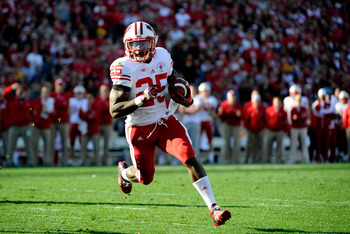 Robert Laberge/Getty Images
For the first time since 2006, Wisconsin will take the field without Bret Bielema leading the way.
Say what you will about Bielema and his coaching abilities, he led the team to a 68-24 record and three straight conference titles.
The Badgers head into their first spring practice under Gary Andersen with all kinds of questions.
Will Melvin Gordon or James White be the premier running back in 2013?
Who will start at quarterback?
Who will anchor a defensive line that has failed to be overly productive in recent seasons?
What kind of offensive changes will we see out of the Badgers?
Some of those answers could be had by watching spring practice scrimmages, as well as the opportunity to get a look at the Badgers' promising 2013 team.
5. Oklahoma Sooners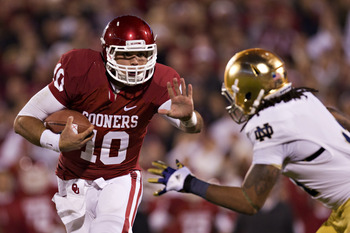 Wesley Hitt/Getty Images
It's a sign of the standard of excellence Bob Stoops has set for the Sooners that they finished 10-3, and still Stoops went out and got three new coaches for his staff.
Bill Bedenbaugh was lured from West Virginia to coach the offensive line, Jay Boulware came from Wisconsin to coach tight ends and special teams and Jerry Montgomery came over from Michigan to coach the defensive line.
So you can expect the spring will consist of everybody trying to get on the same page.
The biggest question of spring practice will be at quarterback, where Blake Bell, with 107 yards passing last season, is the team's leading passer.
Will Bell be good enough to lead the offense? It's loaded with four returning offensive linemen, running backs Damien Williams and Trey Millard and receivers Jalen Saunders, Sterling Shepard and Trey Metoyer.
Watching to see if Trevor Knight or Kendal Thompson can overtake Bell might be the most entertaining part of spring practice in the Big 12.
4. Texas A&M Aggies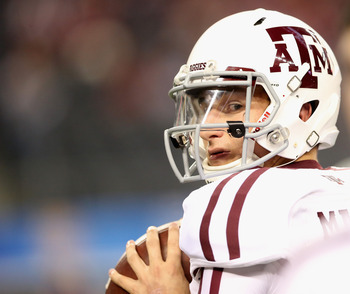 Ronald Martinez/Getty Images
Offense is not going to be a problem for the Aggies, even with the departure of offensive coordinator Kliff Kingsbury.
Heisman-winning quarterback Johnny Manziel will take a break from the party that is his life to play football, 2012's leading receiver Mike Evans is back, as is a stable of talented running backs led by Ben Malena.
This offense will provide plenty of fireworks from the opening drill of spring practice.
That would be fun to watch.
On the flip side, how in the world are the Aggies going to get any better on defense?
The unit allowed 390 yards per game last season, and it's three best players, defensive end Damontre Moore and linebackers Sean Porter and Jonathan Stewart, are all gone.
In spring practice, it will be interesting to see who steps up to fill those gaps, and whether they have any luck against their own potent offense.
3. Ohio State Buckeyes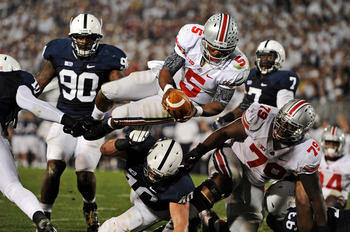 Patrick Smith/Getty Images
Urban Meyer's fingerprints can already be seen all over this team.
In his second season, the team is the favorite to win the Big Ten, and possibly repeat a perfect regular season en route to a BCS title game appearance.
The schedule is not particularly difficult, and the Buckeyes have some time to acclimate their new starters, particularly on defense before the meat of the schedule.
If the chances of seeing a national championship-caliber team in training is not enough to entice you to visit the Buckeyes at practice, Braxton Miller should be.
The OSU quarterback is going to be one of the favorites to win the Heisman Trophy, and will no doubt fill the highlight reel again next season.
Watching him at work, even in spring practice, is worth paying the price of admission.
2. Alabama Crimson Tide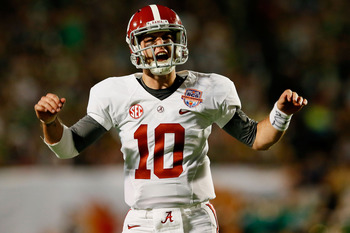 Kevin C. Cox/Getty Images
If you want to see the best team in the nation at work, spring practice led by the incredible Nick Saban should do the trick.
The Tide are in the middle of the greatest run in the BCS era coming off back-to-back national titles, and are primed for another one with 14 starters returning.
We often talk about the Tide and their defense, but it's the offense that seems set to tear things up in the SEC next season.
The offensive line is deep, if not as talented as last season, and will pave the way for a punishing rushing attack, as well as A.J. McCarron and a potent passing attack.
Spring practice in Tuscaloosa is the place to go, especially to see a piece of college football greatness in the process of being developed.
1. Oregon Ducks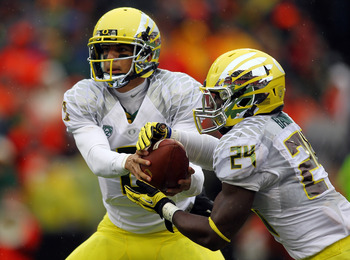 Jonathan Ferrey/Getty Images
Every fan of the Pac-12 has to be wondering whether Chip Kelly's departure will have a negative impact on the Oregon Ducks.
The team has carried the flag for the conference for the past several seasons, going to a BCS game in every year of Kelly's tenure.
But now he is gone, Mark Helfrich is at the helm and change is a comin'.
Marcus Mariota and De'Anthony Thomas are back, along with wide receiver Josh Huff and much of an offense that was among the best in the nation last season.
That offense is fun to watch, even if it is during a scrimmage.
On the other side of the ball, the secondary looks solid, but the front seven has some questions.
Kiko Alonso, Dion Jordan and Michael Clay are all gone and will have to be replaced.
Keep Reading