Power Ranking the 10 Best QBs of the BCS Era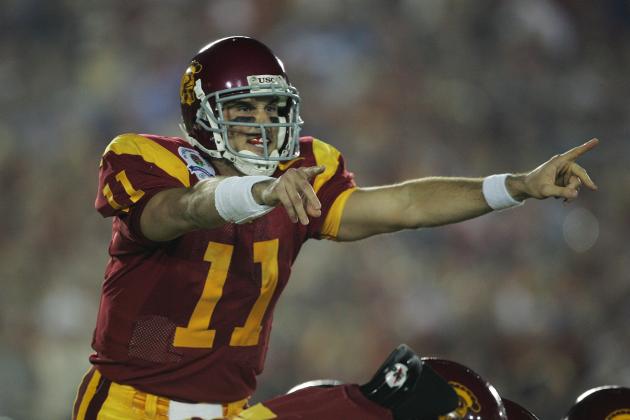 Stephen Dunn/Getty Images
Former USC QB Matt Leinart
The BCS era, which began in 1998, has produced some of the most electrifying quarterbacks in the history of college football.
A common theme has been dual-threat stars, yet plenty of pocket passers have made their marks on the game as well.
Out of the many ways to judge a quarterback, this list settled on statistics, wins and award recognition as the determining criteria. What a quarterback accomplished after college football has no merit here.
As always, some fanbases will vehemently disagree with one of their players being lower than they'd like or left off altogether. Others will nod in approval at a former star being spotted favorably.
Not everybody will agree with the order or inclusion/exclusion of a particular player, but that's part of the fun, so let the debate begin!
Here are the 10 best quarterbacks of the BCS era.
All statistics via sports-reference.com
Note: The final few spots were extremely tough. The following players were very deserving but ultimately left off: Jason White, Ken Dorsey, Carson Palmer and Andrew Luck, in no particular order. A case could be made for each one of these players along with countless others, and I look forward to the ensuing debate!
Begin Slideshow

»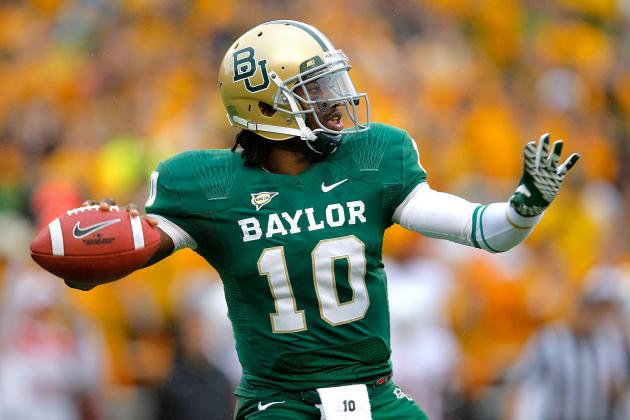 Sarah Glenn/Getty Images
RGIII
Robert Griffin III just barely wiggled his way onto this list, and his final two seasons had a lot to do with it.
RGIII took home the Heisman Trophy as a senior in a season that saw him throw for nearly 4,300 yards and 37 touchdowns. He added 10 TDs on the ground to go along with 699 yards rushing.
For his career, Griffin III threw for over 10,000 yards and had a remarkable 78-to-17 touchdown to interception ratio.
He may ultimately be remembered for his goofy socks, but I choose to think back on the countless times that he dazzled the crowd with his legs and arm. Though it took him a couple years to develop into the complete weapon, Griffin is one of the more dangerous dual-threat quarterbacks to ever play the game.
He also played on a historically lousy Baylor team and turned them into a squad able to compete with anybody. That he didn't get a chance to shine on a BCS stage hurts him a little bit, but Griffin turned around an entire program and his speed changed the way people look at the quarterback position.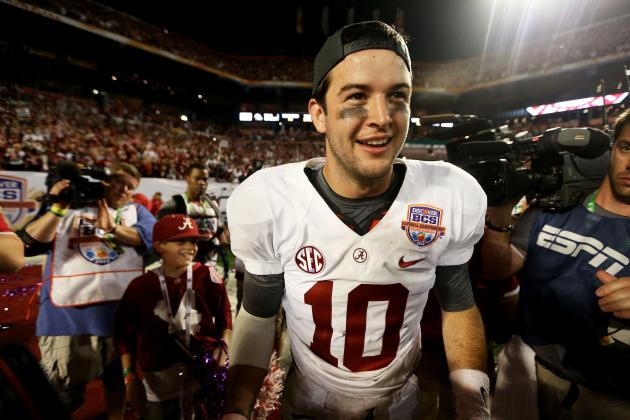 Streeter Lecka/Getty Images
AJ McCarron
To the skeptics, let me say this: two losses in his first two seasons as a starter. Two BCS championship game victories. A total of 49 touchdown passes and just 8 picks, including a 30/3 ratio this past season. Oh, and he's completed nearly 67 percent of his passes.
If you still need convincing that McCarron belongs on this list, I don't know what else to tell you.
I get that he plays in an offense that rarely airs it out west-coast style, but if you still see him as a game-manager then you haven't been paying much attention to the game.
Sure, he has a variety of elite offensive weapons around him, but his accuracy and ability to perform under pressure is second-to-none. He completed a cool 20-of-28 passes against Notre Dame for 264 yards and four touchdowns. That was against the same defense barely giving up 10 points per game heading into the matchup.
He has over 5,500 yards passing over the past two seasons, and his game-winning drive against LSU won't be forgotten anytime soon down in Tuscaloosa.
When his career is over, McCarron may very well be looking down at every other player on this list. For now, he'll have to live with the nine spot and his two crystal trophies.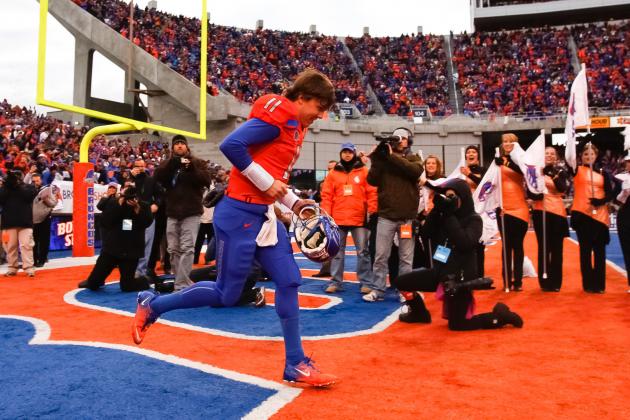 Otto Kitsinger III/Getty Images
Kellen Moore
The inferior competition that quarterbacks from non-BCS schools face makes it hard for any of them to find a place on these lists.
Kellen Moore, the all-time wins leader with 50, is an exception.
Moore dominated the game during his four years as Boise State's quarterback. As a redshirt freshman, he led his team to a 12-1 record including a win against the Oregon Ducks in Autzen Stadium.
His Broncos won three straight bowl games from 2009-2011, including a Fiesta Bowl victory against TCU.
Moore beat the the Ducks twice and earned victories against both Virginia Tech and Georgia in what were essentially road games.
For his career, Moore had 14,667 yards passing and 142 touchdowns, gaudy numbers by any measure. His TD/INT ratio of 39-to-3 he put up during his sophomore season is something that most players don't even dream about.
Moore might not have played in as many big games as some of these other quarterbacks, but he won the ones he did play in and put up spectacular numbers to boot.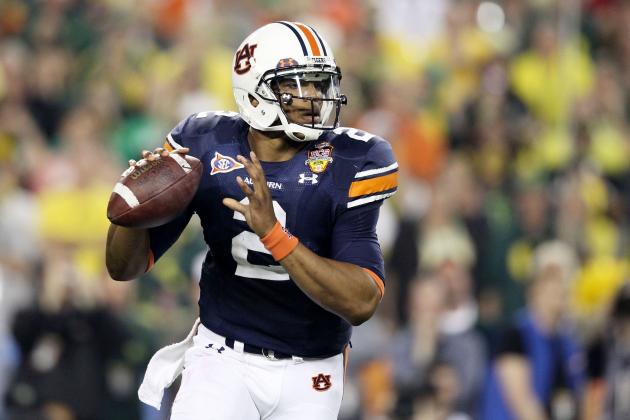 Christian Petersen/Getty Images
Cam Newton
It would take a truly historic year for someone to make this list despite having started just one full season.
Welcome to Cam Newton's world in 2010. The junior college transfer who began his career at Florida took the college football world by storm on his way to winning the Heisman Trophy.
His Auburn Tigers went undefeated and beat the Oregon Ducks in the BCS championship game. Perhaps even more impressive was the comeback victory over Alabama in the Iron Bowl. The Tigers overcame a 24-0 second-quarter deficit to win 28-27 and extend their undefeated season.
Newton threw for 2,854 yards and 30 touchdowns during the 2010 season with just seven interceptions. He added nearly 1,500 yards on the ground to go along with another 21 touchdowns as well.
Simply put, Cam Newton changed college football. Never before had a player with so much size and strength combine passing acumen with bulldozing running ability. Newton was an elite passer rarely brought down by the first defender in the open field.
Had he played more than a single season, he would be much higher on the list. As it is, his incredible 2010 campaign lands him the seventh spot here.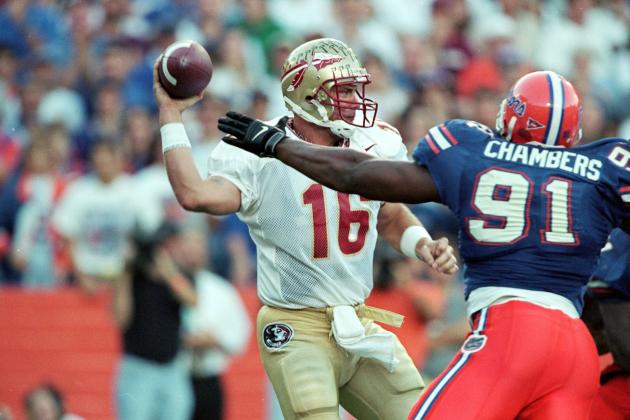 Andy Lyons/Getty Images
Chris Weinke
Chris Weinke was 25 years old when he joined the Florida State Seminoles. The old man then went on to have one of the best careers in college football history.
He began his career by going 9-1 before getting injured. Upon his return, Weinke picked up right where left off, leading the Seminoles to an undefeated season in 1999 and a national championship victory.
He became the oldest Heisman Trophy winner ever in 2000 after leading his team to another title game appearance, though this time they failed to bring home the trophy.
Still, his overall mark of 32-3 as starter puts him right up there with some of the all-time greats. He threw for nearly 10,000 yards and 79 touchdowns during his time at Florida State, marks made even more impressive when you consider the fact that he reached them in just three seasons.
Weinke joined the game at the birth of the BCS era, and his career left a legacy that will be remembered forever.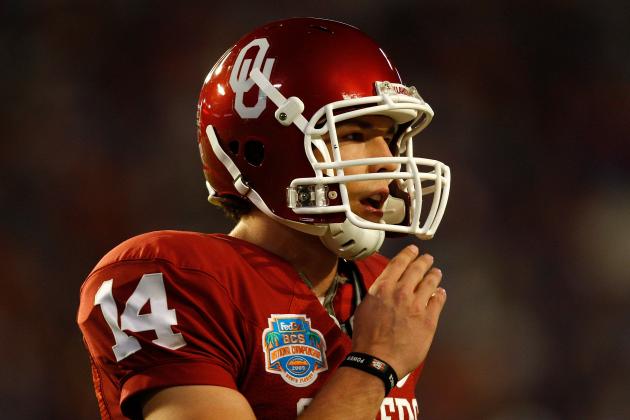 Marc Serota/Getty Images
Sam Bradford
Sam Bradford became a forgotten man after injuring his shoulder in a season-opening loss to BYU in 2009. But he'll forever be a part of college football lore for what he accomplished during his freshman and sophomore seasons.
In his first full season as starting quarterback for the Oklahoma Sooners, Bradford threw 36 touchdowns with just 8 interceptions, easily surpassing 3,000 yards.
As a sophomore, Bradford had one of the greatest seasons of all time. He completed nearly 68 percent of his passes for over 4,700 yards and 50 touchdowns. The mind can hardly comprehend those statistics, especially considering they were achieved in a BCS conference.
The lone knock on Bradford is that he was unable to win a big-time bowl game, failing against West Virginia following the 2007 season and then again against Florida in the championship the following year.
But Bradford still passed for more than 8,400 in a little more than two seasons of work. He also passed for a total of 88 touchdowns, in addition to winning the Heisman Trophy in 2008.
Out of the many great Oklahoma quarterbacks over the years, Bradford's resume stands out as one of the very best.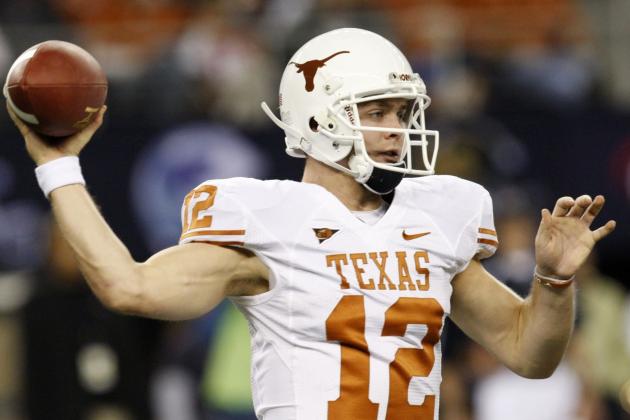 Ronald Martinez/Getty Images
Colt McCoy
Following a certain yet-to-be-named-quarterback is no easy task, but Colt McCoy took over the starting duties for Texas in 2006 and went on to have an amazing career.
He set the all-time wins mark with 45 (later broken by Moore), and finished second in Heisman voting in 2008.
McCoy stands out amongst his peers because of his longevity, which helped him accumulate over 13,000 passing yards and 112 touchdowns throughout his career. He also rushed for over 1,500 yards and 20 touchdowns during his time with the Longhorns.
As a junior, he completed almost 77 percent of his passes, which set a record. He won three bowl games in his first three years as the starter, including a Fiesta Bowl win over Ohio State following the 2008 season.
In 2009, McCoy led his team to an undefeated regular season and an appearance in the BCS National Championship Game against Alabama. Unfortunately, McCoy suffered an injury early on and was unable to return to the game.
Yet that moment does little to tarnish the incredible legacy Colt McCoy built. There will be bigger, faster, stronger quarterbacks every year, but very few will even approach the kind of career that McCoy had for the Texas Longhorns.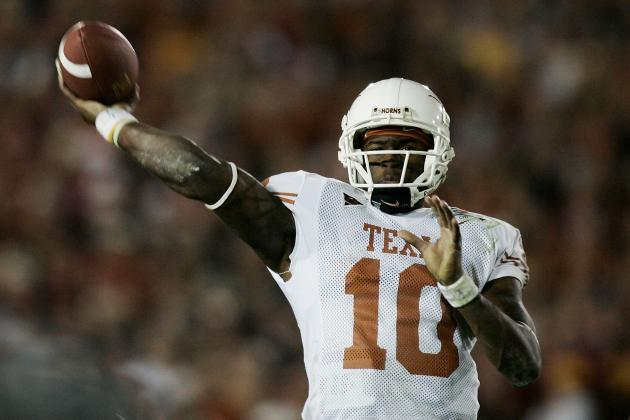 Donald Miralle/Getty Images
Vince Young
The second Texas quarterback to make the list is Vince Young, whose performances in big games automatically puts him in the company of the all-time greats.
Young could always run with the football, as evident by his 998 yards as a freshman and consecutive 1,000 seasons as a sophomore and junior. But it was his passing that began as a question mark and turned into a strength.
He threw just six touchdowns with seven interceptions as a freshman and had a fairly pedestrian 12-to-11 ratio as a sophomore.
But it was in the Rose Bowl following Young's sophomore year that he began to really garner attention. Against Michigan, Young threw for 180 yards while rushing for 192. The performance gave Texas the win and put the spotlight on Young heading into 2005. He did not disappoint.
Young led the Longhorns to an undefeated season and capped off the year with perhaps the single greatest championship game effort in the history of college football. Young completed 30-of-40 passes against the USC Trojans for 267 yards while also rushing for 200. His short scamper with just seconds left put Texas ahead for good.
Some fans will certainly believe Young should be even higher on the list, but the fact of the matter is that he wasn't playing noteworthy football until the very end of his sophomore season. Most of his career numbers are not eye-popping as a whole, and his passing statistics never matched those of many of the guys on this list.
But his effort in the biggest games of his career is enough to put him at No. 3. By the end of time with Texas, Young was playing the position better than anybody had ever seen before. His dual-threat ability truly paved the way for mobile quarterbacks everywhere.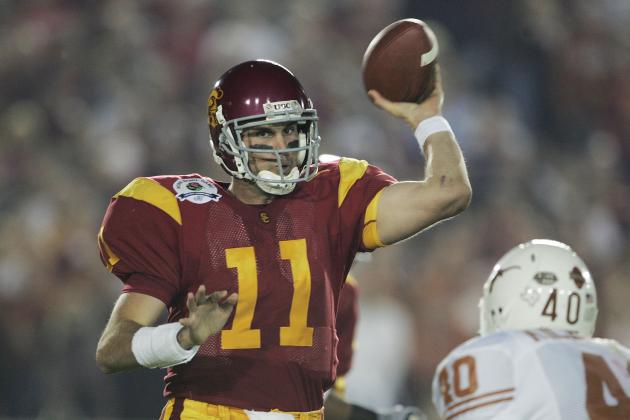 Stephen Dunn/Getty Images
Matt Leinart
Matt Leinart took on the difficult task of following up Heisman Trophy winner Carson Palmer and ended up creating an even greater legacy.
Leinart won the starting job in 2003 and proceeded to throw for 3,556 yards and 38 touchdowns in leading the Trojans to a 12-1 record and a Rose Bowl victory over Michigan. Against the Wolverines, Leinart tossed three touchdowns and even caught one in a dominating win.
The 2004 Trojans are one of the best teams ever to play the game. They went undefeated and beat Oklahoma 55-19 in the championship game. Leinart was the catalyst, throwing for 3,322 yards and 33 touchdowns en route to a Heisman Trophy.
The 2005 version of USC picked right back up where the previous year's group left off, going undefeated and earning a place in the title game against Texas. Leinart again had a spectacular season, but failed to bring home the crystal football despite throwing for 365 yards in the Rose Bowl loss to the Longhorns.
Leinart passed for 10,000 yards in his three seasons as the Trojans' quarterback. He also tossed 99 touchdowns and threw just 23 interceptions. His career mark of 37-2 barely seems real.
Matt Leinart was another quarterback fortunate to have so many weapons around him, but his precision passing and ability to score seemingly at will gives him the No. 2 spot on this list.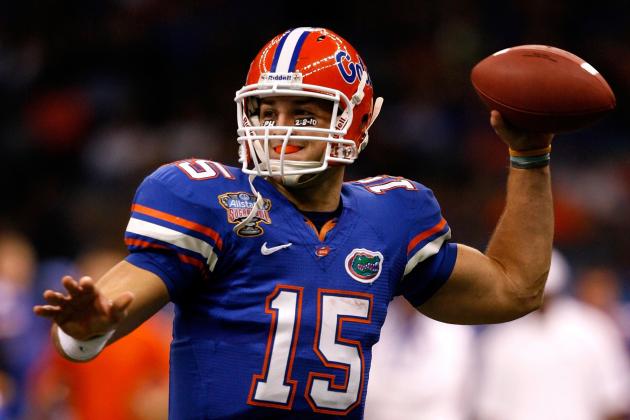 Matthew Stockman/Getty Images
Tim Tebow
Yes, it's Tim Tebow topping the list of greatest quarterbacks during the BCS era. He'd have an argument on the all-time list as well.
Tebow had an enormous amount of hype after committing to Florida, yet somehow found a way to surpass it.
He played here and there as a freshman, but upon winning the starting job in 2007, Tebow's career took off. That year, he passed for 3,300 yards and 32 touchdowns with just six picks. Great numbers, except for the fact that he also ran for 895 yards and 23 touchdowns, giving him 55 total TDs.
He also set the SEC single-season rushing touchdown mark on top of his passing numbers. Needless to say, Tebow took home the Heisman, but the Gators finished just 9-4.
As a junior, Tebow threw for over 2,700 yards and tossed 30 touchdowns with just four picks. He also ran for another 12 touchdowns, breaking the overall team mark set by Emmitt Smith, as his Florida Gators team won the BCS championship.
His senior season saw more of the same, but the Gators' run was ended by Alabama in the SEC championship game. They settled for a thrashing of Cincinnati in the Sugar Bowl, a game in which Tebow completed 31-of-35 passes for 482 yards and three touchdowns.
Tebow finished with 88 passing touchdowns and just 12 interceptions during his career in addition to 57 rushing touchdowns. He set many records that may never be broken.
I realize the name "Tebow" evokes a variety of emotions and some fans will see him at the top of this list and laugh. I'm just not seeing it. Look at the numbers, and look at the winning.
Tim Tebow did many things nobody had ever seen before in college football, and thus find himself atop the list of best quarterbacks during the BCS era.