Notre Dame Football: Pre-Spring Opponent Preview: BYU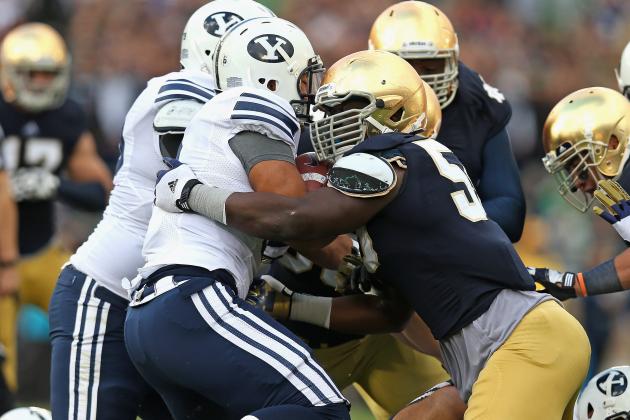 Jonathan Daniel/Getty Images

The fourth installment of our Notre Dame pre-spring opponent preview series features the BYU Cougars, who will visit South Bend for the second straight year this fall. Despite an anemic offense at times, the Cougars won eight games last season, including their sixth bowl win in seven years.
Bronco Mendenhall's program has been a model of consistency, and should again be a tough test for the Irish when it returns to Notre Dame Stadium in late November. BYU will be breaking in a new quarterback, but the defense should again be quite formidable.
Notre Dame needed a fourth-quarter rally last season to fend off the Cougars. Will it need the same this season? Let's take a look at BYU, which begins spring practice on Mar. 5.
For previous Notre Dame opponent previews, click on the links below:
Begin Slideshow

»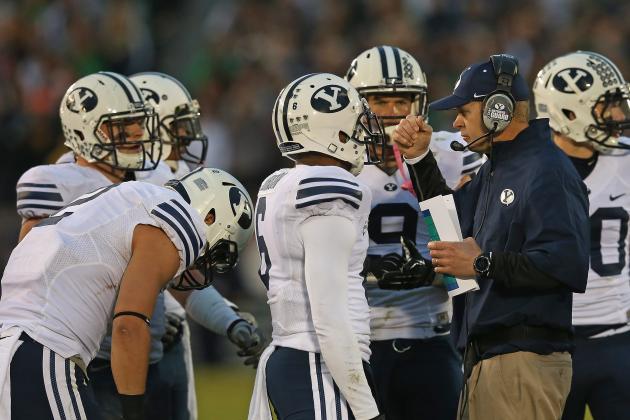 Jonathan Daniel/Getty Images

Date: Nov. 23
Site: Notre Dame Stadium (Notre Dame, Ind.)
Last Meeting: Notre Dame 17, BYU 14 (2012)
Current Win Streak: Notre Dame—2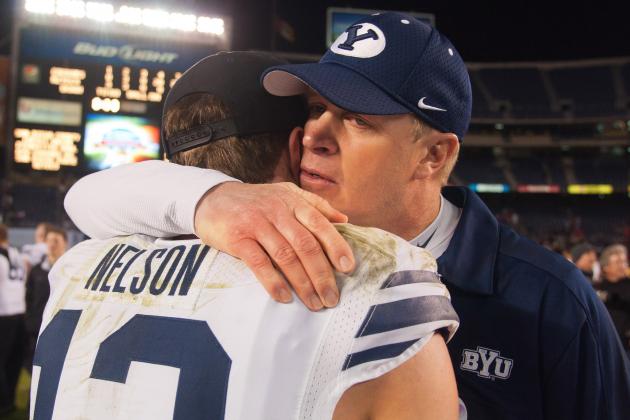 Kent Horner/Getty Images

Record: 8-5
Bowl: Poinsettia Bowl (defeated San Diego State, 23-6)
Leading Passer: Riley Nelson (Sr.)—181-of-308, 2,011 yards, 13 TDs, 13 INTs
Leading Rusher: Jamaal Williams (Fr.)—166 carries, 775 yards, 12 TDs
Leading Receiver: Cody Hoffman (Jr.)—100 receptions, 1,248 yards, 11 TDs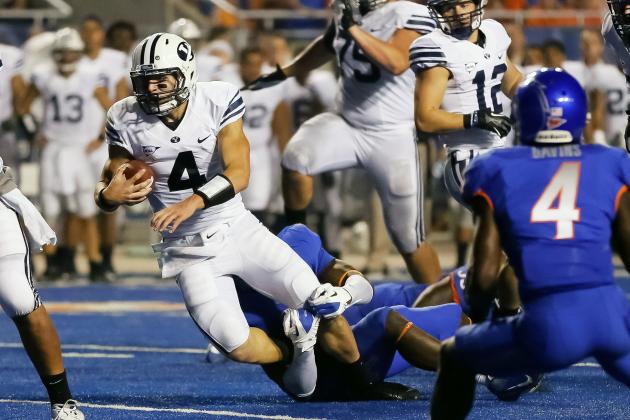 Otto Kitsinger III/Getty Images

A game at LaVell Edwards Stadium is as picturesque of a setting as there is in college football, but the BYU offense was often painful to watch in 2012. New offensive coordinator Robert Anae is likely to shake things up a bit this fall.
Riley Nelson struggled early on after a strong 2011 season, with Taysom Hill seeing significant playing time in a three-game stretch against Boise State, Hawaii and Utah State before an LCL injury cost him the remainder of the season.
Hill should be able to participate in spring practice, albeit in a non-contact role. Hill finished his freshman season with 425 yards in the air and 336 on the ground, most of them coming in the 49-0 rout of Hawaii.
Like many Cougars, Hill spent time on a Mormon mission, so he'll be a 22-year-old sophomore this fall.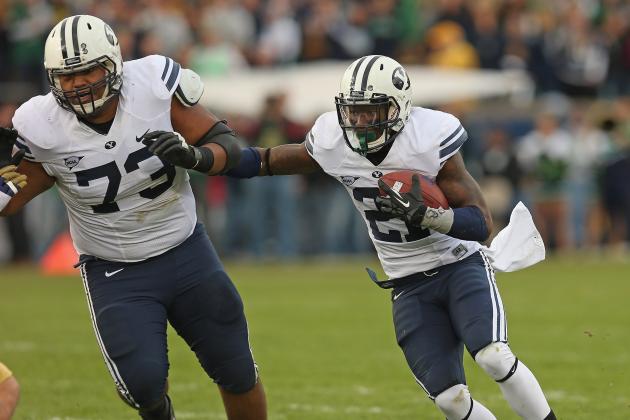 Jonathan Daniel/Getty Images

BYU certainly isn't a running back factory, but the Cougars may have found one of their best yet in sophomore Jamaal Williams. As a true freshman, Williams grasped the starting role after just four games, rushing for over 100 yards three times and scoring multiple touchdowns in four games.
Williams has good size at 6'1" and should continue to get stronger—1,000 yards is very realistic this season. He's also a threat in the passing game, having caught a season-high seven passes against Notre Dame last season.
Behind Williams is senior Michael Alisa, whose injury last season paved the way for Williams' emergence. Alisa has amassed almost 700 yards over the past two seasons, and has comparable size to Williams. Fullback Iona Pritchard is the short-yardage option. He managed nine yards on three carries last year against the Irish.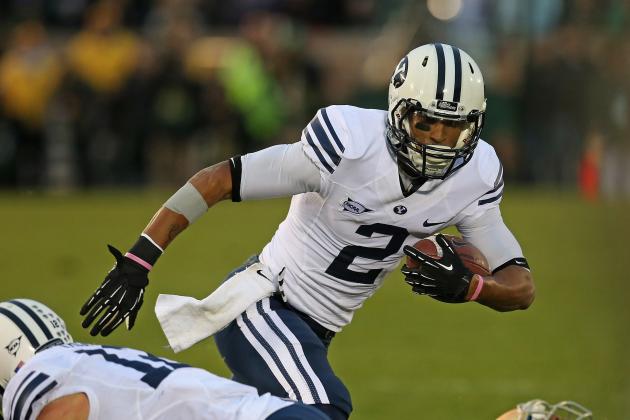 Jonathan Daniel/Getty Images

BYU received some very good news in January when Cody Hoffman elected to return for his senior season. The 6'4" Hoffman is just over 500 yards shy of breaking Austin Collie's school record. Hoffman isn't a home run hitter, but he is one of the best in the country in the intermediate passing game.
Ross Apo also returns, but his production declined a bit last year after bursting onto the scene as a freshman in 2011. Apo may be one of the biggest beneficiaries of the coordinator change.
While Hoffman and Apo both have good size, JD Falslev stands just 5'8". He'll be the primary slot receiver in three-wide sets. Tight end Kaneakua Friel had just 30 catches last season, but five of those went for touchdowns, including one at Notre Dame. His role should also increase this fall.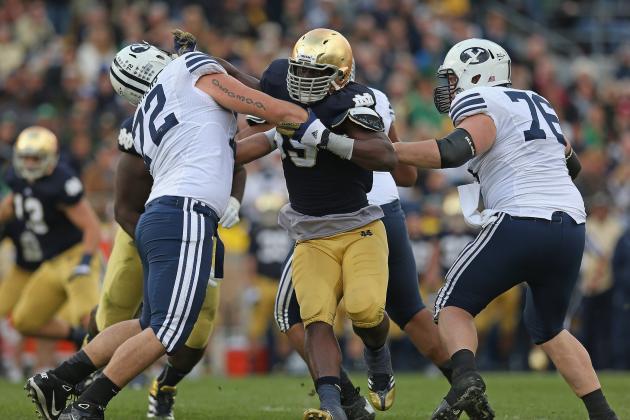 Jonathan Daniel/Getty Images

It wasn't just poor quarterback play that caused the Cougars offense to struggle last season. The offensive line dealt with numerous injuries in 2012 and was never able to jell. Four starters are back this season, including promising left tackle Ryker Mathews.
Both guards return, but the center position is full of uncertainty as Houston Reynolds tries to recover from an Achilles injury that cost him the 2012 season. His football future remains up in the air, and he'll miss the spring.
Notre Dame registered four sacks in last season's meeting. The Cougars added some junior college prospects on national signing day, but they won't arrive until the summer. This unit should be better than last year, but it still won't be a strength for the team.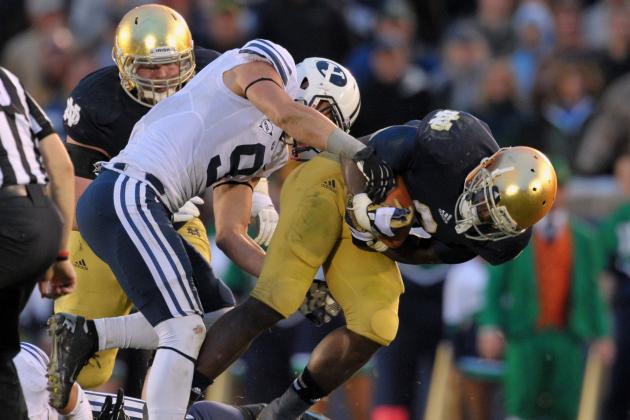 Matt Cashore-USA TODAY Sports

A highly effective unit from the 2012 Cougars suffers a pair of losses along its three-man front, but returns Eathyn Manumaleuna, who took a medical redshirt last season. At close to 300 pounds, Manumaleuna can play both end and nose tackle in Mendenhall's 3-4 alignment. His replacement last season, Ezekiel Ansah, is off to the NFL and could be a first-round pick.
A move to nose might be necessary due to the loss of Romney Fuga, a 320-pound space eater who helped the Cougars finished second in the country last season against the run. Junior college transfer Marques Johnson was a nonfactor last season, but he could climb to the top of the depth chart this spring.
Lanky sophomore Bronson Kaufusi is still developing physically, but he figures to start at one of the end positions after playing in all 13 games as a freshman. As always, BYU will get some players back from Mormon missions, but you never know quite what you're going to get from those players after two years away from the program.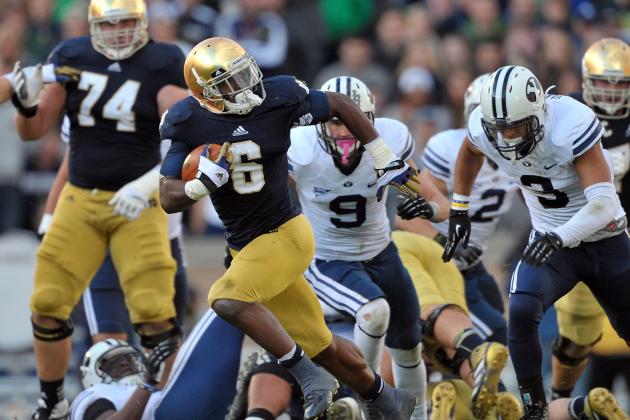 Matt Cashore-USA TODAY Sports

As big of news as Hoffman's return was to the BYU offense, Kyle Van Noy delaying his NFL career for one more year was perhaps even bigger for the Cougars defense. One of the best pass-rushers most casual fans have never heard of, Van Noy finished fifth in the nation last season with 13 sacks.
Notre Dame held Van Noy without a sack last season, but he did intercept a Tommy Rees pass (but who hasn't?). The other outside position is also set, with Spencer Hadley returning after a very solid junior season on the strong side.
The interior positions will have new starters, as Brandon Ogletree and Uona Kaveinga depart. Uani Unga and Manoa Pikula should win the starting roles, but there's little behind them.
Despite the questions on the inside, Van Noy is a potential All-American, and this unit should be just fine.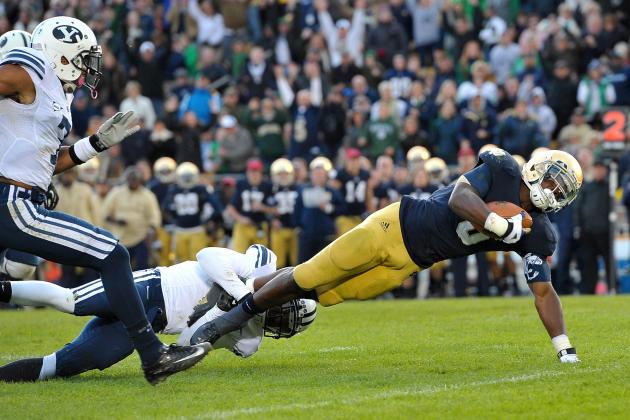 Matt Cashore-USA TODAY Sports

Everett Golson has yet to face the BYU secondary after sitting out last season's game with a concussion. Assuming he's still the starter by late November, he'll be facing a unit with two returning starters that allowed just 119 yards to Notre Dame last season.
Interception leader Daniel Sorensen returns at strong safety. Free safety Joe Sampson, last seen being juked by George Atkinson III on Notre Dame's game-winning touchdown last season, must be replaced.
Jordan Johnson is back at one cornerback spot, but Preston Hadley departs. With the Cougars also losing top backup Robbie Buckner, the boundary cornerback position opposite Johnson is wide open. Despite being less experienced than a year ago, this group should again benefit from the strength of the front seven.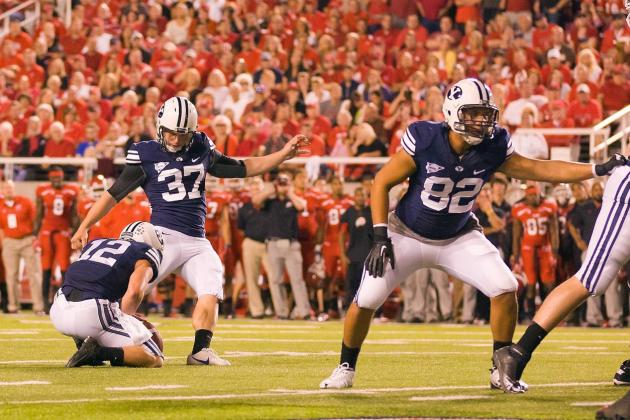 Russ Isabella-USA TODAY Sports

Justin Sorensen had an opportunity to place Notre Dame's unbeaten season in serious jeopardy midway through the third quarter last year in South Bend. His 46-yard field-goal attempt would have given BYU a 17-7 lead, but Sorensen missed it wide left.
The rising senior took over for Riley Stephenson, who was pulling double duty as both punter and placekicker, after three games. Sorensen converted just six of 12 attempts on the season. Stephenson departs, leaving a vacancy at punter for the first time since 2009.
Falslev should again handle return duties. He averaged 9.5 yards per punt return (yes, Irish fans, some teams actually return punts), and 26 yards per kick return after taking over the role after the game in South Bend last season.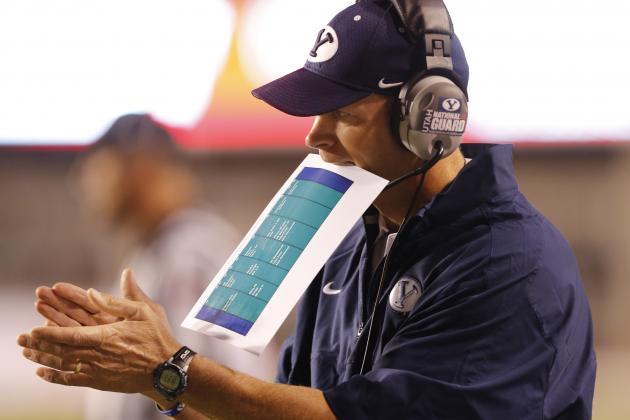 George Frey/Getty Images

Mendenhall is one of the best defensive minds in college football. The Cougars should again sport a pesky defense that should allow them to return to the postseason for a ninth consecutive season despite a schedule that includes games with Texas, Boise State, Georgia Tech and Utah in Provo and road games at Virginia, Utah State, Wisconsin and Notre Dame.
Quarterback play obviously remains a concern. The Cougars were counting on 5-star 2010 recruit Jake Heaps to stabilize the position, but Heaps transferred to Kansas after the 2011 season and is now being coached by Charlie Weis.
Notre Dame gets a critical bye week before the Cougars come to South Bend, a much better situation than last year when the game fell between the overtime thriller against Stanford and the trip to Oklahoma. You know what you're getting with BYU, and Notre Dame will again need a solid, 60-minute effort to win its third straight over the Cougars.