Big 12 Football Winners and Losers for the Month of February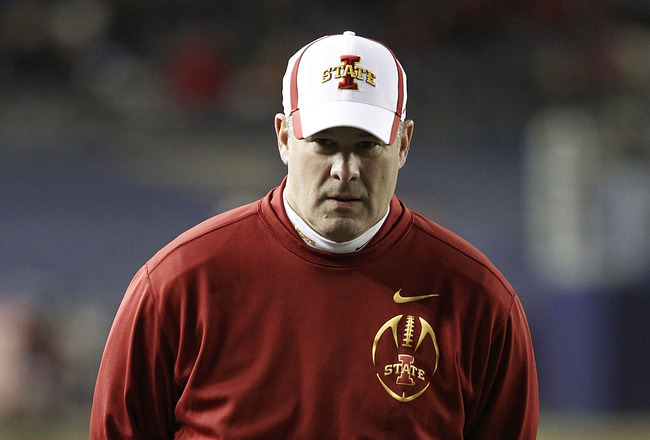 Winner: Iowa State head coach Paul Rhoads
Jeff Zelevansky/Getty Images
Sure, it's an offseason month for college football, but we still have plenty of action going on to name our winners and losers for the month of February.
Who did some neat stuff to make our winners' list?
Who did some not-so-great stuff to make our losers' list?
While we don't think any of these guys are losers, some didn't have a great month, and that's the reason for their status here. Thankfully, there are a lot more winners than losers in this month's installment.
Winner: Kansas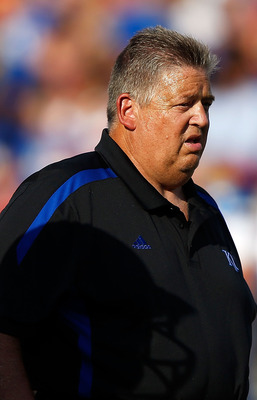 Charlie Weis
Jamie Squire/Getty Images
Kansas football head coach Charlie Weis did an outstanding job of getting a lot of turnkey talent to Lawrence.
Among the 25 prospects Weis signed was 4-star defensive tackle Marquel Combs, a JUCO out of California—this kid even got an offer from Arkansas. Count on him starting at tackle this fall.
We've always known that Weis can recruit, so it's going to be interesting to see if he can develop talent as well as recognize it—something he didn't master while coaching at Notre Dame.
Loser: Commissioner Bob Bowlsby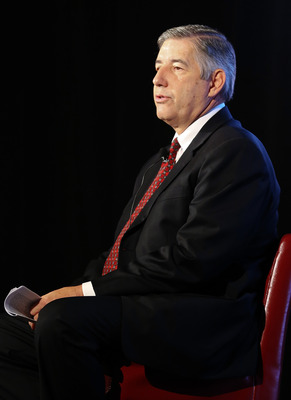 Bob Bowlsby
Kevin Jairaj-USA TODAY Sports
We're not quite sure what to make of Commissioner Bob Bowlsby because he seemed to contradict himself this month.
Bowlsby said TV ratings and attendance for conference championships "aren't the kind of things that are going to invite you to take [conference championships] up as a new business proposition."
When Bowlsby said that last week, he had already sent the NCAA a request to consider allowing the league to hold a conference championship with only 10 members. His excuse for the request, according to multiple reports including ESPN and the AP, was "intended to deregulate how conferences are allowed to determine a champion."
So Bowlsby thinks conference championships' ratings and attendance numbers don't justify him pursuing a conference championship game. But can the Big 12 hold one anyway? Oh, wait, it doesn't have enough members. Hmmm.
Can the Big 12 do it with only 10 schools, because you know, it really doesn't want a conference championship—but could the NCAA bend the rules and give the Big 12 something it really doesn't want?
Sigh.
Loser: Texas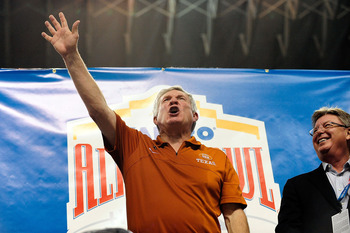 Mack Brown
Stacy Revere/Getty Images
Let me first say that Texas has an outstanding class of 2013. The Longhorns didn't have a lot of scholarships to offer, so they knew the class would be small. Their class of 2014 is currently No. 1 on 247 Sports composite team rankings, so there's also that.
The bigger picture, however, is that Texas A&M cleaned Texas' clock in recruiting.
Ricky Seals-Jones defecting from Texas to Texas A&M was a big loss. So was A'Shawn Robinson's defection to Alabama.
Bottom line is that Texas had a nice little class of 2013, but Texas A&M's class was superior. That can't be sitting well with Longhorns fans.
Winner: Bill Snyder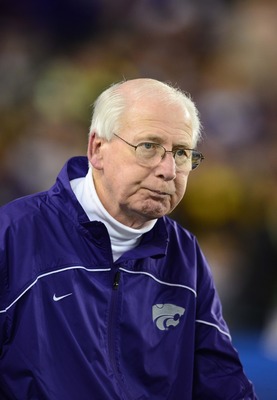 Bill Snyder
Mark J. Rebilas-USA TODAY Sports
Kansas State fans had to be a little worried over who was going to replace quarterback Collin Klein, among other elite talent from Manhattan taking off to the NFL.
Exhale, Wildcat fans, because Bill Snyder has signed Jake Waters, a 4-star JUCO out of Iowa Western Community College who broke Cam Newton's junior college completion percentage record.
Waters will compete against freshman recruit Daniel Sams for the starting spot. My money is on a seasoned quarterback with college-level starter game day experience under his belt.
Winner: Marquise Goodwin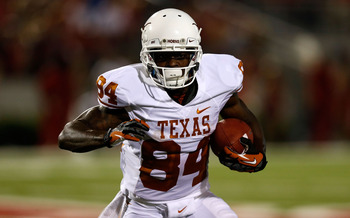 Marquise Goodwin
Scott Halleran/Getty Images
So who cares if you weren't even among the top-ranked receivers in all of FBS football?
Or only ranked No. 40 among the most productive receivers in the Big 12? Or only caught 26 passes for 340 yards last season?
In the NFL scouting combine, Marquise Goodwin ran a 4.29 in the 40-yard dash.
BOOM.
Winner: Geno Smith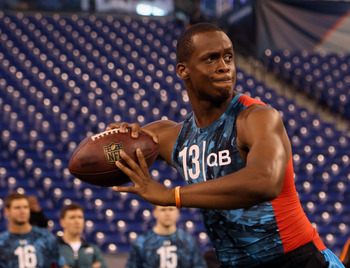 Brian Spurlock-USA TODAY Sports
West Virginia quarterback Geno Smith isn't perfect, but he didn't do anything to mess up his NFL combine performance either.
Smith ran the fastest 40 of all quarterbacks—he checked in with a 4.59.
While Smith didn't deliver the "wow" factor according to CBS Sports, he also didn't have a bad day. More from CBS Sports:
While each [scout] characterized Smith as the best of the passers, they hardly heaped praise on the West Virginia quarterback.
Loser: Joseph Randle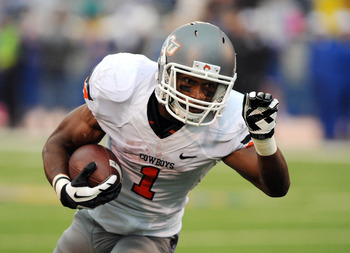 Joseph Randle
John Rieger-USA TODAY Sports
Oklahoma State running back Joseph Randle declared early for the NFL draft, so a lot of scouts were expecting big things from him.
Running the 40 in 4.63?
That's pretty good for a linebacker—heck, offensive tackle Lane Johnson ran a 4.72—but for a North-South runner weighing 205 pounds?
Meh.
Winner: Lane Johnson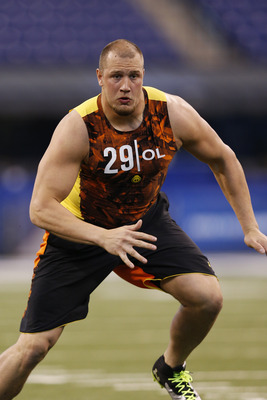 Lane Johnson
Joe Robbins/Getty Images
Speaking of Lane Johnson, here he is on the winners' list. As previously mentioned, Johnson ran a 4.72 in the 40 and also went high in the vertical jump at 34 inches. More from USA Today:
Johnson also completed 28-reps on the bench, a satisfactory mark for a 6'6" tackle whose arm length exceeds 35 inches. He translated his athleticism onto the field during drills as Johnson's quickness and footwork looked NFL-caliber. His performance should push Johnson into the middle portion of Round 1.
Winner: Iowa State Head Coach Paul Rhoads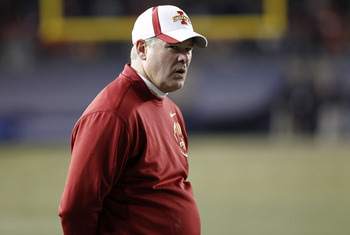 Paul Rhoads
Jeff Zelevansky/Getty Images
No offense to Iowa State, but Iowa is considered the football school in the Hawkeye State—even though the Cyclones beating the Hawkeyes isn't even considered an upset anymore.
Still, if you're an elite football prospect from Iowa, generally speaking, you're going to pick Iowa over Iowa State. Except this year.
4-star tackle Jake Campos picked Iowa State over Iowa—and over Kansas State, Illinois, Missouri, Oregon and Purdue.
More fodder for Iowa State fans: While Iowa (No. 51) finished higher in Scout's team rankings for the class of 2013, Iowa State (No. 64) reeled in a 4-star (Campos), while Iowa signed 3-star players or lower.
Cyclones head coach Paul Rhoads is getting it done.
Loser: Oklahoma State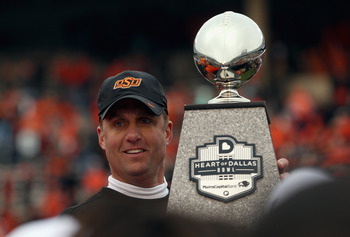 Mike Gundy
Ronald Martinez/Getty Images
Sure, rankings don't really mean a lot in recruiting—they're mostly a venue for fans' bragging rights. But how does Oklahoma State (No. 31) fall below Baylor (No. 27) in 247 Sports composite team rankings for the second straight year? Maybe it's coincidence, but Baylor also beat Oklahoma State 41-34 last December.
Baylor's 2012 class (No. 28) was also higher than Oklahoma State's (No. 36). Needless to say, Baylor quarterback Robert Griffin III winning the 2011 Heisman Trophy gave Baylor football a big bounce up. But it appears that Baylor is no longer riding on RG3's coat tails to reel in some great prospects—like 5-star Robbie Rhodes—because of the success Baylor had with then-unknown quarterback Nick Florence last season.
I'm sure the meteoric rise of Texas A&M football has affected both Oklahoma schools' recruiting in the state of Texas, but it hasn't seemed to hurt Baylor too much. And that should concern Oklahoma State—instead of just worrying about Texas, Texas Tech, Texas A&M and Oklahoma in recruiting battles, now it has to contend with Baylor as well.
The Cowboys may be going in the wrong direction.
Keep Reading