Big Ten Football: Spring Football Goals for Each Team to Achieve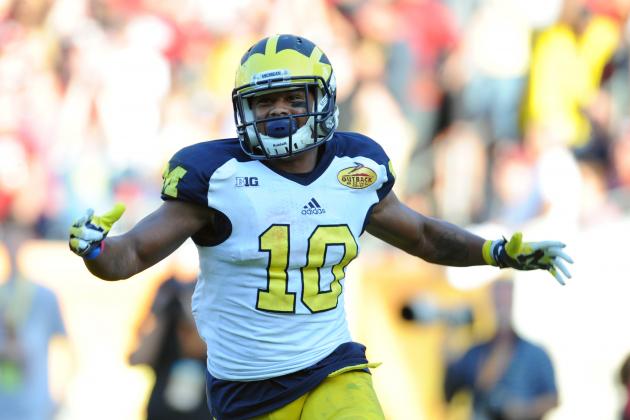 Al Messerschmidt/Getty Images

Heading into spring every program has a set of goals that if accomplished will put them on the way to a winning season this fall. The 12 teams of the Big Ten should have the maps already laid out for the battle plan heading into spring.
This conference has national title hopes heading into the new year after Ohio State's undefeated run that came in 2012. Wisconsin is under new leadership, but it is still looking for a third Big Ten title this year.
Other teams in the conference are looking to earn post-season bids and enter the national discussion. This is a look at how those teams get things started this spring.
Begin Slideshow

»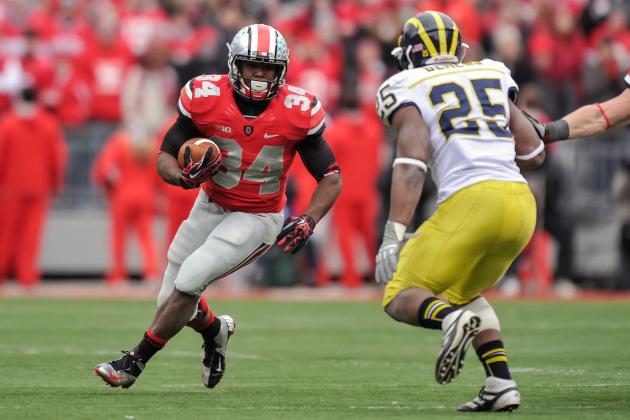 Jamie Sabau/Getty Images

Spring Goals: Develop Miller's passing game; Find secondary running back
The Buckeyes head into spring with the majority of their playmakers returning from the undefeated run a year ago. This program is coached well, and it has an explosive quarterback leading it through the conference.
One issue that has to be addressed this spring is Braxton Miller's passing game. He is very inconsistent and at times can cost the Buckeyes wins with his lack of accuracy.
Miller is one of the most athletic players in the Big Ten, but he has to get better as a passer for Ohio State to challenge for titles.
This program also must find a backup rushing threat. Carlos Hyde is a stud and proved it last season, but he is injury prone. There are a number of talented backs that sit behind Hyde, but this spring should be used to find one solid No. 2.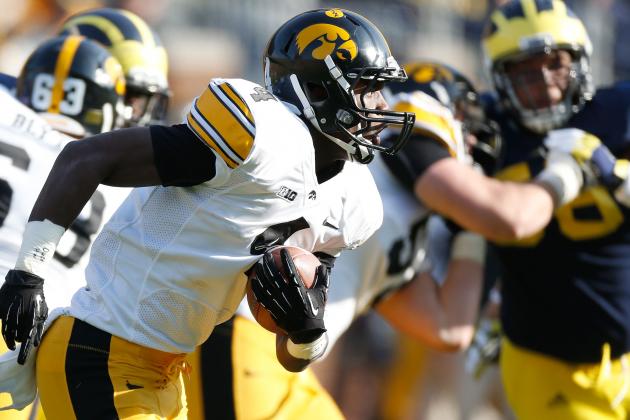 Gregory Shamus/Getty Images

Spring Goals: Find Offense; Refocus on winning
The Iowa Hawkeyes are coming off of a rough season heading into 2013. The program is in its worst position in years and head coach Kirk Ferentz is not far away from looking for new employment.
This spring will be crucial for Ferentz and this program.
The first issue that has to be addressed is the team's focus. Last year it was clear that as the season rolled by the team was lost and the coaches couldn't get them back on track.
There has to be a refocus in this program from top to bottom, or the Ferentz days will be short.
The second and obvious goal is find an offense. The Hawkeyes have dealt with injuries in the past few seasons, but there needs to be a shake-up for this stalled unit.
Mix up the calls and add in some gimmick plays to make this team fun again. The Hawkeyes need to find a way to score, so it may be the time to change up the identity.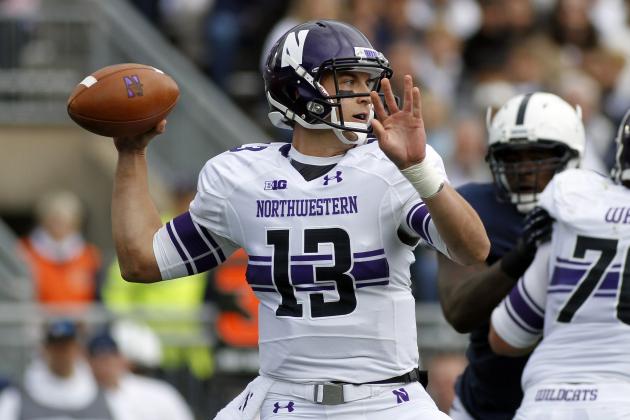 Justin K. Aller/Getty Images

Spring Goals: Continue growing two-quarterback system; Find new safety
The Northwestern Wildcats have been the surprising rising star in the in the Big Ten over the past half-decade and the offense has been a big part of that upward move.
Last season a two-quarterback approach was used out of choice instead of necessity and it worked for the Wildcats. This season it should continue. This spring Pat Fitzgerald and his coaches have to get the quarterbacks fine-tuned in the system before the summer.
The Wildcats also have some focus set on defense. The loss of Jared Carpenter is huge for this program and the spring will be crucial in finding a replacement for the stud safety.
This has not been a dominant team on defense, but Carpenter has been a dominant player. Filling that void will be a major concern for Fitzgerald and Co.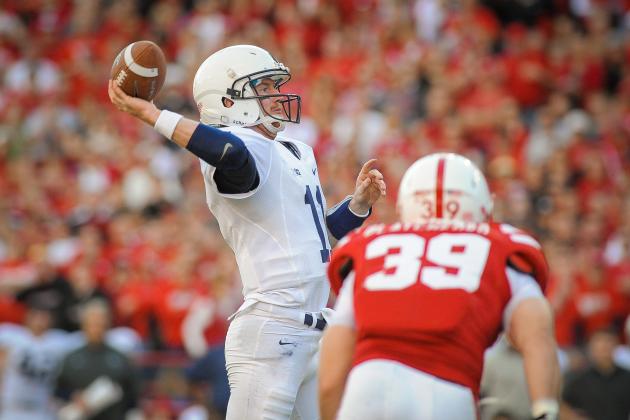 Eric Francis/Getty Images

Spring Goals: Find a quarterback; Build momentum
The Penn State Nittany Lions overachieved last year when they walked away with eight wins.
This spring Bill O'Brien has to harness the momentum that led this program into an unexpected winning season a year ago. There is a lot of confidence in College Station and that goes a long way when trying to win football games.
For this program to harness that momentum it has to find a starting quarterback.
The Nittany Lions have talent on roster and will look for incoming JUCO transfer Tyler Ferguson to provide a solid option for playing time.
This will be a tough season for Penn State but there are ways for this team to come away with some wins if they continue to build on their momentum from 2012 and find a starting quarterback.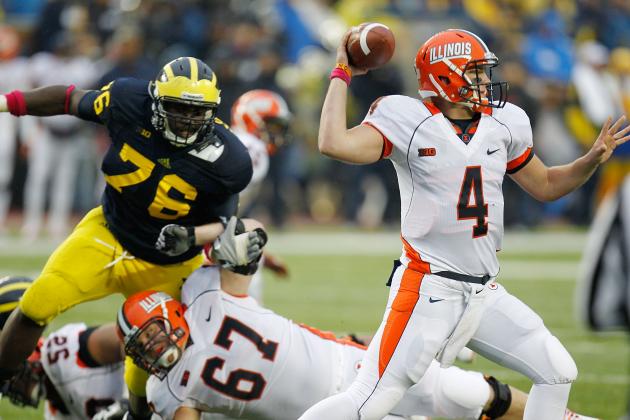 Gregory Shamus/Getty Images

Spring Goals: Continue offensive transition; Build defensive line
The Fighting Illini entered the first year under head coach Tim Beckman with high expectations, but they finished with a 2-10 record.
The Illinois program is on a downward spiral, but it can be turned around this spring.
The first goal for spring is for Beckman to continue the offensive transition. He came to Illinois with a system that turned Toledo into a consistent winner, and it could do the same for this program. There are always growing pains, and the hope is that last season got them out of the way.
Illinois is also entering the 2013 season with questions along the defensive line. For this team to challenge inside the Big Ten, it has to find a nasty set of linemen to shore up the defensive line this spring.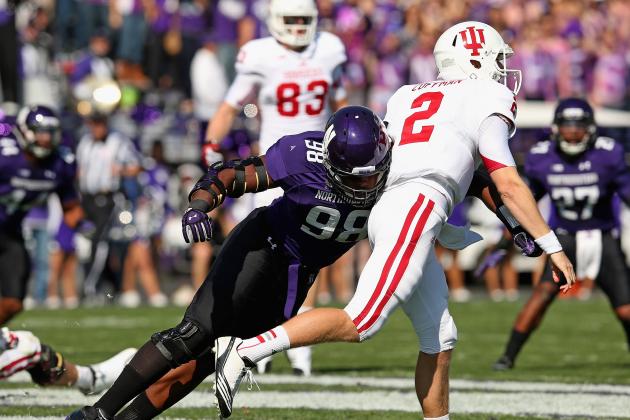 Jonathan Daniel/Getty Images

Spring Goals: Find Defense; Continue developing passing game
The Indiana Hoosiers were the most prolific passing offense in the Big Ten last season. This program lit up the skies last year, and for the Hoosiers to continue their surprising rise inside the conference they have to continue to develop the air attack.
This spring will be key for this program and Cameron Coffman as he looks to top his near 3,000 yard performance from last season.
The Hoosiers also need to shore up the defense.
This program finished 2012 with the No. 103 total defense in the country. Indiana can win a lot of ballgames next season, but the defense has to get a lot better in a hurry.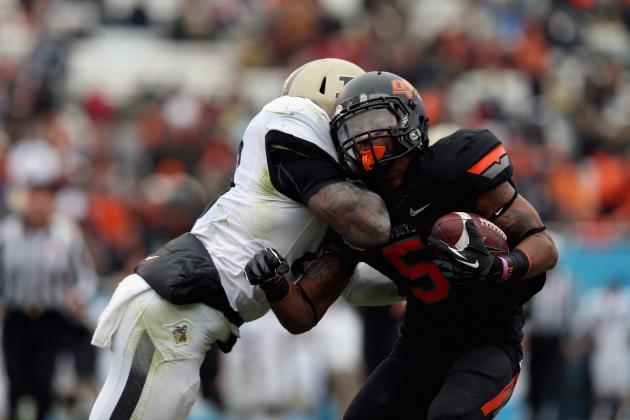 Ronald Martinez/Getty Images

Spring Goals: Transition into Hazell era; Replace Kawann Short
The Purdue Boilermakers struggled to find consistency last year and it showed as the program ended with a huge loss to Oklahoma State in the Heart of Dallas Bowl.
A new wind of change is coming as the Boilermakers brought in Darrell Hazell from Kent State to run the program heading into the 2013 season. This spring will be his chance to put his stamp on the program before the new year.
He will need to bring some of his Kent State offensive magic to the program for it to get turned in the right direction.
The Boilermakers will also be focused on replacing Kawann Short along the defensive line.
Short was a stud defender that is headed to the NFL, but with his departure came a huge void for the Boilermakers defense. This unit wasn't the best a year ago, but without a solid replacement for Short there is nowhere to go but further down.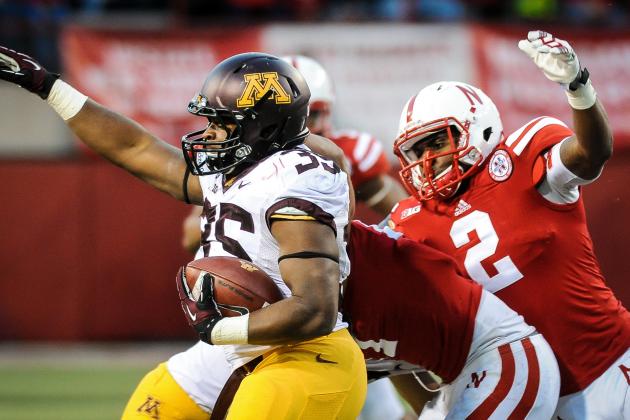 Eric Francis/Getty Images

Spring Goals: Find a starting quarterback; Build around Donnell Kirkwood
The Golden Gophers were one of the borderline teams for the Big Ten last fall. They just barely made the postseason, but they showed a lot of promise in a close loss to Texas Tech.
This program has a few issues that must be addressed this spring if 2013 is going to bring better results than last season.
The first issue that has to be addressed is quarterback. Three different players took snaps at the position last season and that lack of continuity hurt the ability for this team to win consistently.
Find a quarterback and the offense will get instantly better.
The Golden Gophers aren't in need of a major playmaker for the position because of Donnell Kirkwood in the backfield. This offense needs to be built around the explosive ball-carrier.
If the Golden Gophers focus on the ground game and finding a game manager, they will return to the post-season in 2013.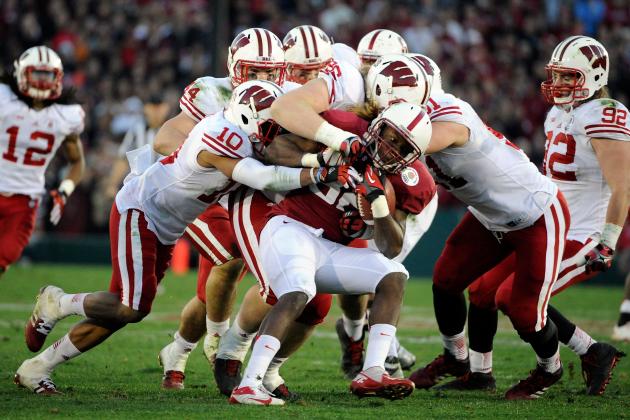 Robert Laberge/Getty Images

Spring Goals: Replace Montee Ball; Transition into the Andersen offense
The Badgers are one of the many teams that is entering a new coaching era heading into spring this year. Gary Andersen is taking over this program after turning Utah State into a consistent winner over the past few seasons.
The Badgers are facing a few questions heading into spring, but none are more important than on offense. Losing Montee Ball is tough, and the Badgers have to find a replacement this spring.
If they don't, this offense will struggle.
The second piece of spring that is huge for future success and a third Big Ten title run is the implementation of the Andersen offense.
Gary Andersen runs a more multiple scheme, and that will bring more opportunities for this program to score big. It won't be an easy transition, but a successful spring could turn this offense into one of the most potent in the conference by August.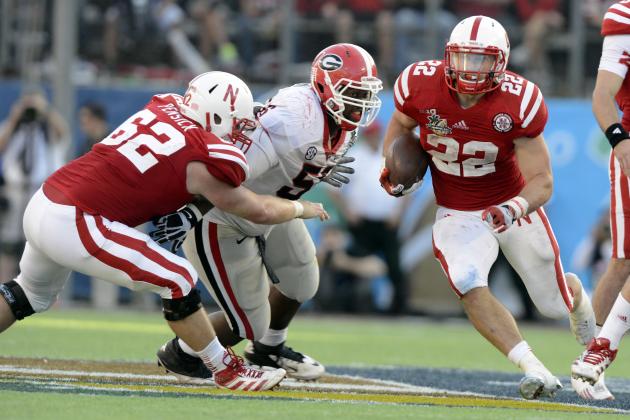 Brad Barr-USA TODAY Sports

Spring Goals: Find Defense; Grow backfield
The Nebraska Cornhuskers are one of the most consistent winners in the Big Ten, but they are also inconsistent on the big stage. The Cornhuskers always seem to make it to the big game, but they lose focus and get smashed.
One of the major issues has been defense. This program has to find a way to get back to championship defense or titles will never come back to Lincoln, Neb.
This program is led by defensive minded Bo Pelini, so this should be an easy fix this spring.
The second spotlighted area will be the backfield. This team loses Rex Burkhead this year, so there is a need to find a solid No. 2 alongside Ameer Abdullah.
This program is a winner, but to get to the next level these two issues have to get solved this spring.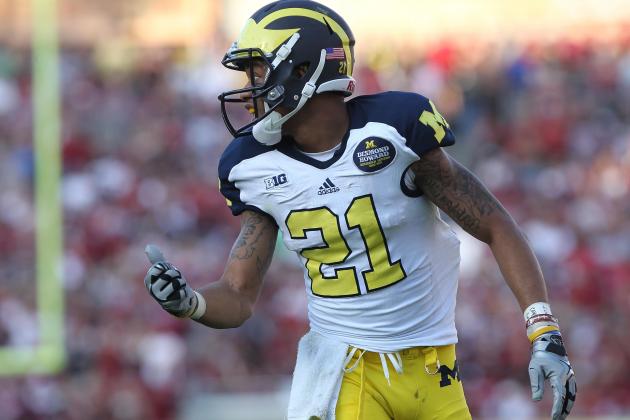 Kim Klement-USA TODAY Sports

Spring Goals: Bring along Devin Gardner; Rebuild Offensive line
The Wolverines are heading into spring with a quarterback actually leading the offense—not an athlete. Don't misunderstand, Gardner is an athlete in his own right, but last year he proved that he could be a pure quarterback.
This spring Brady Hoke has to continue to bring along his rising star at the position. Gardner can step in and have a huge senior season, launching this program back into the national spotlight.
Without Gardner having a huge spring, this offense will struggle.
One glaring issue that has to be addressed to help keep Gardner upright is the offensive line. The Wolverines are replacing three starters from last year upfront and have to find answers in the first 15 practices of the year.
If the offensive line doesn't gel early, the fall will start with a lot of speed bumps hurting this team's run at the Big Ten.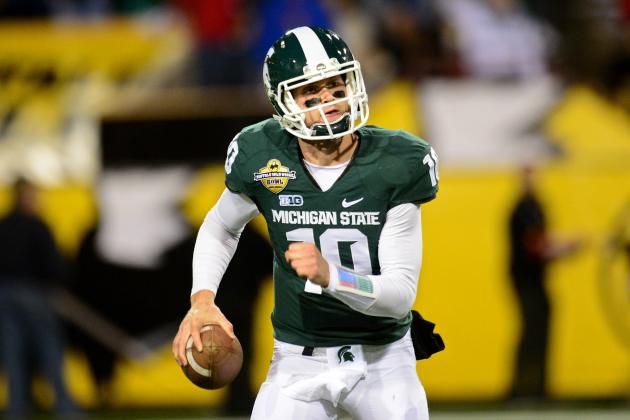 Matt Kartozian-USA TODAY Sports

Spring Goals: Bring along Andrew Maxwell; Rebuild defensive front
The Spartans have been on a tear the past few seasons in the Big Ten, but last year there was a dip in production. This program is still a rising star, but to win games the Spartans need Andrew Maxwell to come into his own this spring.
Michigan State has an offense that relies on the ground game, but it also needs a playmaker at quarterback. Maxwell can be that guy, but this spring he has to flip the switch.
Another issue of concern will be the defensive line. The departure of Anthony White and William Gholston leaves a major void upfront defensively for this team.
For the Spartans to mark this spring a success they have to find solid contributors along the defensive front.