Next Round of Big Ten Expansion Won't Be About Football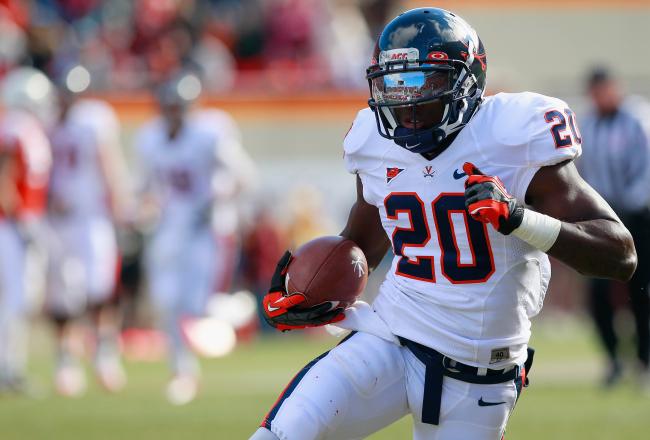 Is Virginia in the mix? Maybe, but it's not because of the football.
Geoff Burke/Getty Images
So, the Big Ten is heading east again.
Allegedly, anyway. That's the rumor floating around, per the Minneapolis Star-Tribune: Virginia is close to joining the Big Ten and North Carolina has an invitation waiting for it, while Georgia Tech is still "in the mix."
Take those rumors with several grains of salt (IMPORTANT NOTE: Salt is not derived from grain), but they jibe with everything we've heard about the Big Ten and its expansion plans lately.
Now, one look at the three mentioned candidates here, and there's one key theme, as far as the gridiron's concerned: The football's pretty meh, isn't it?
Yes, Georgia Tech tied for a national championship in 1990 and North Carolina was pretty boss in the early '80s, but by and large these are not powerhouses in the current ACC (and when you can't even push around the ACC...).
So what's the deal? Why is Jim Delany—the man who brought Penn State and Nebraska to the Big Ten in recent history and leveraged the Big Ten's football presence into a revenue-generating leviathan in the form of the Big Ten Network—now so suddenly intent on watering down that football for the sake of expansion?
Answer: Because it's not really about the football.
Who would you most like to see join the Big Ten?
Oh, sure, the Big Ten will try to put the Big Ten Network on as many new televisions as possible in whatever areas it ends up expanding into. And that will necessarily ride on the backs of the local football teams. But the football basically ends there.
What Virginia brings to the table is two-fold: academics and location.
The academic rigor at Virginia is unimpeachable. It ranks 24th in the US News college rankings, which would put it behind only Northwestern in the Big Ten (and the University of Chicago, if you want to be like that). It's a Top 50 university in federal research dollars, according to the Center for Measuring University Performance (PDF), which puts out an annual survey.
And oh yes—it's backed by a nearly $4 billion endowment. It's one of the fastest-growing research institutions, percentage-wise, from 2000 to 2009. Academically, it fits right in with the Big Ten.
And then there's the location. Just 20 years ago, the Big Ten stretched from southern Minnesota to central Ohio. And just three years ago it was that, plus central Pennsylvania. Now, if Virginia is what the Big Ten's after, the Big Ten will effectively encompass Washington, D.C. in its footprint, with New Jersey to boot and whoever else might be on board.
Certainly, there's a logical geographical avenue into North Carolina with Virginia in the fold.
Yes, the D.C. area is known better for its pro sports. They love the Redskins there, and they might be persuaded to adore the Nationals, Wizards or Capitals there if one of those teams puts together a playoff run. But in terms of college football, there isn't much going on there. The Virginia Cavaliers don't move the needle much, and neither do the Maryland Terrapins.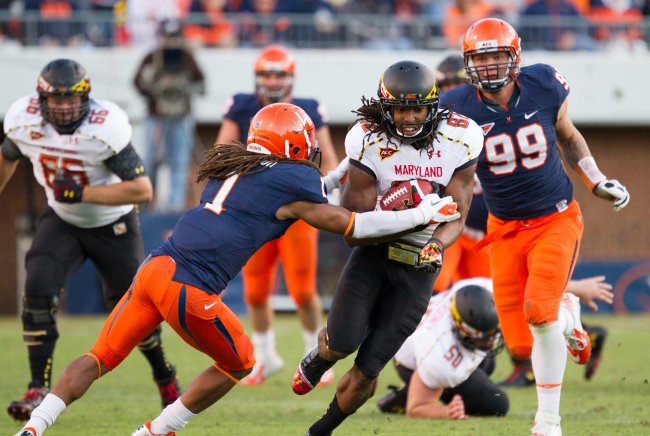 Paul Frederiksen-USA TODAY Sports
But maybe those two schools might draw some interest in D.C. if they're playing Ohio State. Or Michigan. Or Nebraska. Or Penn State. Or anyone that the casual sports fan considers a college football powerhouse—something the ACC never really brought to the table outside of Miami and Florida State (and fine, yes, Virginia Tech, but VT's greatest strength has always been losing the biggest games).
There are a lot of television sets in D.C. Same with the state of Maryland. And the state of Virginia. Adding those to the Big Ten Network's basic cable markets means a ton of new money for the network—and thus the member schools.
There's one more name being tossed around for Big Ten inclusion, and it's a pipe dream—but not in the way you'd think. That name is Johns Hopkins, whose best sport is lacrosse. Now, the Big Ten doesn't really do lacrosse (though Virginia does—hint hint). And Johns Hopkins doesn't really do what the Big Ten does in the other major sports.
And yet adding Johns Hopkins would be the Big Ten's dream come true. Why? The funding. Oh sweet mother of mercy, the funding.
Go back to that Center for Measuring University Performance report. Go find Johns Hopkins. Johns Hopkins brings in $1.5 billion (NOT A TYPO) annually in federal research funding alone. By itself. Every year. A billion and a half dollars.
That's more than the Big Ten's biggest three recipients (Michigan, Minnesota and Wisconsin) receive combined. It is the single biggest recipient of federal research funding among universities in America, and by a wide, wide margin. Altogether, Johns Hopkins reported funded research of nearly $1.9 billion.
So yes, the Big Ten just might be interested in this whole lacrosse thing.
The Big Ten's academic arm, the Committee on Institutional Cooperation, got excited when it was able to add nearly $1 billion in annual funded research when Rutgers and Maryland—again, two relative athletic middleweights—joined up in 2012. Johns Hopkins nearly doubles that total.
Now, this might be more of a University of Chicago-type relationship, because we don't expect Johns Hopkins to add a football program and build an 80,000-seat stadium just to fit in with the rest of the gang.
But the key is to realize that when it comes to the Big Ten and expansion, the on-field results are nearly incidental. It's all about expanding the footprint and leading the nation in research and collaboration. Look to those factors—not the gridiron.
This article is
What is the duplicate article?
Why is this article offensive?
Where is this article plagiarized from?
Why is this article poorly edited?