Power Ranking Top 10 Defensive Lineman Recruits of the 2014 Class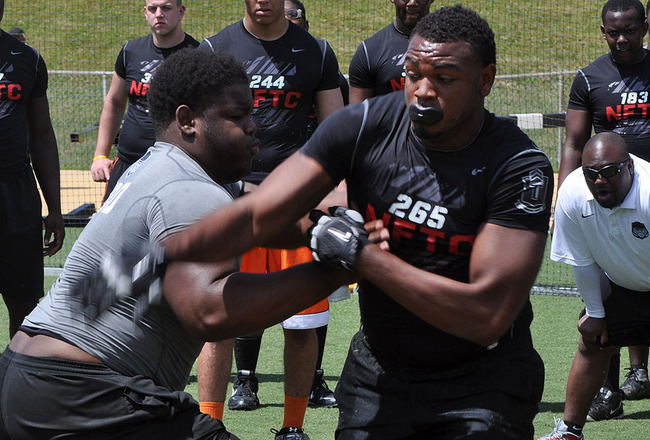 247Sports

We've begun our early top 10 lists recently, as last week we ranked the top 10 quarterbacks, receivers and running backs for the 2014 class. It's early in our rankings, so I caution that these lists will be subject to heavy change as this new cycle moves on.
Today we're going to move to the defensive side of the ball and check out how the defensive trenches look this year. I've identified 10 DL prospects who appear to be on their to way to being among the nation's best. Several of these DL prospects could contend to not only be among the top defensive recruits in the country, but also be involved in the top overall prospects conversation.
Looking at this class on the surface, it appears that it's a strong year for DLs, especially at the top of the board. Yet, you can see for yourself as here are the top 10 DL prospects early in 2014 recruiting.
10. Elisha Shaw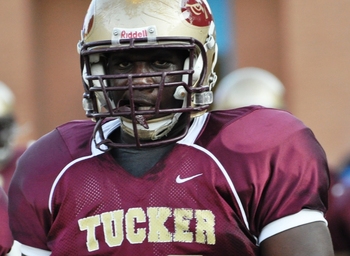 247Sports
Elisha Shaw is a 6'4", 295-pound DT from Georgia. He strikes me as a potential perfect fit for a 3-4 defense at the DE position.
I think he has the frame, base and strength to play the five-technique well in college, while also a little 4-3 DT too. He flashes some pass rushing ability, but this guy will likely grow into a space-eating trench man who two-gaps, clogs alleys and makes messes in the middle.
247Sports lists Georgia and Alabama as his top two.
9. Jalyn Holmes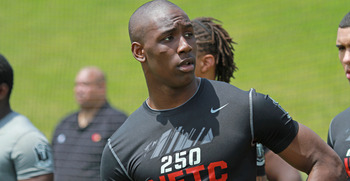 247Sports
From Virginia, Holmes looks like a WR/TE on the hoof at 6'5", 225 pounds. Yet he's a good weak-side DE prospect that can get upfield quickly, use his length to stay clean and can out-athlete blockers.
Holmes squeezes the pocket well, has some bending ability and closes quickly on ball carriers. He will need to continue to develop his strength, but his quickness and size are intriguing.
Look for the two Virginia schools to slug it out over him.
8. Nifae Lealao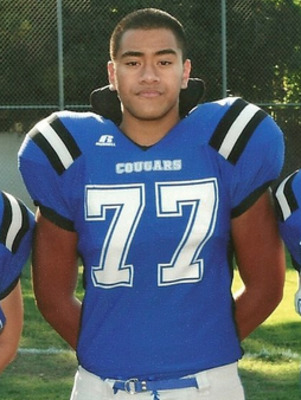 247Sports
Lealao is from Northern California and can play in a 30-front scheme of a four-down front too. He's 6'5" and is already over 280 pounds.
He's strong on his feet, shows good athleticism and can play DE or DT. His scheme versatility makes him an attractive prospect. I think right now he's a strong-side DE, but will likely grow into an interior defender in college.
Stanford may have the inside track.
7. Solomon Thomas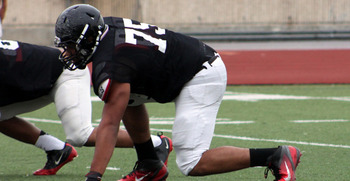 247Sports
Thomas can operate as an edge-setting defender from the DE/OLB position. Think Anthony Spencer or Tashawn Bower when you look at the 6'3", 251-pound Texan.
Thomas can stack blocks with strength, be tough and big at the point of attack and shed and stop the run well. He'll come off the ball hard as a pass rusher and can command chipping help from running backs and tight ends.
I think he could be looking at Texas hard at this stage.
6. Travonte Valentine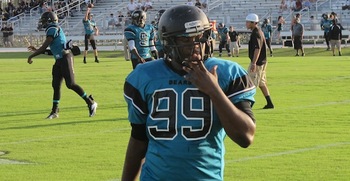 247Sports
At 6'4" and a hair under 300 pounds, the Florida-born Valentine can really be a force in the trenches. He's a DT that can punch with heavy hands, use strength to shed blocks and has short area pursuit quickness.
I think he could have some gap-penetration ability, yet Valentine could be a good fit as a two-gap defender. 247Sports shows Florida as his leader, but several other heavyweights are hot in pursuit.
5. Malik McDowell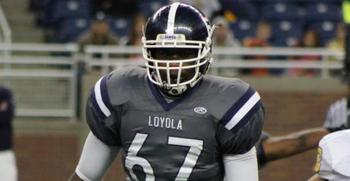 247Sports
McDowell's size on the hoof is the first thing that stands out, as it isn't hard to miss a guy who's 6'7" and 290 pounds. He plays DE right now, but he could become a DT very easily.
If a 3-4 team wants to keep him at DE, then he could fit nicely there, but if the Detroit native opts for a 4-3 program then he may be forecasting a future move inside. His strength, quickness and athleticism are all impressive.
247Sports says Michigan and Notre Dame
4. Lorenzo Featherston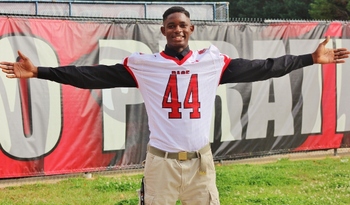 247Sports
Featherston is 6'7"—and nearly 6'8" tall—but only weighs 215 pounds. He looks like a small forward on the football field but just because he's tall and lean doesn't mean he's not a football player.
He can be a bit raw at times and certainly needs to fill out his frame, but he has vast potential. Featherston has excellent length, great quickness, is athletic and pursues the ball well.
Once he gets in college with full-time coaching, he should soar. I expect that to be NC State.
3. Lorenzo Carter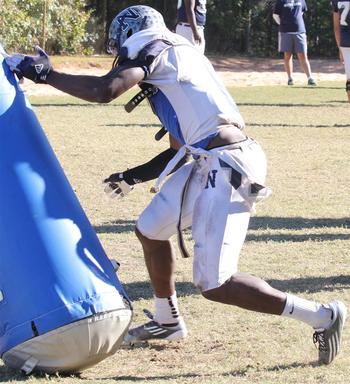 247Sports
Carter plays DE at 6'6" and 232 pounds, but he could become a stand up OLB/Rush End in college. He's got the athleticism, strength and skill set to do it.
What's also interesting about Carter is that he is a great basketball prospect too.
On the gridiron he can shoot off the snap, play big at the point of attack or bend around the pocket.
Carter converts speed to power in a hurry, is pretty strong and has elite pass rushing potential. Watch out for Florida, Georgia and Alabama because I think Carter could prefer the 3-4 OLB role.
2. Andrew Brown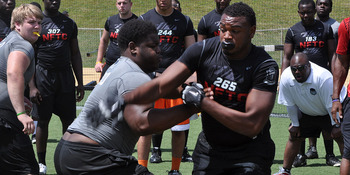 247Sports
Brown is the top DT for 2014 right now and looks awfully good on tape. He's listed at 6'4" and close to 285 pounds, plus he shows great strength at the point of attack, quickness and hand usage.
Brown operates with great leverage, can flat-back at the snap and anchor against anyone. On passing downs, he penetrates gaps by attacking half a man, hustles through and makes his hay in the backfield.
It's early, but Brown could be superb talent. He has offers from many national powerhouses.
1. Da'Shawn Hand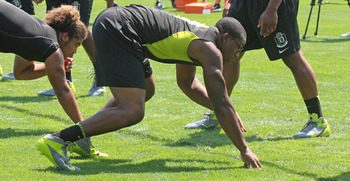 247Sports
Hand is not just the top DL prospect, but he's also the No. 1 overall recruit for 2014. He's 6'5", 250 pounds and has just about everything needed to be a dominant defender.
From being a gifted athlete to having outstanding first-step quickness, good strength and explosiveness to close, Hand is a very good prospect. He has the strength to move inside and rush against OGs in passing situations and I think he can even drop off in zone coverage a little bit too.
Alabama, Florida, Michigan, South Carolina and Virginia Tech are his well known top five choices.
Edwin Weathersby is the College Football Recruiting Analyst for Bleacher Report. He has worked in scouting/player personnel departments for three professional football teams, including the New York Giants, Cleveland Browns and the Las Vegas Gladiators of the Arena League. He spent a year evaluating prep prospects and writing specific recruiting and scouting content articles for Student Sports Football (formerly ESPN Rise-HS). A syndicated scout and writer, he's also contributed to WeAreSC.com, GatorBait.net and Diamonds in the Rough Inc., a College Football and NFL Draft magazine.
Keep Reading