15 Biggest College Football Recruiting Decommitments of the BCS Era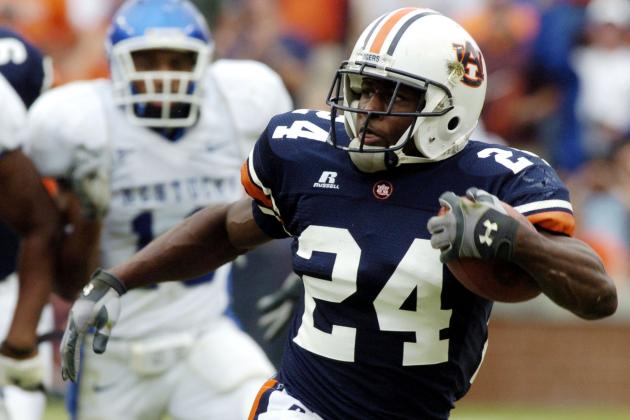 Chris Graythen/Getty Images

The Bowl Championship Series (BCS) era started in 1998 and really took college football to new, albeit controversial, heights in popularity. Shortly after the BCS era started, the recruiting industry exploded as websites, chat rooms and message boards became a revolutionary area for covering college football recruiting.
Recruiting got even more competitive, which brought along more de-commitments. With recruiting now being its own industry and the coverage of football recruits being now so extensive, de-commitments of high profile recruits came under more scrutiny and got more national attention.
I'm going to use this piece to take a look at 15 of the biggest de-commitments in the BCS era. Some of these will go way "back in the day" while others are fairly recent in memory.
Begin Slideshow

»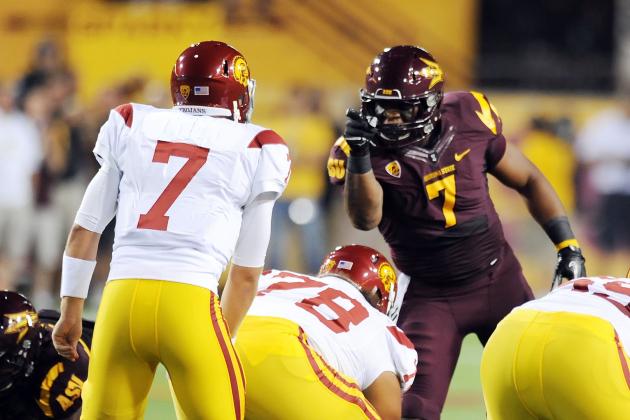 Norm Hall/Getty Images

Burfict was the nation's best linebacker in 2009 and committed to USC early in the process. His size, athleticism and speed made him a coveted prospect, and the Trojans thought they had him locked up.
However, as the cycle wore on, Arizona State got in Burfict's ear. Some even say they convinced Burfict he wouldn't be able to qualify academically at USC and a lot of negative recruiting took place.
Burfict ended up signing with the Sun Devils and became one of the LBs in the country during his career at Arizona State.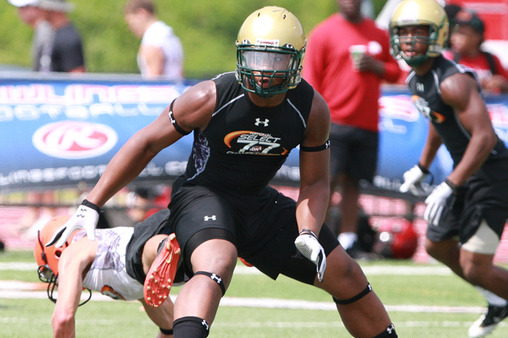 247Sports
Robert Nkemdiche was the top recruit for 2013 recruiting class and gave an early pledge to Clemson in the spring of 2012. The Tigers were overjoyed with happiness because they viewed Nkemdiche as their next DaQuan Bowers and Gaines Adams.
As soon as the commitment was announced, word had it that Nkemdiche wouldn't really be signing with Clemson.
After months of defending how firm his commitment was, Nkemdiche finally de-committed and ended up at Ole Miss — per the request of his family — to play with his brother.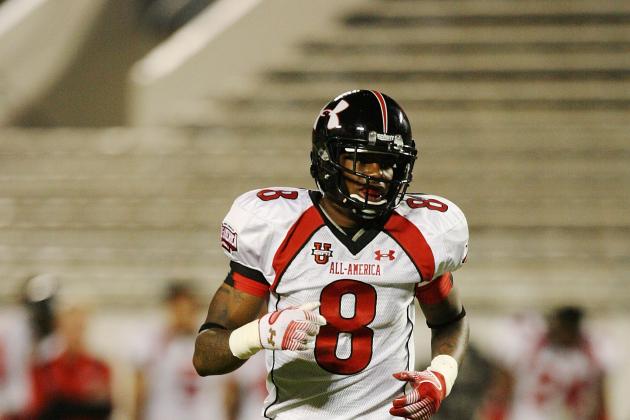 Doug Benc/Getty Images

Morrell Presley was the top tight end prospect in 2009 recruiting, as he was more of a big wide receiver. From Los Angeles, Presley pledged to the University of Southern California and people were led to believe he was firm.
Months later, Presley shockingly de-committed from USC and switched to the University of California at Los Angeles. This was shocking because the Bruins were not winning much and USC had serious recruiting heat.
Presley eventually flamed out of UCLA.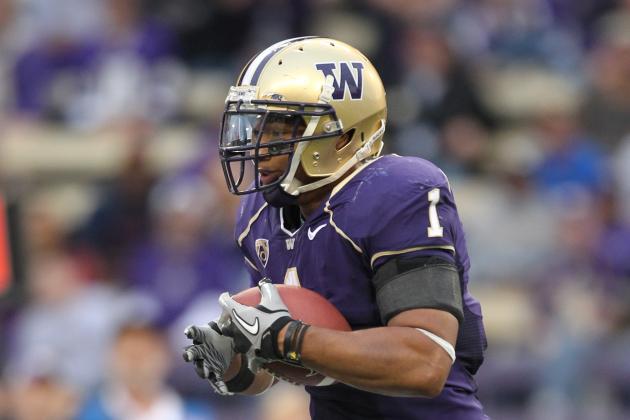 Otto Greule Jr/Getty Images

Another lost commitment for the Trojans, Chris Polk was one of the top recruits in California in 2008. He committed around the spring of his junior year as a running back/wide receiver/defensive back.
After awhile, he de-committed and chose to go to Washington, where he bulked up and became one of the best RBs in the Pac-10/12.
This was a key de-commitment because it was another case how recruits factor depth charts heavily into their decisions.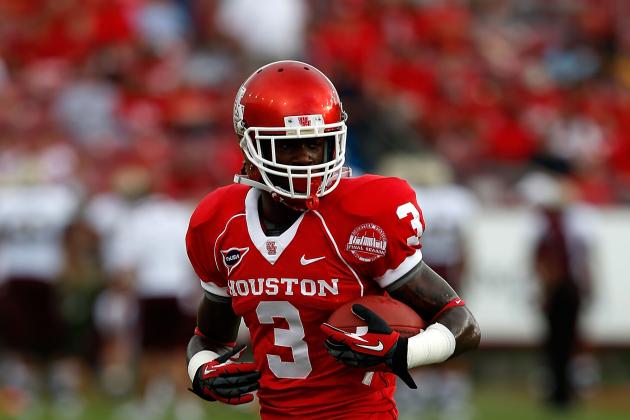 Scott Halleran/Getty Images

One of the top wide receiver prospects in 2012 recruiting, the 6 foot, 3 inch Deontay Greenberry committed to Notre Dame and was thought to be bringing his size and speed to South Bend.
Signing Day came and Greenberry pulled one of the biggest head scratching moves in modern recruiting history. He de-committed from Notre Dame and decided to sign with Houston.
Yes, Houston beat out Notre Dame for one of the top WRs in the country.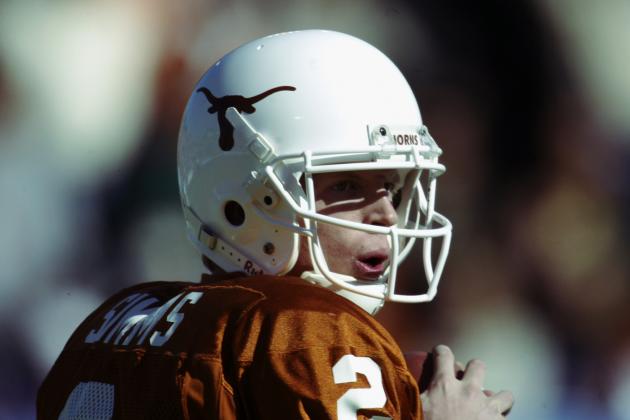 Brian Bahr/Getty Images

Chris Simms was the golden by of the 1999 recruiting class, as he obviously had a great pedigree, good size at 6 foot, 4inches, 225 pounds and great physical tools.
He committed to Phillip Fulmer and the rest of the University of Tennessee staff, which was huge news. Some time later, Simms backed off that pledge due to a great trip to Texas and committed to the Longhorns.
Would Texas fans still want Simms if they knew then what they know now?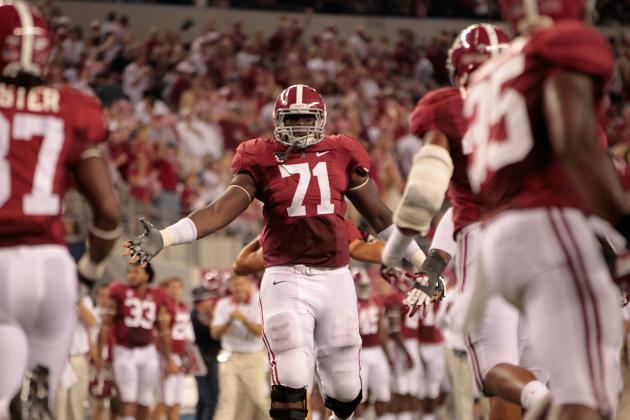 Leon Halip/Getty Images

The big outside tackle committed to Auburn University on ESPN, but you could see it in his eyes that he wasn't really into it. He never faxed Gene Chizik his signed national letter of intent (NLI) and took a few days after national signing day (NSD) to decide.
After a few days of thought, Cyrus Kouandjio de-committed from Auburn and signed with the University of Alabama. Today he's the starting left tackle of a team that just won a BCS title and looks like he has an NFL future.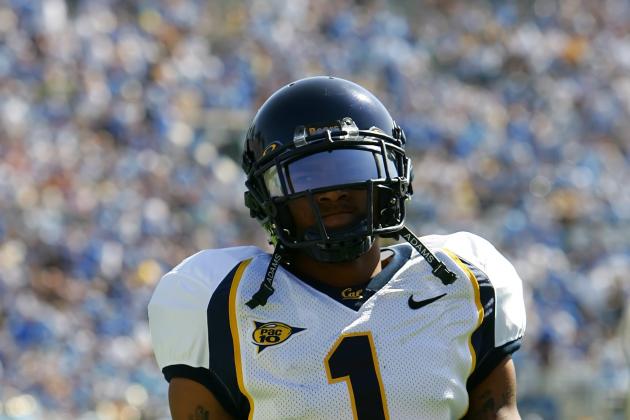 Lisa Blumenfeld/Getty Images

DeSean Jackson has always hinted that he got turned off by the Trojans' coaching staff at the last minute. University of Southern California observers will counter that USC didn't do or say anything out of order.
Yet, the story goes that Jackson gave USC a silent commitment before the 2005 national signing day. He wanted to keep it on the down-low so he could announce it on TV.
Sometime between his commitment to USC and the TV announcement, things fell apart and Jackson went on TV and announced for Cal.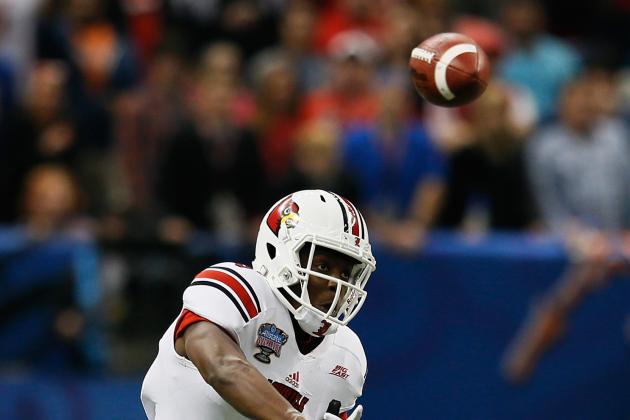 Kevin C. Cox/Getty Images

Teddy Bridgewater committed to the University of Miami during the 2011 recruiting cycle. The Hurricanes felt he would follow in the footsteps of then-quarterback Jacory Harris, as Bridgewater, even from the 305 area.
Time wore on and Bridgewater abruptly de-committed from The U.
He eventually signed with Louisville and will enter the 2013 season as a Heisman contender and perhaps a candidate to be a first-round pick in the 2014 NFL Draft.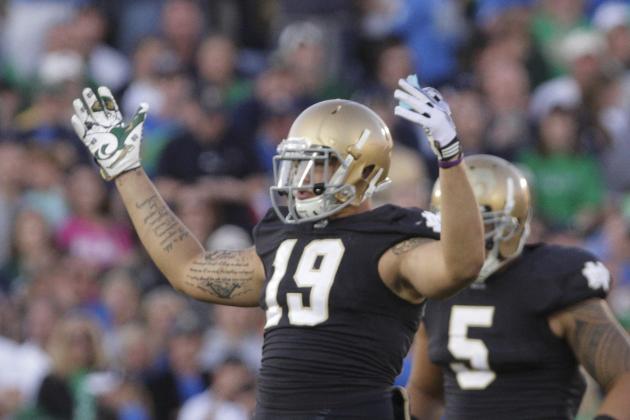 John Gress/Getty Images

The same year that Bridgewater was bolting to Louisville from Miami, Aaron Lynch was struggling with his recruitment too. He committed to Florida State University but also liked Notre Dame.
There was a span of time where it seemed Lynch committed and de-committed from both schools every day. He signed with Notre Dame over FSU in the end, had a great freshman year, but has since transferred to South Florida.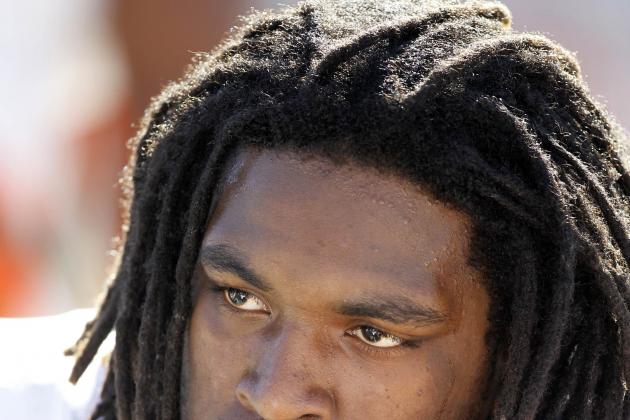 USA TODAY Sports

Seantrel Henderson didn't just commit to the University of Southern California in 2010, he signed his national letter of intent and sent it to the Trojans. After their sanctions were announced by the NCAA, USC let Henderson walk and he headed to Miami.
Things haven't gone too well in Coral Gables, as Henderson could be looking for property in the town of "Bustville." He needs to pick it up this 2013 year or he'll definitely be living in that town after this year.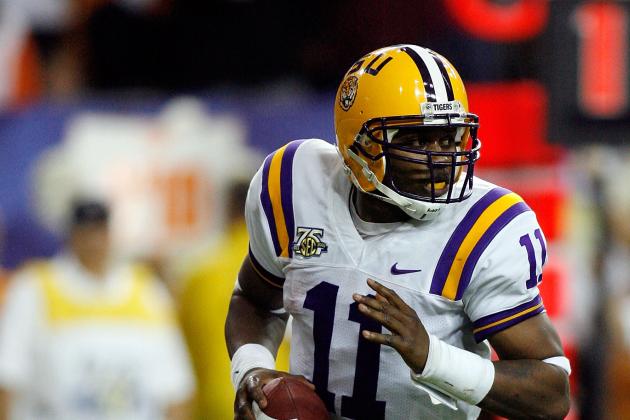 Chris Graythen/Getty Images

Ryan Perrilloux was a dynamic dual threat quarterback in the 2005 class that had good size at 6 foot, 2 inches, a strong arm and speed. He gave the University of Texas his commitment, but he ultimately backed off that pledge.
Perrilloux wasn't afraid to let people know how good he was and de-committed from Texas to pledge Louisiana State University, thinking he was better JaMarcus Russell. He never did that and when he got in, Perrilloux was not anything special.
He eventually ran into off-field problems and transferred to Jacksonville State.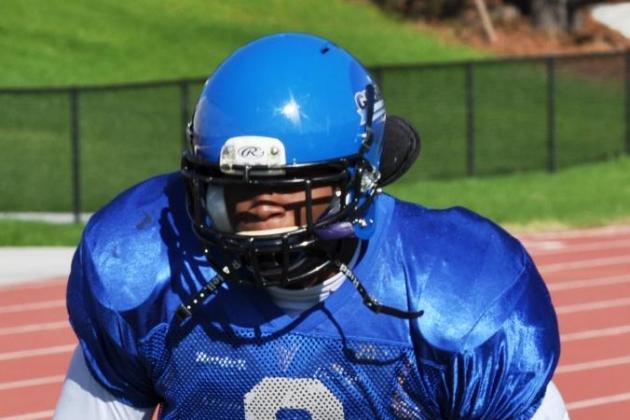 247Sports
Reuben Foster, the top middle linebacker in 2013, committed to the University of Alabama before his junior year and routinely took trips to Tuscaloosa.
He then moved to Auburn from his home in Georgia and, before his senior season started, de-committed from the Tide and shockingly committed to Auburn University.
The Tigers had a down season in 2012 and fired Gene Chizik, which forced Foster to re-open his recruitment. A few days before the 2013 national signing day, Foster announced he was re-committing to Alabama.
Gunner Kiel was the top pocket-passing quarterback in 2012 recruiting and was a hot name on the trail. From Indiana, he committed to the Hoosiers and Bloomington thought its football team's tide was turning.
A few months later, Kiel de-committed from Indy and pledged to Louisiana State University after a trip to Baton Rouge. We thought it was a done deal, and obviously Les Miles felt the same.
Right before he was to enroll in college early, Kiel shocked many by showing up at Notre Dame and enrolling there. This birthed the infamous diss that Les Miles gave Kiel...(see clip)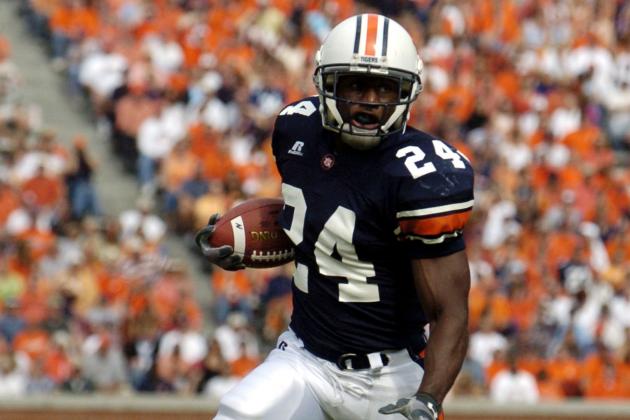 Chris Graythen/Getty Images

Cadillac Williams was one of the best overall players in the 2001 class. From Alabama, he had great speed, elusiveness, vision and excellent instincts.
A natural runner, "Cadillac" committed to the University of Tennessee and the Vols had him sewn up. Auburn then began to really put the pressure on and pried him away from its SEC rival's clutches, thanks to a late in-home visit.
Williams became a Top 5 NFL Draft Pick thanks to his career at Auburn.
Edwin Weathersby is the College Football Recruiting Analyst for Bleacher Report. He has worked in scouting/player personnel departments for three professional football teams, including the New York Giants, Cleveland Browns and the Las Vegas Gladiators of the Arena League. He spent a year evaluating prep prospects and writing specific recruiting and scouting content articles for Student Sports Football (formerly ESPN Rise-HS). A syndicated scout and writer, he's also contributed to WeAreSC.com, GatorBait.net and Diamonds in the Rough Inc., a College Football and NFL Draft magazine.