Pac 12 Football: Who Will Reload and Who Will Rebuild in Spring Practice?
Jeff Gross/Getty Images
Rose Bowl Champions, Stanford
As a whole, the Pac-12 conference looks pretty strong when it comes to its core of returning starters for the 2013 season.
In fact, it would be shocking if the Pac-12 only sends one team to a BCS bowl next January. The Big Ten had a horrible 2012 (thanks in part to the NCAA); the ACC finally won in the Orange Bowl but it took an opponent from the MAC (Northern Illinois) to break its three-year futility streak; and the Big East is shrinking before our very eyes.
So yes, the SEC, Big 12 and Pac-12 look like the top three conferences in prime position to dominate in the BCS bowls. But with spring camps less than a month away, some Pac-12 teams have a tougher path than others right out of the gate. Schedules aside, the road to the Rose Bowl may be slick due to the internal make up of each team's units. Some teams are in better shape than others.
Rebuilding mode translates to the majority of a unit or corps being comprised of non-starters with little to no experience from the previous season.
Reloading mode, on the other hand, is simply patching up a few holes here and there—overall the core is intact, and there are veterans or seasoned players in each unit. Obviously, a Pac-12 team in rebuilding mode has a lower projection of success than a team in reloading mode.
So which Pac-12 teams are in rebuilding mode and which are in reloading mode?
Begin Slideshow

»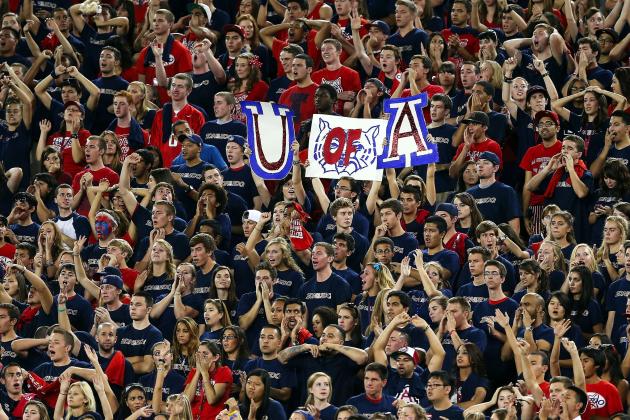 Christian Petersen/Getty Images

The Wildcats return everybody on defense, but on the offensive side of the ball, they have a few open spots at quarterback, fullback and wide receiver plus two interior linemen openings.
Arizona also must replace both its kicker and punter. Overall, this looks like a minor reloading process for head coach Rich Rodriguez unless the quarterback competition doesn't start to yield a clear-cut front runner late in spring practice.
Still, Arizona is definitely in reload mode with what looks like 17 of 22 starters returning.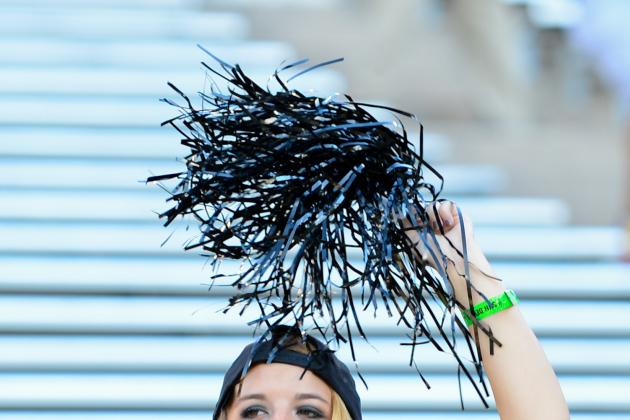 Matt Kartozian-USA TODAY Sports

Arizona State loses two receivers and two interior linemen on the offense. The Sun Devils also lose running back Cameron Marshall who shared backfield duties with Marion Grice, who returns.
Defensively, the losses aren't bad in terms of numbers but losing linebacker Brandon Magee hurts. The Sun Devils also lose two defensive backs in Deveron Carr (1 INT) and Keelan Johnson (5 INTs) so the secondary should be okay.
Since the Sun Devils' core units return mostly intact with only one (secondary) returning 50 percent of its starters, Arizona State is looking good at a minor reloading mode.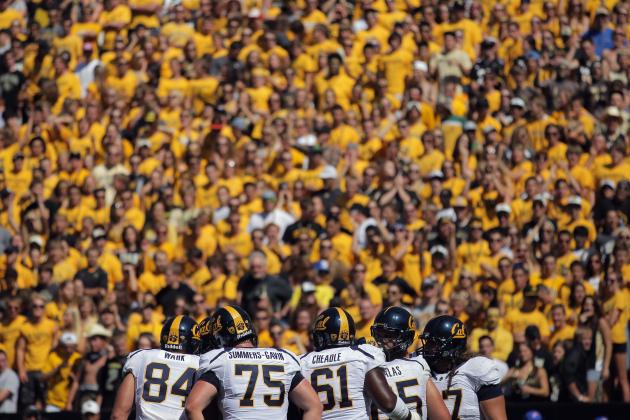 Doug Pensinger/Getty Images

For Cal fans, 2013 could be a long year. There's no getting around the talent that has left the team so we won't sugarcoat this.
Basically, everybody on the offense is gone except for four players. The defense fares better with what looks like seven starters returning, but we're also looking at a team that lost its long-time coach, Jeff Tedford. Losing defensive line coach Tosh Lupoi also didn't help the 3-9 Bears last season.
Cal and its new head coach Sonny Dykes are in full blown rebuilding mode for 2013.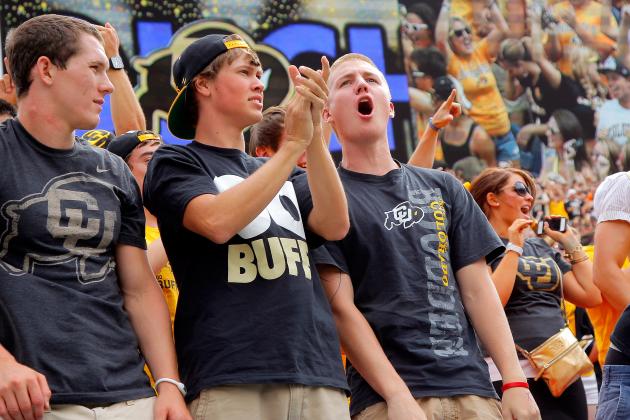 Doug Pensinger/Getty Images

Colorado may surprise a few folks this year. Yes, head coach Jon Embree is gone but Mike MacIntyre is well-known for his miraculous rebuilding of football programs—see San Jose State for proof.
MacIntyre inherits a 1-11 team from 2012, and while that team was very young, it also means most of its starters return. The Buffaloes only lose two starters on the offense but the early defection of tackle David Bakhtiari is a big one—he was one of the most talented tackles in the league.
Defensively, the Buffs look like they're in good shape with each corps returning the majority of its starters. The line loses a tackle; the secondary loses a safety; and two of the four linebackers are lost. So while MacIntyre will certainly open up the competition at numerous positions, he has a lot of experienced players with which to work.
Colorado will be in reloading mode but it'll feel like rebuilding mode with the influx of new coaches.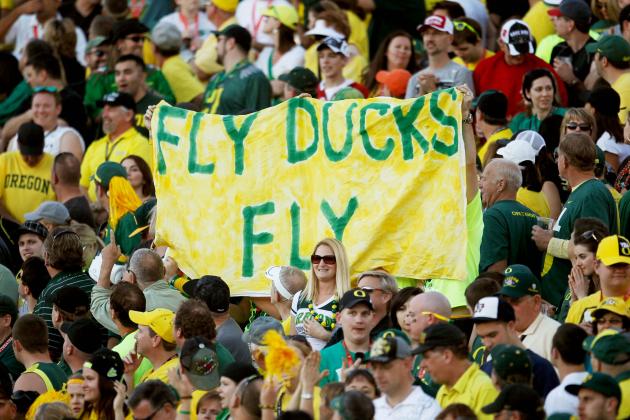 Jeff Gross/Getty Images

Former head coach Chip Kelly was well-known for substituting liberally during the Ducks' games—after the game outcome was no longer in doubt, which was usually by halftime, Kelly would insert his reserves for the rest of the game where they got invaluable experience.
The benefit was that if any starter went down with injury, the back up could fill in and the team wouldn't miss a beat. That philosophy has worked well for the Ducks after they have been subject to some suspensions and season-ending injuries but bounced back without any ill-effects.
New head coach Mark Helfrich inherits a loaded offense that only loses two linemen and a running back. Granted, Kenjon Barner was the workhorse of the Ducks' offense last season, but De'Anthony Thomas is waiting in the wings and may make fans forget about Barner quickly.
Defensively, the Ducks are in no man's land. The defense loses half of its starting linemen, two-thirds of its starting linebackers and one stud safety in John Boyett.
The offense looks good to go but the defense is going to have to be somewhat rebuilt—the question is, will this just be another season of Oregon appearing to have to rebuild but it turning out to be a fast reload?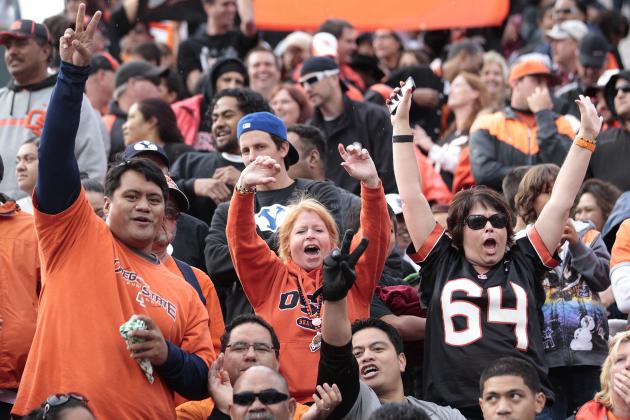 George Frey/Getty Images

Last year the Beavers had a potent passing attack under the arm of Sean Mannion and receivers Markus Wheaton and Brandin Cooks, but what really made the Beavers such a very good team was its defense.
Offensively, the Beavers look great coming into the spring losing only Wheaton, a tight end and a tackle. The defense is a different story.
The secondary loses safety Anthony Watkins and cornerback Jordan Poyer as well as a linebacker and two defensive tackles.
This isn't a devastating loss of defensive starters but the Beavers' defense was special last year, and this looks like it could be a minor rebuilding project for Mike Riley.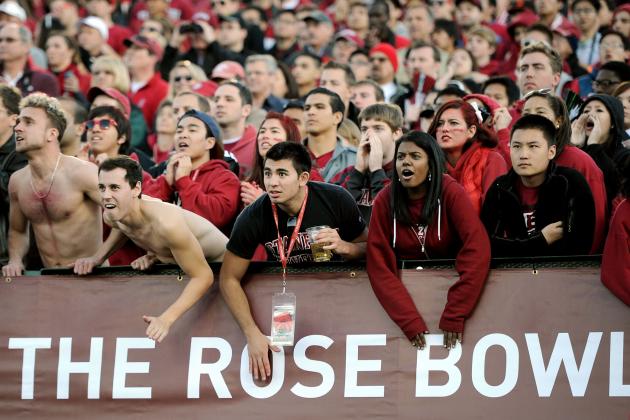 Harry How/Getty Images

Stanford's biggest strength offensively has been sound quarterback play, a power running game and a stout O-line. This spring we won't see two solid tight ends (Zach Ertz and early defector Levine Toilolo) nor will we see running back Stepfan Taylor. The Cardinal also lose a center and wide receiver.
That's a significant loss of starters, but the key here is the return of running back Tyler Gaffney from the minor leagues. Moreover, with the O-line returning mostly intact, there should be no concerns on the offense.
The defense is even better shape. Each unit loses only one starter: Tackle Terrence Stephens, linebacker Chase Thomas and cornerback Terrence Brown.
Stanford will be in reload mode and aiming for another Pac-12 Championship.
Harry How/Getty Images

The Bruins only lose four offensive players but the four they lose will hurt: running back Johnathan Franklin, tight end Joseph Fauria, receiver Jerry Johnson and lineman Jeff Baca.
But there's no reason to fret because most of the Bruins' past offensive problems have been due to quarterback play and a soft offensive line that has improved greatly over the past year—last year quarterback Brett Hundley posted solid numbers, and the O-line created some great opportunities for Franklin.
Defensively, the Bruins will have to rebuild. The secondary only returns safety Tevin McDonald. The defensive line loses end Datone Jones, a probable first-rounder in this year's draft, and linebacker Dalton Hilliard. I like this linebacker corps a lot so I'm not too concerned with that unit, but the secondary is of particular concern.
Mora has brought in five defensive backs in this year's freshman class but they'll be green. Call 2013 a rebuilding project in the secondary but everywhere else it's reload mode.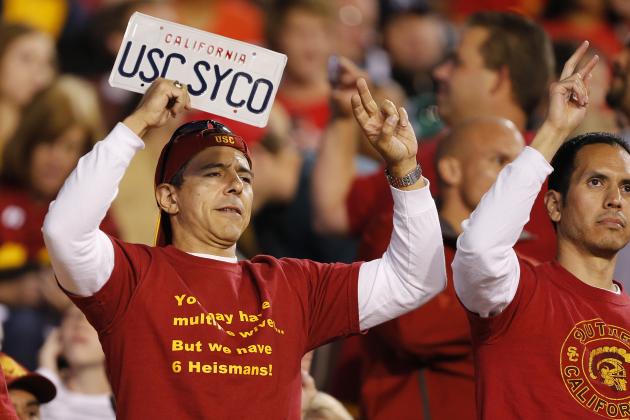 George Frey/Getty Images

The offense doesn't lose a lot in numbers but in terms of the heart of the offense, well, it's been ripped out. Both quarterback Matt Barkley and center Khaled Holmes are off to the NFL as well as receiver Robert Woods, an early defector to the NFL.
The problem for USC is that Max Wittek appeared to be the front runner as starting quarterback but after a underwhelming Sun Bowl performance against Georgia Tech, we can say with a lot of confidence that incoming freshman Max Browne could also be right in the thick of the competition.
Defensively, the line looks fairly intact with one end position that needs to be filled. The linebackers all return and while their play was somewhat criticized last year, many believe it was due to then-defensive coordinator Monte Kiffin's schemes, not the abilities of the linebackers. The secondary is decimated and that should be reason to signal a four-alarm fire because those defensive backs gave up a lot of big plays last year.
The offense is in reload mode but the defense—and its coaching staff—is in rebuild mode.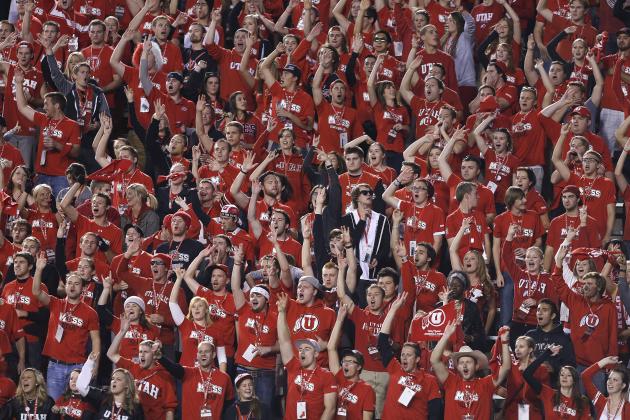 George Frey/Getty Images

We'll get right to the point here: Utah loses seven offensive starters (including three linemen) and five defensive starters—three of their vaunted front four are gone.
R-E-B-U-I-L-D mode all around.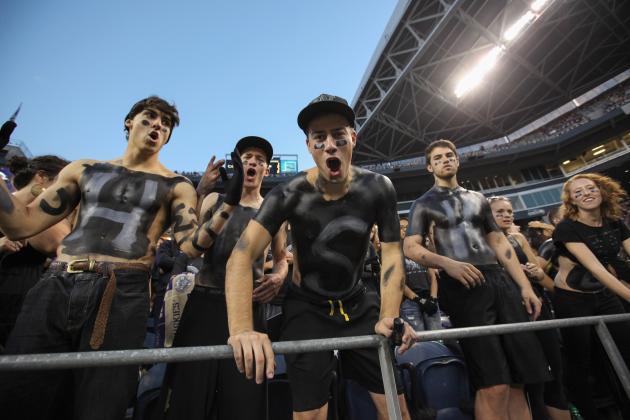 Otto Greule Jr/Getty Images

The Washington Huskies will probably surprise a lot of football fans this year because they are locked and loaded—they are in neither reload nor rebuild mode.
The offense loses two starters, and the defense loses three with its biggest loss being cornerback Desmond Trufant.
Honestly, every Pac-12 fan should be watching the Huskies' spring camp because they could be the biggest sleeper in the Pac-12.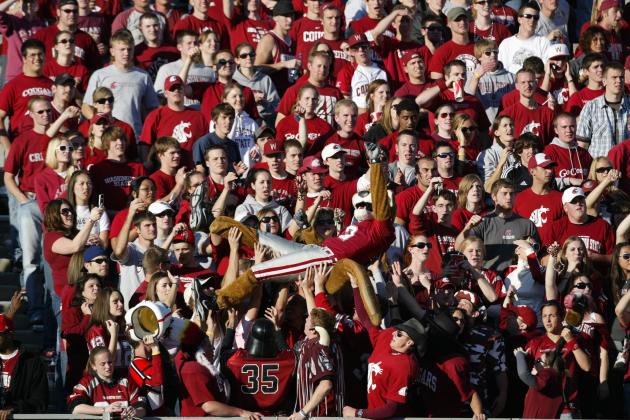 Otto Greule Jr/Getty Images

The Washington State Cougars return all but two starters on each side of the ball but that doesn't necessarily mean that head coach Mike Leach won't have some healthy competition for some starting spots.
Still, returning nine offensive and nine defensive starters for most programs would signify a superb season to look forward to but this is Washington State—it's just not there yet.
The Cougars are in status quo mode in every sense of the word.