Michigan Football Recruiting: 5 Signees Who Should Redshirt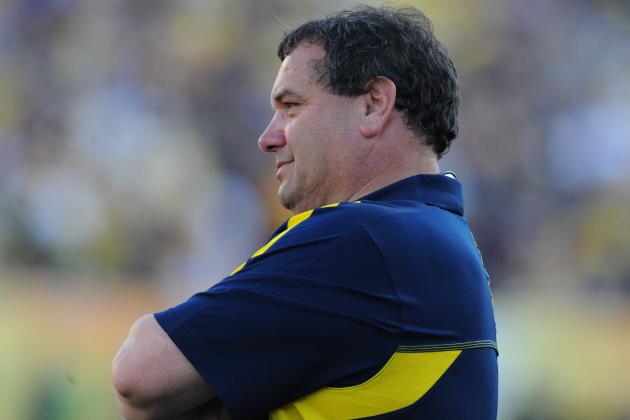 Al Messerschmidt/Getty Images

Although Michigan's 2013 class is filled with future stars, there are still plenty of guys in it that will need time to develop both physically and mentally.
For some of these men, a redshirt year is essential. Whether it's because they're simply not ready to compete or because their respective position is already stockpiled with talent, a redshirt year would pay dividends for them.
Here's a look at the five young men in this class most likely to redshirt.
Begin Slideshow

»
Ben Gedeon is actually quite highly rated by a number of recruiting services. Why does he make this list then? Simply because of the situation Michigan currently has at linebacker.
The Wolverines are absolutely loaded with talent and depth, and it's hard to see Gedeon factoring into the equation as a freshman.
Heck, it's even hard to see Mike McCray getting into the picture, much less Gedeon.
Michigan is extremely young at linebacker, so it could be a while before Gedeon is much of a factor. There's nothing wrong with that, though, as it will give him plenty of time to learn the defense and get his body into shape.
It is very hard to put Tuley-Tillman on this list, seeing as how he is an early enrollee and already on campus. In fact, freshmen offensive linemen are hard to judge in general.
Plus, we know how much Brady Hoke loves to redshirt them. For example, everybody thought Kyle Kalis would see plenty of action last year, yet he shockingly wound up redshirting.
Tuley-Tillman's presence in spring ball will give him a leg up heading into the fall, but I don't think it will be enough for him to compete for playing time.
He is absolutely mammoth, standing 6'7" and weighing 307 pounds, but is also extremely raw.
Not only do I think Tuley-Tillman won't see the field, but also very few (if any) of the other freshmen offensive linemen in this class as well.
Scott Sypniewski is, by far, the man everybody likes to pick on the most in this class. The general thoughts surrounding him seem to be why in the world Brady Hoke would "waste" a scholarship on a long snapper.
Well, long snappers only get attention when they do something wrong, and fortunately we haven't really seen any of that at Michigan in a long time. Hopefully, Sypniewski will keep it that way.
Jareth Glanda will be around for one more year, so that sets up perfectly for Sypniewski to potentially redshirt and then step right in.
Having a scholarship long snapper as part of a team's recruiting class is so rare, that it's tough to project their progression. General thought would be that he should be ready in a year or so.
Reon Dawson was one of the last guys to commit in this 2013 class. However, he is one of the lowest rated commits as well.
Michigan's current cornerback situation on the team is very good. Plus, they have a very solid group of corners coming in for the '13 class.
That spells redshirt for Dawson. In fact, he may have an uphill battle his entire career when considering the other young corners on the roster.
Neither projected starters Blake Countess and Ray Taylor are seniors, nor are backup plans Delonte Hollowell and Terry Richardson.
Plus, this '13 class is bringing in two more highly rated corners in Ross Douglas and Jourdan Lewis. If Dawson is going to compete for playing time somewhere in the next few years, he'll certainly have earned it.
Michigan has what is probably the best collection of offensive linemen in the country in this 2013 class, and Dan Samuelson is the lowest rated of the bunch.
Michigan also brought in one of the best offensive line groups in last year's 2012 class as well.
Plus, this year's group of starting five linemen will be fairly young. If anybody could use a redshirt year, it's Samuelson.
There are obviously surprises and sleepers in every year's class, but it's hard to picture Samuelson ever contributing heavily.
He shouldn't feel bad, though; there are going to be a number of very good linemen that may never start at Michigan simply because of the depth and talent that has been stockpiled at the position.
Samuelson could literally be playing behind three or four All-Big Ten linemen at numerous points throughout his career.
At Michigan, though, that's just the way it should be.