SEC Recruiting Power Rankings Post Reuben Foster Commitment to Alabama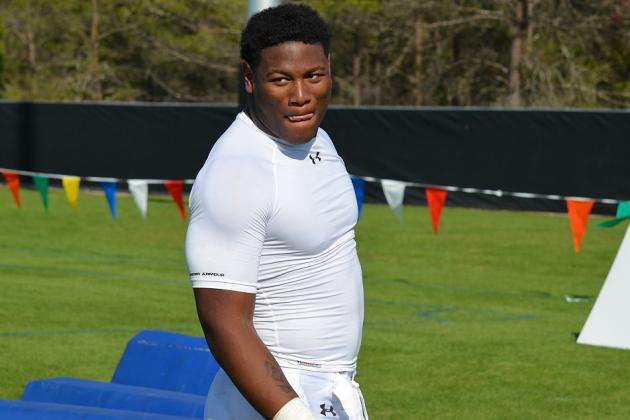 247Sports.com
Tonight, on Fox Sports South and stud LB prospect Reuben Foster committed to Alabama, per 247Sports.com. When he's focused and in-shape, Foster is one of the top five overall football players in the country and a special talent. This is a huge commitment for 'Bama, as it gives them a plug and play LB prospect who can come in and make an instant impact right away.
The 6'2", 245-pound 'backer has great instincts, speed, range, quickness and is a very natural second-level defender. With Foster now officially coming into the SEC, this has a big impact on SEC recruiting and the current rankings.
Just how far does Foster's commitment to Alabama push the Crimson Tide up the SEC recruiting rankings? That's what we'll find out right now!
Begin Slideshow

»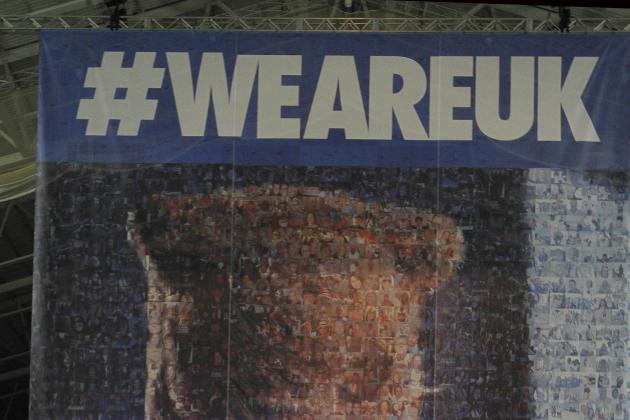 Mark Zerof-USA TODAY Sports

The Wildcats have 20 commitments right now. Mark Stoops is learning how to recruit as a head coach, and I expect UK to ascend its recruiting reach beginning next year.
I like OC Lovell Peterson as a sleeper, and JUCO WR Javess Bluee and DE Za'Darous Smith should help immediately. The length of DE Alvonte Bell makes him an intriguing prospect.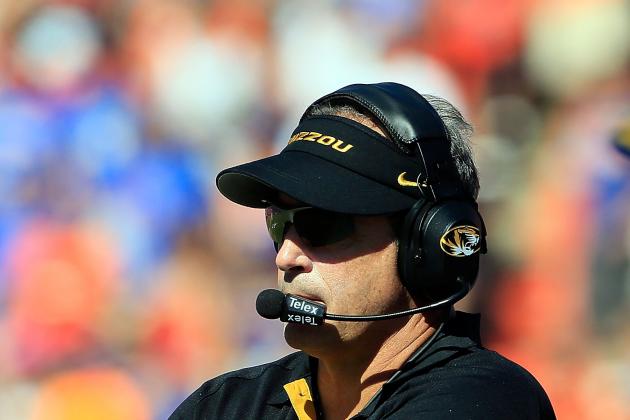 Sam Greenwood/Getty Images

Gary Pinkel is a fine football coach, and he along with his staff will maximize what they can from this class. Right now it has 19 commitments and is led by ATH Chase Abbington.
While Abbington is surely a jewel, the player that has to get Pinkel the most fired up is DT Josh Augusta. An athletic 6'4", 275-pounder in the trenches, Augusta may be the next Sheldon Richardson for the Tigers.
USA TODAY Sports

Bret Bielema has been hard at work since he became Boss Hog. He's putting the final touches on a 20-man class at the moment that features stud TE Hunter Henry.
I think Bielema has a solid shot at landing RB Alex Collins to end this cycle with a band. Current QB commit Austin Allen is a solid passer, and Bielema will surely emphasis toughness from his inaugural recruiting class in Fayeteville.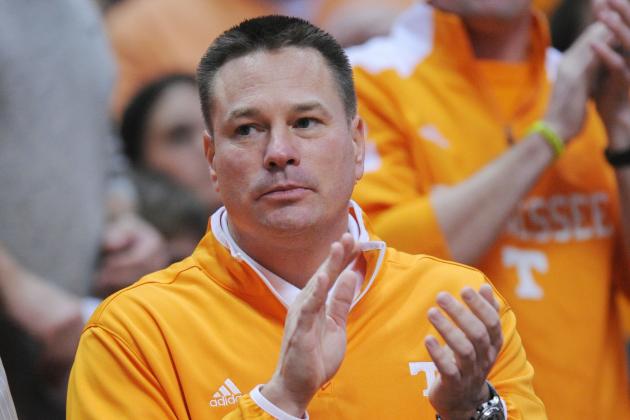 USA TODAY Sports

The Vols have a 18-man class right now and received a recruiting kaboom last week when they landed WR Marquez North. A 6'3", 210-pounder from North Carolina, if North maxes out his talents then he compares favorably to Terrell Owens in his prime.
QB Riley Ferguson will come in looking to compete right away for the starting job. I like Corey Vereen's 6'2", 230-pound frame and OL Austin Sanders should become a fixture at OT.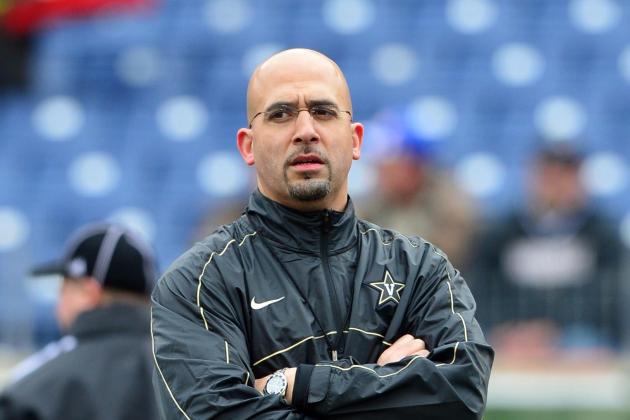 Don McPeak-USA TODAY Sports

Just because Vandy is at this slot doesn't mean its class isn't respected, as it should finish in the top 25 nationally. James Franklin has done a great job putting together this 25-man class.
JUCO TE Brandon Vanderburg is the headliner along with DT Jay Woods, WR DeAndre Woods and QBs Johnathon McCrary and Chad Kanoff. The talent quality is increasing in Nashville.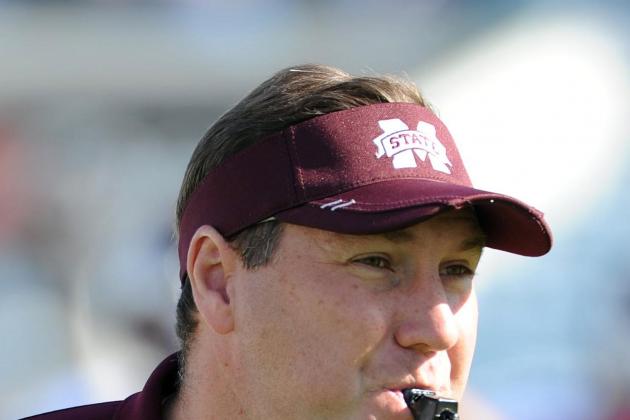 USA TODAY Sports

Dan Mullen is sweating a little bit right now because he is trying to hold on to DE Chris Jones. The 6'6", 260-pound edge defender is not a lock to sign with the Bulldogs.
QB Cord Sandberg is a good fit for Mullen's offense, as the dual-threat QB can beat a defense running and throwing. JUCO prospects WR Jeremy Chappelle and S Justin Cox could be immediate contributors.
Also keep a lookout for ATH Ashton Shumpert.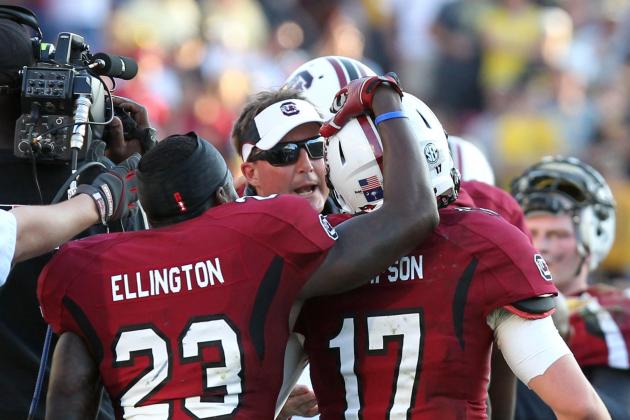 Kim Klement-USA TODAY Sports

The Gamecocks have 21 commitments and four are ESPN 300 members. DT Kelsey Griffin figures to blossom into a run-plugger in the middle and will over 300 pounds soon.
QB Connor Mitch is likely the QB of the future for Steve Spurrier and RB David Williams can help as a runner and receiver. OLB Larenz Bryant has great range, and I really like the OL class that is coming to Columbia.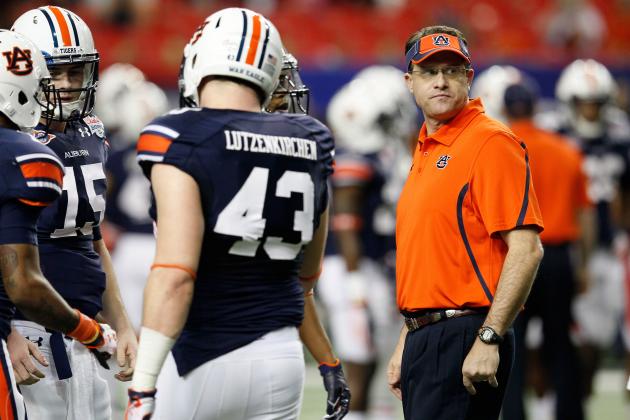 Kevin C. Cox/Getty Images

The Tigers lost out on Reuben Foster tonight, but it isn't all bad news for Gus Malzahn. It appears that DE Carl Lawson will stick with the Tigers.
Malzahn is also awaiting word on a few other prospects and currently has 20 pledges. Lawson leads a group that also features DE Tashawn Bower, QB Jeremy Johnson and WR Tony Stevens.
This Auburn is a lot better than people may think.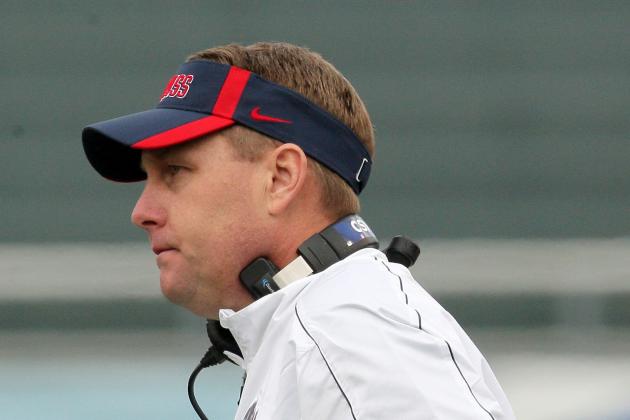 USA TODAY Sports

The hot team right now in recruiting resides in Oxford. The Ole Miss Rebels are 48 hours away from landing easily the best and biggest recruiting class in school history.
With 23 commitments, Hugh Freeze has seven ESPN 300 prospects. WR Laquon Treadwell is the headliner at the moment and the class also has DE Elijah Daniel, QB Devin Kincade, JUCO DT Lavon Hooks, RB Kailo Moore and QB Ryan Buchanan among many others.
I highly doubt Ole Miss stays at this slot over the next 48 hours.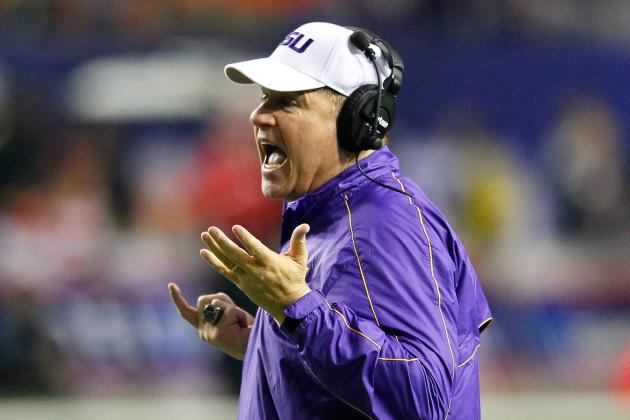 Kevin C. Cox/Getty Images

Les Miles' class gets slotted here in my SEC recruiting rankings. It's a great class that has 26 commitments.
DTs Maquedius Bain and Greg Gilmore are among a group that also has CB Jeryl Brazil, OL Ethan Pocic and QB Hayden Rettig.
The Tigers always get good talent and play good defense. DE Frank Herron and OLB/DE/ATH Kendell Beckwith will help keep that trend going in Baton Rouge.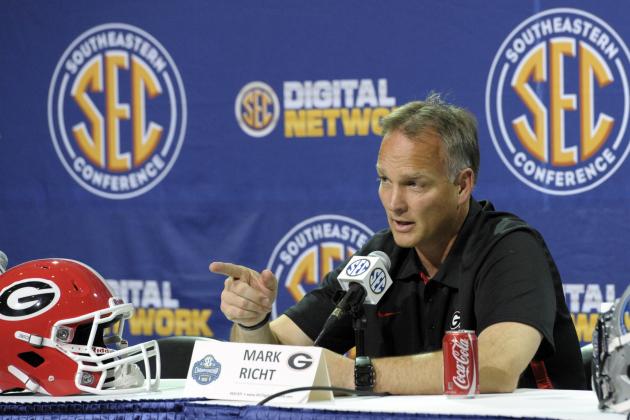 USA TODAY Sports

Mark Richt has 30 commitments right now and 12 of them are in the ESPN 300. Richt has UGA in the pot of a few other big name uncommitted prospects too.
QB Brice Ramsey, CB Shaq Wiggins, S Tray Matthews and ATH Tramel Terry are just the beginning of a very good class of 30 commitments coming to Athens.
Georgia has a chance to finish in the top 10 national rankings, even though it's No. 5 on the SEC board right now.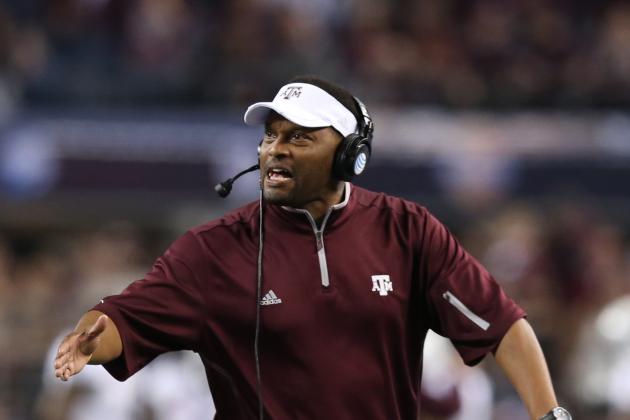 USA TODAY Sports

This is one of the largest recruiting classes I've ever seen, as the Aggies have 32 commitments. Ricky Seals-Jones and Derrick Griffin, two of the best pass-catchers in the country are the headliners.
Yet with players like DT Justin Manning, QB Kohl Stewart, WR Sebastian LaRue and CB Noel Ellis, the true "headliner" of this class could be up for debate.
WR LaQuvionte Gonzalez, S Kameron Miles and OG Joas Aguilar are good prospects and I like LBs Reggie Chevis and Joran Mastrogiovanni.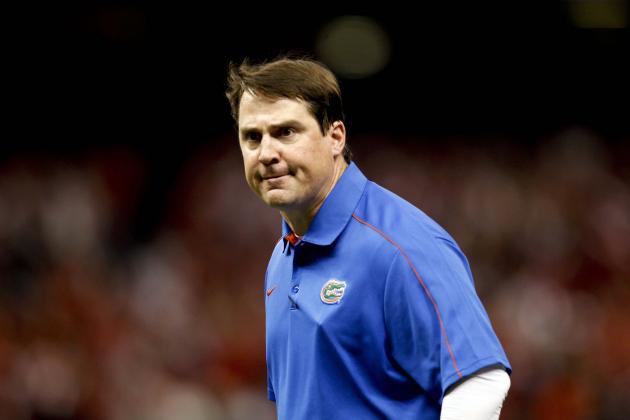 USA Today Sports

Florida's class is an excellent group of 26 commitments and Will Muschamp's group is thick in in the No. 1 conversation.
CB Vernon Hargreaves III is the headliner of a very talented class that fills a lot of needs for the Gators as well as stocking talent at other spots.
RB Kelvin Taylor, WR Ahmad Fulwood, S Keanu Neat, DT Caleb Brantley, QB Max Staver and LBs Daniel McMillan, Alex Anzalone and Matt Rolin are among the best in the country.
The Gators won't be void of talent anytime soon in Gainesville.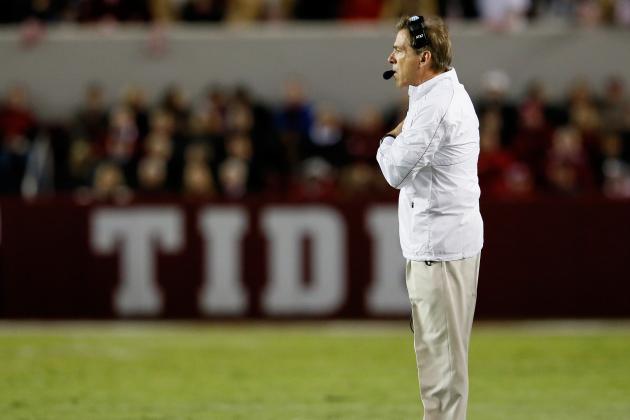 Kevin C. Cox/Getty Images

Well, he committed to them as a junior, de-committed from them last summer and now has committed to them again.
Yes, Reuben Foster is back with the Tide, as he committed to Alabama tonight on Fox Sports South, according to 247Sports.com.
Foster gives Alabama 23 commitments and the top class in the SEC and the country. He adds to a class that also has QB Cooper Bateman, TE O.J. Howard, three stud RBs including Derrick Henry, OG Grant Hill and WR Robert Foster.
OLB/DEs Tim Williams and Jonathan Allen will team up to give the Tide an imposing pass-rushing duo.
Saban strikes again.
Edwin Weathersby is the College Football Recruiting Analyst for Bleacher Report. He has worked in scouting/player personnel departments for three professional football teams, including the New York Giants, Cleveland Browns and the Las Vegas Gladiators of the Arena League. He spent a year evaluating prep prospects and writing specific recruiting and scouting content articles for Student Sports Football (formerly ESPN Rise-HS). A syndicated scout and writer, he's also contributed to WeAreSC.com, GatorBait.net and Diamonds in the Rough Inc., a College Football and NFL Draft magazine.