10 College Football Coaches with the Best Recruiting Pitches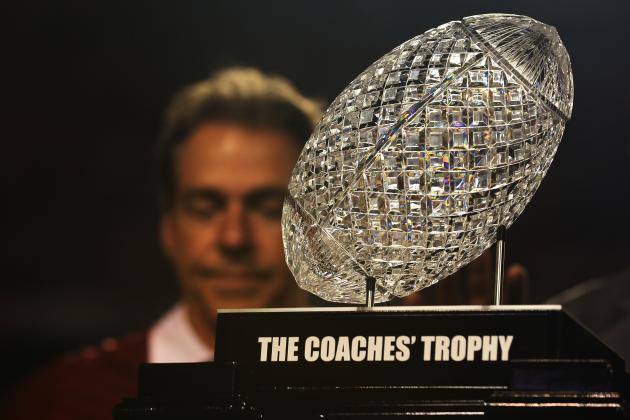 Streeter Lecka/Getty Images

With recruiting winding down for this season, let's take a look at the 10 coaches with the best pitches to sell to recruits.
The 10 men on this list have all enjoyed varying levels of success as head coaches, including several national titles between them.
Recruiting is no easy task, and any advantage that can be used in the recruiting race is of great value.
The men on this list have those advantages in abundance.
Begin Slideshow

»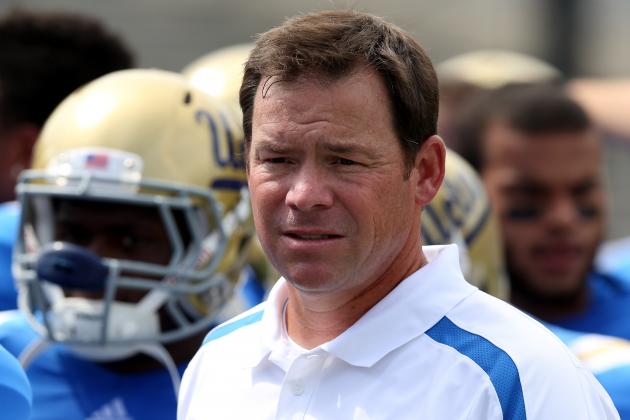 Stephen Dunn/Getty Images

UCLA is located in Southern California. Is there really more that's necessary for Mora to use as recruiting leverage?
The locations is a great pitch to use, but there is also the team's success.
The Bruins fell just short of a Pac-12 title last season, losing to Stanford in the conference title game.
Much of the team's young talent, including quarterback Brett Hundley, is returning and will be key to the team's success in the near future.
With the program on the rise, and USC seemingly faltering, Mora has a great opportunity to continue winning the in-state recruiting battle.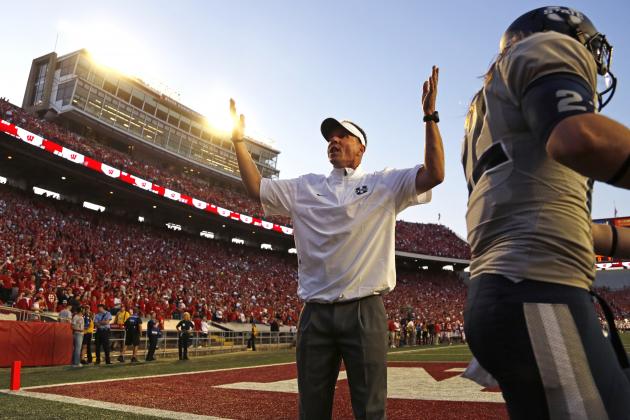 Tom Lynn/Getty Images

Andersen takes over as Wisconsin's head coach in 2013 and has plenty of potential recruiting buttons to push in his bid to lure recruits to freezing Madison.
Namely, the Badgers are the Big Ten's reigning champs, and have been for the past three seasons.
Andersen has an opportunity to take over for the departed Bret Bielema and leave his mark on a program that has enjoyed some very successful seasons in recent years.
On top of that, for the more discerning recruit, there is the success of Andersen's Utah State squads to consider.
In his four seasons at Utah State, he took the Aggies from a four-win team in 2009 to an 11-win season in the 2012 campaign.
For now, his recruiting pitch is pretty solid. Give him a season or two with a big-time program, and he will establish an even better pitch.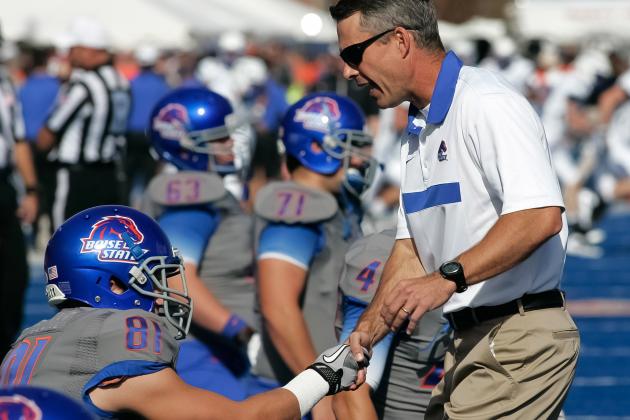 Otto Kitsinger III/Getty Images

Consider this tribute to Chris Petersen's coaching acumen:
In seven seasons at Boise State, his teams have won at least 12 games in five of his years as head coach, and at least 10 in every season.
He's averaged 12 wins per season, in a time when many teams only play 12 games a season.
I don't care in which conference this was accomplished—it's a remarkable feat.
On top of that, Petersen has taken the cachet of the Boise State program to a whole new level. He's given the program the reputation of a squad that routinely takes down BCS conference opponents.
He's repeatedly denied attempts by other programs to lure him away, providing a stability rarely found among head coaches at the college level.
Love or hate the guy, there is no denying Petersen has plenty of ammunition available to him in the recruiting battle.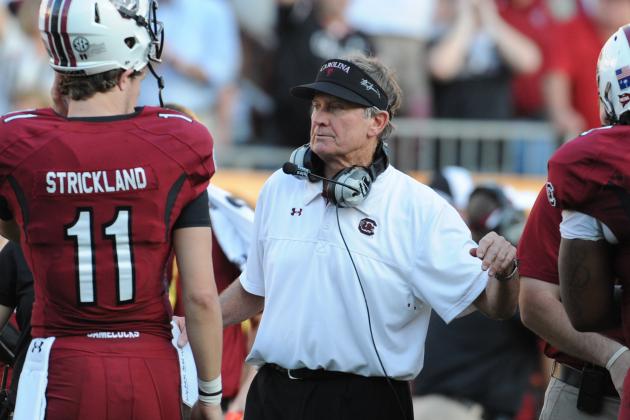 Al Messerschmidt/Getty Images

Spurrier has some swag when it comes to the recruiting game.
Columbia may not seem like the ideal destination to a high school kid, but there are definitely some positives Spurrier has going for him in the recruiting game.
He won a Heisman Trophy, so he knows what it takes to take that award, even though it was back in '66.
He's won SEC titles and a national title, and he has turned around a South Carolina program that had been wallowing in mediocrity until his arrival.
He's got a great sense of humor, along with years of experience, and he still coaches with an intensity not always seen on the sideline.
The weather in South Carolina is nice, and the city might not be the top destination for people seeking a good time, but it has plenty to offer a young college student.
Spurrier has plenty of material with which to lure young talent.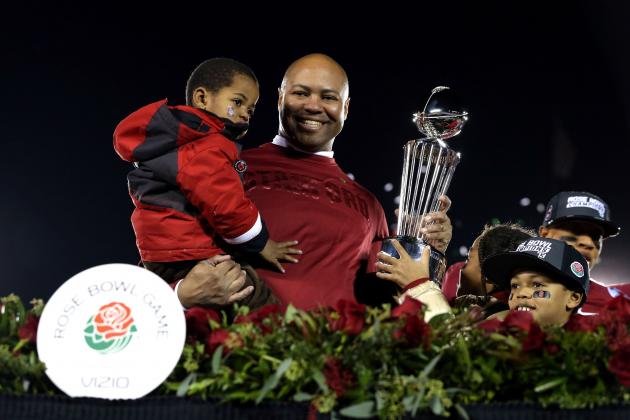 Jeff Gross/Getty Images

While some recruits are attracted to the flashy uniforms, new offensive sets or even a coach who is young enough to relate to them, that's not true of all recruits.
There are those who prefer the smashmouth, consistent style of a team such as the Cardinal.
David Shaw took over this team two years ago, after the departure of Jim Harbaugh, who provided us with a classic meltdown at the Super Bowl, and has since led the team to two BCS games, winning the 2013 Rose Bowl.
Shaw picked up right where Harbaugh left off, and if the Cardinal make it to another BCS game, he will have firmly cemented the program as one of the best in the nation.
The cachet that comes with this kind of success can be incredibly alluring to recruits.
Oh yeah, and the campus/area is one of the more beautiful spots in the nation.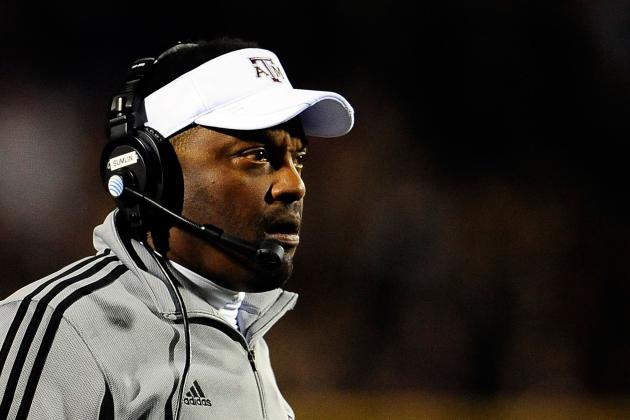 Stacy Revere/Getty Images

Kids love offense, and Sumlin is an offensive genius.
Before his time at Texas A&M, Sumlin oversaw a Houston squad that routinely boasted one of the most explosive offenses in the nation while he was the head coach.
And now he has plenty of ammunition to bring in top recruits.
Quarterback Johnny Manziel is easily the most exciting player in the game and already has a Heisman Trophy to his name.
With the talent currently on the team, as well as Sumlin's attractive offensive system, the Aggies will continue moving up in the recruiting rankings.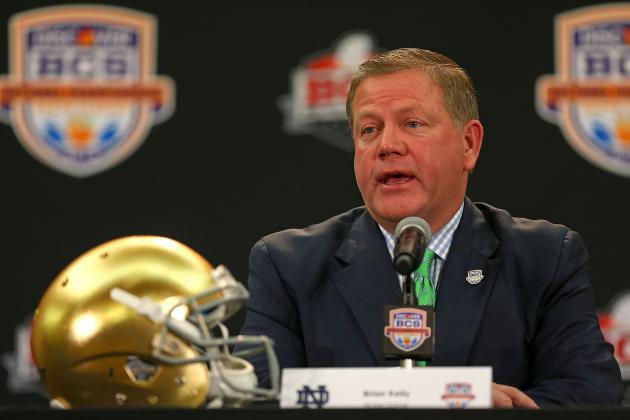 Mike Ehrmann/Getty Images

It's probably safe to say that all the backlash from Notre Dame's awful title game loss and the drama surrounding Manti Te'o has slowly faded into the background.
But was that really all bad for the Irish?
It was publicity and heck, publicity is great for recruiting. As if a program such as Notre Dame needs more press.
The program remains one of the most storied in football lore, with legendary players galore playing for the Irish throughout the program's history.
But honestly, what 17-year-old kid really cares about national titles won back before he was born?
Enter Brian Kelly.
Kelly has the ability to demonstrate his offensive acumen for recruits, and he can now talk about Notre Dame's return to glory and the chance that recruits will have to be a part of Irish history.
Sure, that beating by Alabama was painful, but the Irish were one of only two teams to finish the regular season undefeated.
Unless he really screws it up, Kelly has plenty of fodder to feed to recruits.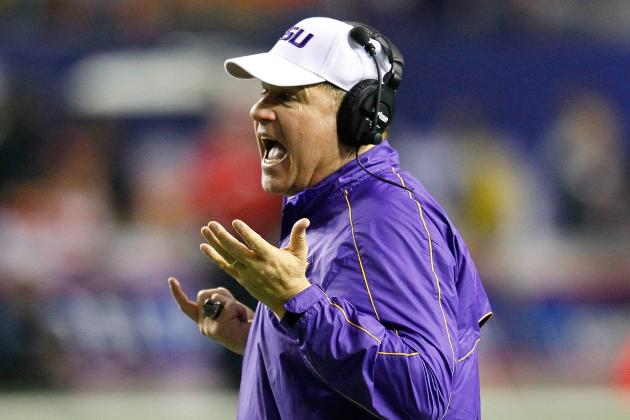 Kevin C. Cox/Getty Images

Look, Les Miles may have a strange in-game diet and little to no clock management skills.
However, he is a great talker, and his teams win games.
Since taking over at LSU in 2005, Miles' Tigers have won 84 of 105 games.
He's also won two SEC titles and a national championship.
He coaches in the greatest football conference in America, and the program has one of the most dedicated fanbases to be found anywhere.
Winning is a very effective pitch, as proven by Miles' recruiting track record. With the avid following the Tigers have, as well as his penchant for winning, LSU should have the advantage over nearly every program other than Alabama.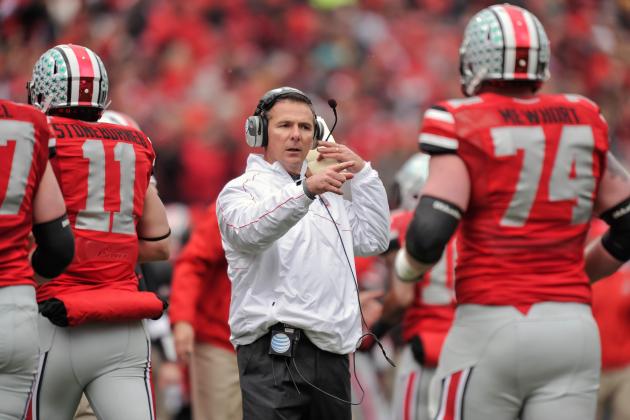 Jamie Sabau/Getty Images

Meyer has plenty of resume to run by potential recruits.
He coached Utah to a BCS game win back in 2004, before being a "BCS-buster" was fashionable.
At his next stop, Florida, he led the Gators to bowl wins in five of his six seasons, including two national titles and three BCS game victories.
Most recently, he led the 2012 Ohio State Buckeyes to a perfect season, and now he has the team, led by quarterback Braxton Miller, primed for another excellent year in 2013.
Ohio State has been dominating the Big Ten for the better part of the last 15 years, and with the experienced Meyer at the helm, the Buckeyes seem ready for another lengthy run at the top of the conference.
With that kind of success looming on the horizon, there is little doubt that Meyer can lure some great recruits in the upcoming season. As a matter of fact, he's already using his SEC recruiting experience to his advantage. He currently has the fourth-ranked 2013 recruiting class, as ranked by Rivals.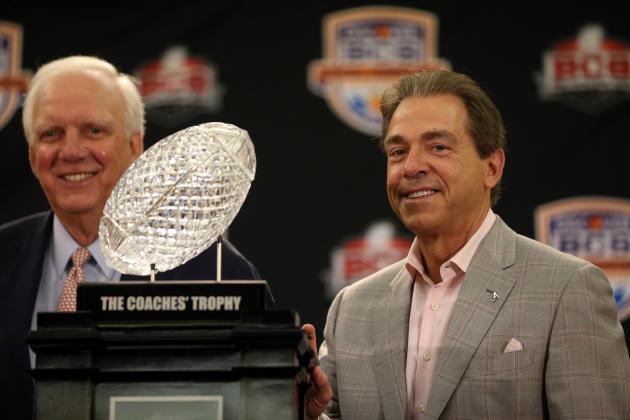 Streeter Lecka/Getty Images

There is no coach in the nation that has the pull in recruiting battles that Nick Saban does.
All he has to do is show off his three BCS title trophies to make his point.
If that's not enough, recruits might be interested to know that Alabama is perhaps the greatest program in football history and can provide plenty of exposure to go with one of the most dedicated fanbases in the country.
But it's those crystal balls that have the most pull, and judging from Saban's continued success in recruiting, there could be more to come.