SEC Football Winners and Losers for the Month of January 2013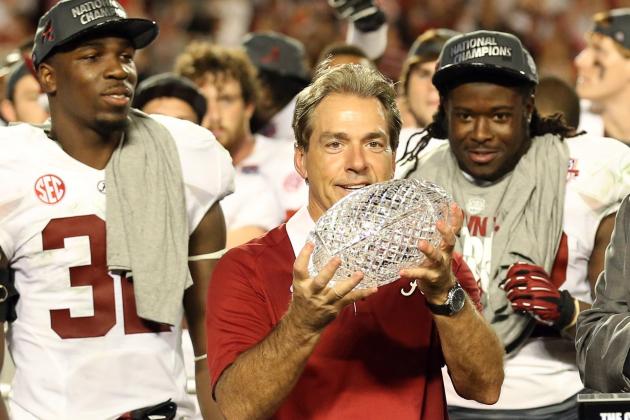 Matthew Emmons-USA TODAY Sports
Alabama head coach Nick Saban
The month started with several SEC teams playing bowl games, and it will come to a close with deer antler spray dominating headlines.
Talk about a roller coaster of storylines.
In between the discussion of actual football and not-so-typical offseason storylines, we've seen several SEC players, coaches and programs have ups and downs.
Who were the winners and losers of the month of January? Our picks are in this slideshow.
Begin Slideshow

»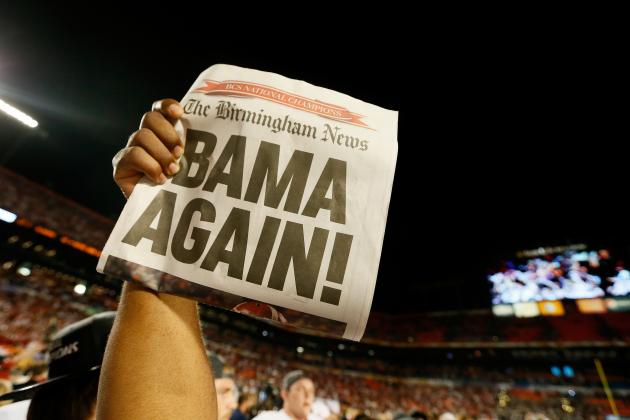 Kevin C. Cox/Getty Images

Well, of course the Alabama Crimson Tide is the big winner of the month of January. After all, they topped Notre Dame 42-14 on Jan. 7 to claim the BCS National Championship—the third title for Alabama in four years.
They did so in dominating fashion.
From the moment toe met leather in Miami Gardens, the Crimson Tide routinely punched the Fighting Irish in the mouth, and Brian Kelly's crew simply had no answer.
It was a thoroughly dominating performance by the Crimson Tide on college football's biggest stage, and solidified the Alabama program as the first (and only) college football dynasty of the Bowl Championship Series (BCS) era.
The play of the year in 2013 might have happened on its first day.
After the referees inexplicably awarded Michigan with a first down on a fourth-down play in the fourth quarter of the Outback Bowl, South Carolina defensive end Jadeveon Clowney took matters into his own hands.
Literally.
The sophomore superstar announced his presence in the 2013 Heisman Trophy race with authority, exploding off the line of scrimmage, destroying Wolverine running back Vincent Smith, forcing a fumble and recovering it at the Michigan 31-yard line.
It was one of those plays that will live on highlight reels for quite some time.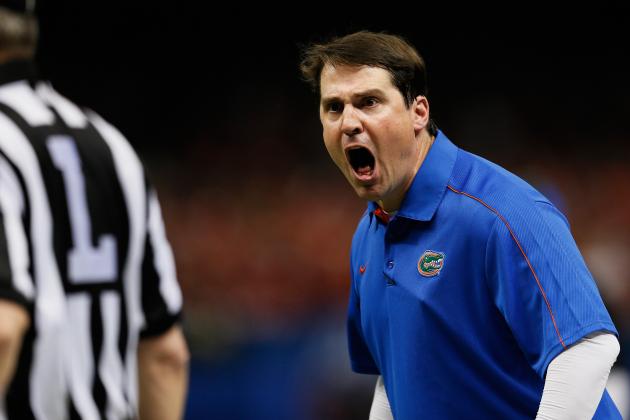 Kevin C. Cox/Getty Images
Florida head coach Will Muschamp
While Alabama proved that it still is the class of the BCS, Florida's appearance in the Sugar Bowl didn't exactly live up to lofty SEC expectations.
In fact, it was a complete letdown.
The Gators fell to Big East champ Louisville 33-23 in a game that wasn't nearly as close as the score indicated.
Behind a dazzling performance from Cardinals quarterback Teddy Bridgewater, Louisville jumped out to a 24-3 lead on the Gators and cruised to the victory.
The blowout loss gave the anti-SEC crowd plenty to talk about. Well...at least until the BCS National Championship Game.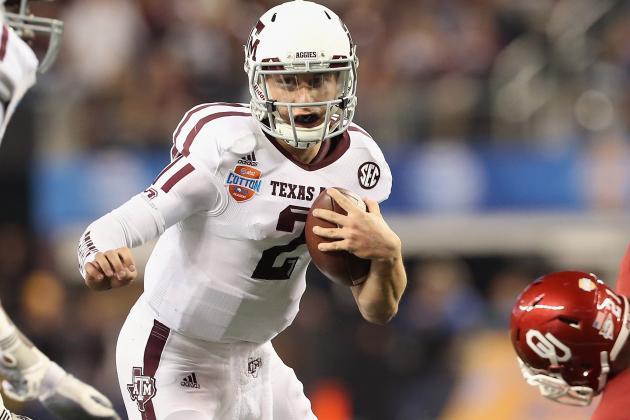 Ronald Martinez/Getty Images
Texas A&M QB Johnny Manziel
It's safe to say that Texas A&M quarterback Johnny Manziel is living the dream.
For proof, just look at all that he accomplished during the month of January.
He set the Cotton Bowl record for total yards by gaining 516 total yards in a 41-13 win over Oklahoma, celebrated with a (legal) trip to the WinStar World Casino in Oklahoma and came away a winner, followed that up by popping champagne in a Dallas club, sat courtside at another NBA game and then became even more of an Internet legend with this awesome trick shot video.
That's enough fun for a year or two, much less one month.
If you're Manziel, it's just "college."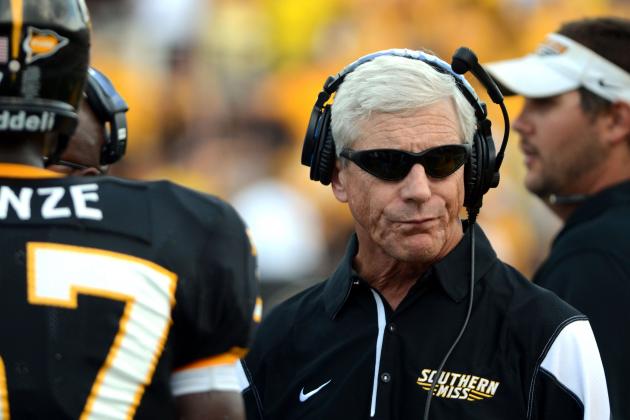 Chuck Cook -USA TODAY Sports
Auburn defensive coordinator Ellis Johnson
There's never a good time to lose your cell phone. However, if you're an assistant coach at an SEC school on a brand new staff during the most critical time of recruiting season, January is probably the worst possible time.
That's exactly what happened to first-year Auburn defensive coordinator Ellis Johnson. Johnson's cell phone went missing for approximately two weeks, but was returned to its owner just before the final weekend of the recruiting season, according to CoachingSearch.com.
Just in time.
With that being said, maybe some Southern Miss fans who are still upset over Johnson's 0-12 record in Hattiesburg have his number. So its absence may not be such a big deal after all.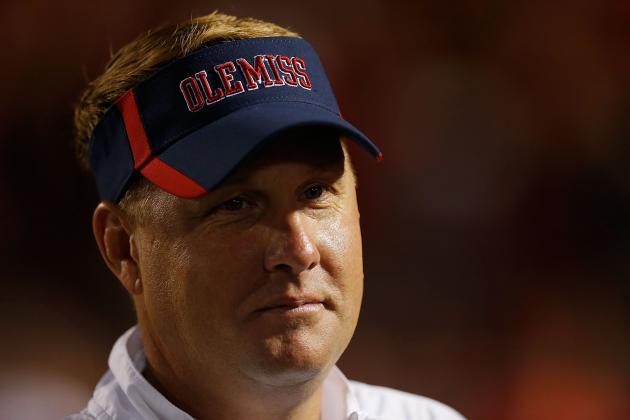 Scott Halleran/Getty Images
Ole Miss head coach Hugh Freeze
It's not often that any coach coming off a 7-6 campaign is the talk of recruiting season for all the good reasons, but that's where second-year Ole Miss head coach Hugh Freeze found himself during the month of January.
Freeze currently has the nation's 12th-best recruiting class, according to 247Sports.com. If No. 1 overall prospect Robert Nkemdiche and 5-star safety Tony Conner sign on the dotted line on Feb. 6—as they're expected to—Ole Miss could wind up with a top-10 class.
Plus, with several other top-tier prospects considering the Rebels, they could vault all the way into the top five.
Not bad, Mr. Freeze. Not bad at all.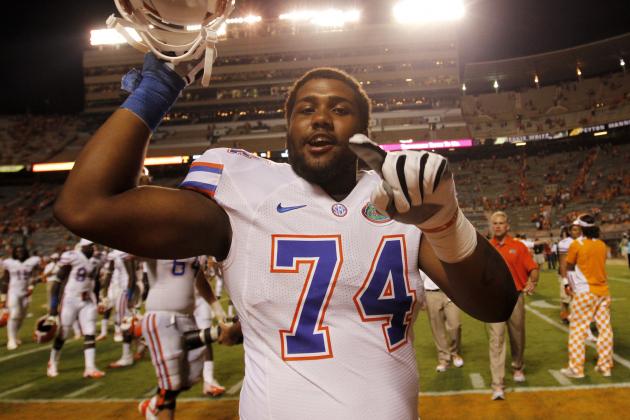 John Sommers II/Getty Images
Florida OT Jessamen Dunker
Florida offensive tackle Jessamen Dunker didn't exactly have the best month.
The rising sophomore was arrested and charged with grand theft of a motor vehicle, a third-degree felony, for riding a stolen scooter without a license tag.
That's certainly a little excessive for theft of a motor vehicle, but not a charge that you want to mess around with.
And here we thought that Athens, Ga. had the monopoly on scooter-related incidents.
Dunker was suspended indefinitely by head coach Will Muschamp following the arrest, according to TampaBay.com.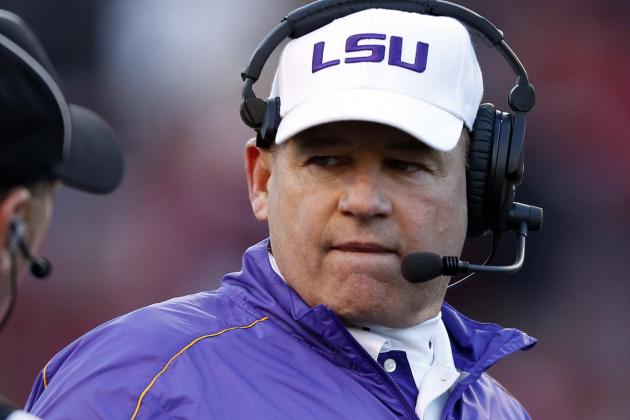 Wesley Hitt/Getty Images
LSU head coach Les Miles
LSU head coach Les Miles didn't close out December the way he hoped, losing to Clemson 25-24 in the Chick-fil-A Bowl on New Year's Eve.
However, the month of January hasn't been so bad for the Mad Hatter.
LSU announced on Jan. 24 that it had agreed with Miles on a seven-year contract extension that will pay the coach $4.3 million per season—tied for the fourth-highest mark in college football. The extension will go before the LSU Board of Supervisors on Feb. 1.
Not a bad payday for Miles, who has led the Tigers to an 85-21 record in his eight years in Baton Rouge.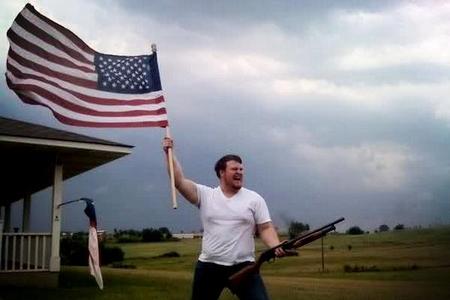 Photo Credit: @WattsDantzler
Georgia offensive lineman Watts Dantzler—he of the epic spring break bus-ride story—is simply a must-follow on Twitter.
With inclement weather approaching on Wednesday, he attempted to fight off Mother Nature in a most "American Way" and posted the evidence on his Twitter account.
I have no idea where Dantzler is going for spring break in 2013, or how he intends to fend off the inevitable Georgia ice storm. However, you can rest assured that he will find his way into this list upon his return, wherever he goes or however he gets there.