Big 12 Football Winners and Losers for the Month of January 2013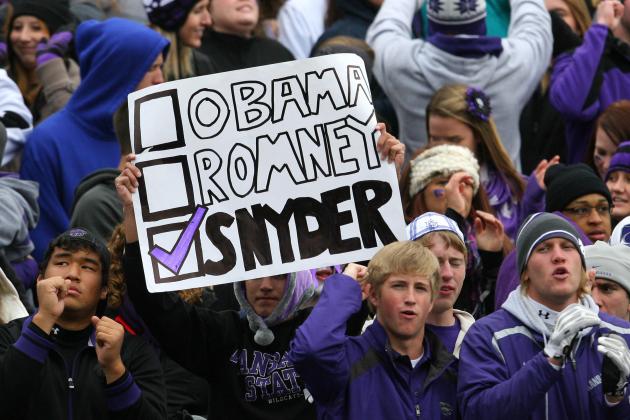 Scott Sewell-USA TODAY Sports

One month down, six more months to go until college football kicks off its new season. A lot has happened in the last month, and we'll try to encapsulate everything here.
Recruiting is down to the wire. Some schools have absolutely killed it, while others have had a lot of decommits.
There's also the usual newsworthy tidbits that have popped up over the last 30 days—some gave the schools a good look, but others...not so much.
The Big 12 has plenty of winners, but the month of January also produced some losers.
Begin Slideshow

»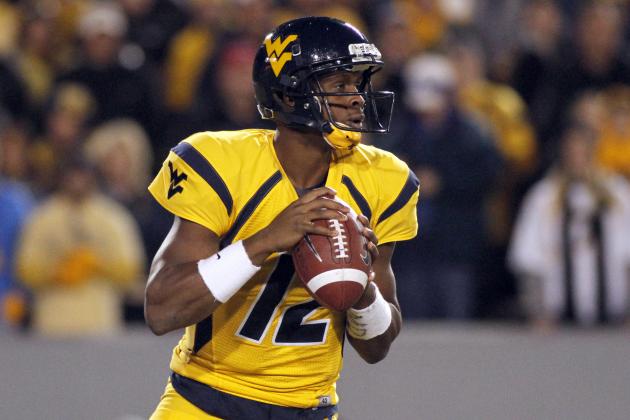 Justin K. Aller/Getty Images

West Virginia quarterback Geno Smith elected not to attend the 2013 Senior Bowl, and it turned out to be a wise decision.
This year's quarterback class isn't that strong, and of the quarterbacks who did play in the Senior Bowl, none really improved their stock.
In other words, Smith solidified his stock in the 2013 NFL draft without ever having to throw the ball in January.
Well done.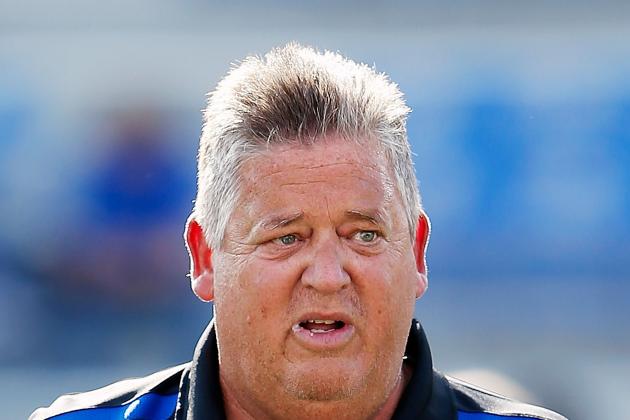 Jamie Squire/Getty Images

Kansas head coach Charlie Weis is quietly amassing an amazing class of 2013. While everyone in Lawrence is watching hoops, Weis is landing talent from all over the country, including his 4-star defensive end Chris Martin and 4-star defensive tackle Marquel Combs.
Weis also just reeled in 3-star safety Isaiah Johnson, who was offered by Texas Tech and Illinois. Johnson is a soft verbal.
Even better news? All three of those players are JUCOs, which means they're turnkey—they'll be playing this fall and not sitting on the bench as redshirts.
Weis' Jayhawks class of 2013 is currently ranked No. 49 by Scout, which is ahead of BYU, Stanford, Kansas State, Arkansas and Texas Tech.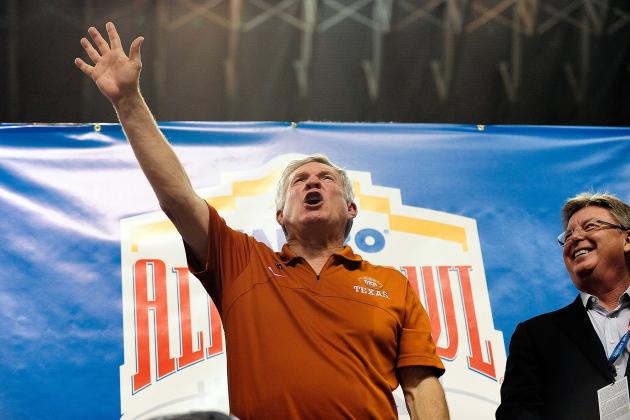 Stacy Revere/Getty Images

After losing two commits in December—Kyle Hicks to TCU and Durham Smythe to Notre Dame—and going almost two months without getting any commits, the Longhorns' recruiting class took a big step in the right direction by getting a soft verbal from stud defensive tackle A'Shawn Robinson, Scout's No. 1 defensive tackle in the class of 2013.
Texas is currently ranked No. 15, but don't let that number fool you—the Longhorns have a limited number of scholarships to hand out, which has affected their team ranking.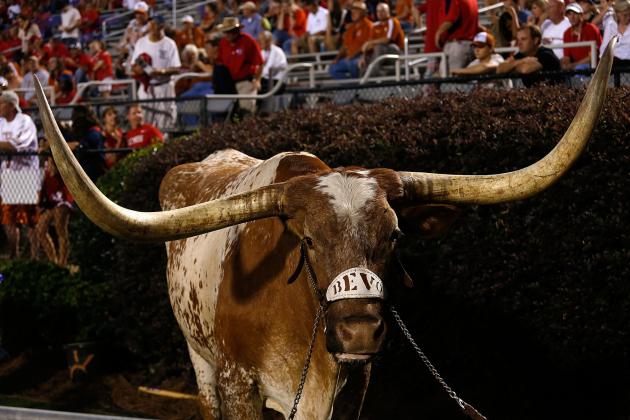 Scott Halleran/Getty Images

The 2013 football schedules are out, and this season's schedule is an upgrade over 2012's.
Last season, Texas had Wyoming, New Mexico and at Ole Miss on its non-conference slate. Meh. But its 2013 non-conference schedule is much better: New Mexico State, at BYU and Ole Miss.
The Longhorns' first conference game is in Week 4 hosting Kansas State.
At the end of September, Texas could be 4-0. But this time around, it should be ranked very high with such a strong resume.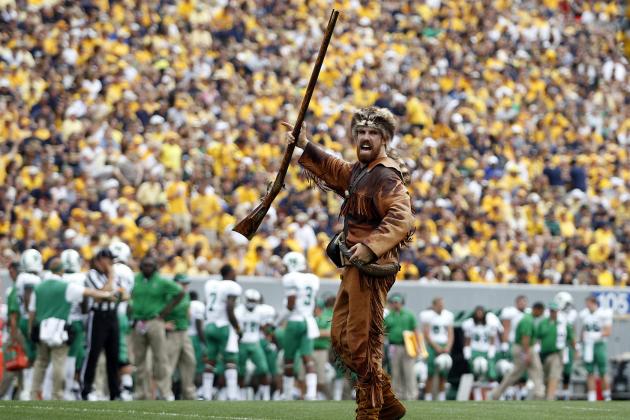 Justin K. Aller/Getty Images

West Virginia season ticket holders aren't going to be thrilled when they look at their schedule in September.
The Mountaineers open with William & Mary and then leave for Oklahoma to play the Sooners. Their next home game is against Georgia State (really?), and then their final non-conference game is against Maryland.
Granted, Maryland is a step up from William & Mary and Georgia State, but most of the folks in Morgantown will have to travel to M&T Bank Stadium in Baltimore—a 3.5 hour drive—to watch the game at a neutral venue.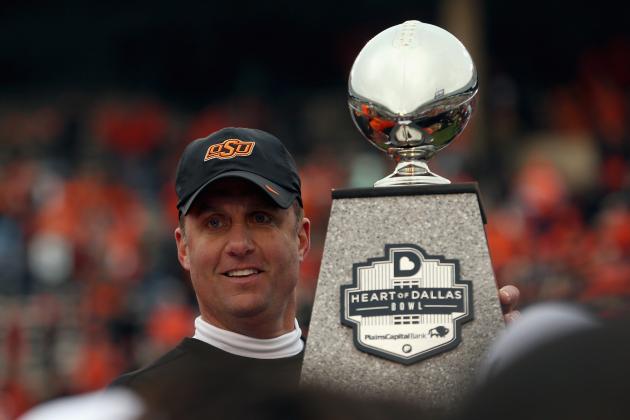 Ronald Martinez/Getty Images

College football kickers can make or break a season, as we all know, but Oklahoma State had the luxury of having one of the best punter/kickers in the country in Quinn Sharp.
Sharp is currently projected as the second-best punter prospect in the 2013 NFL draft.
Stillwater is becoming the destination for kickers. Sharp's predecessors were Ray Guy winner Matt Fodge and Lou Groza winner Dan Bailey, and now, Oklahoma State has a verbal commitment from Ben Grogan, a 3-star kicker out of Arlington, TX, who took his official visit to Oklahoma State earlier this month.
The Cowboys are continuing to impress with consistently good recruiting and establishing some great traditions.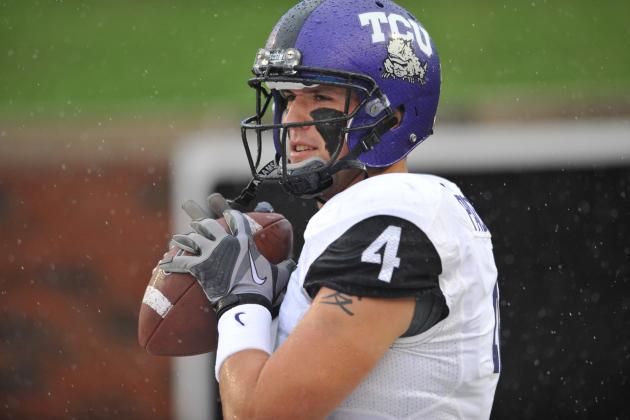 Cooper Neill/Getty Images

TCU quarterback Casey Pachall shocked many after the young man voluntarily left school and reportedly entered rehab for problems associated with alcohol and/or drug abuse.
But the recent return of Pachall is just as shocking. What makes TCU a winner is that head coach Gary Patterson is giving a young man a chance to succeed, but only after he follows the guidelines for his return.
Instead of just suspending Pachall for a couple of games after his October arrest on DUI charges and then welcoming him back with open arms, Patterson showed some tough love but also genuine concern and compassion in trying to help mentor a student-athlete.
Patterson isn't a robot just trying to win games—he's trying to make a difference in some kids' lives, despite some criticism that he gave preferential treatment to his players who reportedly failed a drug test.
Pachall will have to compete for the starting job this spring, so there are no guarantees, but this could be a story with a happy ending.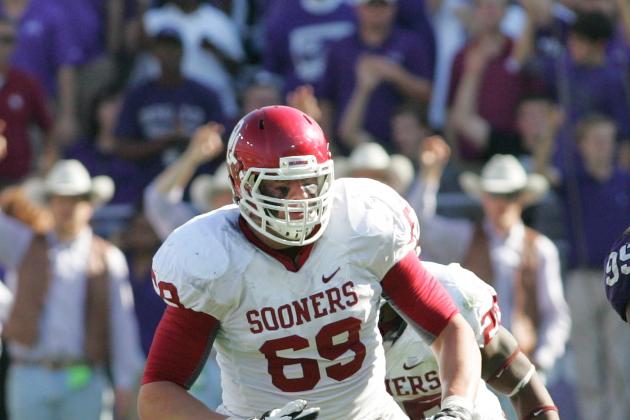 R. Yeatts/Getty Images

Oklahoma offensive tackle Lane Johnson had a superb 2013 Senior Bowl.
According to Bucky Brooks of NFL.com, Johnson is "beginning to look like a possible first-round pick on draft day."
What's really amazing about Johnson is that he played quarterback in high school. But when he got to Oklahoma, he converted to a tight end and then defensive end before starting at right tackle in 2011.
Winner.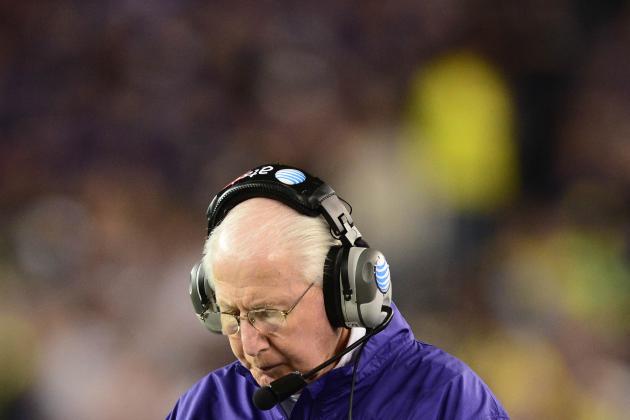 Mark J. Rebilas-USA TODAY Sports

Kansas State head coach Bill Snyder signed a five-year, 14.75 million contract extension on Thursday, according to the Washington Post.
From the Post:
Snyder's new deal, which includes an automatic rollover provision, increases his salary to $2.75 million for the 2013 season with annual increases of $100,000.
Snyder is 73 years old, so he'll be 78 years old with a yearly salary of at least $3.25 million when his contract expires.
Living in Manhattan, Kansas, on a seven-figure salary is the very definition of "winner."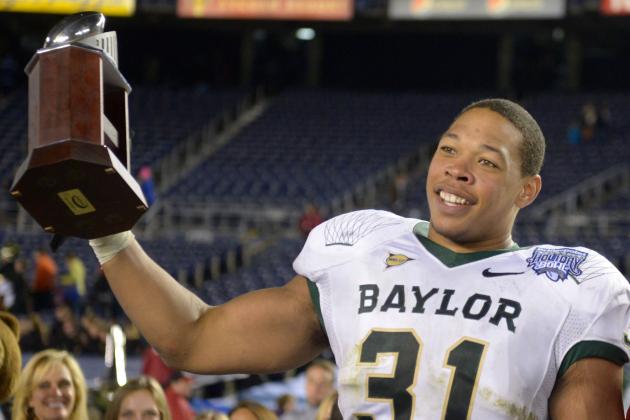 USA TODAY Sports

I know, I know, everybody loves gold helmets. But this new gold Baylor helmet is not a good look for several reasons.
First, it looks like a cheap piece of plastic, and the interlocking BU logo has no obvious shadowing, making it look unfinished.
Second, nothing about the helmet says Baylor football. It does conjure up images of Purdue football, however, because let's face it, black and gold are Purdue's colors.
Finally, one Baylor fan mocked up his own versions of Baylor's helmets and these, quite frankly, are absolutely stunning. The fan kept the all-important stripe on the helmet (which is missing on the new shiny gold helmet), and all three helmets look sharp.
Don't get mad at me, Baylor fans—the only opinion of these helmets that really counts is the recruits' opinions, right?
Note: Baylor's new black helmet is much nicer because it incorporates both the green and gold colors.