Power Ranking the Best Big-Game Coaches in College Football History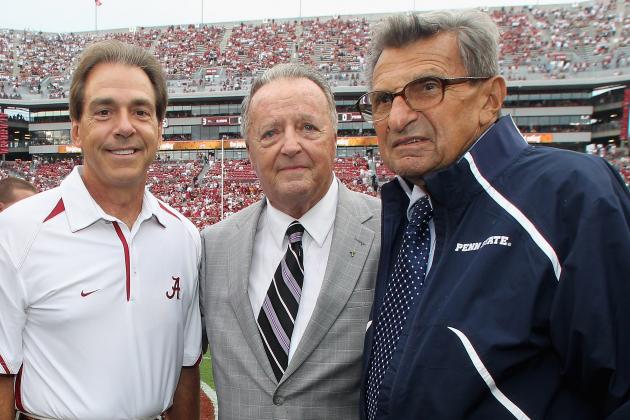 Handout/Getty Images

College football head coaches are receiving more attention than they have ever before. With the increased pressure to recruit elite athletes and the contracts hitting outrageous numbers, the guys roaming the sidelines are expected to come through time and time again. Winning is everything in this business, and you are judged by what you have done lately for your program.
However, winning a couple of games against crummy opponents doesn't make a great head coach. It is the guys who can knock off the ranked teams, win conference championships consistently and lead their team to the promise land once in a while. The head coaches that are able to win those big games and shine bright when needed most are the guys everybody remembers forever.
There are plenty of brilliant head coaches that have come and gone, but only a few really stand out when it comes to those big matchups.
Here are the top 10 big-game college football head coaches of all time.
Begin Slideshow

»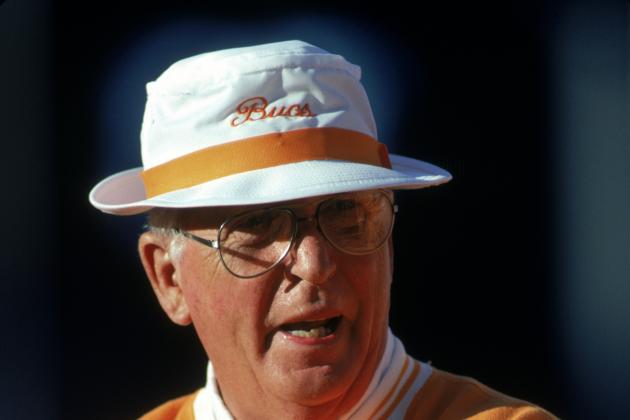 George Rose/Getty Images

Overall Coaching Record: 127–40–8
Noteworthy Accomplishments: Four-time national champion, nine-time AAWU/Pac-12 Champion and two-time AFCA Coach of the Year
Johny McKay was an assistant coach with the Oregon Ducks for nine seasons before switching to the USC Trojans and eventually becoming a head coach in 1960.
His first two seasons didn't start off so well, as his team only won a combined eight games. However, in his third season, the Trojans ended up going 11-0 and winning the national championship. That would start the run of 14 consecutive winning seasons, which included three more national championships and a 6-3 overall bowl record.
His 1972 team, which also went undefeated, is widely considered one of the greatest teams of all time. It managed to knock off six ranked teams in the Top 18, and the Trojans never trailed that season in the second half.
McKay is known for making the I-formation popular and standing strong by a power running game. He should also be known for getting his team inside the Top 10 of the AP poll 15 times during his 16 years at USC.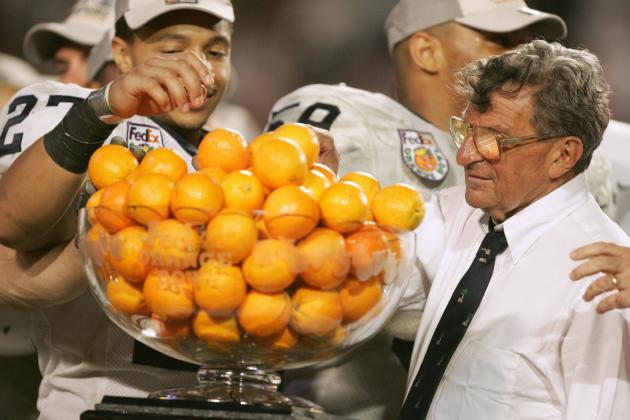 Al Bello/Getty Images

Overall Coaching Record: 298–136–3
Noteworthy Accomplishments: Two-time national champion and three-time Big Ten Coach of the Year
Regardless of what your opinion may be on Joe Paterno now, there is no question he's somebody you would want on your sidelines coaching your team in a big game. Despite the incidents that Penn State may be paying for now, he built that program from the ground up, and it is a major football team today mainly because of him.
Coaching Penn State from 1966 to 2011, Paterno became the winningest Division I-A coach of all time. That record was later removed and handed to Bobby Bowden after the Sandusky incident, as 111 victories were removed from his resume. Paterno also had 24 bowl victories at the time—also a coaching record—but six of those were taken away.
Overall, Paterno led the Nittany Lions to five undefeated seasons, and the 37 bowl appearances remain the most for any coach. In his 46 years of coaching the program, he only had five losing seasons, and he won nearly every coaching award imaginable.
Unfortunately, Paterno will be remembered by many for what happened off the field, but he still remains one of the best head coaches of all time on it.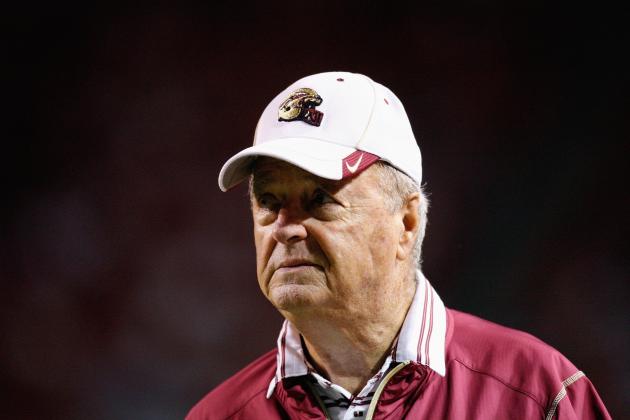 Kevin C. Cox/Getty Images

Overall Coaching Record: 377–129–4
Noteworthy Accomplishments: Two-time national champion and 12 ACC titles
Bobby Bowden really won 411 games as a head coach, but 12 victories were stripped from him during his time with Florida State due to academic fraud. His 22 victories that he picked up when coaching South Georgia College in the late 1950s are also not counted by the NCAA.
However, even with 34 victories not officially counted on record, Bowden is still considered to have the most victories as a Division I-FBS coach. This, of course, has to do with the scandal involving former Penn State head coach Joe Paterno and the wins that were taken from him.
Other accomplishments for Bowden include 21 bowl victories (one vacated), two national championships and only four losing seasons in his 44 years of coaching.
One of his most remarkable feats occurred from 1987-2000, when Bowden got his team to finish in the Top 5 of the AP poll every year. He also didn't lose more than two games in any year during that run.
Bowden may often get criticized for sticking around a little too long in the coaching business, but he is one of the most consistent coaches in college football and somebody who did fairly well in big matchups. After all, he was 21-10-1 in bowl games.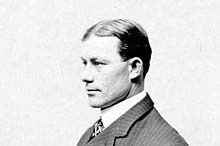 Credit: kansas-city-news.pro
Overall Coaching Record: 198–35–12
Noteworthy Accomplishments: Six-time national champion and 10 Big Ten titles
Fielding H. Yost is the main guy responsible for turning Michigan into the national powerhouse it is today. He coached the Wolverines for 25 seasons, making his season debut back in 1901.
Speaking of his debut, everybody knew Yost was onto something once he led the team to an 11-0 record his first year on the job. Not only was it a season that was played without a scratch, but the team did not allow a single point all year.
In fact, the first four seasons resulted in an undefeated record, and it took until his fifth season before he was tripped up by the Chicago Maroons. Yost had a total of eight undefeated seasons and won four straight national championships, all of which came during his first four seasons as a head coach.
While there is a good chance none of us were lucky enough to be around to see any of these great Michigan teams actually play, the numbers speak for themselves. Yost was an incredible coach, and he didn't lose very often.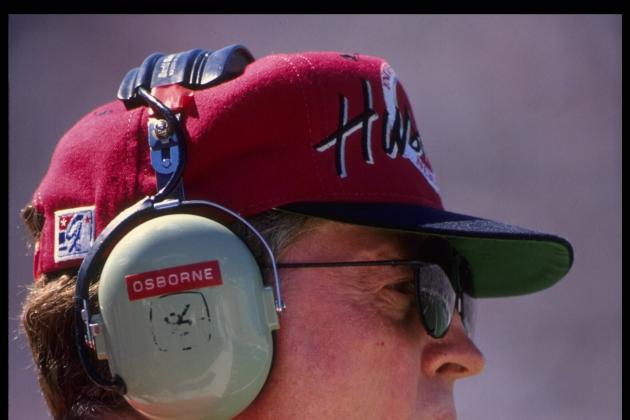 Jonathan Daniel/Getty Images

Overall Coaching Record: 255-49-3
Noteworthy Accomplishments: Three-time national champion and13 conference titles
If you are asking for consistency from a head coach, look no further than Tom Osborne. Anybody who looks to get into the coaching business should strive to be as successful as he was in the 25 years he spent coaching the Nebraska Cornhuskers.
You can go ahead and break down each season he coached, and there was not one year that wasn't a success. From 1973 to 1977, Osborne led his team to at least nine victories. He never failed to qualify for a bowl game, and his teams finished in the Top 15 of every AP poll 24 out of the 25 years he spent on campus.
He also won 250 overall games faster than any other Division 1-A coach in history.
But probably the most staggering statistic of all is that he finished his final five seasons with a combined 60-3 record.
Overall, the 12-13 bowl record could have been a little better, but it is truly hard to argue with everything that Osborne accomplished.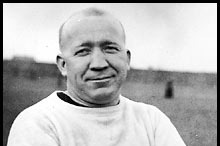 Credit: slicethelife.com
Overall Coaching Record: 105–12–5
Noteworthy Accomplishments: Three-time national champion
Knute Rockne had a very short career, but he was just about as effective as anybody in the sport. Just take a look at that record for a second and tell me that isn't incredible. In fact, the .881 overall winning percentage is a record that still stands to this day.
It should be noted that Rockne coached his last season back in 1930, which should give you an idea of how long that record has been around.
Besides being the first to really put Notre Dame on the map and helping to perpetuate the idea that college sports could generate large sums of money, Rockne led the Irish to five undefeated seasons in only 13 short seasons. He never had a losing season in his coaching career and ended up coaching some of the greatest players of all time, such as George Gipp, Rip Miller and the Four Horsemen.
Rockne, unfortunately, was involved in a plane crash back in 1931, and he died at the young age of 43 years old. If this tragic event had not taken place, Rockne could have had one of the best coaching résumés in all of sports—even greater than it stands today.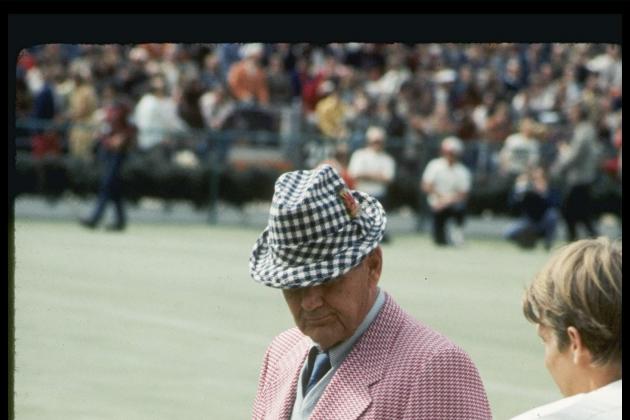 Getty Images/Getty Images

Overall Coaching Record: 323–85–17
Noteworthy Accomplishments: Six national championships, 14 SEC titles and 12-time SEC Coach of the Year
The myth, the legend, Paul "Bear" Bryant is arguably the greatest college football head coach of all time and is a god down in Tuscaloosa. No matter what Nick Saban is able to accomplish in his years with the program, some will never be able to put anybody above Bryant as a head coach. He helped build the Alabama program what it is today.
With more than the 232 victories with the school, he is still the winningest coach in Alabama history. It was the fact that he was able to adapt to the different times and win in many different eras as the game around him was changing. He won at a high rate when he first started coaching in 1945 and was still winning successfully when he retired in 1982.
Bryant had 34 seasons of leading his team in the AP poll Top 25 in 38 years of coaching, and his 15 bowl victories are the third most all-time. In in his 25 years at Alabama, he led the school to 24 bowl games, all of which were came consecutively.
Due to his attention to detail and ability to adapt, Bryant was a tough coach to prepare against.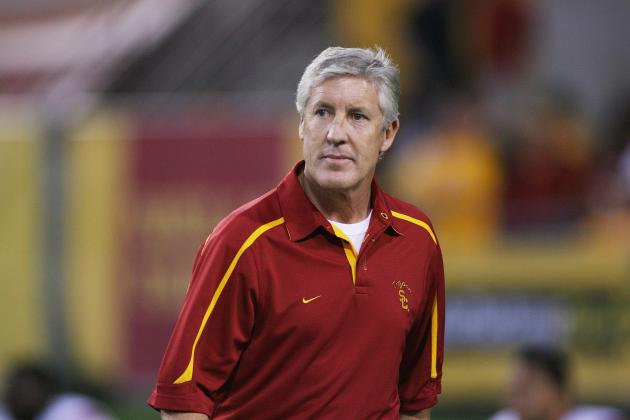 Jeff Golden/Getty Images
Credit: tourtheten.com
Overall Coaching Record: 83–19
Noteworthy Accomplishments: Two-time national champion and seven conference titles
The NCAA can say what it would like, but Pete Carroll truly has an all-time record of 97-19 at USC. However, due to the nasty scandal that USC is still paying for to this day, one of the national championships and several of the victories were vacated. Still, if you saw any of those teams play, you would know that the Trojans were by far the best team in the country.
Let's play a game and remove the first and last season from Carroll's resume. Just focus on the overall accomplishments from the 2002 and 2008 seasons.
If you take away those two subpar seasons, Carroll led the Trojans to a combined 82-9 record and seven straight conference titles. That includes back-to-back national championship victories, seven straight BCS bowl appearances, a 34-game winning streak and a record of 33 straight weeks as the AP No. 1 team in the country.
If only Texas quarterback Vince Young did not decide to spoil the party during the 2006 Rose Bowl.
That is still some remarkable stuff.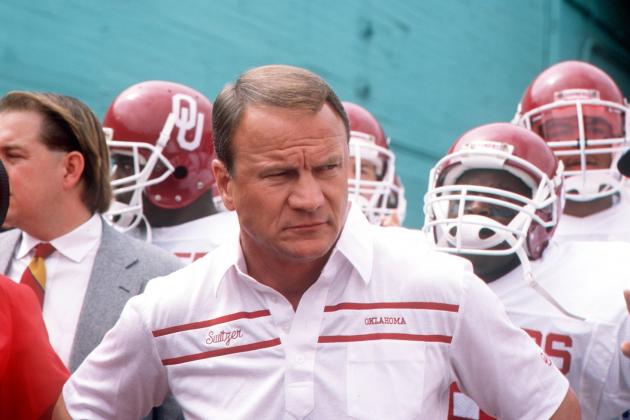 Stephen Dunn/Getty Images

Overall Coaching Record: 157–29–4
Noteworthy Accomplishments: Super Bowl victory, three-time national champion and 12 Big Eight titles
Right off the bat, it is important to note that Barry Switzer is only one of two people to have won both a national championship and a Super Bowl as a head coach. The other one of course would be Jimmy Johnson.
But since we are discussing strictly college coaches and big games, let's get down to business.
Switzer only coached 16 seasons for the Oklahoma Sooners, but he ended up winning 12 conference titles and three national championships. He reached 16 bowl games and won 13 of those, and he also finished in the Top 5 of the AP poll a total of 10 times.
What Oklahoma fans may remember of Switzer the most is that he racked up a combined 5-0-1 record against successful Texas coaches Darrell Royal and David McWilliams.
In Switzer's entire time coaching the Sooners, he only had four years in which he lost more than two games. He wasn't around as long as some of these other guys, but everything he accomplished in such a short amount of time was incredible.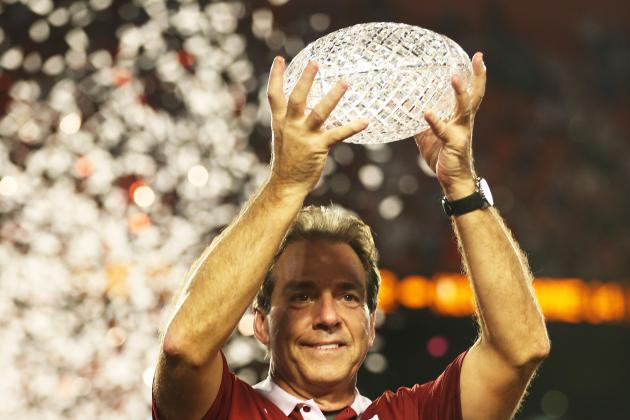 Streeter Lecka/Getty Images

Overall Coaching Record: 154–55–1
Noteworthy Accomplishments: Four national champions, four SEC titles and two-time AP Coach of the Year
Saban is the only active college coach on this list, so most should have a good idea of who he is and what he has done lately. But if you spent the last few seasons under a rock, let's recap what has been accomplished during his time at Alabama.
Saban is 63–13 as the head coach of the Crimson Tide. He has won three of the last four national championships and led the program to four BCS bowls in the six seasons he has been around. And that doesn't include the two BCS bowls he won with the LSU Tigers, as well as the national championship during the 2003 season.
He is coaching in the toughest conference and in the toughest division, but he has simply dominated every team that tries to get in his way.
Due to the overall competition that today's game provides and the overwhelming success Saban has had in such a short amount of time, Saban has to have the top spot. After all, we are talking about a coach that was able to win a title with two different programs in the same decade.
That's absolutely insane—and he is the coach everybody should want on their sideline in a big game.