Rating Every SEC Team as a Contender or Pretender in 2013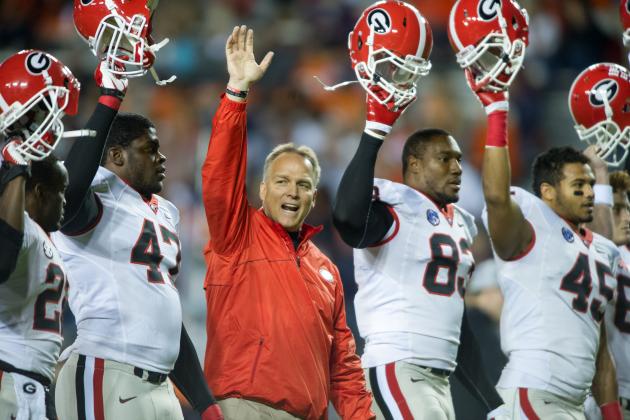 Michael Chang/Getty Images

The SEC has produced the last seven national champions, and four of them have come from different schools within the conference.
It really goes without saying that the SEC is by far the most dominant conference in the country, and the next team holding the crystal football could be one of a handful of teams from this conference.
So with the season just ending a few weeks ago, it is now time to see which SEC teams actually stand a chance in 2013.
Which are the teams that everybody should be paying the most attention to, and who are the phonies that will struggle throughout the year? It is only January, and many things can change throughout spring and fall camp, but with rosters being updated and players declaring for the NFL, we all should have a good idea of where each team stands at the moment.
Some predictions may surprise you, but here are the early SEC contenders and pretenders for the upcoming 2013 season.
Begin Slideshow

»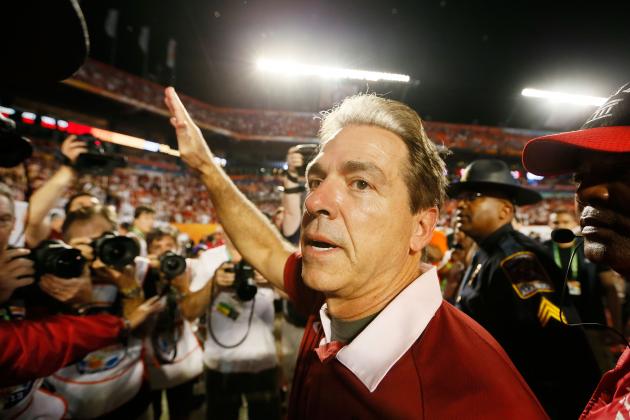 Kevin C. Cox/Getty Images

Last Year's Record: 13-1
How 2013 Is Looking: Alabama heads into next year with even fewer question marks than before the 2012 season, when it was still able to win the national championship.
Quarterback A.J. McCarron comes back with as many weapons around him as he has ever had on offense. Defensively, there is a lot of experience at linebacker and in the secondary, even with the loss of cornerback Dee Milliner.
The only real concern for Alabama heading into camp would be the revamped offensive line, but head coach Nick Saban has had little trouble patching that up in the past.
With a weak schedule and arguably the most talented team in the country, a third straight national title seems more likely than not at this point.
Verdict: Contender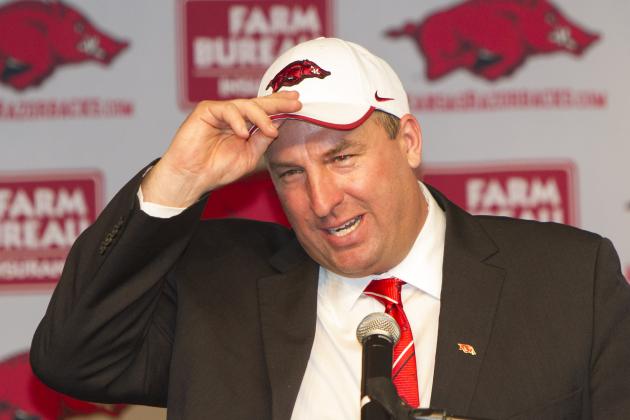 Wesley Hitt/Getty Images

Last Year's Record: 4-8
How 2013 Is Looking: Last season looked a lot better on paper, but with expectations not nearly as high for the Razorbacks, the growing pains will be a lot easier to accept next year.
And there should be a lot of those with a new head coach in Bret Bielema. Not only will he have to adjust to life in the SEC, he will be dealing with an offense that lost nearly every productive player on that side of the ball.
There is a lot more experience on defense, but guys have to play much better to improve a unit that was ranked 12th in the SEC last season.
With a completely new look on offense and a new head coach, another year of not participating in a bowl game is likely on the menu for next year.
Verdict: Pretender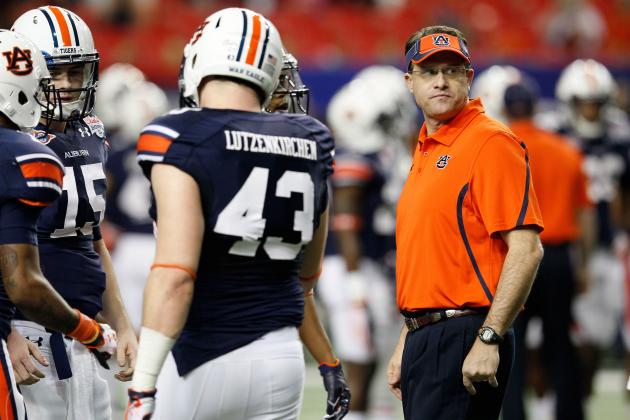 Kevin C. Cox/Getty Images

Last Year's Record: 3-9
How 2013 Is Looking: New Auburn head coach Gus Malzahn has done a wonderful job of putting together an impressive coaching staff and recently fired up Tiger fans with the job he has done.
One of the best hires made was getting Ellis Johnson to run the defense. One of the most respected minds in the game will be working with an experienced group, but he will have his work cut out for him, as he deals with a unit that allowed 420.5 yards a game on average. The offense also has nowhere to go but up, and it should with Malzahn now on the staff.
Auburn may have a new coaching staff, but the transition should be a little easier considering Malzahn has been around this program before. While I do expect this team to compete for a bowl game, an SEC contender in year one is a stretch.
Verdict: Pretender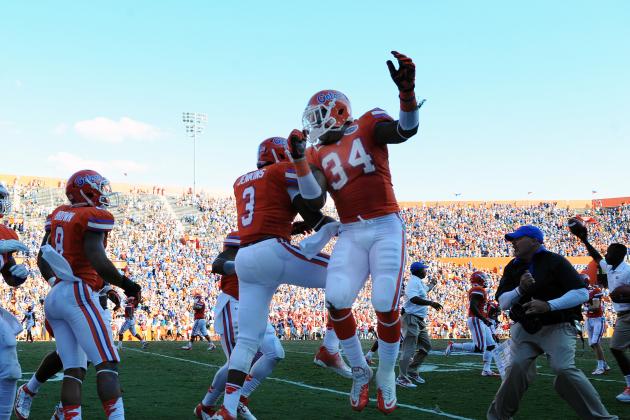 Al Messerschmidt/Getty Images

Last Year's Record: 11-2
How 2013 Is Looking: The upcoming season would have looked much better for Gator fans if guys such as Matt Elam, Sharrif Floyd and Jelani Jenkins decided to return to school.
Florida relied heavily on the defensive side of the ball and losing players of that caliber will hurt. The defense should remain solid with a lot of young talent coming in, but this now puts pressure on the offense.
There is no question that quarterback Jeff Driskel needs to step up and become the man as the leader of this team. If he can make plays with his arm and actually produce at a higher rate, this team could be ready to take that next step.
The schedule won't be easy and there are concerns on both sides of the ball, but if last season taught us anything about this bunch, it is that you shouldn't count this team out. A feisty group is what you should expect again next season.
Verdict: Contender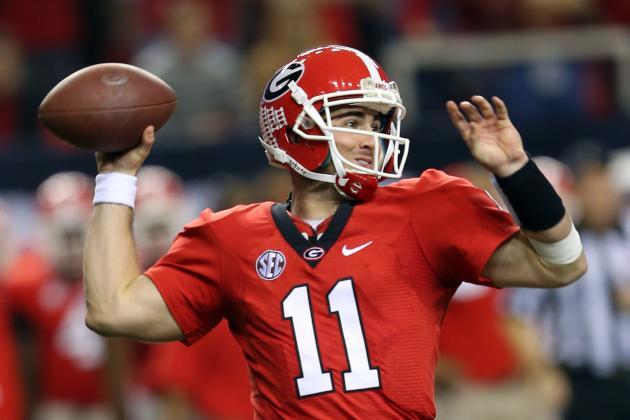 Mike Ehrmann/Getty Images

Last Year's Record: 12-2
How 2013 Is Looking: Can offense actually win the SEC? With Aaron Murray putting the NFL on hold for another season, the Bulldogs may in fact have the best offense in the country with a total of 10 starters coming back.
The road is not as bright on defense, as seven starters have left the building, but like most SEC teams do, Georgia has recruited well on that side of the ball and should be fine in the talent department—particularly at the linebacker position.
Georgia was less than 10 yards away from winning the SEC last season and playing Notre Dame in the national championship. With an offense that should provide plenty of fireworks, you can bet the Bulldogs aren't going anywhere in 2013.
Verdict: Contender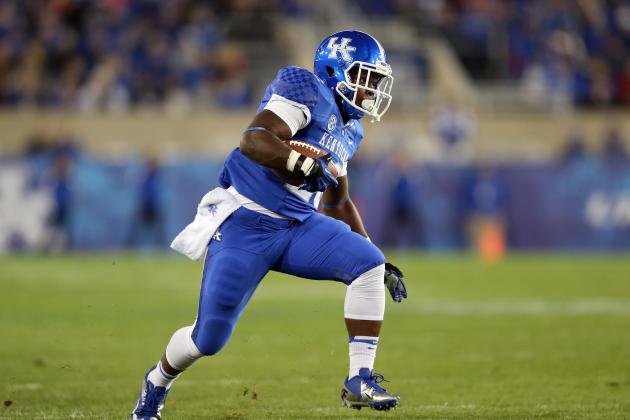 Andy Lyons/Getty Images

Last Year's Record: 2-10
How 2013 Is Looking: Kentucky fans should enjoy the basketball season while it is still here because football once again won't be too kind.
The Wildcats were winless last season in the SEC and had a scoring offense that was ranked 119th in the country. The good news is that last year's team was extremely young and should be getting quarterback Maxwell Smith back on the field to give this offense a boost.
However, the defense has lost many key players, a first-year head coach in Mark Stoops has taken charge and the SEC schedule is a frightening one. The future for Kentucky football may be brighter than last season, but overnight success does not happen very often in the SEC. Kentucky must take baby steps and consider four victories in 2013 as an accomplishment.
Verdict: Pretender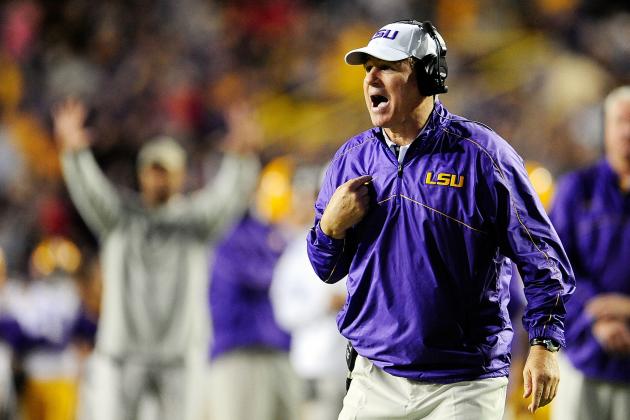 Stacy Revere/Getty Images

Last Year's Record: 10-3
How 2013 Is Looking: It really depends on how much faith you have in LSU recruiting. Sure, it is wonderful and all, but do you trust a defense that will be made up of majority first-year starters? With nearly every NFL draft-eligible player on this LSU roster declaring early for the next level, the Tigers defense is going to be unrecognizable next season.
This then brings us to the offensive side of the ball. The Tigers are going to stick to their power running game with Alfred Blue, Kenny Hilliard and Jeremy Hill, but I'm not sure anybody in Baton Rouge has much confidence in quarterback Zach Mettenberger.
We have seen Les Miles' teams overcome the odds before, but this may be pushing it, especially when you consider an SEC West schedule that also has Florida and Georgia added to it.
Verdict: Pretender
Chris Graythen/Getty Images

Last Year's Record: 8-5
How 2013 Is Looking: It doesn't really matter much. Until head coach Dan Mullen and his squad can prove they can win a big game, Mississippi State will continue to be the team that almost gets over the hump, but falls short every time.
In the last two years, the Bulldogs are 0-8 against ranked opponents. After taking advantage of a weak schedule in 2012, they lost five of their last six on the back end.
There is potential on this squad with quarterback Tyler Russell and a 1,000-yard running back in LaDarius Perkins. But with a defense that was shaky at best, the loss of key guys and a reputation of not being able to survive against top competition, it is tough to take Mississippi State seriously.
Verdict: Pretender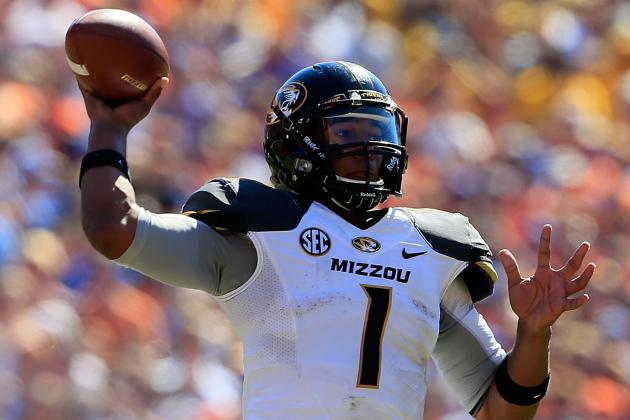 Sam Greenwood/Getty Images

Last Year's Record: 5-7
How 2013 Is Looking: It was clear that Missouri was all out of place in its first season in the SEC. The offense was ranked 11th in the conference and the defense just barely finished in the Top 10 above Kentucky. It is going to take many years of SEC recruiting before this program can actually compete at a high level in its new home.
I do expect the offense to be much better next year. Hopefully for Tigers fans, quarterback James Franklin can stay healthy and wide receiver Dorial Green-Beckham develops into the superstar everybody had hoped to see. The defense is going to take its licks, though, with Sheldon Richardson, Zaviar Gooden and Will Ebner moving on.
Qualifying for a bowl game should be the goal for Missouri next season, but competing for a conference title is out of the question.
Verdict: Pretender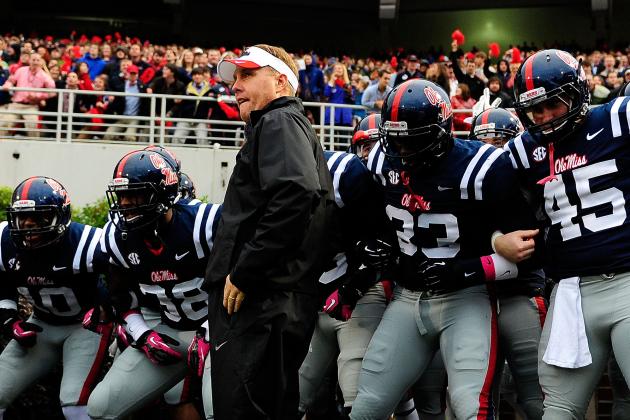 Stacy Revere/Getty Images

Last Year's Record: 7-6
How 2013 Is Looking: Who would have guessed that Ole Miss was going to win seven games with a roster full of first-year players and a new head coach? Well, I'm driving the Rebels bandwagon and believe that the success can continue in 2013.
I've always been a believer in returning starters and experience, and Ole Miss has 20 guys coming back, including everybody on the defensive side of the ball.
The offense has playmakers such as receiver Donte Moncrief, and quarterback Bo Wallace could really come along once he cuts back on his bad decision-making. The defense has an All-SEC player in Denzel Nkemdiche, and he will get a lot of help with a loaded recruiting class coming in.
Ole Miss lost six games last season, but games against Texas A&M, LSU and Vanderbilt were all decided by one possession. With most of the top teams from this conference having to travel to Oxford next season, this is a sleeper to shock the entire SEC next year.
Verdict: Contender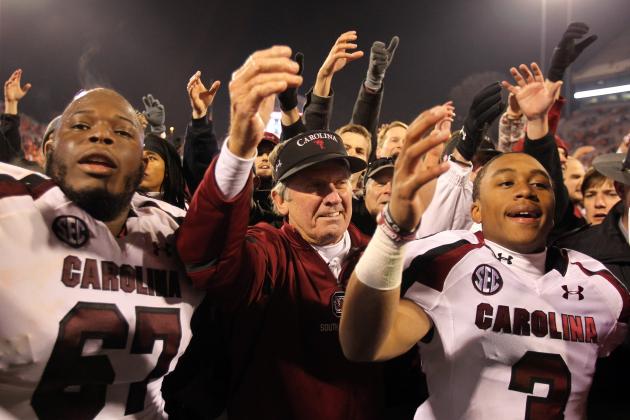 Streeter Lecka/Getty Images

Last Year's Record: 11-2
How 2013 Is Looking: South Carolina will miss running back Marcus Lattimore and playmaking receiver Ace Sanders, but the offense still returns six starters and now has two quarterbacks that Steve Spurrier feels comfortable with in Connor Shaw and Dylan Thompson.
Defensively, there is a lot of leadership gone, including every starting linebacker, but worries seem to go away when you mention defensive end Jadeveon Clowney.
The Gamecocks have the pieces in place to finally make that push for an SEC title. The talent is there and it helps when North Carolina, Florida and Clemson have to travel to Columbia next season. 2013 may be the year where Steve Spurrier can push the right buttons and put this program on the map nationally.
Verdict: Contender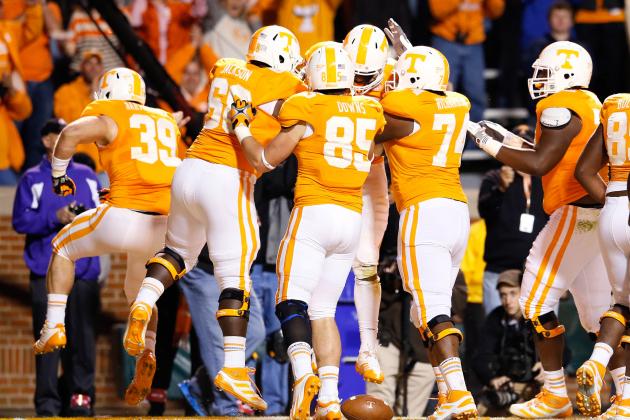 Kevin C. Cox/Getty Images

Last Year's Record: 5-7
How 2013 Is Looking: Tennessee enters camp as a giant question mark. Sure, the skill positions on the offensive side have all disappeared, but with arguably the best offensive line in the SEC, the replacements at quarterback and wide receiver should be able to do better than expected.
The defense surrendered 471.3 yards last season, but with 10 starters coming back, it can't possibly be that bad for two years in a row.
Still, although things are looking up for Tennessee, there is a new head coach in place, and trips to Oregon, Florida and Alabama don't exactly make for an easy schedule. It wouldn't be surprising if the Volunteers qualify for a bowl game, but an SEC title or BCS bowl game is not going to happen quite yet.
Verdict: Pretender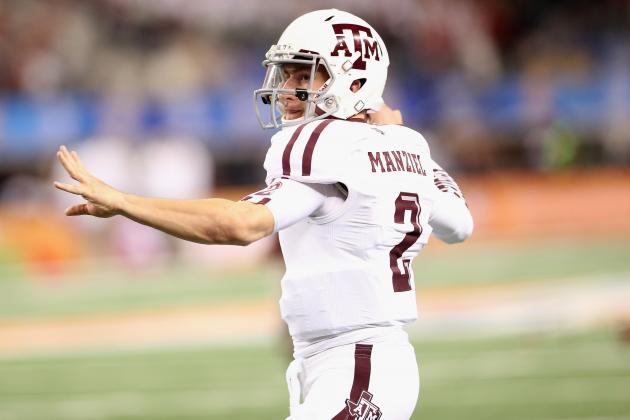 Ronald Martinez/Getty Images

Last Year's Record: 11-2
How 2013 Is Looking: As long as quarterback Johnny Manziel remains on the roster, Texas A&M should be considered a contender. There isn't one player in college football that has the ability to take over a ball game the way he can. He will always give the Aggies a chance to win and that is really all you can ask from your quarterback.
As for the rest of the team, the Aggies do have concerns on defense, especially with Damontre Moore leaving school a year early. But there is a lot of young talent that will soon arrive to help out, and it doesn't hurt that three of the four starters in the secondary are returning for another season.
Texas A&M does have a favorable schedule that includes Alabama taking an early trip to College Station. If the Aggies can get past the defending national champions, they may be able to ride the momentum to an SEC West title.
Verdict: Contender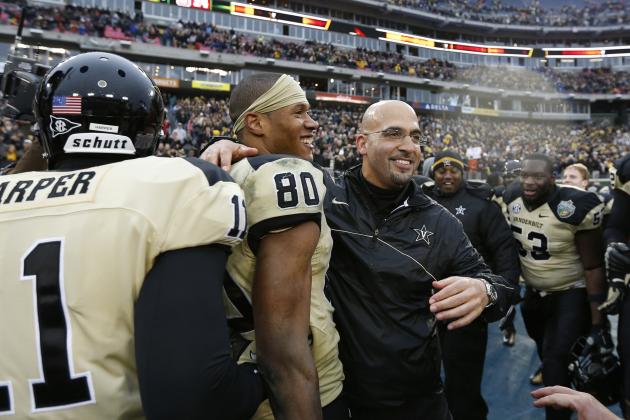 Joe Robbins/Getty Images

Last Year's Record: 9-4
How 2013 Is Looking: Seriously, can Vanderbilt be a real contender to win the SEC next season? I think so. Well, at least the SEC East division.
This is a team that won nine games last season, and two of the four losses were decided by 10 points or less. James Franklin has done a wonderful job with this team and the Commodores are no longer the laughing stock of the conference.
Most of the defense returns, which finished fifth in the SEC last year. The entire secondary is made up of seniors and the defensive line is finally beginning to meet SEC standards.
Offensively, the Commodores received a gift when wide receiver Jordan Matthews decided to come back, and he will help out an offense that averaged 30 points per contest a year ago. It is still a mystery with who will become the starting quarterback, but there is a ton of potential on this club.
With a bounce here and there last year, Vanderbilt could have easily been in the race in the SEC East. So with most of the key guys coming back, it isn't far-fetched to believe this program could take that next step in competing for a division title.
Verdict: Contender